Releasedate: 2013; Label: Echozone
By: Sabine van Gameren
The new Gothic Visions is out, number four this time. This edition is a cd+DVD and features content of various artists.

Besides a huge collection of videoclips of bands like Epica, The 69 Eyes, The Mission, Blowsight etc. the DVD also has some specials for you. A short film about vampires and a promo of The Mission's dvd. Worth to give your attention. Also to be heard are audio tracks of various artists. Hear the live edition of Shock Therapy's "No Fear Of The Death" or the outstanding track of Morlocks called "Whistling In The Dark". It has the combination of Progressive and Industrial in it which makes the track just a bit different than the various other tracks. Recommended!
The CD has a bunch of interesting artists to offer as well. Koistava Polku is bringing their "Radiolaulu" which is catchy enough. Then there is the track of Beati Mortui called "Musta Surma" which got remixed by ErilaZ who recently released an album as well. To go on with the danceable tunes you get the track "You Are Alone" by Larva which seems quite generic at first but is quite hypnotizing in the end.
The Gothic Visions IV release is full of bands that are worth to see. It various a lot per genre, but when going through the DVD you immediately have a visual image of the band to join which can come with surprising findings.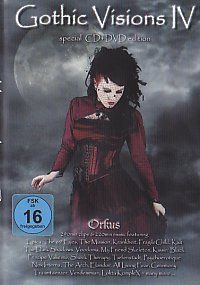 Tracklist:
DVD
1 Epica – Storm The Sorrow
2 The 69 Eyes – Red
3 The Dark Shadows – Dave Likes Dolls
4 Kissin`Black – Ever Enough?
5 The Mission – Crystal Ocean (Live Cologne 2012)
6 Nox Interna – Pray
7 Principe Valiente – The Night
8 Chiasm – Someone
9 The Arch – Waterfall
10 Ceremony – Nothing In The Sun
11 Alexander Paul Blake – Naturgeisterschauspiel
12 Voodoma – Wasted Daylight
13 KALT – Der Sturm
14 Berliner Bomben Chor – Rebel Angel No.1
15 Bernard Fate – Dimanche
16 darkplain – Final Rose
17 Linea Aspera – Malarone
18 Beata Beatrix – Nero
19 Rebentisch – Das Medikament (Remix By CABO DE GATA)
20 Mundtot – Zweites Gesicht
21 Chrom – Loneliness
22 Der Klinke – The Doll
23 Delica-m – Life In Pictures
24 Psychoerotique – Schließ deine Augen
25 Felsenreich – For This Time (live)
26 FragileChild – Resignation
27 Elandor – Violet
28 Zeitgeist Zero – When The Lights Go Down
29 Inertia – Alive
30 Krankheit – Menschenfänger
31 Blowsight – This Pain
32 Tenek – Higher Ground
33 Die Perlen – UKSSR
34 My Friend Skeleton – Funeral Of A Broken Doll (Her Version)
35 Soma Sema – Artifical Heart
36 Gates Of Dawn – The Silence Makes You Scream
37 Andreas Gross – Soldiers
38 Mirrored In Secrecy – Mortality
39 Genetic Disorder – Laster Luder (Remix by Meik R.)
40 Reptyle – Heroes Of The Working Dead
41 Resistance Of Independent Music – Invocation Of The Paradox
42 Schwarzbund – Irrlicht 2012 a.D.
43 Fundetta – Sado Maso
44 Television Set* – Words Unspoken
45 Vadot – Neidlos
46 Northern Sadness – Fear To See
47 Erszebeth – La Culpa
48 Saints Of Ruin – Slow Poison
49 Lolita KompleX feat. Kitty In A Casket – All The Things She Said
50 moonrise – In die Ferne
51 Herzparasit – Angst fängt dich (Live Dark Rock 2012)
52 [de:ad:cibel] – Self Fulfilling Prophecy
53 Minusheart – Book Of Love
54 All Living Fear – Breaking The Fire (live)
55 Vendemmian – All Is Lost (Live)
56 Traumtaenzer – Stigmata (Live Bochum 2012)
57 The Saint Paul – Two Faces

DVD Audio:
1 Kissin`Black – Magdalena Luna
2 The Dark Shadows – Blame
3 Area24 – Call On Me
4 Silene – Darkness Again
5 Oneiroid Psychosis – Coalesce (feat. Tara Vanflower)
6 Berliner Bomben Chor – Danzig On My Back
7 Vadot – Motten ums Licht
8 Chord Of Souls – Pyre
9 darkplain – Second Life
10 Erszebeth – Equilibrio
11 Chiasm – Petals
12 Chrom – Surrender
13 Zeitgeist Zero – United In Black (Angels & Agony Remix)
14 Die Perlen – Mein Rechter Platz
15 Kehrwert – Radio Bikini
16 Prisionero 51 – Clarissa
17 Eden Weint Im Grab – Friedhof der Sterne
18 Lichtscheu – Träum süß
19 Naevus – Bleat Beep
20 PaPerCuts – Disbelief
21 Morlocks – Whistling In The Dark (Short Edit)
22 #366: A life lived – Bullet For Thee (Edit)
23 The Prayer – Burn The Flowers
24 Tränenwelten – Wer hat Angst
25 Mission Zanzibar – 10 Wege, 10 Helden
26 Second Skin – Living
27 Tiefenstadt – Gorgeous
28 Mystigma – Was von der Nacht noch übrig bleibt
29 Acidcell – Beautiful Undead
30 Born For Bliss – Underground
31 Liquid Grey – In Black
32 Descendants of Cain – The Stranger
33 Shock Therapy – No Fear Of Death (Live)
34 2mbk – Das schwaze Stück
35 Moonrise – In die Ferne

Audio CD:
1 Tracklisting Audio CD:
2 DOLOR – Tanz der Schatten
3 Erato** – Amnesia
4 Verney 1826 – Luthien Tinuviel (feat. Friends of Alice Ivy)
5 Reptyle – Fake Your Death
6 The Murderous Mistake – Tier
7 Loistava Polku – Radiolaulu
8 FragileChild – Resignation (Radio Mix)
9 Anna Aliena – The Snow Queen
10 Mindstrip – Superstar
11 Nod Lands Children – Leave The City Tonight
12 Twisted Destiny – Farewell
13 Felsenreich – Black
14 iNsCissorS – The Synopsis Of Pressure
15 Krankheit – Menschenfänger
16 Genetic Disorder – Laster Luder
17 Beati Mortui – Musta Surma (ErilaZ Remix)
18 Larva – You Are Alone
19 WARSICKLE – Call For Help
Links:
Gothic Visions IV Facebook