Location: Virgin Oil, Nosturi and Tavastia, Helsinki (Finland)
By: Sabine van Gameren & Elvira Visser
Tuska festival comes with a bunch of afterparty shows every year. Three clubs are participating: Nosturi, Virgin Oil and Tavastia. Every night of the festival there can be bands seen in these clubs and the day before the festival there were some pre parties.

26-06
The first afterparty show attended was Kilt. In March the band released their debut album "Everything/Nothing" (LINK) and now the band made its way to the Nosturi stage. It seemed a bit empty in the venue when the band started, but you might be mistaken, most of the audience gathered in the K18 parts on the balconies and in the back of the venue leaving quite some space in front of the stage. Kilt. is not a band that any random teenager would like to see, so no surprise to that. The performance of Kilt. comes quite intense, demanding attention from its viewers. For those who see the band for the first time, it may all come over as a instrumental dark mystery before it starts to make sense.
The band does not perform with vocalist in their lineup but made use from guest vocalists on their album, leaving the question mark open for who will be there when live appearances are made. For example, Wille Hartonen (Iiwanajulma) was on stage with the band performing vocals but also bass standing in for Pia Pulkkinen, who is their original bassist but could not be there due to circumstances. Drummer Teemu Ruokonen also got to the front of the stage to contribute vocals. It was an interesting show that we did not want to miss out off.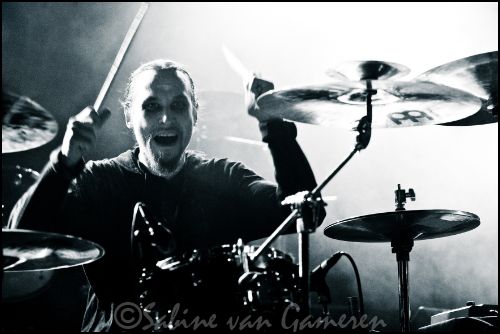 A bit of rushing comes after this show, because Virgin Oil had three industrial acts on the program, who all have been seen on Tempelores before. At first it was Fear of Domination, a band we have seen at Metalorgy together with the headliner Turmion Kätilöt who we saw appearing at Tempelores Magazine a couple of times already. Also playing tonight was Black Light Discipline who is also not a stranger to us. All three of the bands are on the edge of an international break through while Finnish people seem to know them certainly well as when we arrived at Virgin Oil, which is quite a walk from Nosturi, the venue was pretty filled already. Fear of Domination, we already missed as they played at the same time as Kilt. but we were in right in time to see Black Light Discipline enter the stage. The band brings industrial music with points of reference to bands like Pain and Deathstars. Vocalist Toni Valha brings his lyrics with a deep emotional, but yet dominating voice and together with the synths the danceable picture is built within seconds.
The dancefloor is filled and it is clear that Black Light Discipline makes an impact as several people are dancing the day away. Some of them seem familiar with the music already as they shout along with the band and others just enjoy themselves to the beats. The band had brought two gorgeous girls to dance along with them on the stage and that must have thrilled the hearts of the male audience as well as the charms of vocalist Toni did to the females.
Charismatic is not exclusively brought by Black Light Discipline as Turmion Kätilöt are there as well. With their frontman MC Raaka P. they bring in the aggression, the naughty part of the show is more brought by the live vocalist of the band called Spellgoth. He likes to play around with others just as much as with himself and even the audience gets included by his filthy, semi-erotic show. The venue is now filled to the roof and as if it was not sold out officially, I doubt that they just forgot to giving it an official sold out term. The band focused mainly on their third album U.S.C.H (LINK) which is the first album that includes a couple of songs in English next to the Finnish songs that brought them to the level of fame that they are now. In May, when they also entered this stage they had a show with more visual, shocking elements, but for tonight they chosen to perform more ordinary which might have been a great choice as people seem to be there for dancing and getting rid of tension and aggression built up on a day full of metal at the festival.
27-06
Tonight there was a lot to choose from, Ajatarra, Lie in Ruins and Slugathor were playing at Nosturi, Torture Killer, Deltaforce 2, Survivors Zero and Anger Cell in Virgin Oil and Textures in Tavastia.
We decided to go see Textures, a Dutch band that has just singed with Nuclear Blast and who are very promising. The band was founded back in 2001 and had won some Dutch talent prices and played the known Lowlands Festival. In 2006 they found a new vocalist in Eric Kalsbeek. Right here at the Tuska afterparty he showed how great he is as a vocalist. Knowing he could scream suddenly the clean vocals were standing out so much this night, it was amazing. The venue was not sold out but those who were there were treated with a very energetic show from the guys. Their performance was great and they played tight and fast. The crowd was energetic as well and a lot of moshing was going on as well as a circle pit. I think the band had a blast on stage, that was how they look like and the audience looked exactly the same, shouting for more when the guys left the stage. Too bad the end came way to soon. The Textures played a very good set this evening and showed what they are all about. They played fast, mixing metal and hardcore and adding their melodic touch. That is what they are named after: "The distinctive physical composition or structure of something, especially with respect to the size, shape, and arrangement of its parts". That is what Textures is all about. Something you should see and experience live.
28-06
Today it was the last day of Tuska, the last day of afterparty shows. Tavastia had Sara, Virgin Oil brought three names to the front: Depressed Mode, Grendel, Black Sun Aeon.
We choose to go to Virgin Oil.
We walked in and Depressed Mode had just started. By hearing the name it is likely to think you are dealing with a Depeche Mode cover band, but you can't be more wrong. The band makes gothic/doom metal and were a surprise to see. The band released their second album in February and so they brought some fans to the club. I was mainly surprised by the vocals of Ossy Salonen. The female vocals by Natalee Koskinen did not do too much for me as she seems to take an uninterested, bored attitude on the stage. Synths in the music added a lot of atmosphere and therefore this band gets good credits for the show. I hope that Natalee will enjoy being on the stage a bit more next time, cause then this band turns from nice-as-supportact to a must-see-act.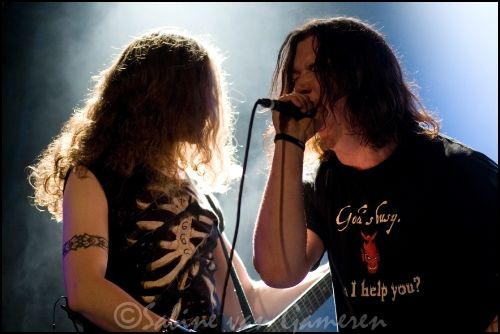 The melodic metal band Grendel was next. The band recently released their album "A Change Through Destruction" (click) and played some songs from that album. The musical interaction between the two guitarists of the band, Mika Kivi and Jussi Kraft, is an interesting part of the music to observe. The two interfere very well with each other and take care of the melodic parts. These two guys are driving the music in following of the keys, but in this live setting the keys were pushed a bit too much to the background. This results in an outcome that has not turned its back to commerce completely, but will need some time to get to the core of the melodic metal listeners.
The last act of tonight and so the closer of the whole Tuska experience is Black Sun Aeon.
The band carries a master (live)line up with Tuomas Saukkonen (Before the Dawn) who started this project, Mynni Luukkainen (Sotajumala) and Mikko Heikkilä (Sinamore). The strong, dark doom from Black Sun Aeon in combination with a light show that sets the band in shades and light, a contrast that symbolizes the differences between an ordinary doom project and Black Sun Aeon. Vocalwise there was an amazing contribution from Mikko, who shown that he can express his words not only by singing. Facial expressions were there to complete the drama and Tuomas who sat high in his fort of drums gave a perfect extension to that. The variation of the drums is amazing, Tuomas shown in his other projects already what he is capable of, but yet overwhelming surprised the audience with his work on Black Sun Aeon. For those of you who own the album, there is only to say that seeing this band live is an absolute must, Black Sun Aeon is certainly the most impressive live act I have seen in whole Tuska.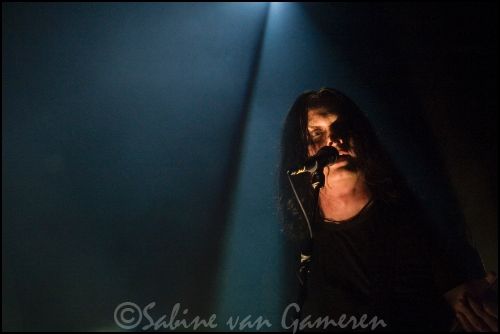 More pictures of these gigs available at sabinevangameren.com
Links:
Kilt. MySpace
Black Light Discipline MySpace
Turmion Kätilöt MySpace
Depressed Mode MySpace
Grendel MySpace
Black Sun Aeon MySpace