Venue: Theater aan de Parade
By: Sabine van Gameren
It all started with a graduation project, but it ended up being so much more than that. Karmaflow.

Karmaflow is a game. To be precise, a Rock Opera game and it is all interactive. A player can enjoy the game through music and while the first part of it released this weekend, the whole has been premiered in style. Many international names were part of the project, giving it the allure that comes with ambitions.
In act one it are for example Alissa White-Gluz of Arch Enemy, Marc Hudson of Dragonforce, Mariangela Demurtas of Tristania and various names of the Dutch Metal industry that have been part of it. In April part two will become available and will be free for those who bought the first part. Names like Tony Kakko of Sonata Arctica, Eliza Ryd of Amaranthe and Dani Filth are standing out there.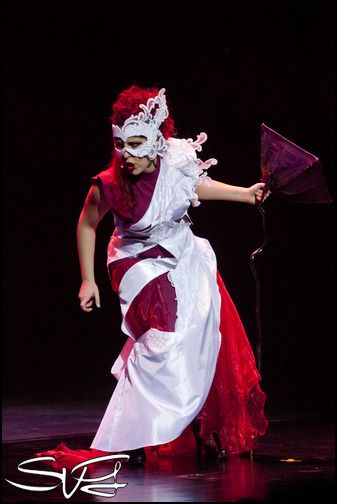 That about the game, but the whole has been performed live in a theatre for the premiere. A production where over 100 people were involved with. Besides the Karmaflow band the music is performed by the Metrople Orkest who gave the whole show an extra dimension. Then there is a team of vocalists who bring you the story of Karmaflow. It would not be fair to spoil the whole story for those who like to play the game so we leave that up for yourself to find out.
This evening the vocals are brought by: Dianne van Giersbergen, Marcela Bovio, Lisette van den Berg, Bas Dolmans, George Oosthoek, Mariangela Demurtas, Jesper de Kruyff, Arjan Janissen, Michelle Solietelhof, Henning Basse and Daniel de Jongh.
Each of them being a character in the story and for the show no effort has been spared. Great costumes, hairpieces and a whole lot make up are part of why the story comes alive so easily. There is not always a lot of interaction besides the singing but with some special effects applied it is not that hard to follow all that is going on.

Then, you cannot get around the impact of the Metropole Orkest. Sometimes visible, sometimes a little less visible but never out of the picture and combined with the Karmaflow band, which you may have seen headbanging behind the members of the Metropole Orkest, it lays the basis of it all. For this all would never be a success without the well composed songs.
Seeing this show live is an unique experience and knowing how long the team of Karmaflow must have worked on getting this all together it is clear the evening was a success. Will the live experience continue is not completely stated but the fact that an act two will be release gives hope for those who were not able to see this event.
For more information on the game Karmaflow you can check out this website. Here you will also have the opportunity to buy the game, the soundtrack or some other merchandise.
Photo's by sabinevangameren.com