Location: Suvilahti, Helsinki (Finland)
By: Sabine van Gameren & Aoife Drum Towell
Deathchain was opening today's Inferno stage. Only ten minutes after the doors were open they would start their show and while the first people took a sprint to the mainstage to secure their spot for Nightwish, it did not take long before Deathchain got a crowd together as well. Earlier this year they played at the mighty Metalorgy event in town and released their new album "Ritual Death Metal" which describes their music perfectly. Today they were sharp as it could be, an early morning did not bother them too much and while the early birds were getting some wakeup metal the band have given their best. The guitars are very leading here but the charisma of front man K.J. Khaos is getting people to have a more intrigued sort of attention. Altogether the band played a good show which may have been a bit longer to really get the audience energetic, but that is left for another time.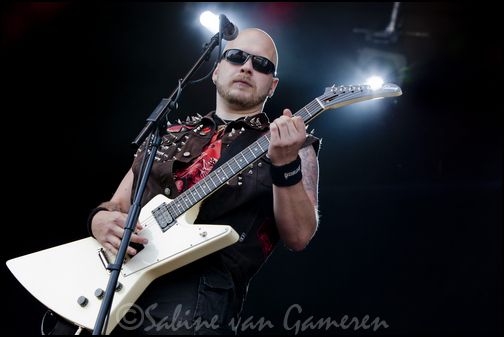 With only five songs to cram into their set list, Hateform entered as the first band to play the Club Stage on Sunday; the last day of the Tuska festival. Despite it being 2.30pm, in true metal style the lead singer Petri Nyström appeared in front of the crowd with a full-sized bottle of red wine and chugged his way to a confident performance. Acting the gentleman, he also passed around a bottle of water to the crowd (something Tuska didn't offer at the smaller stages) although this may have been a bit premature seeing as there wasn't an overly massive turnout to get dehydrated in. Maybe with more time to get warmed up their performance would have been increasingly impressive, however in honesty the guitar solos weren't thrilling and I left without a huge memory of the impact of their show. Their restricted set list featured songs such as "All Become Nothing", "As God As" and "Foundry", but it remains to be seen if a longer appearance is worth their while.
Still on a high from playing Graspop the day before, Amaranthe began their escapade at Tuska with encouragements of screaming from the crowd claiming that Belgium had done much better. I'm not sure if this is how to increase a Finnish crowd's enthusiasm, however the more singer Elize unclothed the more into it the crowd got – funnily enough! The thundering of Johan's bass penetrated the crowd like no other and cemented them as having arrived to rock the festival in their own right, with songs such as "It's All About Me" and "Call Out My Name" really getting the crowd going. The unison of the vocalists proved impressive as well as Elize's lively leg kicks into the air, and I have to say that they were very much looked forward to by the crowd with a huge turn out to see the Swedish group. With new songs from the album "Nexus" and old ones from the self-titled Amaranthe, Tuska was kept enthused and you would otherwise deny any petty rivalry between the Finnish and the Swedish. Let's also not let their introductory music be forgotten; the Twentieth Century Fox theme music blaring from the amps which speaks volumes of the band's opinion about their own epic and important presence, although let's not deny them that. They rocked, the crowd knew it, and so did they themselves.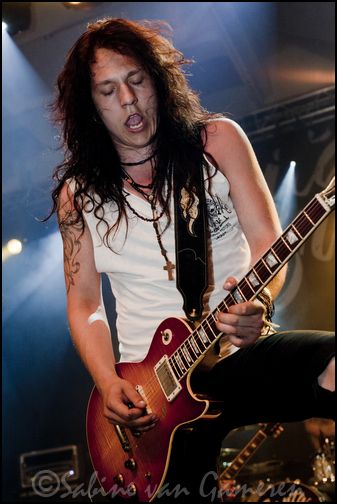 In the club stage the youngest Tuska audience seemed to have gathered for a band that got their word out quite well. Santa Cruz is their name and their debut album "Screaming For Adrenaline" has been dropped to the market about two months before and they are the word of the day as it seems. The band makes 'Kick-Ass Hard Rock The Way It Should Be Played!' according themselves and their show is as glam as it could be. Big hair, energy, jumping around the stage, climbing on monitors etc. Obviously the guys have gotten some local fame here considering the amount of people eager to get as close as possible to them. The band plays a decent show and the music is constructed well. The band must be aware of not become caricatures of themselves though. Not overdo a show, but keep the music as a leading factor. For this show in Tuska they proved they can grow big.
The Inferno Stage was graced at approximately 4pm with the all-girl band Barbe-Q-Barbies who approached it with confidence and charisma. Songs such as "Twisted Little Sister" and "Can't Get What You're Looking For" were performed with girly winks and a badass attitude, however almost every track sounded just like the last. I'm all for girl power, don't get me wrong, but they just didn't hold my musical attention long enough for me to want to buy an album. Despite that, they had good energy and interacted well with the crowd. The girls off stage were super friendly and I don't deny their talent, but I wish they'd step away from a few of the clichés that surround women in metal, such as protruding hip bones, rubbing against each other and repetitive techniques. The member who caught my attention the most would have to be Mint, the bassist, who blew me away through both her thundering bass and approachability. I don't think these girls are out to just to get on the young boys' walls, but I do think that a bit more concentration on the music on stage instead of the attitude would go far.
Khroma has recently surprised us at Findustry festival. The band makes some experimental music in which they have a lot of electronics giving it that industrial touch, never breaking with the vehemence side of them either. While the club stage was pretty filled the band got their stage set up ready, some visual effects, strobo's, intensity and energy are keywords here and the band leaves a scent of mystery over them in the way they do not bother to inform their audience of what is going on. The fact that there is lot to find in their sound every time you hear it again leaves the new listeners with plenty to interpretate and with their energetic show they have no problem making an great impression here at the club stage. An amazing show that many will remember.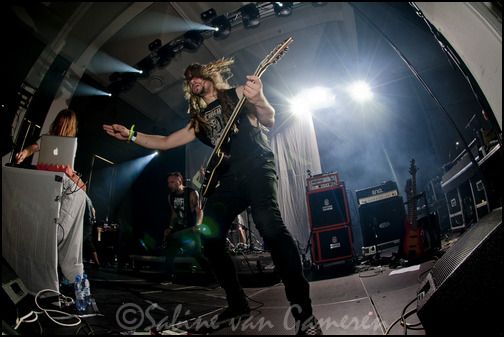 At the mainstage it was Battle Beast performing. This slot was originally for Asking Alexandra but due to some passport issues the band had to cancel. Battle Beast brought another femme to the stage on this day where the ladies are dominating. Vocalist Noora is new in the band but shows some grand allure in her attitude. The lady has charisma, but sometimes seem to be a bit searching for her own style in the vocals. She has the power within her but sometimes it seems a bit too much like a copy of the previous vocalist. The most recent album is recorded with her though. When the band will remain with her and has some more songs that are made for her that will probably fall into place but fair enough, she did a good job in bringing some Heavy Metal into the day.
To try to explain experiencing a show by the Death Hawks is like trying to describe an acid trip, it simply can't be done accurately. In fact, scratch that, the show was just like an acid trip! The somber mood was set with specific ambient lighting, the vibrations of the bass penetrated through the zombified crowd and the hush that swept through Tuska's Club Stage was shocking to me. Everyone there knew they were there for an experience; an enlightening. This was not a gig, it was not a musical performance, nor was it an exhibition of playing ability. To see the Death Hawks present their music to you live is to transcend your surroundings and enter into a trance created by their unique and effortless psychedelic rock. Complete with bells hung from the microphone and brief appearances from a saxophone, the trip that you're brought on is unbroken and untouched by anything but them ceasing their music. A deep and atmospheric reality free from the usual boundaries of stage performance exists through this Finnish four-piece, and luckily for you there's nothing illegal about it.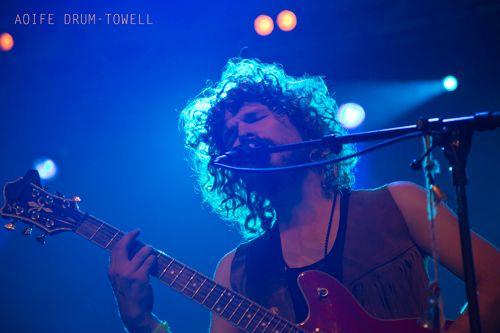 Stratovarius are somewhat of an institution by now, especially in Finland. Throughout their lifespan they've had numerous band member changes and seem to have finally gotten into a comfortable stride. Every single punter of Tuska seemed to be standing in front of their stage, singing along and throwing their fists in the air to lead singer Timo Kotipelto and crew, who seemed to relish every moment of their stage time. With lots of communication in between songs with their countless fans, Stratovarius played their hearts out and filled the stage with a well-executed performance. The set list relied heavily on older material, including "Speed of Light" from 1996's album "Episode", "Black Diamond" from 1997's album "Visions" as well as "The Kiss of Judas" from the same. Their last song, "Hunting High and Low" from the 2000 album "Infinite" was drawn out in an epic battle of anticipation with the crowd, with Kotipelto pausing for chat breaks and exclamations, keeping the entire of Tuska on their toes and waiting with bated breath for the final release of his powerful vocal chords. It worked, and the people erupted in the final climax of their performance leaving a good taste in everyone's mouth. All in all, Stratovarius rarely disappoint and this attention to detail (including illuminated rubber ducks stuck on Jens Johansson's keyboards!) make this band a great spectacle live.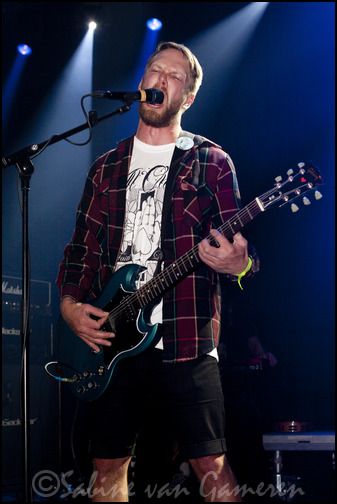 Betrayal At Bespin was the last band to play at the club stage this year. The band is a bit of a stranger today. Hard to define them. A long intro, a bit boring as it simply takes way too long before anything starts to come off. Then when it starts to be a bit more alive, it simply does not reach the audience at all. The band is static as if it is their first performance ever, not knowing what to do, where to look. This does not really motivate people to stick around either and soon the people move outside to find a spot for the big headliner of the day: Nightwish. The band was totally out of place here and did not have anything to hold on to for their audience. Sorry, but in case we see them again we can only pray for something completely different.
As the main attraction for arguably the entire festival, Nightwish had a stage setup that was as big as their reputation. In fact, Tuomas Holopainen was barely visible from over his protruding organ that he was engulfed in! Playing with their newly acquired Dutch singer Floor Jansen (formerly of After Forever), they opened with an old favourite "Dark Chest of Wonders" followed by "I Wish I Had an Angel" from the pivotal album of 2004 "Once". Not only this, but they did it with a thunderous display of crackling fireworks and explosions that probably singed the eyebrows of those in the front row. The volume for the Sunday Tuska headliners was blatantly turned up to the point where even ear plugs weren't much use, but I suppose part of their reputation is their epic presence and musical grandeur. On that note and without wanting to sound too critical, I was deeply disappointed in Jansen's attempt to replicate original female vocalist Tarja Turunen's set standards for the old material, which seemingly was simply made for her alone to sing. That's not to say Jansen hasn't got vocal talent, but merely that not anyone can step into the shoes left behind by one of their founding members. She did at least try to speak some of her fellow band mates' native Finnish for the crowd, possibly signifying her beloved want to fit in. With people queuing to see them from the moment the gates were opened, Nightwish delivered on all accounts, but who ever thought they wouldn't?!
Tuska festival edition 2013 has been a success. Many great bands and when Nightwish is closing this year for an enormous amount of people it is clear that the metal fans have no trouble finding Suvilahti for their metal satisfaction. We can't wait for next year!
Following bands have been reviewd and photographed by sabinevangameren.com:
Deathchain, Santa Cruz, Khroma, Battle Beast, Betrayal at Bespin
Following bands have been reviewed and photographed by Aoife Drum Towell:
Hateform, Amaranthe, Barbe-Q-Barbies, Death Hawks, Stratovarius, Nightwish
Continue to our review of day 1 or day 2