Location: Tanzbrunnen, Cologne (Germany)
By: Sabine van Gameren & Nina Mende
A new year of Amphi, Cologne's most remarkable festival of the year. This year a pre-party at a ship was added to the festivities and with a strong line-up it was clear that there was much to expect.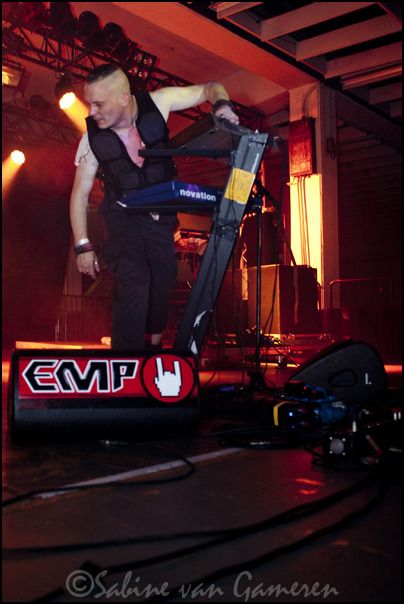 Fabrik C was opening at the Staatenhaus. Started around 2005 to get out to the world and in 2011 Fabrik C came with the album "Widerstand" on which he was working on for about four years. With many club hits in the pocket it got him going to the major festivals and now in 2013 also to be seen at Amphi. It was not love at first sight here though. The first tracks left the audience just standing there, watching without any effect, but it was noticed and a little change was brought into the set. Some of the most known sings were played which got appreciated at the audience, some dancing started and the false start for Fabrik C was forgiven.
A Life Divided was first on the main stage, a familiar place for the guys as they were there exactly a year ago as well. What was to be noticed is the enormous amount of people that gathered for them, while they were only the first band to play. Comparing that to the other year's openers it is clear the band got themselves a following. Their music is perhaps a little more Pop/Rock with the dark influence over it. It is catchy, the refrains are simply stuck in your head and it is basically something you could easily hear passing by on mainstream radio. The guys are there fully enthusiastic and started after an intro with their song "The Lost" coming from their release "The Great Escape" which got the audience on their hand right away. They continued with "Hey You" from their 2011 release "Passenger" of which they played the track "Heart on Fire" as well. Considering the audience the band's only problem is they had just 30 minutes to play today, a longer set would have suited them just as much.
Xotox had released a special EP last year to celebrate the 10 years anniversary of their hit "Eisenkiller". This year another celebration is there as Andreas Davids, the name behind Xotox, is doing this project for 15 years.
A third lustrum is quite something so perhaps the expectations were high for this show. That makes the disappointment even larger when seeing the show did not really come alive at all. It was very static, hardly anything seem to be moving, there was not really interaction going on and at some point it the thoughts cross that you could as well listen to a cd instead. Such a pity, some more could have gotten out of this.
This year's Amphi festival had just begun. A hot weekend was laying ahead of us. Pure sunshine burning down on Amphi. And Stahlmann on stage. The German rock band was covered with silver paint. The festival ground was full already even though it was still quite early. Forty minutes of rock and roll was heating the area more and more. They played with the crowd during their performance. Playing old and new songs Stahlmann got the audience to go along big time. Many people in the audience knew the songs and could sing along and moved along to the music. What a great weekend this would be. And it had only just begun.
Frozen Plasma is an Electropop duo that started in 2005. The two guys are certainly bringing a bit more energy to the stage which was a refreshment after seeing the last here in the Staatenhaus. While the band had plenty releases in 2009 it became more quite after that, but today they have something new to introduce the Amphi audience to. It was their track "Herz" which is also available as a free download on the band's website and will also be found on their upcoming album "HOLOMETABOLA", which will be out later this year. Fans seem to be eager to hear something new of these two and the atmosphere was good. A nice show of Frozen Plasma!
Right on the mainstage is Solitary Experiments, which at least is not so solitary for the bands drummers. Double power, double pleasure as these two seem to have great joy playing there. Truly gives the mood of the whole band a big boost. A very lively act was there to be seen anyway. Frontman Dennis knows how to bring drama and fell down on his knees during the show. The fans are all waiting to hear a little bit of the band's upcoming release called : "Phenomena" which will be released in September this year, but not too much of that is given yet, a little teaser for what is coming but a few more weeks of waiting for the fans is ahead. Altogether the band played a lively and entertaining show.
Faderhead is a German electro project with its origin in Hamburg. They played inside at the Staatenhaus stage. All electro heads had united to see this show. A long bar like table was set up where three guys were controlling and playing music while the singer and founder of Faderhead was running up and down the stage, singing and performing along with a bottle of Absolut Vodka which he was tempted to share with the audience.The audience was going crazy to the electronic beats that were blasting at them. Forty-five minutes of thriving music, getting each and every single soul in the venue to move along and lose their minds.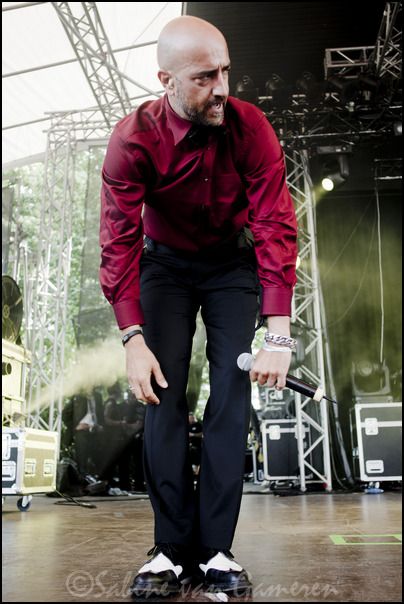 Wesselsky is a project by Alexander Wesselsky, also known as the frontman of the German band Eisbrecher. The music is perhaps a little different from what you may have expected but that Alexander makes it work is clear. Many curious minded fans were around and some seem to know the songs quite well. Wesselsky plays around with the audience, some interaction is going on which suits there very well.
Funker Vogt has a history dating back to their creation in 1995. The duo existing out of Gerrit Thomas and Jens Kästel has created a long list of releases through the years and most recently "Companion In Crime" got added to that list. The band says to be direct, not leaving anyone censor them and say what they want to say which creates an open and honest view on their believes. With the very active show in which the mimics of Jens are quite expressive and adding to the directness of this formation. The audience seem to exists out of long-time fans who are truly having a good time at this show and fair enough the guys give their all and everything to this show. A great act to see and their enthusiasm shows dedication and love for what they do.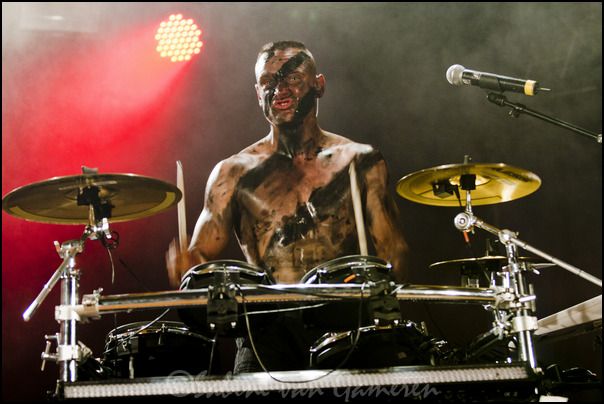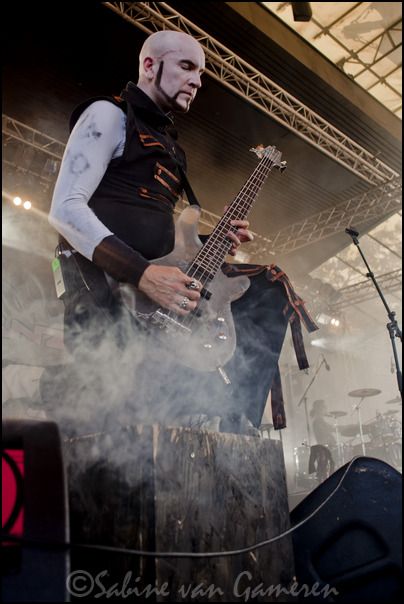 Medieval band Tanzwut has been playing Amphi many times and yet again they are back with a show full of their own most impressive instruments and a bunch of songs that people may have heard before. Not everyone seem to be into them, but the band does not seem to feel impressed by that. They want to give those who do a good time and when their frontman asked if they are up for some fun, they got a decent dose of cheering in return. The band answered that cheering with the song "Ihr Wolltet Spass" which is good old classic of these guys. So the band made their statement, the audience wants, the deliver and that is the arrangement they work with.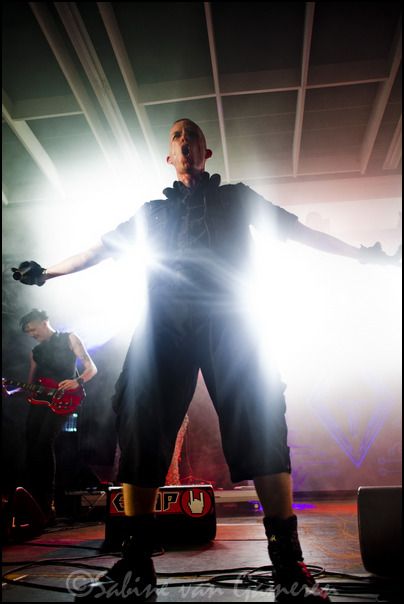 Up next was Grendel with what would possibly be one of the best shows of the day. Grendel is founded in 1997 and have been going strong since. The latest release is called "Harsh Generation" and it introduced the fans to a new side of the band. A bit of a melodic side is now added and blending with the familiar sound of the band it creates an open structure where fans of different sides of the scene could identify with. Jackpot for the band you could say and that was to be noticed during the performance. Some passion and energy into the show was making every word come alive and while the audience was either dancing or watching in awe Grendel was going home as a big winner of the day.
The stage was covered by a curtain until the very second the German Aggrotech band called Agonoize made their first sound. As the curtain came down the singer was hanging up in the air performing the first coupe lines of their first song. As he was let down a female joined him and pierced her cheeks right next to him with two thick and long needles. And it was about to get even crazier: With a huge butcher knife the singer began to slit his wrists – or rather his black bodysuit he was wearing. Out came a stream of blood. On he went with the neck where the blood just came running, splattering into the crowd and the pit until half of the stage, all of the pit and the front row was covered in blood. It took almost two entire songs until his blood tanks were drained. The duo is always up for a great show. The music got everyone to dance along and the audience loved Agonoize and their fantastic show. The heat seemed to have been forgotten.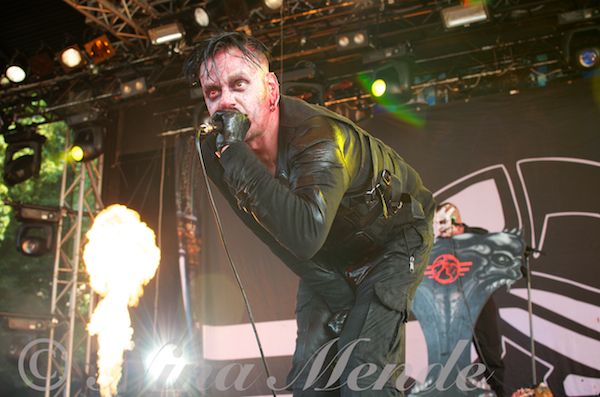 Back inside it was time for a little calmer music. So who would be better than the German synth pop duo De/Vision. Twenty-five years of band history and still not tired of touring and making music, entertaining people. Catchy synth pop music, easy to sway along to and dance along to. The duo seemed like a well-rehearsed team as they communicated non-verbal. One hour of beautiful music getting you to go along to and lose track of time and place. Some people were sitting down to relax and cool off a little from the hot day. Others were just swaying as in trance. De/Vision is always a great way to clear your mind, body and soul.
Philip Boa & The Voodooclub was perhaps a bit remarkable. Philip Boa was surely not the one who drew the most attention during this show. At first it seems Pia Lund, vocalist/keyboardist, who easily draws the attention here but in fact you see that it turns out to be more of a team show in which each member has its moment to shine. What was most special to their show is the fact that they brought a little acoustic show to the stage in order to promote the release "REDUCED! (A more or less acoustic performance)". Not really what you expect from an act playing at Amphi at this time of the day but surely shows that these musicians are not holding back from doing what they want to do and do something different. A surprising show that turned out very well.
Started in 1986 Suicide Commando has a strong 27 years of existence. With a huge list of releases and plenty of very dedicated fans Johan van Roy is sure of a large audience that is familiar with his songs. Not that he chooses to lay back and get lazy on it, the man is energetic as ever on the stage. At one moment he is upfront at the stage coming close to his fans while bringing his statements and another moment he is more at the back beating his drums. Earlier this year his new album called "When Evil Speaks" got out and some tracks of that release, like "Monster", were played but some of the good old classics were not forgotten either. The set got closed with the track "Hellraiser" and this track basically summarized the whole set of today.
The jolly guys of VNV Nation were eager to hit the stage. The band drew quite an audience and it must be said this band does a lot to their fans. While one of the front row visitors got a handshake by the band's vocalist he got very emotional and some songs are sung along with a great passion. The band played some older tracks like "Perpetual" as well as some more recent material like "Control" and the track "Nova" coming from their 2011 release called: "Automatic". Though 2011 is already a bit away, the band has some good news for the future as there is a new album ready to be released at the end of September. "Transnational" it will be called and a tour will start right after that.
Alien Sex Fiend is pure show. The band does not play an enormous amount of shows but here they were headlining and many fans have awaited them. Their long and slowly progressing songs are building tension and break it before the actual climax is reached. What a teasers! Then starting to build it all over again and finally giving you a fulfilment of desire. Maybe you have found some banana floating around over your head, maybe some zombies and aliens are haunting you, many things are going on but behind the frontman Nik Fiend, there is also mrs. Fiend which plays keys and gives you a trip back in time, a true piece of passionate work is into that and it pops out a lot compared to any act seen before today. Alien Sex Fiend is simply a show you have to experience yourself. Their show will bring you in ecstasy and the greatness of it can't be described by any word. A perfect act to close the night with!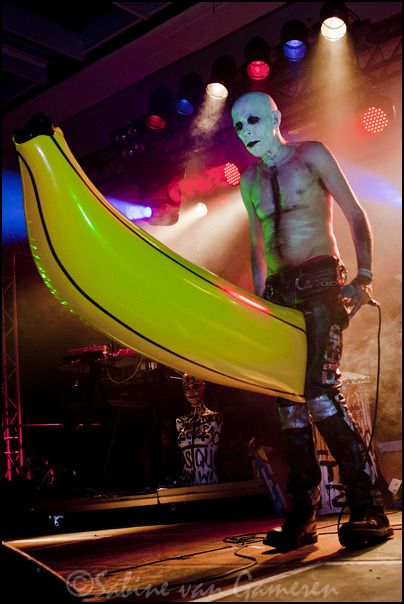 Photo's of Sabine van Gameren:sabinevangameren.com
Read more about Amphi day 2 HERE