Location: Suvilahti, Helsinki (Finland)
By: Sabine van Gameren & Aoife Drum Towell
Another year, another Tuska. While this year there are two major festivals at the same time, a newcomer called Rock The Beach formed a tough competition it seems like Tuska has plenty of loyal visitors. Each day the festivalarea was filled with metal fans and the line-up was simply stunning again.
Day 1:
Two bands are giving the festival a kicking start. It is Leprous which plays in the indoors club stage. The Norwegian Prog band has the interest of various early visitors, the venue is pretty full when the guys have their set. And do they know how to make it. Absolutely no problem for them here. The band released their album "Coal" earlier this year and they played tracks from that. The fans are known with song like "Chronic" and have no problem in singing along. The Norwegians are scheduled for another set this day, they are also the band of Ihsahn so people will see their faces again but they are not really holding back any energy. The only complaint you could have on their set is that it was probably a bit short, the essence of Leprous is not to explain in only 25 minutes, but you can't blame them for that. They played a splendid show and declared Tuska 2013 opened!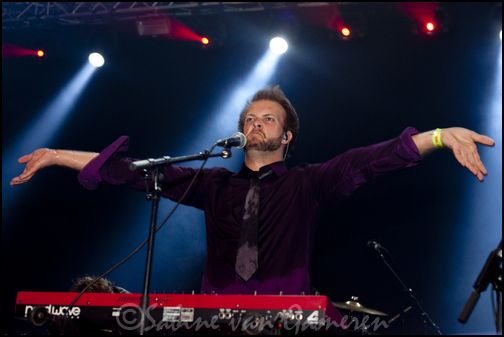 As the opening act on the main stage on the very first day, Tesseract had a lot of space to fill both physically and time-wise. With Dillinger Escape Plan dropping out of the Tuska line-up due to Weinman's wrist injury (no jokes required!), the British rockers Tesseract were given extended play time and a much longer set than anticipated. Luckily, the powerful vocal chords of Ashe O'Hara and fierce growls of Amos Williams carried them through and the hardcore fans that had turned up for their early slot relished in the hour-long set. With a total of ten songs including a balanced mix of old and new material, this was Tesseract's first ever performance in Finland and they certainly seemed to enjoy it. The Helsinki virgins fit right in to the theme of the festival and I would almost question their early appearance considering the band's growing popularity. Having said that, maybe a little more energy and attempts to fill the stage space wouldn't have gone amiss, but each band has their own style and considering their pioneering efforts in the djent genre, I wouldn't let this turn you off. Tesseract's deep and distorted tones are unique and if they come to a town near you, you better be there.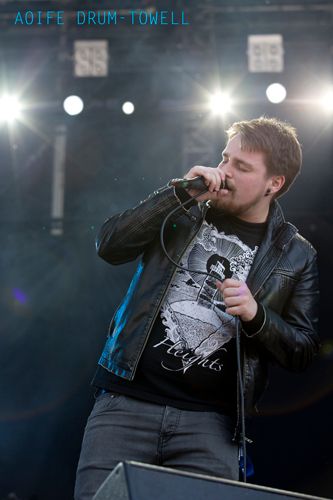 To bring some action into Tuska Cut To Fit was ready to give some assistance. The band plays Grindcore and does not hold back on brutality. A lot of screaming, yelling and hyperactivity seem to be the exact dose of what is needed to get a moshpit started. The trio is a remarkable formation. The vocalist is the only who draws the attention, the one who drives the show and spits his words onto their crowd. The drums are more hold back, could have been a bit more present in the show but who really steals the show with his fabulous SpongeBob guitar. Who can't resist a man with style?! The show seems somewhat improvised and does not has a hard line for them to follow. Suggestions out of the audience are asked, welcomed and played so no wonder that these guys have shown worthy of their place on Tuska's bill.
Following on from the 2012 release of a compilation of early recordings entitled "Completely Vulgar", the disbanded Abhorrence have decided to reunite temporarily for a small selection of shows before disappearing back into the shadows once again. Tuska was of course the lucky venue which hosted their first return to live performance after more than twenty years, ironically enough on the same Inferno Stage which former member Tomi Koivusaari played with Amorphis merely hours after them. The first thing that struck me when they came out was how old they'd gotten, but this definitely did not affect their following and clearly they have been far from forgotten. It might have affected their energy however as singer Jukka Kolehmainen appeared to tire quickly, with the slack being picked up by bassist Jussi 'Juice' Ahlroth who acted like he had never left the stage. Overall it felt like the crowd were honoured to be in the presence of such a great part of Finnish death metal history and this small window of opportunity to see them should be grabbed while it's there.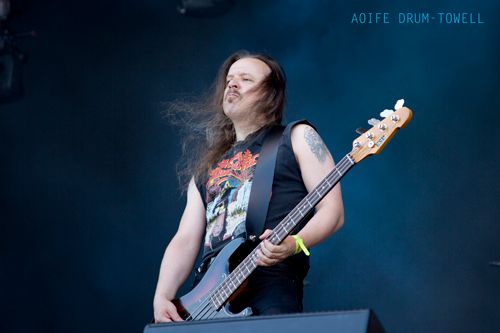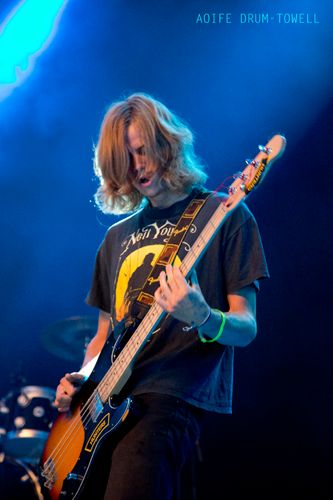 Don't let the youth fool you; Tombstoned have created a sound that mixes stoner, psychedelic and heavy metal in a mature and viable way. Exhibited by their bassist Olavi sporting a Neil Young tshirt, the band created a simplistic and atmospheric environment on stage that allowed their unique attitudes to shine through. Instantly you could tell they were different from their fellow performers, especially considering the quality and veracity of sound coming from a humble three-piece. Refreshing in a dirty way, their music certainly isn't for everyone and reminded me maybe a little of The Melvins for those looking for references, but I can tell they go beyond them and more. Expect to be captivated and not want to move from the trance that they draw you into. With a very small number of shows lined up for themselves in 2013, I would love to see what will happen to these guys if they continue to grow and perform. Only time will tell if they will get lost in the gutter or carve a wider name for themselves across Europe.
A grand and ambient melodic piece of music saw these guys come on stage, along with huge roars from an expectant crowd. Wintersun have gone from strength to strength, constantly striving to improve and grow as the years and albums go by, and it would seem that they have done this well. With plenty of energy right from the get go, they encouraged the fans to participate and this was certainly done in the form of a feisty pit in front of the stage. The Helsinki-hailing group boasted wide and dynamic musical qualities heard through their precision and attention to detail and matched this with heavy riffs and powerful vocals. Their latest album, "Time I", has been greatly received by fans and is described as a concept album that is perfected to the most intricate of details. In fact, it was originally scheduled for release in 2006 yet only saw the light of day in October of 2012. The follow-up, "Time II", is due to be released in 2014 and will take up where Time I left off, however word on the street is that fans are getting a little fed up of the wait, considering this follow-up album was meant to be released this year. Fingers crossed their widely-spread European and American tour dates that they have lined up for the summer will keep the fans happy for now, and judging by their epic performance at Tuska, they might just.
The formation Dreamtale from Tampere arises with full joy here on stage. It seems like they are having fun up there and that immediately brings along a good atmosphere. The band has been going on since 1999 and with many releases in their pocket it was not hard for the guys to fill up their timeslot. The guys are very show directed. Vocalist Erkki constantly climbs on monitors, overlooking his audience and make sure people in the back of the venue get their share of Dreamtale too. Their Power Metal is actually quite an experience. The band throws in many guitars, sometimes perhaps a bit too much as it becomes overdone and too much of what was really needed. This is not strengthened by this indoor area, a bit larger stage would have suited them better and have the sound reach out wider. The band played an entertaining show, but was balancing a bit on the border of going to strong with it. Too much could kill as easily as not enough.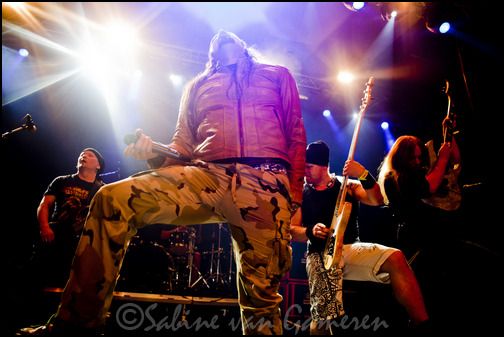 Ihsahn on the Inferno stage, the man known of Emperor has now four full length albums on his name and today with his band liveband Leprous he is ready for Tuska. His music has always that touch of Progressive in it and combined with the extreme sounds of his eight strings guitar they are setting up quite a show here. It was energetic, while Ihsahn himself is not the most energetic person on the stage. The music does that job and it gives the audience worth their money. From his album "After" he plays "Frozen Lakes on Mars" which is impressive as some of the audience sing it along. Then, towards the end of the set it gets into a more subdued version of Ihsahn. "Eremita", Ihsahn latest release, is represented by the track "The Grave" which makes it all a bit more dark and depressive. Seeing Ihsahn is an experience that remains with you, a stunning set played how you could have expected it from this Norwegian. Never let you down!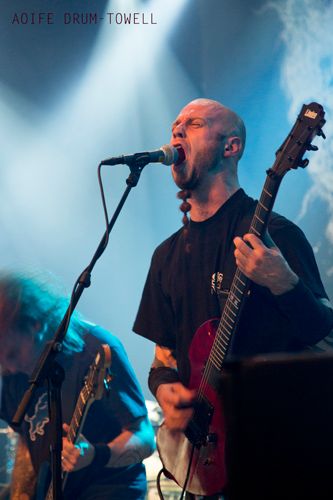 You would be forgiven for not seeing these guys at Tuska, but only if it was because the stage was so full that you couldn't get in. Torture Killer brought such a following with them that the area was packed out with one of the best receptions seen at the Club Stage. Old school death metal encompassed the area and the energy the band had on stage was second to none. With perhaps a few controversial downfalls such as the sound not being up to par and the restricting size of the stage diminishing the atmosphere that the band attempted to exude, the crowd's enthusiasm pulled them through and made for an intense experience should you have been lucky enough to be in the middle of it. Further back and maybe with a bit more of a view, at times they lacked togetherness and tightness. With a set lasting forty-five minutes, they included a well-spread mix of old and new across their discography including "Forever Dead" from 2006's Swarm and the title-track "Phobia" from their latest 2013 album release. Not for the faint-hearted.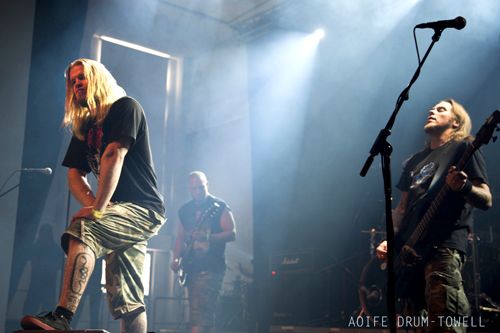 For everyone's entertainment there is Bolt Thrower. They are playful, a joy to watch even if you would not be into Death Metal that these guys are making already for 27 years. Good, the guys gave not released any new material recently but they have plenty to fall back to. And it seems like the audience can't get enough of them either as they never stopped actively touring. Here at Tuska it is not much different. They are cheering for the band even before they are announced, eagerly responding when the band enters and making this performance into a large party. The band has been quite consistent during the years. Only a few times one of the members left, but always to return to the band later which makes the line up very original. Standing out is bassist Jo Bench which makes a great impression with mainly her music as she is not that much of a showlady compared to the guys. Yet she makes herself noticed purely on the skills. Good job!
Kuolemanlaakso joined Tuska as one of the few bands singing entirely in Finnish; an attribute they use to their advantage when it comes to increasing their effectiveness as a death and doom metal band that would be considered on the heavier side of things. Unfortunately, feedback and sound problems hindered their overall show and at times even the guitar seemed out of tune. The stage was tight for such a lively and aggressive five-piece and even the dramatic pauses they attempted by turning their backs to the crowd between songs were lost in the contrast of over-zealous lighting and of course the unwanted screeching of feedback through the amps. Aside from this, perhaps with a bigger stage the band would have thrived and they did seem like they wanted to. With a good turn out from fans and their thick, heavy guitars penetrating the hall, Kuolemanlaakso have so much more potential than what was seen at Tuska and I find it unfortunate that I didn't get to see them at their best because I think they could have been really good with just a hint more control. Off on their Finnish tour at the moment, maybe their own headlining gig would do this otherwise great band some justice.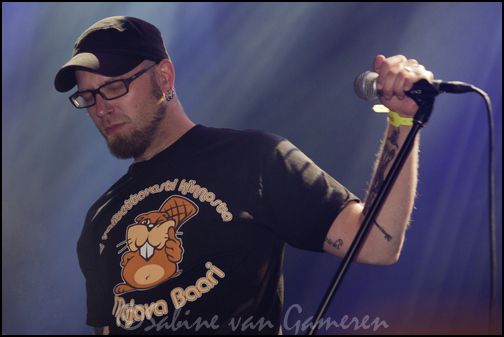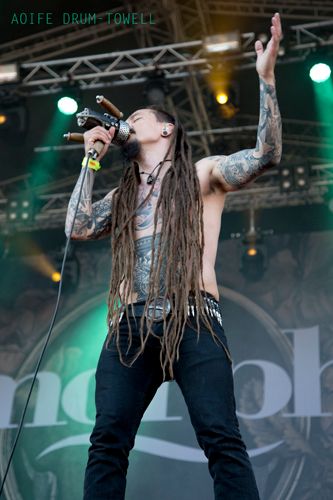 As one of the larger Finnish bands gracing one of the last slots in the Tuska Open Air Metal Festival, Amorphis came on with an obvious appreciation of being there. While some of the vocals didn't always leave the speakers up to scratch, the lads still owned the stage and rocked the crowd. Some would say that they possibly perform better indoors and I might believe that, however it was hard to ignore the thrill of seeing them play in their own country and as the Inferno Stage's headliner. Amorphis have a strength to them that is second to none and they've earned their stripes in the metal world, covering genres throughout their lifespan that range from death, progressive, gothic and even folk metal. Including songs from 1996's "Elegy" to 2006's "Eclipse" to 2013's "Circle", they made sure to please both old and new fans and gave them a well-rounded synopsis of their musical vastness. Lead guitarist Esa Holopainen particularly impressed me on the day, and I'll be making sure to catch them the next time they're in town.
Seremonia is one of those bands that came up recently. A new hype perhaps? Psychedelic Rock, combined with some Doom brought to you by a skilled band with a female, barefooted vocalist that fucks up regularly. Basically sums it all up. Sure, it does not have to be clean and polished, it may actually have a bit of a raw edge but here it just starts to work as an irritation. A shame as when there would not be vocals you have some good guitars to listen to. Driving music, psychedelic and bringing you to ecstasy. Perhaps with a little more elaboration into it the guys would have made an even better impression, but hey, they just released their debut release so there is plenty of time to grow. Hopefully they will evaluate the role of vocalist Noora carefully because on that part there is still so much to win for this band and her personally. We can only hope for a better impression next time.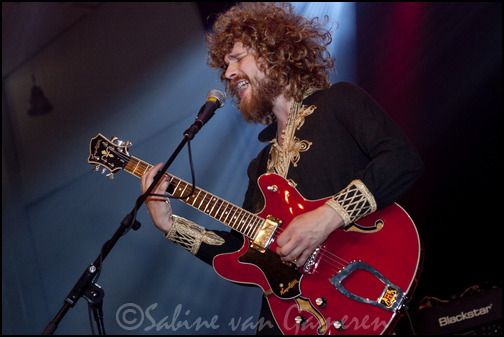 King Diamond is legendary, no need to question about that and so come that every Tuska visitor have gathered for their show. And a show it was. Starting with a large fence in front of the stage you might have had the thought of watching some monkeys at a zoo, but then the band comes on and the scene gets created. Horror, drama, passion combined with monsters, zombies and your evil granny. King Diamond played some songs from throughout their whole career. "Up From The Grave" , played early in their set from their 1996 release "The Graveyard" and the title track of their 1998 release "Voodoo". Then also some more recent material although the band's latest release dates back to 2007. With a show like them, the entertainment and the high pitched vocals of King Diamond himself we were witnessing a true horror show experience at Tuska. This band knows how to entertain without losing touch with the music and lets this first day of Tuska get closed with an amazing performance.

Following bands have been reviewd and photographed by sabinevangameren.com:
Leprous, Cut To Fit, Dreamtale, Ihsahn, Bolt Thrower, Seremonia and King Diamond
Following bands have been reviewed and photographed by Aoife Drum Towell:
Tesseract, Abhorrence, Tombstoned, Wintersun, Torture Killer, Kuolemaanlaakso and Amorphis
Continue to our review day 2 or day 3