Location: Suvilahti, Helsinki (Finland)
By: Sabine van Gameren & Aoife Drum Towell
What an energy on the early morning. The gates were only open shortly but some people overcame their hangovers to be there, front row, for Lost Society. The Finnish Thrash formation obviously got the word out about themselves and their recently released debut album called "Fast Loud Death" may have had a great deal into that. So maybe they are newcomers but here they are, opening the mainstage on day 2. Not bad at all! No wonder the guys are so energetic, enlightened and happy to be there. Their enthusiasm is exactly what everyone needs, the fresh people coming to Tuska start their day early while listening some good skills of these guitarists and have a great joy singing along some of the tracks. Kudos for them, opening a day like that makes us very curious to that album!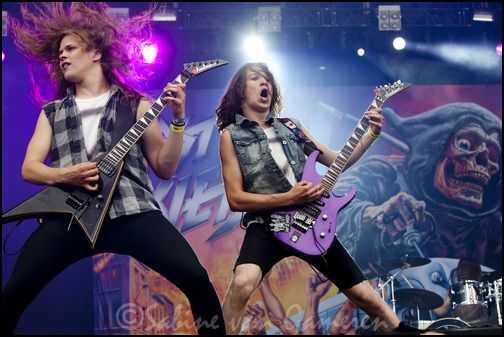 Soul Thrower appeared at the Club Stage of Tuska as the worthy Metal Battle winner, after defeating up to fifty other Estonian metal bands. They entered the compact stage with a definite confidence; something they probably earned from their intense fight to earn their place. With a set lasting a mere twenty-five minutes, Soul Thrower managed to rival the other bands with their serious shredding, intense riffs and impressive growls. Songs such as "Land of the Dead", "Massive" and "Beyond the Walls of Tears" should be checked out if you haven't done so already, because I predict this band will be big. Vocalist Daner Stumblejunk impressed me with his range of singing styles, but if I was to be critical they could do with more harmonies and a little more uniqueness to their approach of their genre, which they claim as corpse rock. Overall a good show and a deserving band that just needs a little more time of exploration and refinement.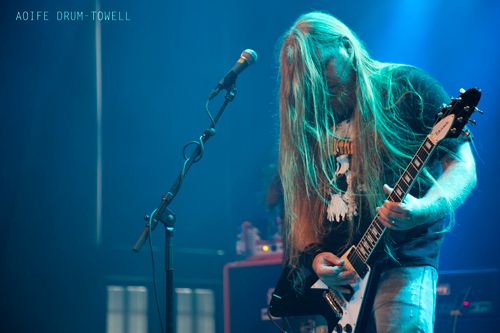 The first thing that comes to mind when I think of Baltimor is the word 'insane'. These guys really know how to step on every inch of the stage and piss each other off while doing it! Their intensity during their performance was like something I had never seen before and really has to be seen to be believed. Of course, this insanity doesn't necessarily mean that they hit every note and worked in sync, but I wholeheartedly believe that that's not the point. The bassist in particular enjoyed swinging himself every which way blindly, while the singer did his best to compete with him and stay out of his way at the same time! Music-wise, they were surprisingly tight for the erratic movements and displayed some really interesting guitar combinations and rhythms. Key words being experimental, heavy, uncaring and thoroughly refreshing, witnessing this band should be a rite of passage for all well-rounded metal enthusiasts because until you've seen them, you haven't seen nothin'!
Black City for me was possibly one of the more low-key bands of the festival, seeming to struggle with keeping up with the energy and effectiveness of other bands in their company. A few problems seemed to arise such as some off-key singing and maybe a performance leaning on the toned-down side of things. Having said that I thought guitarist Kristian Klærke was very good and carried the band through, but I would struggle for any other pivotal moment of their performance. They played songs such as "Here Comes the Rain" and "If I Ever Go Down" to a medium-sized crowd but didn't seem to grab too much attention from passers-by. Maybe this was all down to the Copenhagen-hailing group sticking to a genre of rock yet being surrounded by the heavier side of things at one of the heaviest metal festivals around; they could merely have been swallowed up in their surroundings. Their single Summertime (which they also performed on the day) was been widely acclaimed and I will agree with that, however to me they must step up their live performance to earn a recommendation.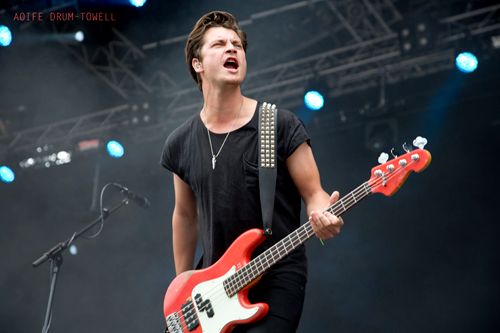 Hand on heart, as soon as these guys, Ratface, hit the stage they entered my top ten favourite bands. The group were extremely energetic, very fast-paced and exuded the confidence required to rock the major festival that was Tuska. They brought with them their own unique breed of crazy and had the crowd going so mental you couldn't have stood still even if your feet were glued to the ground. In fact, even the stage meshed into its own mosh pit with all band members (and even some very welcome special guests complete with rat masks and heart-shaped sunglasses) jumping around and vibing off each other creatively. The crowd were only thrilled, due especially to the band's great interaction with them and even at one point sticking the mic into the face of a die-hard fan, allowing him to sing along. Filthy riffs, foot stomping and a larger than life attitude saw these guys become the highlight of my entire festival and have definitely put these hardcore Helsinki-based savages on the map. Get to a computer and listen to them, now. Better yet, go see them live and have your mind blown.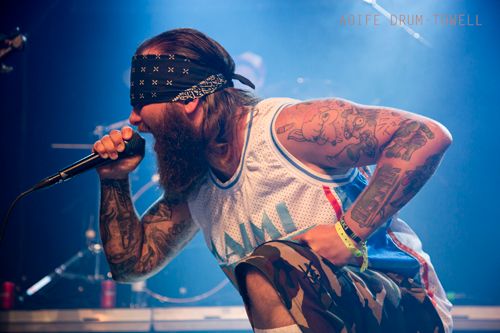 Soilwork is a band with a reputation. If you have seen them often, you have seen many set with only mediocre vocals. The band's vocalist is not known for his consistency. The Swedish are this time also not having their best show ever but it seems like the audience is forgiving when the play some tracks of their success album "Natural Born Chaos". "Follow The Hollow" gets the audience started and when a little pit is started the atmosphere is on their side. So basically seeing Soilwork live is always an experience that exists mainly out of the hyperactive energy and the sing-along factor of their super catchy metal songs. The Swedish guys have been getting away with it for years and yet again they seem to do so. Maybe it is that the expectations are not as high anymore, but yet it feels a bit disappointed not getting the best Soilwork show as it could have been.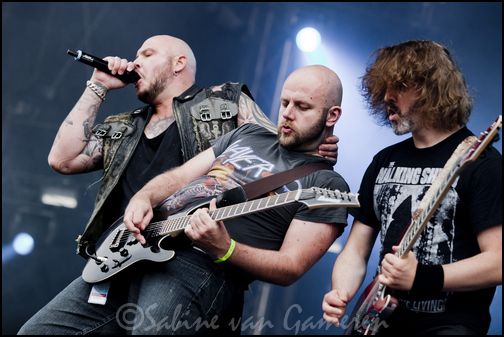 Bloodred Hourglass raised the expectations with the release of their debut album "Lifebound" and the extensive promotion on it. The album got received quite well and therefore it was no surprise to see the band has brought a dedicated audience with them. The Death/Thrash formation does not hold back on bringing in some tempo from the set. They only have limited time so they speed through their set without leaving too much breaks in there. Good at first you may have to get used to it, but with these guys you'll grow into them soon enough. No, perhaps they do not bring you something unique, but what they do is bringing it well. Good guitars, a strong vocalist on board to give plenty of passion, a little melodic edge to it and well composed songs. Next time they play Tuska it will probably on one of the larger stages, so it was good to see them in this intimate club atmosphere this year.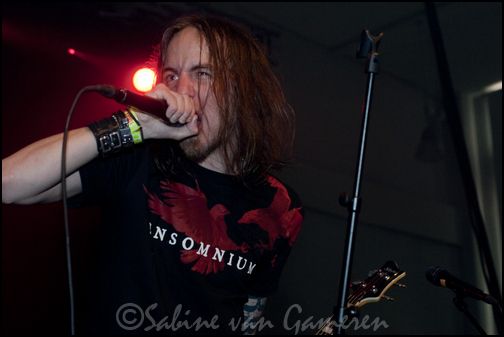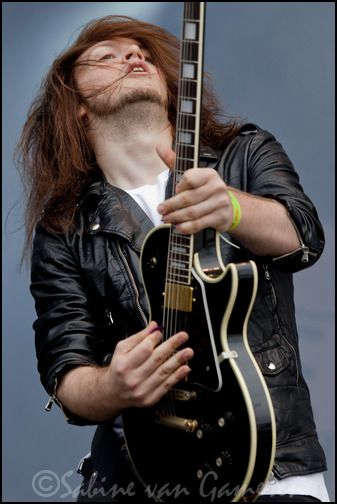 We Butter The Bread With Butter look a bit strange here in this line up. They are young, make Deathcore and are certainly not like the stereotypical Tuska visitor. Therefore it is not really strange to see that the band has a little trouble with capturing the majority of the audience. Luckily for them the people seem to give them a fair chance to show them what they got. What speaks for them is that this band looks like a close group of friends, a perfect team that works together very smoothly. This makes them look very professional and works in their advance. Then it is the charismatic frontman Paul that starts to win people over. No matter where you are in the crowd, he directs to you. Perfect qualities for a vocalist. Musically they may not have impressed everyone here today, but that does not have to do with their playing but mainly because they are so different from the other bands on the lineup that it just is not what is on the likings of the audience.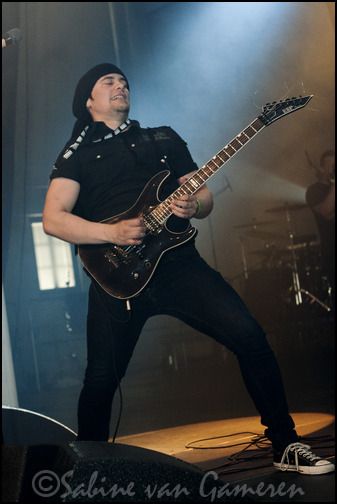 De Lirium's Order Is playing in the club stage and they make Technical Death metal. That sounds like you could expect a whole lot of action but unfortunately the band is not living up to those expectations. The band is rather timid, does not give you as much of vehemence as it could have been giving. Technical it was, yes the guys have some decent songs that show you that the band can do musically a great job but for some reason it does not come out as great on this stage. No excitement to see at the guys either makes you wonder if they really wanted to be there. Such a shame, this band could have given so much more than they have done now. A missed opportunity.
Stamina, or alternatively 'Stam1na', were another Finnish heavy metal band that sang in their native Finnish language hailing from Lemi, Finland. Gracing the main Radio Rock Stage proves their popularity, as did their massive turnout from their fans that ran to meet them. With a string of albums hitting top of the charts shortly after release, Stamina had nothing to prove but all the fun to have – and boy, did they have it! They entered a stage decorated with blow up beach characters (such as animals and trees and other adventurous summertime thrills) to music previously unheard of at Tuska… Reggae. With the sun shining and the beats blaring, suddenly I notice the band have donned their theme as well; in the form of scuba suits and grass skirts just to complete the aesthetic. Clearly, they were there with lifted spirits and a sense of humor, but that doesn't make a gig does it? Of course not, but luckily these reputable rockers knew that and still hammered out a tight, energetic set while looking absolutely ridiculous! Their show really set them apart from the dark moodiness of so many other performers, embracing the summer time and humour that they knew their fans had. They successfully made themselves stand out and backed it up with some impressive displays of musicianship, which is only to be commended.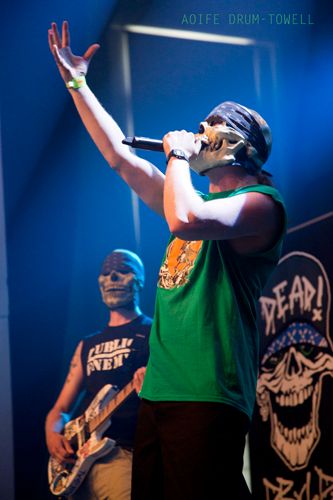 Despite what seemed like a few sound problems at the beginning, this skull mask-clad gang called dr. Living Dead owned the stage as soon as they ran on. Their enthusiasm transcended onto the crowd, especially through intense encouragement to form violent circle pits over and over again. Bouncing around the stage, the Swedish concept band had energy to burn and got so into the swing of things that they lost their guitar line for a chunk of one song. Seemingly a little immature (despite them hating that accusation!), the show was still immensely enjoyable and definitely not for a weaker audience – even I got thrashed about! Playing thrash/crossover songs through their forty-five minute set such as "Gremlin's Night" and "Streets of Doc Town", at times the vocals were inaudible due to the oversized mask being pushed against the mic. Someone needs to teach 'DRxMANIA' how the inner workings of a mic function and how the sound is captured! Aside from that, the positive vibes were hard to ignore and with some great crowd interaction their fans looked suitably and happily messed up stumbling away!
Black Metal legends VON are playing at Tuska's Inferno stage. A week ago they were playing in a more intimate setting of a tent and now the band is playing on an outdoor stage so we wondered how their Black Metal would come alive here. Well, it must be said that the guys made a better impression even while their show of last week was not bad either. In the beginning it missed a bit of the cold passion that comes with them, probably caused by the fact that they started quite abruptly but after the first track they managed to give it some more. However it seems like the audience is not always getting along with them. Mostly observing quietly rather than living it along. Where it goes wrong seems the question as the guys did play their set pretty tight. Maybe their performance is too static to come across at this larger stage? Who knows, luckily some of the front row people seem to feel the music and did not let the guys without any glory they deserved.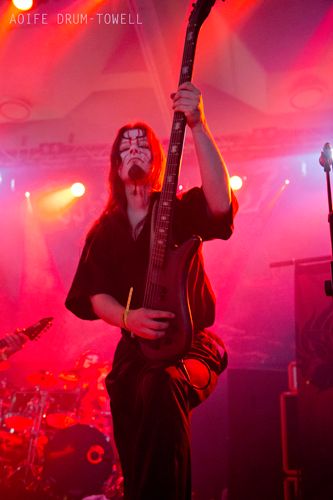 Entering the stage to ambient Asian melodies, Whispered wore their traditional robes and black, red and white facial makeup to complete their homemade atmosphere. While I expected a better-than-you attitude given their moody get-up, I was instead met with a couple of unexpected smiles from the lads on stage and even, dare I say it, a sense of them enjoying themselves! This band have some really good songwriting abilities and I enjoyed every second of them, enough to stay and watch them for longer than I really had the time for. Whispered are creative, innovative and put on a great show despite a set lasting less than an hour. I was particularly impressed by bassist Mikko who struck me with a Joey Jordison feel of being the silent cute one that all the girls flock to! This gothic Finnish group don't have much of an online presence but I would really encourage them to do so as I officially consider myself a fan after seeing them at Tuska. Catch them if you can and brush up on their music with songs such as "Thousand Swords" and "Faceless".
Kreator, exuding the essence of thrash metal, came onto stage with a presence that only they could merit and accented their arrival with a display of pyrotechnics and smoke-billowing pipes at the front of the stage. These guys always know how to put on a show, exhibited by the fans showing their appreciation in the form of a massive circle pit in front of the stage. The title-track from their latest album "Phantom Antichrist" opened their performance, and the set went on to sum up their musical career including tracks from 1986's "Pleasure to Kill", 1997's "Outcast" and 2001's "Violent Revolution". With the older fans kept happy, Kreator didn't let their age fail them and rocked the stage with an energy that even the younger crowd struggled to keep up with. The German super group not only had a great stage setup, but kept their pace and played so tight that you should be ashamed if you were there and missed them. In fact, if you were there and did miss them, I'd like to know exactly how, as they completely took over the festival for their hour-long set! With their politically-fuelled and extra-powerful "Phantom Antichrist" album debuting on two U.S. Billboards and thus making history with their new label Nuclear Blast, Kreator are only getting stronger and stronger and deserve all the recognition they can get.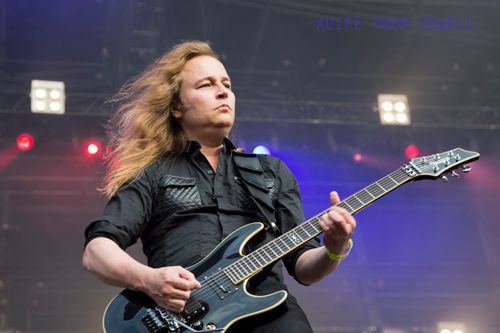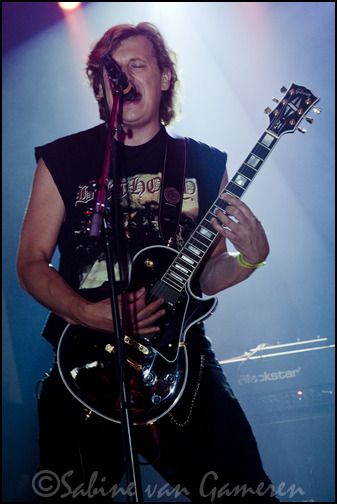 Dutch formation Urfaust was playing at the clubstage and the stage is filled with smoke. Some candles are burning which create an atmosphere that suits their occult Black Metal. The band is having all song titles in German even though they are actually Dutch. Urfaust is a duo, which makes that the band has their hands full with making their sound come alive. The drummer, going under the name VRDRBR, is making the best impression here. He plays it loud and on-spot, very well brought with a bit of style. Sometimes you would think they could have taken up the tempo a bit, but the tension building is really what does the trick for them. It was an interesting show that has left its impression.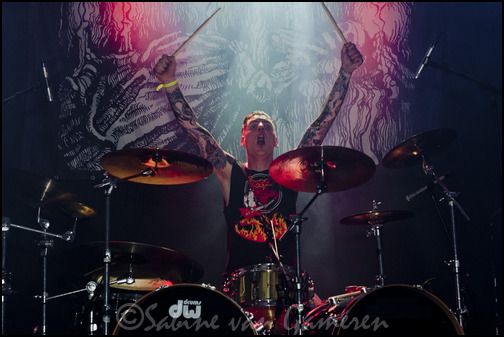 Another band along with Abhorrence to come out of the shadows after previously retiring, Lama took to the stage with a bang to make sure everyone knew they were there. Perhaps compensating with a little too much beer, lead singer Epe enjoyed multiple cans on stage and hurled out his Finnish lyrics with as little care as the punk genre deserves. Commonly thought of as the pioneering heads in Finnish hardcore punk, the band were originally active during the years 1978 and 1983 but didn't let that stop them from reforming in recent years and jumping around like maniacs – at one point Epe was seen lying on his back with his legs in the air in the middle of the Inferno Stage, still barely spitting out a song. Not only this, but he also ran in literal circles around his fellow band mates, burning out his excitement of performing for the crowds of Tuska who looked on in amazement. Despite their lengthy break, followers of Lama flocked to the stage and it would appear that the band are once again fighting their way back into the music mainstream – or as mainstream as their genre can get! One can only hope the hangover doesn't catch up with them…
Dark Buddha Rising had a bit of a bad start. Some sound issues delayed their entry and the fact that they were scheduled against Testament was maybe not the most promising thing for them, but the club stage was filled nevertheless. Their music is weird, dark, macabre. A combination of doom and electronics. The bands transfers you into their dark, dark world. You will be crucified, bullied and tortured by the evilness within their sound. No merci! The band steps into their role and is so solid into it that it really plays with the mind. Are you scared of the unknown, than this isn't your band. Are you open for a trip through everything that is hell and black, torture, unknown and can you surrender to it, submit then to the sound of Dark Buddha Rising!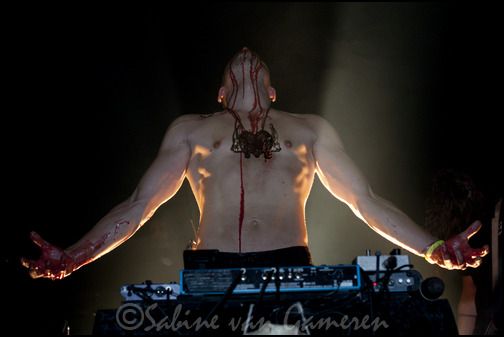 Following bands have been reviewd and photographed by sabinevangameren.com:
Lost Society, Soilwork, Bloodred Hourglass, We Butter The Bread With Butter, De Lirium's Order, VON, Urfaust, Testament, Dark Buddha Rising
Following bands have been reviewed and photographed by Aoife Drum Towell:
Soul Thrower, Baltimor, Black City, Ratface, Stam1na, Dr. Living Dead, Whispered, Kreator, Lama.
Continue to our review of day 1 or day 3