Location: Dokkum (Netherlands)
By: Sabine van Gameren
With the start of Dokk'em Open Air on 21st of June, the same day as the summer is supposed to start, you would expect a little sunshine. It is not granted, but the metal fans seem prepared. A little rain would not spoil the festival fun.
Well a little probably not, but what about a lot of rain? It does not work for the Belgian band Hell City which won a contest and therefore the right to open the festival. While people choose to wait dry in the tent while they played, only their die-hard fans and friends are left. A pity, but this band you may see again in future. The female fronted formation presents a couple of good songs, though here and there they may need to make it a little more exciting. The vocals are done very well some surprises are found in those moments where she is coming to the borders of her range. Kept under control and not allowing it to cross that border she therefore makes a good impression. A good opening to the festival.
Dyscordia, also winners of a contest, were opening the tentstage. Good for them as most of the crowd was gathering here to avoid the heavy rain. The band makes Progressive Metal and it was not hard to see why these guys won the contest. The band makes an impression by their whole sound. The guitars are loud and exciting, very playful and with the vocals it is all working out as well. The grunts are the most impressive part, they are done very well and sometimes give those clean vocals a run for it. So no easy job for (clean vocalist) to keep up with that and sometimes he seem to struggle with it. That might be the bands point, to get into balance with that would be that thing that lifts them up higher. No bad job for these guys though, we probably hear more of them soon.
The curse of the rain wasn't spared for After All either. Again, a Belgian formation that comes to the North to show of some skills. Thrash Metal it is and while the last time Tempelores saw these guys play, it appeared to be less appealing the guys have got a different energy here today. Full enthusiasm they present themselves onstage and give their bests. Ok, some technical troubles were there to cause a bit of a delay, but eventually they got it started. The band plays a good set, fast and furious when needed and taking some time for some fun on stage also. Last year the band released a full length album called "Dawn of the Enforcer'" via Roadrunner Records and so there is some to see of that. The Belgians have succeeded leaving a much better impression, letting that old one fade away. Good to see that they probably just had a bad day back then.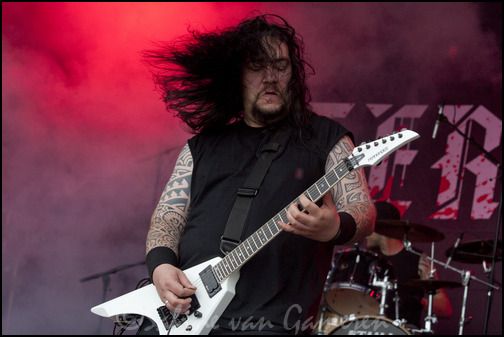 Back indoors the band Aborted brings some entertainment for those seeking shelter for the rain. The band makes Death Metal, here and there mixed with Grind. Formed in 1995 the band released seven full length releases, the 2012 release "Global Flatline" was the latest of these guys. They have toured with some major names, band playing this festival as well like Cryptopsy. The blast beats are falling all over you when these guys are playing, the band is on stage and it may be heard all over the terrain as they create a pretty full sound. Their energy is given back right with the audience as they seem to have a couple of dedicated fans around. The band let their music do the talking for them, on stage they have not much more they need. Brutal, Belgium and impressive.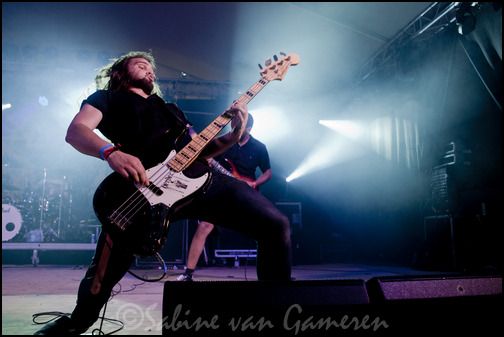 As Witchcraft enters the stage we all get to know that playing Stoner rock may be done stoned. Announced with the words they have smoked some Dutch veggies before they were ready, it gives you an idea of what to expect. The band starts with their heaviest parts, the most Doom-ish side of their music and it seems that the audience holds back on them. It takes these Swedish guys a little more effort to convince the Dutch metal crowd. When the band is going for a while the hearts are won. The music they play later in their set list is obviously more energetic and seem to appeal more. Most remarkable of this bands is probably the drummer who pulls the attention towards him when he gives a little more power than before. Not an easy win for these guys, but the Dutch have granted them the time to crawl out of their shell.
It was time for the duo of Black Metal to take stage. Black Metal under the name of Inquisition it is and this band has quite a history. The formation of this duo dates back to 1988 when the guys started as a Thrash formation. Later, in 1994, the music changed to Black Metal when founding member Dagon moved to USA. As they are on stage now, it looks a bit lonely. Therefore the performance appears quite static and while Inquisition has the stress on the cold sharp Black Metal the lack on the atmospherical part makes that the show appears a bit flat. It all could have been more sharp, more contrast. It has been a while since these two guys came with an album, "Ominous Doctrines of the Perpetual Mystical Macrocosm" already dates back to 2010. A new deal has been made, so it may be the guys have something coming soon.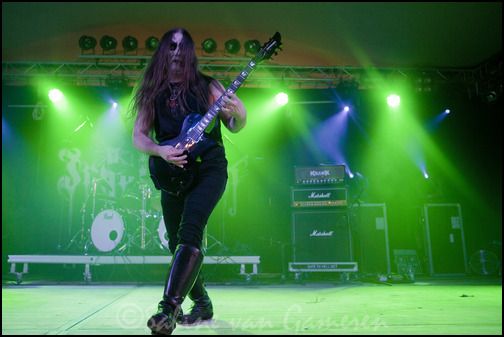 Symphony X was a bit disappointing today, The band makes Progressive Power Metal but it is obvious that vocalist Russell was not interested in walking one step faster than needed. Except in one of the various occasions that he rushes offstage to let his band mates alone with the audience. What is he doing all the time? One time he returns with a bottle of booze, but after that we lost track. Also in the way he communicates with the audience there is not a single word of sincere interest to be noticed. What a pity. A bit more passion comes back into the show when the song "When All Is Lost" is played. A song that sticks out for the drama it brings and because it seem to be a bit of a turning point in their set. Maybe Russell found the joy in the Dokk'em Open Air audience as they did not give up on the band as his band mates are there to perform some good solo's which make up for it a bit. Mediocre set, definitely not the best show the band has given.
Where enthusiasm was not to be found at Symphony X, it was all to be found in the tent when Misery Index is playing. The guys give their fullest and have not really a hard task to get the audience along with their mix of Death and Grind. When the bands demand a there should be some pit going on, they are immediately getting back their energy. The vehemence that lays in their sound comes alive very well. Is it perhaps that the band's name all has to do with unemployment rates which are currently quite high in this country? Anger, frustration and all has to come out and Misery Index is giving opportunity which is very welcomed tonight. A good show, that's how it should be done.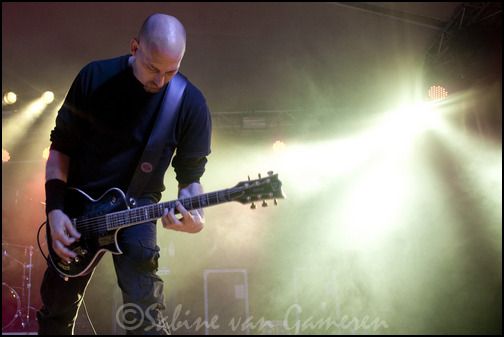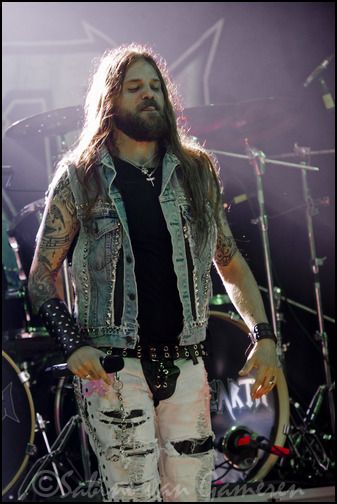 Loud, very loud, that is how Iced Earth wants to make sure they are being heard. Their combination of Power and Thrash Metal must take over as it seems and the band members were up for building quite a show. They give full power from the beginning which simply works here. Guitarist Jon Schaffer, founding member, has gathered a new bunch of musicians around him in the most recent years. And despite the fact that people may see a new Iced Earth every time they come across the band there is a certain stability to be found. Obviously it are the riffs of Jon himself that really shine here even though the rest of the band has their moments of fame as well. Those who enjoyed the band's live show a lot may be pleased to hear that the band released a live album as well as a DVD this year.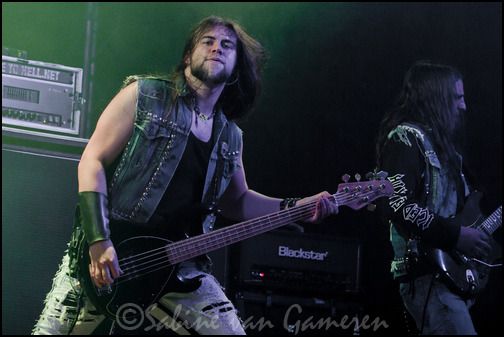 Amorphis is a band that you run into quite often. The Finns have been touring around a lot and they are known for playing energetic live shows. The Progressive band starts their set with a couple of calm but intense songs. "Shades of Gray" of their latest album, which is not too commonly known yet and "Sampo" of their 2009 release "Skyforger". This creates a warm and intimate setting which suits the band so well. The energy level rises during the show and when the track "Hopeless Days" of the band's latest album is placed it costs them no effort in getting the audience along. Amorphis fans from day one may notice that the band is certainly on the move again, the folk touch never lost but given more intensity in the melody and let the sound perhaps become a bit more open for a wider audience. Amorphis is expanding still and the ambitious Finns are eagerly using the time they have on this stage. A splendid way to end your evening with, on Amorphis you can always count, never cease to please.

Day 2: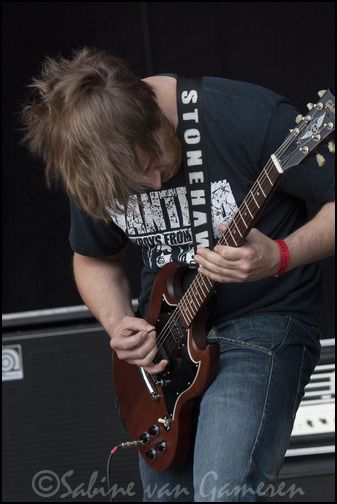 Was it yesterday up for a bunch of Belgian formations to open the early hours of Dokk'em Open Air, it is now time for some Dutch bands to show some skills. The locals from Stonehawk are opening today, the band has a quite groovy sound, brought with the right dose of passion. When the mud on the festival terrain is being dealt with, the band wakes up those who had not left the festival camping yet. What stands out most are the vocals, brought with passion but overall the band has a need for a bit more variation in their set. Now it appears a bit flat which at the end of their 30 minute set turns old, so for a longer performance the guys need to find something to add some contrast.
Blood Red Throne could not make it in time to the festival. The guys were stuck somewhere in Europe and although the organization hoped they could perform later during the day, it did not work out this time. Luckily the rockers of Hellbike were ready to stand in for them. Hellbike is a Heavy metal formation that had saved the day before also by lending their equipment to Iced Earth. That these guys are all in for some good fun can be seen by their positive attitude onstage. They immediately make it clear that they are there to bring a party and that seems no problem even on the 'early' morning of DOA day 2. Good to have people like them along, a mood riser for the day!
Heathen was not lucky either with their travel towards Dokkum. The band had trouble with their tourbus but a bus went to get them all the way from France to make sure they would make it there. Eager as they are to be there the Thrashers interact quite a lot with their audience. Though the band has been around for quite some years, they never really released a lot of albums. When seeing their show it seems their hearts is more in giving live shows. Dazzling riffs, good vocals and the right attitude in the pocket the band easily keeps the show going. No compromised on the tempo either, the band is determined to get to most out of it. Mission succeeded!
The minimalistic Black Metal of the band VON is seen as a true cult formation. The band has been quiet for quite some years, but recently became more active again. A couple of European shows have been booked and today was their Dutch performance. The band had a good show but for a long awaited cult formation you may have expected a bit more out of it. The start was easy. A nasty scream brings you goose bumps and then the Black Metal comes all over you. That very first chill, however, is not been brought back yet and perhaps that left us with some mixed feelings. Good show, well played but could it have been more?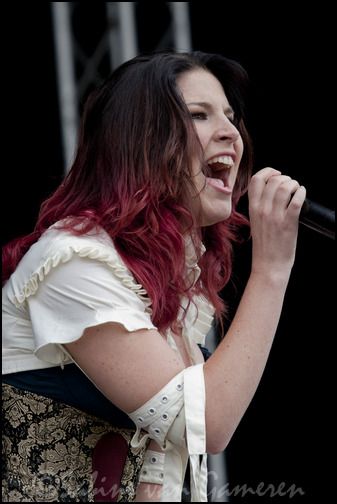 Dutch Symphonic Metal formation Delain would be something completely different straight after the Black Metal of VON. Since 2002 the band released three albums and a shitload of singles which did a good marketing for the band as their fan base grew steadily. Today they seemed very enthusiastic to play this show on Dutch soil (or mud…). When front woman Charlotte Wessels dedicates to song "Go Away" to the rain the tone is set. Though she is a very present member in the band it is not really her that stands out most. The band's guitarist Timo Somers plays an impressive part in this formation. He easily draws the attention here. Overall the band radiates positivity and with the show of today they entertained their audience well.
Surprise of the day is presented to you by The Monilith Deathcult. The Dutch formation plays Death Metal with some Electronic elements. Therefore you have bit of a connection with Industrial Metal, but since the guys keep that influence far from becoming too dominant which gives them a more brutal touch. The band plays it loud, from effects that come in with quite a volume to the sound being overwhelming. Count a hyperactive lightshow and a whole lot of smoke onto that and you get an idea of how the show adds to the dynamic of the music that's played. The band stands out for the way their songs are composed, maybe not the stereotypical sound and yet it is not really that odd at all. The guys managed to impress with it, a show that will stick in mind!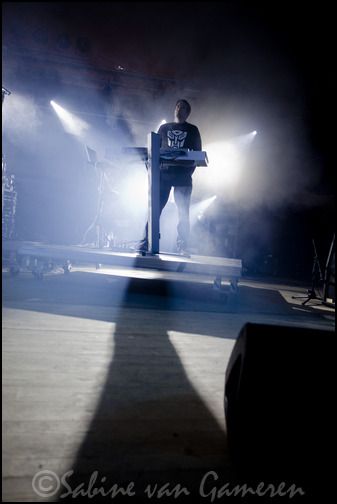 Orange Goblin seem to realize that the weather is not doing them a favour today. The appreciation for those who come to see them anyway is therefore made to be heard. "Fuck the rain!" is what they say and invite those who are standing a bit in the back to come and see their show as well. The band comes from United Kingdom and makes Stoner/ Heavy Metal. Last year the band released their seventh studio album called "A Eulogy For The Damned" which was received well. The band has their strength in the combination of the bassist and the vocalist. The two have a good dynamic together and they know how to bring in some tensions into their music. Also, Ben Ward is one of the few that motivates their audience to go see them despite the rain and actually step out of the safe and dry zone of the stage and comes a bit closer to the fans. Fair enough!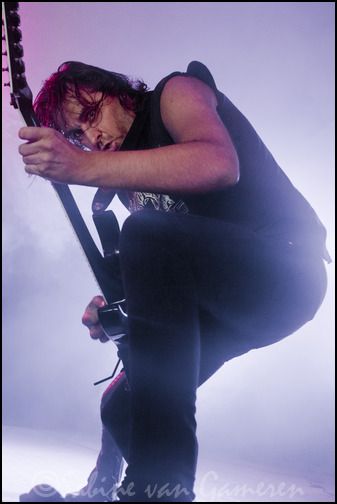 Keep of Kalessin has been quiet for a while and they were not planning on doing summer festivals this year, but today they made an exception. As only European festival this year Dokk'em Open Air has a unique name on their line-up. The reason for that is that the Norwegians have been working on a brand new album and this one will be released in October. Luckily the guys gave us a little preview of that, a sort of try out. The band plays a good show as their reputation is up to but today it lacks a bit on the vocal side. Just not as stable as it could have been. Also the band has a stand in drummer along today. A youngster that did a good job here today. So Keep of Kalessin was a unique treat this day. Hopefully they will invade the club season in fall where they can give us even more than today.
Jorn Lande got known for his voice in bands like Masterplan etc. The last years he is doing pretty good with his solo releases also and have been doing some tours also. Today he got a bit of false start as it seems. The sound was not really great, his vocals started on a way too low volume which causes that he hardly makes an impression. And that while songs like "Overload" and "Below" were there in the beginning of the set. Those songs could have kicked in the show right away, but due to a lack of power miss their potential. Luckily after a few songs the sound improved and Jorn was able to fight back from that. At the end of the set we get to see what Jorn is really up to but maybe the set was just too short to reach the audience completely.
Cryptopsy forms quite a contrast with Jorn. The Technical Death Metal formation has a strong reputation, created through hard work, many tours and seven full length releases through the years. The band has an overwhelming live show, full of energy and the band does not let their fans down this time either. If there is one band to bring some filthy brute metal it is them. Strangely enough their performance is not overly active itself. Not more than you would expect for the genre though. The band let the music do the talking and give the audience the opportunity to respond in the one and only appropriated way: Moshing, head banging and purely enjoying the show.
Up next there was a timeslot for what is probably the most social band of The Netherlands: Peter Pan Speedrock. If you are a frequent festival visitor and you have never seen these guys before, you probably slept a lot during those as the guys are always and everywhere. Always good to have a band like them on your festival, the band is a guaranteed success with the audience and they always make sure there will be some kind of a party going on. Announced by icon 'Dikke Dennis" the show goes on. Not much more to say, Peter Pan Speedrock simply does what they always do: give a good show and make sure the audience has a good time.
One of the best shows of this day came from the American of Six Feet Under. As they are responsible for some of the most iconic Death metal releases they were much awaited by the fans. The whole tent was filled even before the time was there. While the band was originally started as a side project, nowadays you can't really go around them. Thirteen full length studio releases and never really too much time in between them shows that the band not sees it as a side project either. This year the band came with "Unborn" an album that got quite some coverage today. Luckily the band also dug into their past as the fans would not accept any different. The energy is there, grunts Chris Barnes as a charismatic piece of art that gives the band not only a body but also a highlight. A splendid show from the Americans.
The Italians of Rhapsody of Fire are ready to enter the main stage and the crowd is scanting their name. The Power Metal formation often gets inspired by movies and classical music and always tries to make their songs exceptional in a way. With what they are doing they may be the glamrockers of the Power Metal. Shiny, dressed up and totally over the top. Here on stage they try to do their own thing also, but in between their songs the audience seem to be looking for something specific. Vocalist Fabio Lione simply talks over them with his Italian accent as if they are not there. Not everyone of the audience seem to appreciate that, but when the show goes on it is all forgotten soon. Here and there some vulnerabilities show but Rhapsody of Fire has been around for long so much seem to be forgiven today.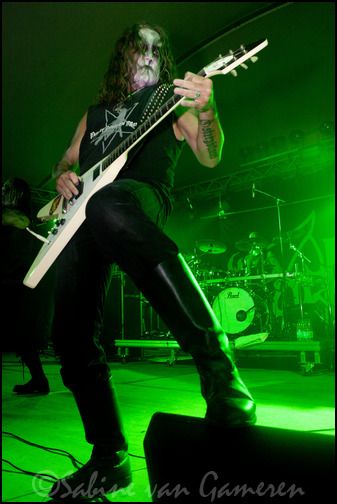 Marduk was not a Black Metal band from origin but that is exactly what they are right now. The Swedish formation was founded in 1990. Anno 2013 the band has created a long discography which contains twelve full length studio albums, some live albums, EP's and even three DVD's. What the band brings tonight are some aggressive songs. Guitarist Morgan often steals the show with his various raging moments. Marduk does not hold back anything and vocalist Mortuus always tops it off. Though it is not too be forgotten that the band has a good drummer, Lars Broddesson, which makes sure he is not left out here. Marduk played a tight set, well thought and without too much effort they won their audience. A right warming up for the grand finale of the evening.
Testament does not care if the audience has to wait another thirty minutes. People have been coming to see them, but after waiting that long it is only to question how much you could still see from them. Blinding lights, strobe, loads of smoke, it is almost as if they don't want to be seen. Then there is the music and that is what the band has been doing since 1983. Good old classics come along but the band's latest release called "Dark Roots of Earth" out of 2012 is not forgotten either. Guitarist Alex Skolnick is most eager to step forward and show off some of his skills. His riffs are giving the band its power. Yet, vocalist Chuck Billy is quite a character as well. After a while we get to see more of him and then we get to see a Testament that shows why Testament is what they are nowadays. A strong end of the day and the festival!
After a weekend full of Metal, rain and 50 shades of mud Dokk'em Open Air is now over. Next year there will be new edition of this festival, but if you like the relaxed festival atmosphere of North NL, there is still Into the grave festival in August.
Photo's by: sabinevangameren.com
Links:
Hellcity Facebook
Dyscordia Facebook
After All Facebook
Aborted Facebook
Witchcraft Facebook
Inquisition Facebook
Symphony X Facebook
Misery Index Facebook
Iced Earth Facebook
Amorphis Facebook
Stonehawk Facebook
Hellbike Facebook
Heathen Facebook
Von Facebook
Delain Facebook
The Monolith Deathcult Facebook
Orange Goblin Facebook
Keep of Kalessin Facebook
Jorn Facebook
Cryptopsy Facebook
Peter Pan Speedrock Facebook
Six Feet Under Facebook
Rhapsody of Fire Facebook
Marduk Facebook
Testament Facebook