Venue: the legendary Dobbs in Philadelphia (USA)
By: Nina Mende
Trash Fest goes US! After all the years Trash Fest was only taking place in Finland, it was time to give it a chance in the USA. So here we were, at the legendary Dobbs in Philadelphia, ready for a two day festival with quite some international bands. It was absolutely hot outside. Inside it wasn't much colder, but that was because the bands were rocking so hard.
The first band was supposed to be A Primitive Evolution, but they were way late, so Haley started out for tonight. Soon after Trashlight Vision went on hiatus, Steve kick started a new project that led to a successful band known as HALEY. In 2009, he teamed up with Dustin and started working on a full-length, self-titled, self-released album that quickly grabbed attention. HALEY embarked on a U.S. and European tour, and shortly after, the band got signed to Toil Records. Under Toil's management, Steve and Dustin joined forces with Chuck Treece (Bad Brains, Mcrad, etc) on drums, to produce the first HALEY/Toil Records release "Ef You Cee T". Despite the heat they were rocking around on stage, moving, jumping and trying hard not to bump into each other onstage because it was so small. The audience seemed to be knowing the band and their songs. They sang along and danced along, cheering after each song and had a good time.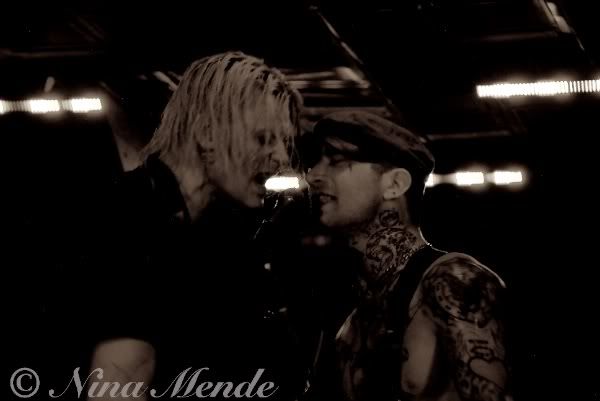 Trash Gallery from Canada was next. Unfortunately had it gotten a little hot in the downstairs area of the venue so that it had gotten a little empty in the show room because everyone was trying to cool off in cooler areas like the upstairs DJ floor. Nevertheless Trash Gallery still put up a great performance. They played through their set without talking too much to the audience. Trash Gallery probably had to fight the heat since they were not really used to extreme heat like it had been here recently. The little audience enjoyed the show and cheered for the band.
Now it was time for some Aussie action: Sunset Riot entered the stage and conquered the show room. The Australian five piece as well as the audience were totally excited about this performance. The singer jumped around on stage and off stage, danced on the bar and sang to people in the audience while running up to them. Never standing still, constantly in motion – full speed ahead. Sunset Riot amazed everyone in the audience. The catchy music made everyone sing and dance along too. A very impressive performance. And they guys seemed to not tire at all. From first to last they blasted through their performance. Brilliant and simply breathtaking. Later throughout their performance guitar player and bass player jumped up onto the counter as well and began dancing there. What a fun show. The audience was cheering a whole lot and didn't really want it to be over just yet.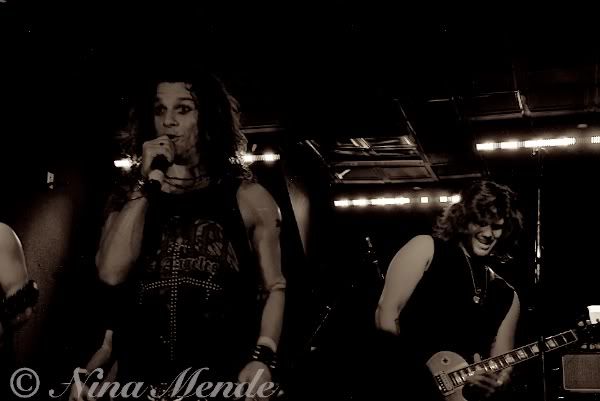 Up next was Star Killer from New York. Star Killer is an industrial band that just recently toured with Combichrist on their Makin Monsters tour. The lights were dim and the fog came from the heat. Maybe it just seemed foggy because of it. Fast industrial beats along with dark vocals played by dark people for dark people. Star Killer had brought some fans that were cheering out loud and singing along. Everybody else was just watching more or less quietly.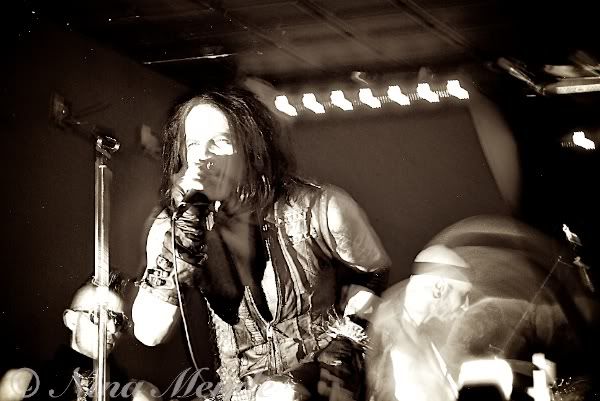 Naked, the four piece from Finland was up next. They were currently touring through the USA. The glam rock / punk rock band is quite known in Finland. Not that known here – just yet at least. They pulled off their show with or without the audience which wasn't sure whether to cheer out lout and be totally enthralled or just find it ridiculous. But the girls in the audience definitely loved the medley of the biggest pop and rock songs and the Backstreet Boys cover Naked performed live on stage and did very well. Even there choreographies were tight and liked by the audience. Well done. Naked made it and rocked the heat away!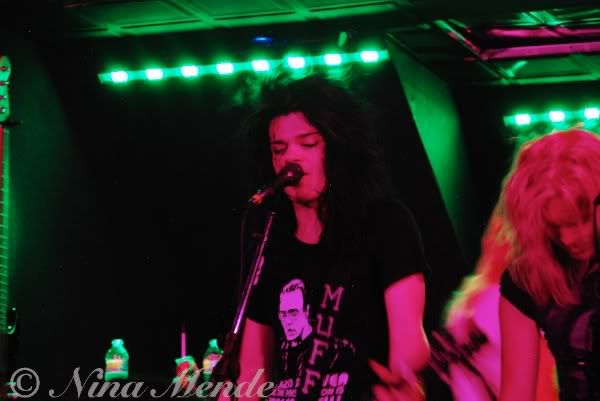 The second day of the festival and it had not cooled down a bit. The night started out with a local band: The Keefs from Delaware rocked the audience. Many locals that were already in the club seemed to know them. They loved the pure rock and roll the band was playing. Their style was a little country-ish. Really nice.
On the evening went with the female fronted band Leiana. That girl definitely kicked ass. The blasted out the songs with her rocking voice and moved around on stage. A tough one, that is sure, maybe comparable to Blondie, not only because of her blond hair. She had control over her band and over the audience as well. They were all rocking with her. Singing along and cheering out loud in between the songs as well as after the songs. 40 minutes went by very fast and Leiana left an impression on the audience.
The Black Saints were next. Sleazy yet dirty Rock'n'Roll is what they are playing. While they were up the venue filled up quite a bit. The Black Saints rocked through their set. Cheesy and sleazy, but good.
End Of An Era definitely burnt one thing into our minds: "What's the name of my band?" The singer of the New Jersey band kept asking this very question over and over again. Somewhere between catchy electro rock and pop electro their music varied. The singer ran around on stage and off stage, singing to people in the audience and getting them to sing along. Some people seemed to know the songs and sang along. People danced along and enjoyed the openness of the singer and his moving around through the audience. Catchy music, definitely. "What's the name of my band?" is called End Of An Era and made their 40 minutes show time worthwhile.
Next band was Dirty Pearls from New York City. An indie rock band that looked somewhere between indie and glam, moving and rocking around on the tiny stage giving their all. Fans and friends – but nor only – enjoyed their set and had a good time watching or as well dancing along.
Last actual band of the night was a Finnish band called Private Line. their new album "Death Decade" will be out in August. Tonight they already presented quite some songs off that upcoming album. People knew the lyrics to that already as well. Even though this was their first show ever they played in the USA, people had gathered up to see the guys. The sweat was dripping down their faces as they performed on the tiny stage, trying hard not to get in each others way – and they managed this very well – yet rocking and moving, getting the audience hyped up and hotter than the sun shone outside during the day. People loved it and so did the band. They came towards the audience, playing and singing to them at all time. Everybody in the show room was cheering out loud, screaming and singing along, never standing still. Just like in Finland Private Line was a great success and loved by the audience. Simply amazing.
Last of the night was the so called All Star band which kept rotating between several musicians that played songs by Rob Zombie, Marilyn Manson, Blondie, Mötley Crüe or Billy Idol. More an All Star Mosh than a band since they kept on rotating and getting confused who is up next.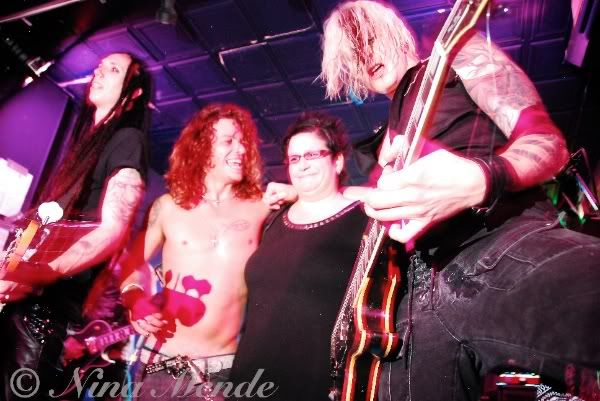 But all in all it was a wonderful weekend. Can't wait for the next Trash Fest.
More photo's of this event can be found at roseofthedevilsgarden.com
Links:
Trash Gallery MySpace
Haley Official
Starkiller Official
Sunset Riot Official
Naked Official
The Keefs Official
Leiana Facebook
The Dirty Pearls Official
The Black Saints MySpace
Private Line Official
End of an Era Facebook
Mamatrash Website