Location: Suvilahti, Helsinki (Finland)
By: Sabine van Gameren & Elvira Visser
This year's Tuska festival was a special one. It was the first one at a new location, the first edition with four stages and it promised to be something great. The weather was on our side, the sun was out there and with a little love help and patience of our friends we managed to run around like maniacs, from stage to stage to get a FULL COVERAGE report on this year's Tuska. Must be said: thanks to the Coca Cola Zero girls for supplying us with drinks every time we rushed by, to cool us down. Amazing!
Day 1: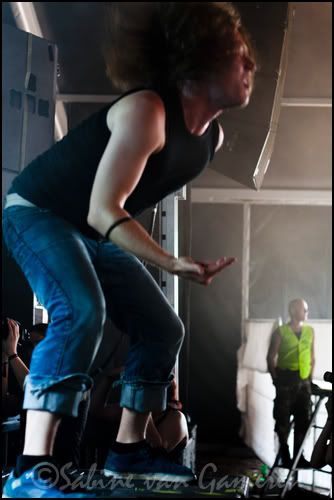 Very first bands to open the festival were Black Breath and Omnium Gatherum. Omnium Gatherum was playing on the Inferno stage. Convenient in a tent plenty have gathered to see this Finnish band start it off. The guys make Melodic Death Metal since 1996 and the past years have brought much good for the guys. A tour through Europe with Insomnium and Swallow The Sun was done and a record deal with Lifeforce came on their way. Today here in the tent they had Joonas Koto with them, which is now an official member of the band after being a session musician for quite some time. One thing that you can be sure of with these guys is a strong performance. Good, they may have had some troubles with the sound at first but the guys are very energetic. The guitars come out strong and the vocals of Jukka Pelkonen are upfront as well. This is just a good way to start your Tuska!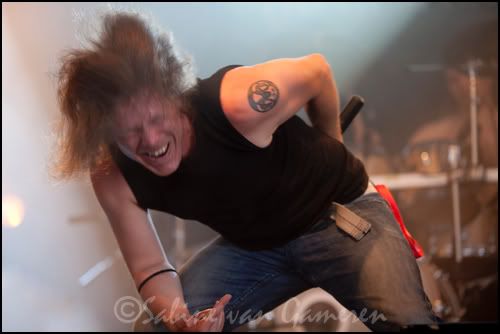 The band Black Breath is originally hailing from Washington but moved to Seattle back in the days. They remind me of the Norwegian band Kvelertak in the way they are standing on the stage. However this bands plays a different style metal. The guys from Black Breath mix death and trash metal with hardcore. I think the latter is what gives them energy on stage. The band had to play as the first band at the same time with the Finnish Omnium Gatherum. There were enough people in front of the EMP stage already at this early hour and the first day of the festival. The crowd seem to like the music and the energy that came from these guys. The band was previously more influenced by punk which probably is the reason for how they behave on stage. Good show from this band getting us ready for all the other bands to come.
Up next another battle was there. Cause for Effect playing in the Club stage and Forbidden on the Main stage. The Club stage is indoors and gives space for the smaller bands, the ones that bring music that may not be for a huge audience (yet) but is nevertheless very surprising. The Finnish band Cause for Effect is just a perfect example of that. You could describe their music as drum and bass got metal, and no way they take it back on you. They come with quite some brutality and strength and fill this small stage quite well. It is obvious that these guys might have some troubles to stay entertaining on a larger stage, so it worked out well in here.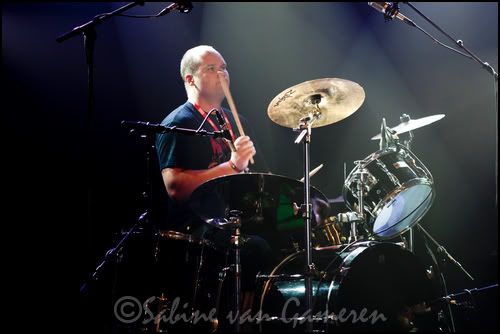 One of the bands that can tour after they have had an reunion is Forbidden. Forbidden hails from California and though the years they have gained the experience to be a steady festival band. They know how to rock the stage and play a good piece of trash metal. they know how to fill the stage with their presence no matter how big it is and they know how to play. However personally the band it not one of the best. They are a band that many people will like and nod their head to. This together with their experience and show they are a very worthy band to open on the main stage. This year even bigger then the years before. The band was first know as Forbidden Evil but changed their name to the easier Forbidden. Of course the band played some track from their last album to promote this. The last album is titled "Omega Wave". Also the more know tracks were played and the fans cheered more for the older songs in my opinion. Either way, the band performed a good show.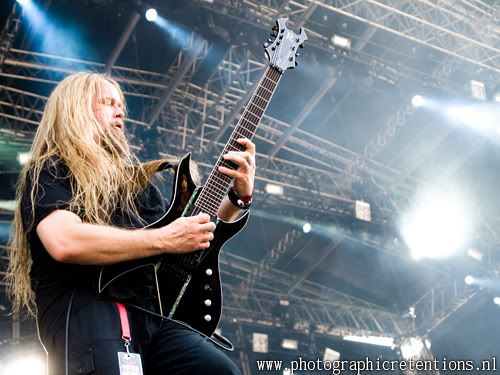 Then back to Inferno for the band Hell. Obviously there are quite some people interested in them and the scant along when their vocalist steps forward on the stage after being introduced. The British Heavy Metal formation is there for entertainment next to their music. David Bower, their current vocalist, wears the microphone on his head, so his hands are free to use in the show. Theatrical as he is, the show he brings with his mimics and performance is already worth to watch as one, but the music is there too. Of course hell, darkness and all what comes with it is the main theme in their music and brought with a little humour this band soon captured the hearts of those who saw them for the first time.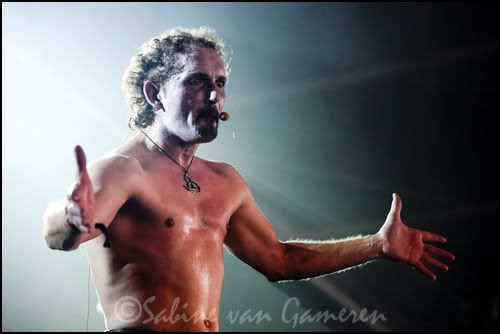 Tinner is a band that played on the club stage. They have a certain arrogance on them that you might consider either very disturbing or almighty suitable. Their tracks are quite short, grind core stylo and often dominated by the drums. Not too many people bothered to see them, and while they walk around with black tights on their head people were walking out on it after a while. Maybe the arrogance did not hit the ground here, maybe it was a bit too much. It must be appreciated they have the balls to do what they do, but it does not make them the most popular band around.
Hopes were high up for Bulldozer, as many people told they were anxiously waiting to see this band on stage. The trash metal band from Italy did not live up to their expectations. They did not have that little special to fall in love with a band. The show was quite theatrical with a stand covered in blood and a guy that must have been a mixture between a preacher and a vampire it seemed. This old school metal band, seen by many as a legendary band, has influenced many bands in the past. They seemed very sure of their own performance and played tight. Bulldozer is one of those band that you like or you don't. There were not as many people watching the band but those who stood there gathered packed to gather in the front to have a clear sight of these guys.
Arch Enemy was playing the Main stage. The Swedish Melodic Death Metal formation started in 1996 and draw many audience. Recently the band released a new album called "Khaos Legions" and they played some material of this release as well. Today it was mainly vocalis Angela who stood upfront to attract audience, where when we saw the band before on the Dutch Fortarock festival it were the guitarists that took this job. However, this resulted in a more balanced sound and performance. Angela actually talked to audience quite a lot in between the shows, telling Tuska was the hottest festival so far, clearly feeling the heat of the sun up there. Arch Enemy played a good set here, which maybe did not have the same impact as them headline Fortarock but was musically a better show.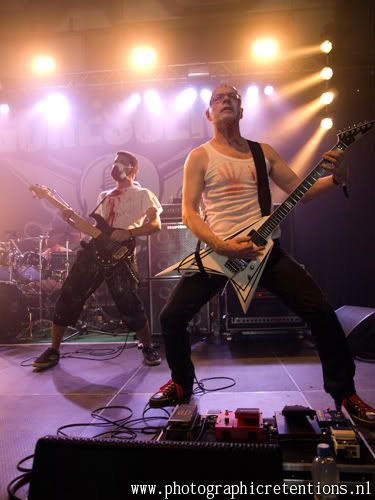 There were no expectations for the Estonian Grindcore band Goresoerd. They were a nice surprice at the Clubstage. Wearing white shirts covered in blood, not the most original, they had thirty minutes to show themselves. What they did was playing and not so much talking. Going until they were done. There is a nice power in their music with pounding drums and harsh screaming. However there is place for melodic changes and riffs, little but there. They band has released two albums that place some question marks at the band. The quality is not the best there is. They proved on the stage that they were a good live band. Maybe better live then on CD. Not too much difficulties but straightforward grindcore influenced by metal.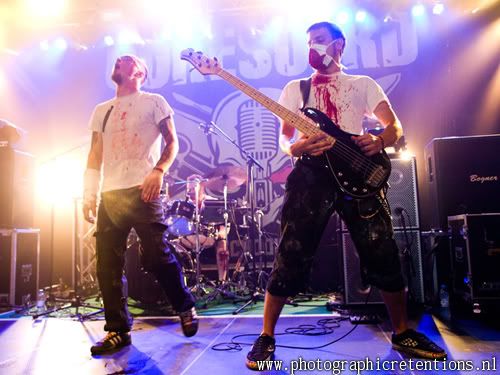 In Inferno it is time for Grave. The Swedish Death Metal formation has a legendary status. The band changes the members every once and a while and in 2010 they had their latest release "Burial Ground". It has been said the band is working on new material, but in the show of today it was mainly the older material that got played. It was their newest member Tobias on bass, who made the show interesting to watch. He seem to be the main performer while the rest of the band focusses more on playing. Overall Grave did an ok show, but I have seen better ones from the guys. The energy they gave was just sufficient to feel bothered to watch and listen but there could have been more of them.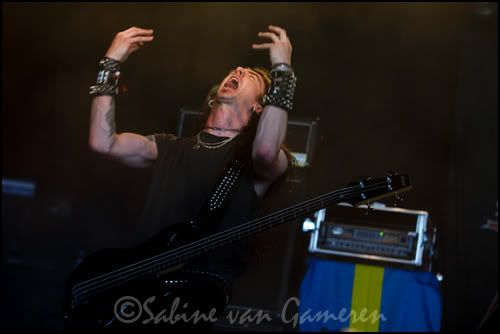 Up next is on the EMP stage: Electric Wizard. They seem to be a bit strange as a band, such different persons which yet somehow manage to match each other. This Doom/Stoner formation comes from England and with their music they do not manage to keep everyone's attention. One of them is covered with tattoo's, even his face, but while playing his bass he hides it mostly with his hair, going into the intensity of the music. Then there is the girl Liz on guitar who seems timid at first but when she lets her instrument do the talking the statement is made; a tough chick that knows her skills. The vocals seemed to stick behind in the mix a bit, but not too much of a drama with that as the rest of the music quite filled it up. A strange band that surprised more than expected.
In the club it is time for The Lighthouse Project. The Lighthouse Project makes hardcore metal and seem to bring a lot of energy with them. The band seem to flirt a bit with different genres as well, but in the end not too much of them got stuck in mind. Maybe they are not the most original out here which causes this, a little more of their own in here may suit the band quite well.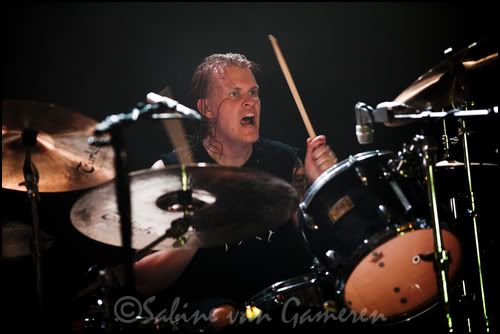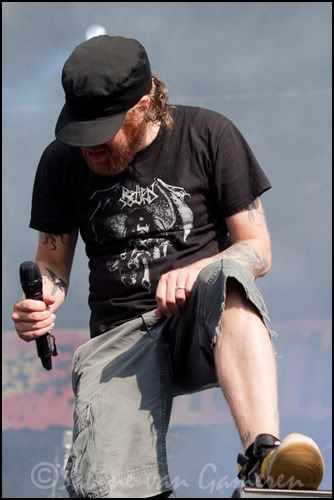 At The Gates on the Main stage is probably the largest disappointment of the day. The Swedish Melodic Death Metal band appeared on the stage, while looking utterly bored. Not too much motivation got shown during the first songs of their set and a smile wasn't there to be found either. Musically, it was still ok, but there was no fury in it at all. Hopefully the guys will bother to find some of their inspiration and joy in playing back, because a set like this we do not need to see ever again.
Oranssi Pazuzu is one of the bands that had their name out there. People mentioned the band and got me interested to check this band out. It did not left an amazing impression, but it was not bad either. Oranssi Pazuzu was formed back in 2007 and they seem to be not totally sure what kind of music they would like to play or they just like to use a lot of different styles in their music. You can hear some dark melancholic moods, some psychedelic moments, rock and black metal. This in a weird cocktail. However this is what makes the band interesting to listen at, definitely not predictable. The lyrics of this band are sung in Finnish. Maybe you hear some similarities with the Finnish band Kuolleet Intiaanit, Juho Vanhanen's previous band, but Oranssi Pazuzu is more black metal oriented. Oranssi Pazuzu might be better in a dark and tiny venue where you can absorb the atmosphere better then at a festival, as I believe they are one of those band where you need to close your eyes and observe anything that happens to feel the music.
Spiritual Beggars was a band that surprised a lot in the Inferno tent. Formed by Michael Amott which is also known of Arch Enemy, the Stoner band actually played a very joyful set. Quite a decent sound came from their guitars that drive the whole sound. Also important were the keys that actually are more upfront than you would have realized. This combined with strong vocals and a good performance made it that this set is one that we will remember some longer. The band gave the overcrowded tent a show that was worth their time!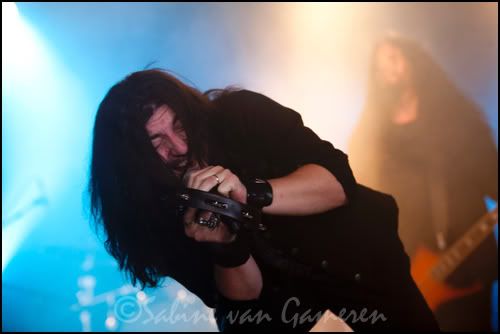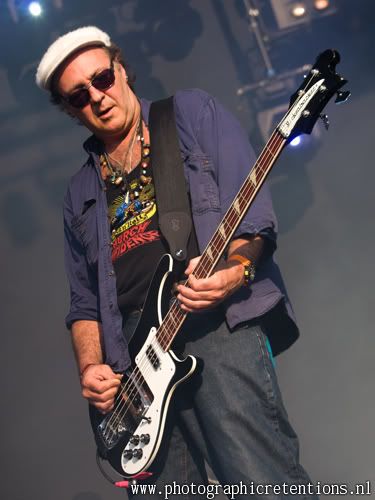 Killing Joke is a band you know, or when your a bit younger you do not seem to know until you might hear one of their songs and you start to think….was that them? Killing Joke is a band that got most of its fame in the 80s. Think about songs as "Love Like Blood". Singer Jaz though the world would end in 1982 and took of to Iceland. World did not ended and after some years it was time to revive Killing Joke. You notice on the stage that this a band with guys that can easily be your dad and there is not much moving around on the stage either. However there still is this Jaz guy that look like a weird clown with his black and white face-paint and a black boiler suit. He is hard to avoid on stage. One of those persons you have to watch, quick weird movements he makes will capture you mixed with this vocal capabilities. This was one of those bands that were great to watch, sit down and relax to. Knowing you hear some great piece of music.
The Finnish corpse painted Cavus was playing right before Morbid Angel had to play and when walking up to the Club stage where they were playing many were already walking to the main stage. A bit sad because the guys from Cavus were dressed up in their best way and ready to give away a good show. The band was founded back in 2008 in the little town Porvoo in Finland. The band has released their debut album "Fester And Putrefy" more of less a year ago. They play heavy old school metal, they also rather look they are coming right from the Norse ground with their corpse paint. As the band would say they bring you straight up rawness, musically and vocally. Their metal is brutal and intense but there are slight traces of this nice groove in their music that makes you want to hear more. I had to leave the band before they were finished but from what I have seen they are a good old school black metal band.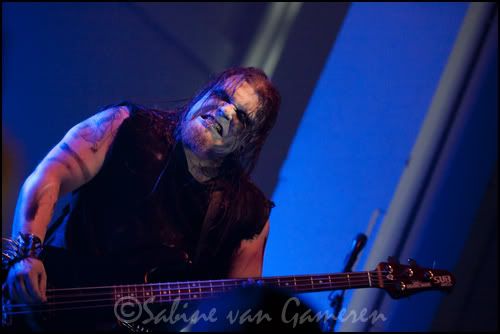 Morbid Angel was headlining on the very first day of Tuska. This American Death Metal formation has quite a reputation and their shows was one that many looked forward too. When the band enters the stage it soon becomes clear why they got this reputation as they start playing and a mix of comprehensive and sophisticated riffs come out of the guitars. This combined with strong vocals the band started of quite well.
Unfortunately we could not make it to see the band's whole set, due to an interview we had to do, but all we have seen of them was spectacular and exactly what you may expect from them. A band that has a reputation and is a worthy closer for the first Tuska day.
Day 2: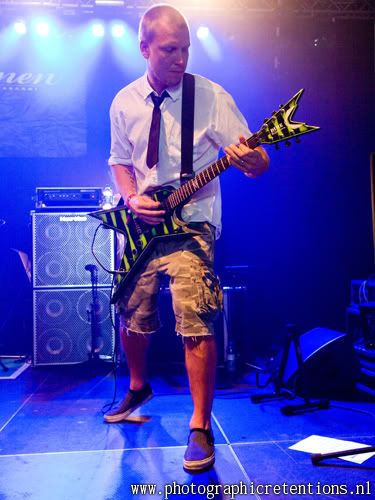 The Finnish band Mononen is the first one on day 2. They play at the Club stage and Tuska is not much of a stranger to them as they have played on last year's after party also. They make a combination of Death Metal, Thrash and Punk and since they were playing this early they were still quite sober compared to the last time we saw them. This resulted in a show that was much, much better. Sure, their sound is like a typical punk band supposed to be, full of chaos not too precise and all about the fun, but they now got some of their audience.
myGRAIN was next in the Inferno tent. The band started in 2004 and makes Melodic Death Metal. This year the band released a self titled full length album which is the third one of their hands. The band has its strongest point in the guitars who have the melodic part, but bring in the heaviness as well. This backed up by vocals that were maybe a bit too soft in the mix during their performance, but yet still quite present here. myGRAIN is quite active on the stage and leaves us with a brutal and interesting performance quite early on the Saturday.
The Scandinavians of Witchery founded the band back in 1997 after some members had left Satanic Slaughter. One year later they released "Restless and Dead" presenting the audience a band that knows how to play powerful riffs after fearless riffs and pounding drums. They make a connection between trash and heavy metal. No wonder as the band consist of well known artist that play in various other bands, all bringing different influences to Witchery's style. Jensen plays with The Haunted; solo-guitarist Rickard Rimfält plays with Séance; bassplayer Sharlee D´Angelo takes care of the deep sounds in Arch Enemy and Spiritual Beggars; and Martin Axe drums in Opeth and Bloodbath. Knowing this you would understand that even they were the band to open Tuska Satureday the audience had gathered in front of the stage even before they were playing. One of those band you need to check out and form an opinion about. Their speedy trash metal was well presented at Tuska.
Fleshpress as a band did not leave a big impression on us. The most interesting part of them was their drummer who seem to have a substantial influence in their sound. The guys played quite a long intro and stood with their back to the audience as if they were just messing around in their rehearsal space. Not too respectful and therefor even less interesting to watch. Musically there might be something in them, but brought like this it is worthless.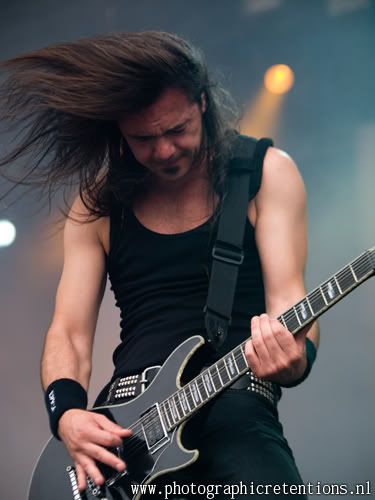 The Dutch band Epica attracted a lot of girls towards the front rows of the stage. When the intro of the band started many girls were cheering. Of course this is one of the bands that attracted the female fronted metal fans to the stage. The sound of the band was not perfect, at some place some instruments where louder then others and the sound was less in the far back. Where people were standing and drinking in the eighteen plus zone. The band a very nice backdrop and a van to play around with Simone Simons her hair, contributing this to the show. Many known songs were played and the crowd seem to love it to see this band on the main stage. Personally I have seen the band many times in Holland and I'm not a bit fan of them. However I must say that the club shows seem better. The bands shows they know what to do on this big stage and the guys are walking around, head banging and smiling to the girls in the right way but Epica's club shows are better.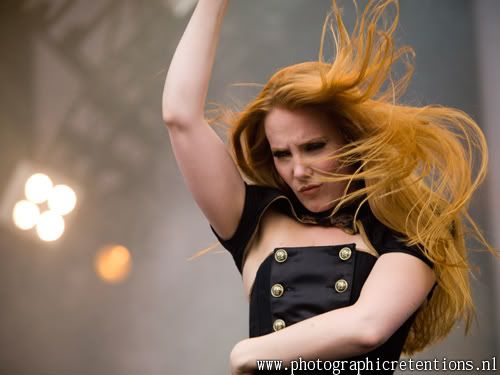 Medeia played Tuska before and when they did the tent was completely filled. No wonder that the club stage was also quite full when these people entered the stage. Full of brutality the band from Tampere, Finland started their show. It is an active one as you may expect from them, and also very loud. With all these fans in the club there was a good atmosphere during their show and some moshing was going on. Strong in their performance were the keys by femme Laura who does not hold still behind her keyboards, but rocks along as much or maybe even harder than the rest of the band. What a nice performance of them!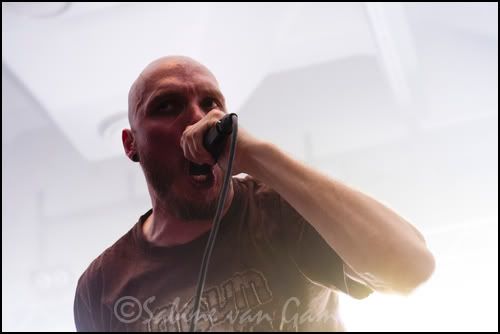 One of the best performances of this day was definitely from Moonsorrow. They played in the Inferno tent and there were loads of people, simply because it is Moonsorrow. With a damn good drummer who's fast and inspired they played a strong set leaving the people in awe with their Paganistic Black Metal. What was interesting to see is how well these guys play together, a solid team. The guys seem to enjoy themselves on stage and that helped as well. Earlier this year the band released their new album: "Varjoina kuljemme kuolleiden maassa" which was a strong release from the guys. The band played some songs of it, but did not leave their older material untouched either. Many people were cheering for them and this is typically a band that would have done great on the one size larger Emp stage as well.
The Finnish band Tarot was a bit disappointing. The band should know like one of the best that a little bit of entertainment is not wrong on stage. But nothing happened. It seemed as if they guys suffered from a terrible hangover or something close because of the huge lack of movement on the stage. A little bit talking at that was basically it. They played and sang their songs in a good way but there was a big spark missing on this stage. They play some nice rock, heavy metal like music with very nice melodic vocal lines. Very present in this band are also the keyboard. The music is good, maybe it is very easy to play for these musicians but in a way it almost seems if there were bored being in front of the Tuska audience again. The band could have given a way better show which made this performance disappointing. There was absolutely no spark, or it was not visible to me.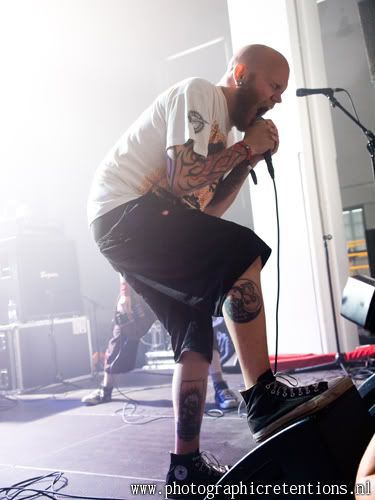 The Finnish grindcore-group Feastem was formed back in 2005. Up to know they have released their debut album in 2008, and only recently their follow up "World Delirium" this due to the fact that they had found another vocalist. One of the things that need to be said about this band is that they bring their own style of grindcore. They actually sound a tad original. Aggressive, shredding and harsh is a good way to describe them. Blasting until the last minutes. What helped them was a nice light show that in my eyes contributed to their performance. This is one of those band that if you like this fast paced brutal style you should check them out. A nice surprise on the club line-up.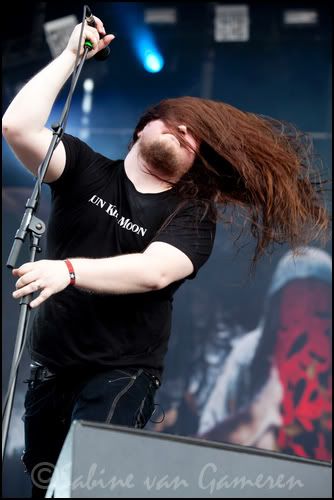 The Swedish doom formation Katatonia was up next on the Main stage. On forehand there were some hesitations on their performance as we wonder how a band like them would do on this large stage, hoping they would not get lost in space there, but the Swedes did perfectly well. Already soon they started playing songs of "The Great Cold Distance" which many in the audience appreciated. From "My Twin", "July" and "Deliberation" the band got its most responses, but of course the band also played songs of their last release "Night Is The New Day". Eventually the band went back in history with "Sweet Nurse" coming from their 2001 release. The band was playing a good set, but had loads of troubles with the sound at first. During the set it improved but it was not really optimal. Nevertheless, the guys did not seem to feel too annoyed of it and continued playing with joy. A one hour set that suited perfectly on this stage and shows why Katatonia has such a strong reputation.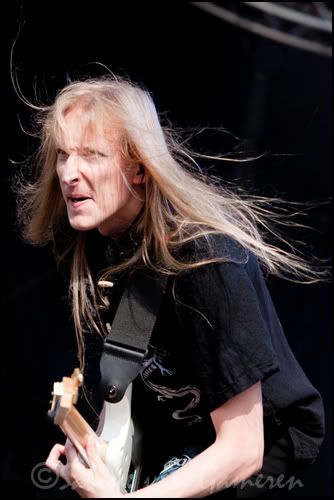 Up next was a tough battle, three bands at the same time. Wintersun was up for an hour as well as Church of Misery, but Axegressor in the Club only thirty minutes. Therefore we first did some photos of Wintersun before going to Axegressor to return after their set.
Wintersun had not played gigs or release music for quite a while and the fans obviously were very pleased to see the band returning. They have been scanting the band's name already during the Katatonia set while the guys were only soundchecking. This is why maybe the first two songs of their set were quite a disappointment. Bad sound, not too much action going on, but not much to worry on it, when I returned after seeing Axegressor the band still had half an hour to go and things seemed to be better then. Though the band seem to have fun, I wonder if the fans are maybe too easily pleased as we are not sure if they kept the very most out of it here. At least the audience seem to enjoy it and therefore it was a decent set.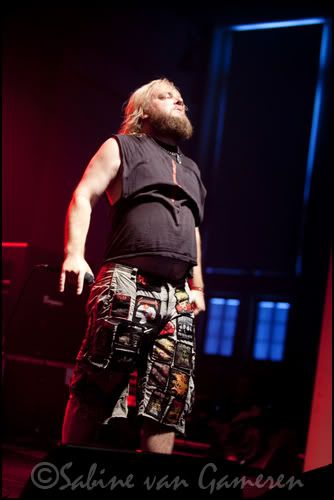 Axegressor is a Thrash Metal band from Finland and brought some aggression to the club. What got most into sight is the drummer who seem to be quite relaxed while playing his parts and yet quite a sound comes from that. The band has a good team up here, the songs seem well composed and therefore Axegressor was maybe one of the most surprising bands today. The band had to face tough competition with the time schedule today, so maybe not too many people made it to their performance, but it was surely one that will be remembered by what was there as this band may climb up to a larger stage in the upcoming years. They certainly proved they are worth it.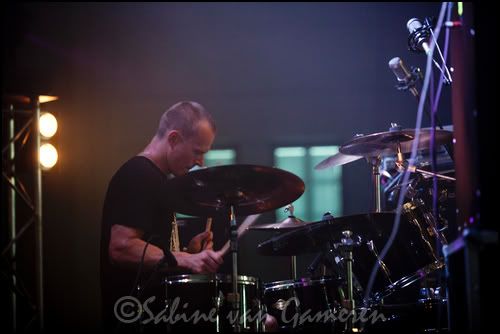 Church of misery is a doom metal band from Tokyo. Their style sounds a bit like the old Black Sabbath mixed with the darker doomish sounds from psychedelic rock. This Japanese band attracted many fans to the Internal tent. Japanese bands are known for their shows and today at Tuska the fans were treated. The vocalist was walking in front of the stage, and even climbed on the speakers on stage. Until he was very high up almost able to touch the rooftop. Smiling and as it seem to cost no effort he jumped off and continued singing. The lightshow added to the psychedelic atmosphere. A lot of smoke and bright green and yellow colours that captured the audience. All eyes focused on the front men, waiting to watch his next step. If you want to see something other then the normal performance, check out this band! I am sure they will not let you down. They did entertain the Tuska audience until the last seconds. However I must add that due to all the show it is sometimes hard to keep listening to the music. The guitarist plays some great riffs and solo's.
One of the bands that I almost fell asleep to was Blind Guardian. Thinking I was completely weird as the name is quite known and there were so many fans waiting for this band to enter the main stage. Songs were sang along and after seconds or the intro the crowd could sing along. Luckily I saw some bored faces who didn't seem to understand this. As noticed before the stage was way to big for this band. Vocalist Hansi seems to be a skilled singer and the music lines seem to be played the way it should, however their spell did not reached me and after a few songs the band was boring to watch as well. Their songs all seem to have the same structure. A nice melody and a great vocal line, which singer Hansi can full fill live but after a few songs it started to sound the same. Maybe another of those bands that you seem to love or hate, without something in the middle.
Hooded Menace was playing in the Club around dinner time and the band makes a combination of Death and Doom, but the stress seem to be on the old school Death Metal in their sound. Musically they have this thick sound grabbing back on strong riffs and a decent portion of bass, but in the performance it got a bit stuck. Sure all the hoods were on as you might expect but maybe the energy did not come through that much. A bit of a missed opportunity.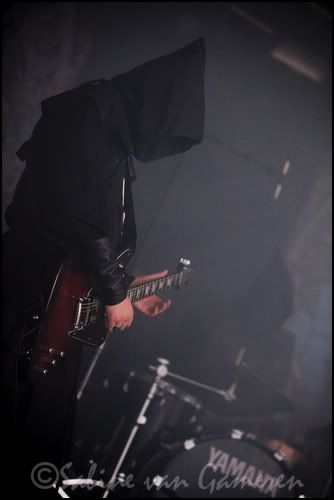 Ghost was the mystery band that we saw on Fortarock also. Who are these Swedish guys, it is all a mystery! Their performance was yet again a mystery as well. Loads of smoke, the costumes, the fact that you get transferred into this weird doomish world. A sure good thing was that the vocals were much better than the last time we saw them. Now we could actually hear the words, but for people in the audience it may have been a bit of a hard task to follow it as well. Luckily, Ghost is much more than just music and does their show come with performance that is interesting to watch as well. The band played a set of one hour which is quite long for a band that only released one full length album and a demo+single which total playtime does hardly reach one hour. In the end this doom, slow and weird performance may have been too much for some of the audience, but those who adore this sort of music have totally adored this show.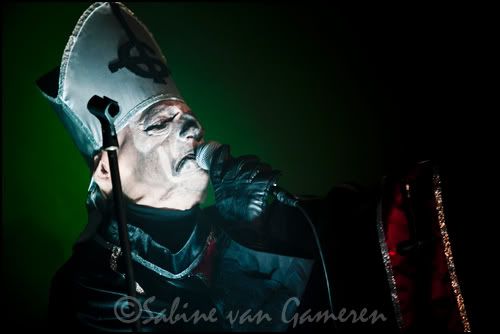 Enslaved one of those band that you have to see at least once. Known to be together with a few others for being pioneers in the viking metal scene. The band was founded back in 1991 in Norway. Orriginaly the bands started out as a black metal band and along the way it was influenced by the vikings. However for their newer work they seem to flirt with progressive sounds. The band got its name from another Norwegian band Immortal, their demo "Enslaved in Riot" was the inspiration for the bands name. At Tuska they played nice, but not at their best. Herbrand who plays keys and occasionally sings along missed a few notes and they seemed a bit brave. Not as fierce as they can be. Maybe it was the heat at Tuska festival. Apart from the soft impression they left they did play a very nice set-list with a good structure. They were not disappointing at Tuska.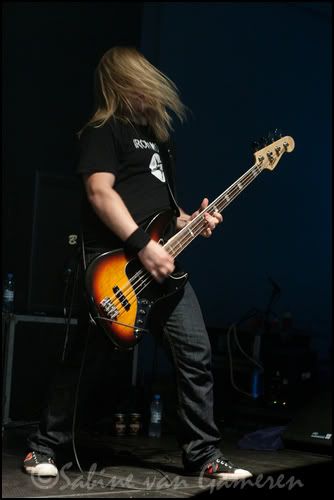 Rotten Sound was the last band on the club stage today. The Finns have a long line of releases on their name and certainly a reputation to live up to. The band makes Grind core versus Death metal and this mix quite spiced people up after the show of Ghost which was quite calm. The band has some great guitarists which clearly come with good parts and the vocals are quite steady. A nice performance here in the Club stage at the end of the day.
The Canadian rocker Devin Townsend was ready for the Main stage. That Finland loves Devin is something we got to know last year when he also played on Tuska festival, with this project as well as with Ziltoid. This year he came with two albums at the same time so there is loads of new material that he would play today. As a guest performer he took Anneke van Giesbergen, who got her fame in metal land by being the singer of The Gathering for many years before she decided to quit and focus on more personal projects. An interesting couple it is, they seem to work out quite well together here and the first songs go by easily. Devin does not really need the beauty of looks and voice next to him though. He impresses the audience with his own guitars and voice just as much! The hearts of the Tuska visitors are easily won and Devin closed the day nicely!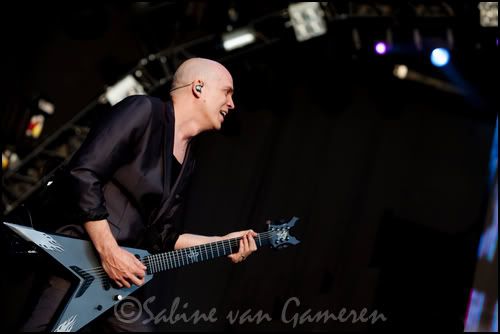 Day 3:
The last day of Tuska starts well with Carnalation and Impaled Nazarene in duel. The last one played in Inferno and is a band that got some name out in the metalscene and last year their eleventh full length album got released. The Black Metal band surely woke us up as they do not hold back at all. Powerful drums, strong guitarriffs and raw vocals coming out of that throat. The band is really active on a podium so when having a hangover or just tired from a busy Tuska schedule this may be a point to swallow, but Impaled Nazarene gave a good start of the day.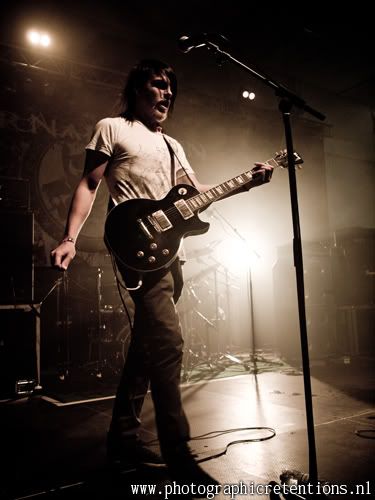 This last Tuska day started with a surprise for me. Carnalation is a Finnish band formed at a festival back in 2008. The band had the plan to make this kind of music that was brutal and straightforward. The band showed at the clubstage that they pretty well succeeded at this. Always hard to play on the third day and opener of the day. Many people might still be asleep but Carnalation had a good share of fans in front of the barriers. Carnalation is a band with good brutal rage and a good show on the little stage. They surprised me in a good way. Great growls combined with nice riffs and moments of change. These moments of change in to the raging fire is what keeps the band very attractive to watch and listen. They definitely woke the audience and got them ready for this last Tuska day. This is one of those band that people will discover at a festival.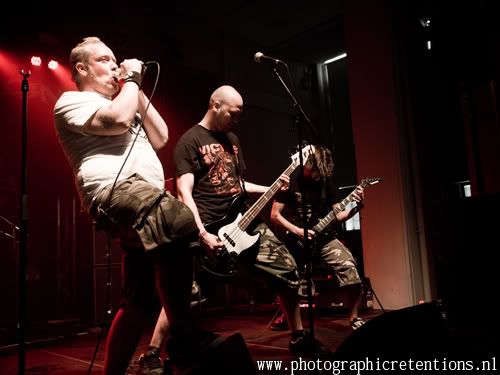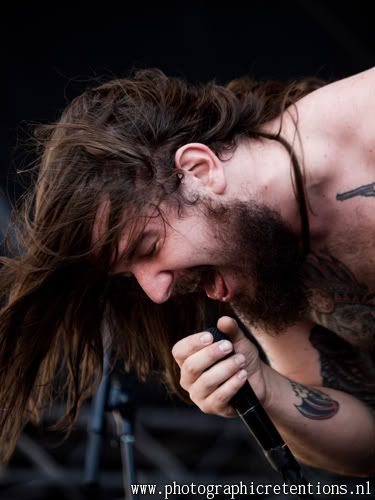 The Norwegian band Kvelertak mixes a few genres and sing about Norse Mythology. They mix rock and roll with punk and death metal influences. This can give you a very energetic show if the guys are in their element. Today it seemed this way. Great shouting and great pounding drums. Guitarists who pull funny faces while playing. The guys bring their show will full energy and seem to give more of themselves then last time we have seen this band. Front man Erlend seems to enjoy himself so much that he decides to jump off the stage and get closer to the audience while standing on the barrier. The audience seemed to love this. People soon reach out for him and he decides that this was enough, crawls back on stage and keep singing. This might be one of the best new bands, if they are giving it their all like they did at Tuska. Great show.
In the Club stage we stumbled upon the first surprise of today. Totalselfhatred was playing and the band makes some depressive Black Metal that drags you along in their atmospherical tunes. For the sort of music they make the band is quite open, it is easy to get along with them and sets you into ecstasy. It is a pity that the band plays here in the club stage as their set was very interesting and it would have been very cool to see them doing this for a larger audience.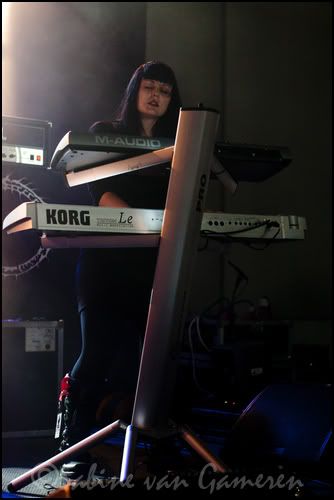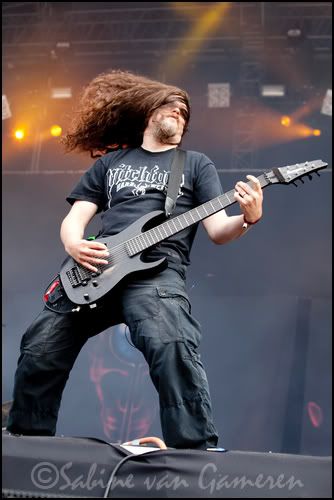 On the Main stage it is time for Meshuggah. The Swedes make Thrash Metal with plenty of technical elements to keep the music up to a higher level. As always the band seemed very enthusiastic and dedicated with their playing, but the show the band gives seem to get a little lost on the large Radio Rock stage. The band played their music with the fine, precise way they always do, but somehow the atmosphere got a little lost here. Maybe the show would have been more alive when they had played on the EMP stage, a little smaller and maybe make them feel more comfortable to fill the emptiness around them. It was not a bad show musically, but as performance the band have done better shows.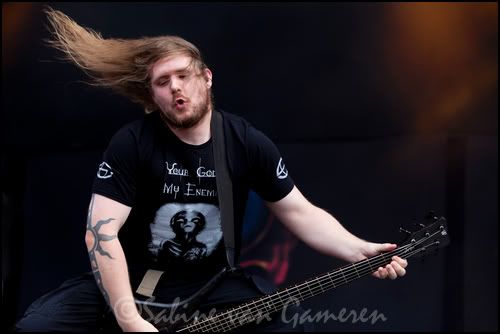 Then it was time for the Swedish Shining. With a Norwegian namesake there is always some confusion going on about these bands but it are the Swedes that rock in the Club. Recently the band released a new album called: "VII: Född Förlorare" and it seemed to be a bit more tame than what we were used to from these guys. This pretty much came back in their performance, which also quite tame. Musically the band seemed to impress the audience quite well and they played a good show. Especially the vocals stood out and overall it was a balanced set. Quite a nice show.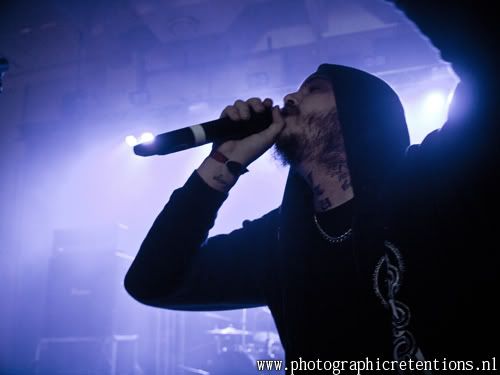 Jex Thoth, a Californian band was one of those bands that would stand out at this festival. A female on stage between many metal guys. A band that plays psychedelic acid rock. No screaming from the top of the longs but good well thought lyrics expressed by emotions from the female singer. A band that let go of the metal rules and do their own thing. Which attracted enough people to Inferno stage to let the audience sheer. One thing has to be said and that is that the vocalist pretty much does the same throughout the gig. Hiding under her long hair and cape and when you almost see the faces of the band members there will be enough some to see only smoke on stage. Halfway during the set it kind of gets annoying but her amazing signing skills make it up. Great songs that have a message to think about. "When the raven calls" is one of the songs that gets the audience to sing along at least a few in the front. A band with a retro touch, psychedelic and fun to watch at Tuska. A little jewl between the growling men.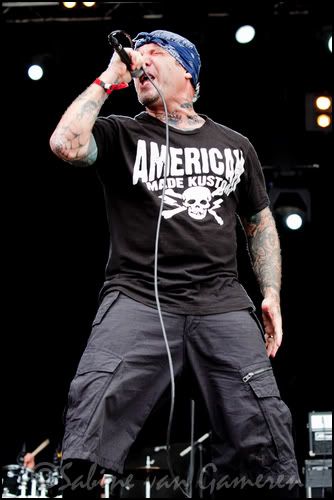 Agnostic Front are from New York and they are an hardcore band. They exist already since 1980 and were part of the creation of the scene. Anno 2011 the band still gets the people along and a long tour through Europe was up for them this summer. The band has the passion and anger that fits them, but there is no overdue on it and it seems like the band have reached already all they wanted to reach. At first the band got many people along with their active jumping all over the stage but the set lasts for one hour and in the end it seems like most people got their trick. It is a good band that knows how to set a performance, but after seeing it for a couple of times you are quite done with it, so seem the audience to agree as in the end not too many people were there with the same enthusiasm as they started with.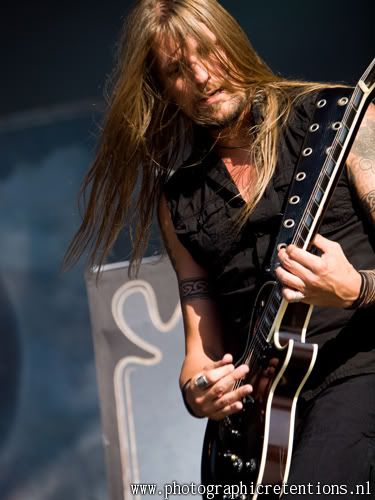 In the hot sun the people in front of the main stage had gathered. One of Finnish best bands Amorphis was about to play. Somehow even when you have high expectations of this band that get their inspiration from the Finnish national epic story the Kalevala, they will put down an amazing show. It started off with some firework to let everyone know, it is happening here on the main stage. Compared to many other bands on this stage they seemed to own the stage. The guys have many years of experience but they do know how to rock. Tomi Joutsen is a great entertainer and a charismatic guy. They brought songs from different albums all with a lot of joy, these guys still enjoy playing and what better way then to play for your own audience. The molodies are great like always and singer Tomi has a very cool looking microphone with which he walks over from left to right. They are all skilled musicans and it is great to watch them all play. I sure hope they keep enjoying playing and touring.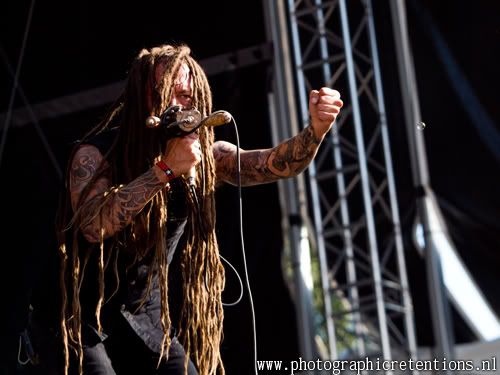 GAF looked a bit strange. Oh so dark and evil they are, the gore all over and the attitude is there, but this all looks very surreal with the giant Bon Jovi T-shirt the vocalist is wearing. Hard to feel the vibe with this being so obviously present, but who knows, it might be their might joke as well. Vocal wise the band did not make a big impression either and overall there is not much new under the sun. Not that too many people had bothered to come to see them, so it may be just those who are totally not into Amorphis which played on the other stage.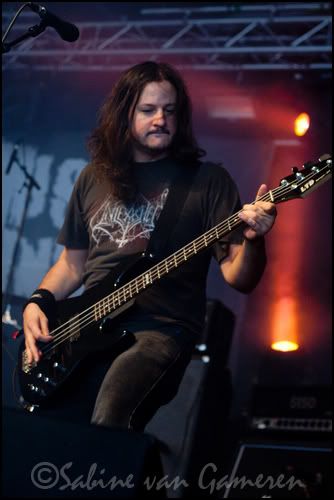 Some more grindcore came from Misery Index in the Inferno stage and here some guys are showing how making noise is supposed to be done. The guys were up for loud an very loud bringing the guitars quite upfront as well as a dominating drums in the back. The stage performance of the guys seemed quite active, and the audience seem to go with them quite well. Unfortunately we could not see all of their set as the next bands were already waiting on the other stages to start.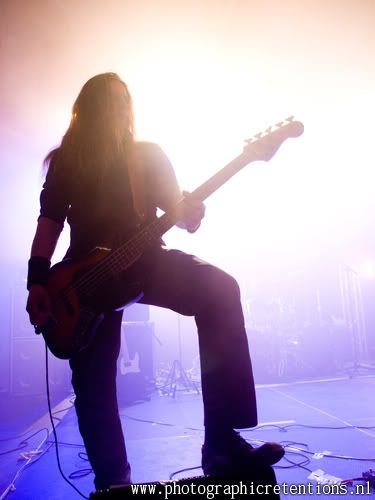 The guys from Black Crucifixion are a known Finnish cult metal band. After 5 albums it was time to check them out in the club. What others find one of their strong points really did not appeal at all. The clean vocals did not sound to good and the growls were not as I expect them from black metal. They were in a way sweet and nice. While they need to be dark and sharp. The spontaneousness was also missing in their performance. It seemed they have thought about the show but it did not came across. Musically it sounds good but it is not standing out. Maybe it was their bad that there have been some great smaller bands playing at the club stage that amazed the audience. Black Crucifixtion was simply not as promising.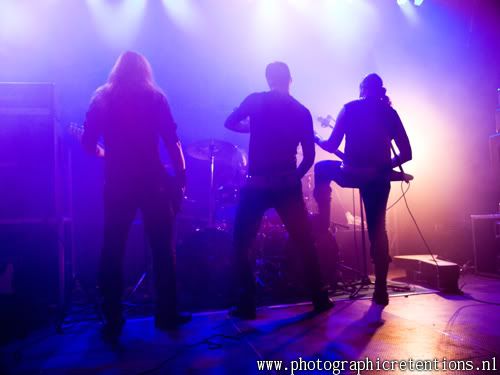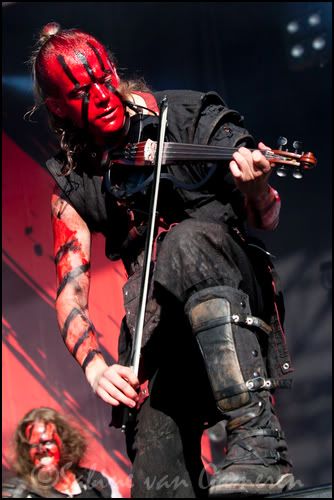 Turisas is a Finnish band that made an album called "Battle Metal" which basically describes their genre. They come on stage with red and black war paint on their faces and a huge fan base in front of them which copies this. Obviously this band is very popular out here and the lyrics of the songs are often shouted along. Turisas makes use of instruments like violin and accordion in their music which makes the sound quite different from anything standard. What is most standing out on their performance is the fact that they are all extremely motivated to make this show a big success. All seem to be very into it, enthusiastic and having fun playing. This makes the performance really comes alive. Turisas is not just a show at Tuska, it is an experience.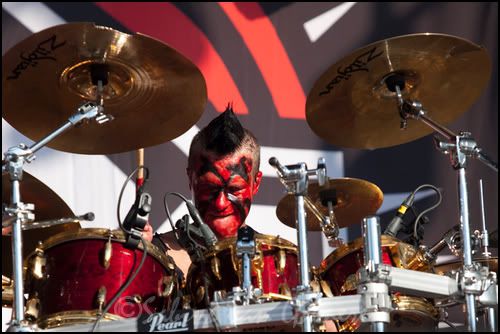 Amon Amarth is maybe not the best band to play in the full day sun. It was hot in front of the stage and these men who bring melodic death metal from Sweden had the task to end this festival. Their backdrop was quite impressive with warm yellow, orange and red colours. Then when they entered the stage there was even some firework and the show could begun. The sound of the band was very good and in the different drinking areas on the festival grounds people were listening and enjoying then band while drinking some beer in the hot sun. Johan Heggs his growls sounded good. However these men been around for quite a while and must have played numerous festivals, even these Vikings seemed a little lost on the big stage. They played of course some songs of their latest album Surtur Rising. This Surt giant was shown on the backdrop surrounded by his flaming sword.
More photo's of this event can be found at Sabinevangameren.com & Photographic Retentions
Links:
Tuska Website