Location: Tanzbrunnen, Cologne (Germany)
By: Sabine van Gameren & Nina Mende
Amphi festival was up again for another edition right next to the Rhein river. The weather seemed to be on our side, only a little rain that spoiled the fun, but mainly good weekend to see some bands.
It seems like Goths are early birds: So many people were up early, waiting outside before doors opened and then were in front of the indoor stage at Staatenhaus as well as outside in front of the main stage to see the first bands. Indoors Klangstabil opened the festival while Staubkind was up first on the main stage outside. Alex, the singer of Eisbrecher, was the host for the main stage.
Klangstabil was formed in 1994 by Maurizio Blanco and Boris May. At that time, Boris was not yet an active musician, while Maurizio was already knee-deep in electronic music and had already begun to develop his own ideas in music. They soon realized that they were transmitting on the same wavelength. A determination and vision solidified in how to create a new perception of music. This vision manifested in the name Klangstabil. The duo performed indoors at Staatenhaus and spread their thriving music throughout the venue, sharing it with all these early birds out there. And they loved it. The singer moved around on stage quite a lot and almost danced himself out of his pants which sat quite lose. Their show lasted about 40 minutes.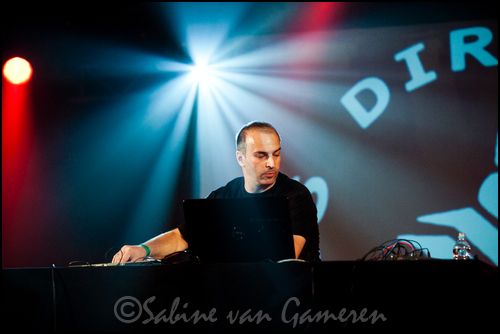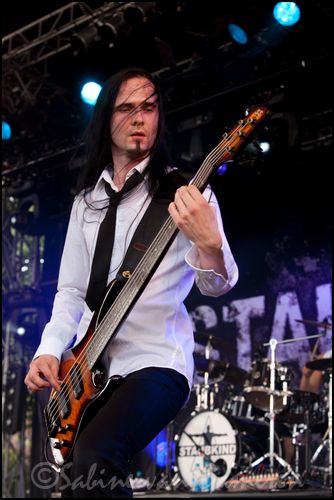 Opening this year's main stage was up to Staubkind. Staubkind is a solo German rock band led by Louis Manke who also plays in Terminal Choice. The name is German and means "Dust child". All the lyrics of Staubkind are in German as well. The low voice of Louis add a dramatic touch to the dark and melancholic music. Even though the music is quite dark, the band still has a lot of fun playing it and spreads positivity and happiness during their performance. They all moved around and rock around on stage, animating the audience to go along – and they did. Staubkind played old and newer songs, always trying to get everyone to sing along, which they did too. Watching the audience interact that well with the band it felt like the festival had been going for hours already. Hard to believe that it had all just begun. Maybe it was also because Staubkind is such a congenial band that you feel connected to right away. Their set of forty minutes went by very fast. Staubkind is always a pleasure to see.
Mind.in.a.box is Austrian electronic music band which includes Stefan Poiss (vocals), Roman Stift (Bass), Gehard Höffler (Drums) and Adam Wehsely-Swiczinsky (Guitar) . Their "technopop" sound can be described as a cross between futurepop and progressive trance. The show of these guys was not an instant success. Obviously the crowd needed to get used to it and that took quite a bit. This may have to do with the quite light music compared to the harder stuff around and the performance being quite tame. Eventually the show started to come loose a bit, but some visitors already left for the main stage to see what was going on. A bit of a disappointment.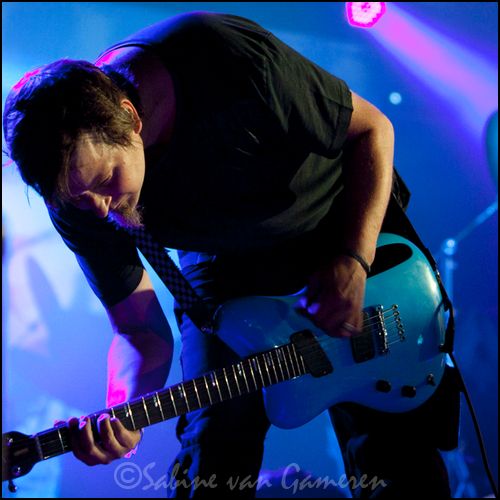 Next on the main stage was Melotron. Melotron is a futurepop and synthpop band from Germany. In 1996 Andy Krueger, Edgar Slatnow and Kay Hildebrandt left their former band, The Vermin, to form Melotron. The band found success with their first single, "Dein Meister," in 1998. Until 2007, Melotron was a band with German-only lyrics. However, in their album Propaganda, "Broken" is sung entirely in English. In the American television show Saturday Night Live, the recurring sketch "Deep House Dish" uses Melotron's song "Der Kosmonaut" as an opening. Wearing a suit as usual the singer Andy performed his music on stage, always animating the fans to sing and dance along and thanking them as they did so. It felt like one big family with Melotron on stage. They sang old and new songs and everyone sang along, doing as Andy asked them to. The catchy tunes got everyone to move along. The festival ground was getting more and more crowded by the minute and slowly but surely you could see the people this sold out festival was drawing. Forty minutes of future-synth-pop went by way too fast.
Zeraphine continued on the main stage. Fans were gathering for this. Zeraphine are a gothic alternative rock from Berlin, Germany, formed in 2000 by Sven Friedrich (vocals, programming, lead song writing) and Norman Selbig (guitars) from the then-defunct Dreadful Shadows. 50 minutes Zeraphine rocked around on stage, spread their melancholic music and melted the fans' hearts. Everyone in the audience could sing along and had a great time. Cheering, clapping and dancing along to the catchy melodies. Zeraphine filled the festival ground with warmth and a lot of emotions, mostly sad and some even tragic, some carrying hope and light. The fans could all connect to the pain that Zeraphine sang about, to the feelings Sven sang about. They were all hanging on his lips. The band moved and rocked around on stage, singing old and new songs, promoting their latest album "Whiteout" and had a good time. 50 minutes show time went by very fast.
Frozen Plasma was getting on stage in time. The Staatenhaus was getting crowded and the air was warming up. Frozen Plasma is a futurepop band consisting of Vasi Valis (Reaper, formerly of Namnambulu) as a keyboard player and Felix Marc (Diorama) as a vocalist, currently signed to Infacted Recordings. For the live show they also had a guitar player along. The singer was wearing a suit and moved around on stage, animating the audience to dance and maybe even sing along. Fast and thriving music got everyone dancing along. Especially cyber Goths with their little lights on their hands danced to the music. People knew the lyrics and sang along, cheering out loud after each song. The light on stage was dim and the fog was quite thick. The singer whirled around on stage, dancing to his music and sometimes being all in his own little world. Frozen Plasma was quite interesting to watch as each member in the band acted as an individual and all did their own thing. Which was not a bad thing at all, just interesting to watch.
Samsas Traum was playing on the Mainstage. The band fronted by Alexander Kaschte. The band is now based in Austria. Their music consists of elements of Neue Deutsche Härte and cantastoria.The guys tried to have an easy score by throwing some t shirts in the crowd, but that did not make up for the fact that the vocals were not too good. Partly because the volume wasn't high enough, partly because of the vocals it self. Also the rest of the band seem to be on a quite low motivation for today and this may not have been the best show of the day. Nevertheless the band had a group of fans who enjoyed it, but it could not hold one of the other bands on the second day to diss this performance.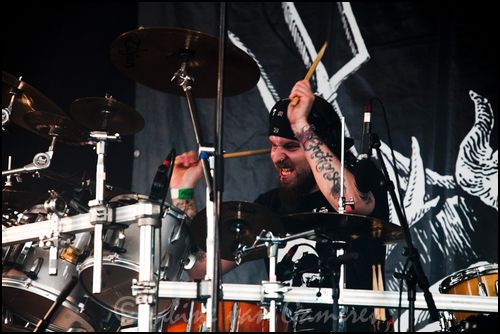 Grendel followed Frozen Plasma at Staatenhaus. 45 minutes of performance was ahead of them as they entered the stage. The venue was getting more and more crowded by the second. Soon the doors would close due to reaching the capacity limit all the venues and events had now – and followed strictly – since the terrible accident that happened at the Loveparade last year. Grendel is a Dutch music group formed in 1997. Their music is in the Aggrotech genre. Their name originates from Beowulf. More and more cyber Goths and industrial fans were pouring in to watch the performance of Grendel as well as dancing around. Everywhere you could see people dancing heavily. The air in the venue was getting hotter and hotter, the fog was getting thicker and thicker. And Grendel pushed the audience to go along more and more. 45 minutes, going strong.
In Strict Confidence is always a pleasure to see and their artistic performance is always worth watching. So of course did we also watch ISC taking over Staatenhaus which was still getting more and more crowded. In Strict Confidence is a German electro-industrial band. Formed in 1989/1990, they were known as Seal of Secrecy until 1992. In Strict Confidence has been signed to several record labels, including Metropolis Records and WTII Records. The singer wore a thick hat. His skinny tall figure was still irritating me when hearing the powerful and dark voice coming out of it. The female background vocalist Nina wore a beautiful latex dress, dancing around on stage very beautifully while singing along. The band was having fun on stage and loved to play together. Simply beautiful. In Strict Confidence played old and new songs, fascinating the audience while most of them could sing along to the songs and definitely danced along to the melodic music that is also quite edgy and harsh with strong lyrics. Dark and creepy meets bright and hopeful, In Strict Confidence performed as if Angels and Demons teamed up to take over mankind. Strong together, putting their spell on everyone, controlling their thoughts. Directing the minds into where In Strict Confidence wanted them to see. Simply brilliant. It was hard to not be totally overwhelmed by the performance and draw your attention away from them performing. In Strict Confidence is always worth watching.
Tanzwut is a German Neue Deutsche Härte and medieval metal band which originated as a sideproject of Corvus Corax-members. The band Corvus Corax may contain a lot of interesting interesting instruments, but when it comes to Tanzwut it is more regular. Yet some bagpipes are there as well so Tanzwut never turns into an ordinary band. "Ihr Wolltet Spass" is what comes from the stage quite soon in their set and that is basically says it all. Tanzwut is there for your entertainment and they did a good job with it. Their latest album dates back to 2006, but a new release is planned in September this year.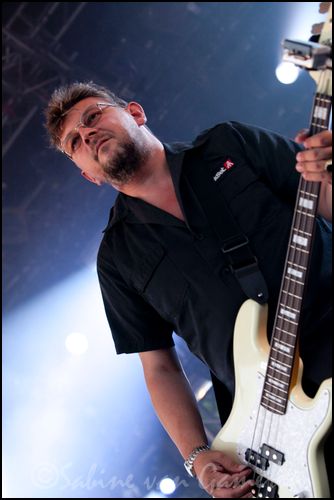 Die Krupps was taking over the main stage now. Die Krupps is a German industrial rock/EBM band, formed in 1980 by Jürgen Engler and Bernward Malaka in Düsseldorf. With drums, bass and guitar as well as synthesizers they performed for an hour, rocking the audience with their electronic body music. The audience was mixed: EBM fans, industrial people, a few cyber Goths rock fans and punks moved along to the beats and cheered out loud after each song. They slightly reminded of Combichrist, only without the destruction and not quite that aggressive. It seemed like the audience did not feel the pouring rain while Die Krupps moved around on stage. The audience room was packed. What a great band and what a great show it was.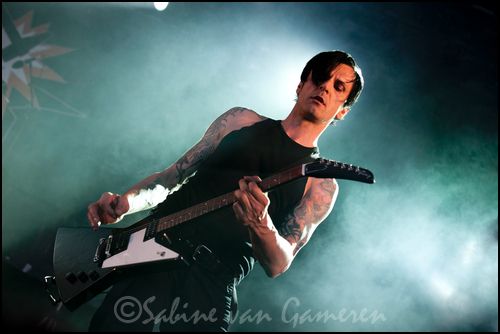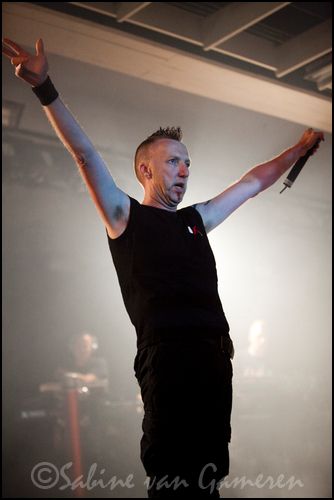 In the Staatenhaus things were about to turn a little more aggressive when Suicide Commando was about to start playing. The band comes from Belgium and EBM music. The band has a long list of releases on their name and even though Die Krupps was still on stage when these guys started playing, it was really quite hard to get in the venue. When we entered it did not reached its full capacity, but that must have been very close. Their show went quite well, everyone was enjoying it and Suicide Commando self seem to enjoy playing in this filled venue as well. It was a great performance and the guys have totally lived up to their reputation
Because of it being so crowded in the house, we did not bother to go out and see the last performer on the mainstage but decided to stay indoors as Hocico was about to close this festival day. 2 years ago Hocico was THE band of the festival that you must have seen, and last year Erk Aicrag was there with Rabia Sorbia to equal that for this year. Quite some on stake. The stage was filled with old school televisions showing visual art during the performance. Also Erk was playing around with his microphone stand (see picture) and ran around like always. The venue was not as crowded as before, mainly because manyy had left for home already since it had started raining pretty badly, but there was still a full house of people dancing and cheering for Hocico. Would they have made as the show of the year, maybe the competition was very strong for them this year, but the act of the day it was at least.
Sunday:
First band that played this day was Der Flug. The band has been around since the early 80's and is opening the festival's Sunday. They make an aggressive sort of music and what sticks in mind mostly were the comments they made on the Samsas Traum performance. A nice start, but there is not too much that stayed in mind so the trip went quickly in the mainstage.
At the mainstage there was a band called She's All That. The guys walk around with masks and are described as: "Chubby beats and massive freaks.", a subscription that suits them very well. At first you would think this may be some freaky marriage between Mortiis and The Prodigy but the last one quite fell away further in the set. It felt a bit like trying to be very like mortiis but not completely made it there yet.. what was the most interesting of them was that these characters they are on stage are actually an add to the performance and makes the freaky stuff come alive. An interesting band that you would love to see in another setting, more as a clubshow because that would make it more intimate and come alive. Now in this point some of the atmosphere got lost in the open air, especially if you are not in the frontrow.
Second day of Amphi Festival has dawned already with Funkhausgruppe on the main stage. An all star band, if you like, formed out of the bands Welle: Erdball, Die Perlen, Sonnenbrandt and Hertzinfarkt. The stage was filled with musicians, the audience room was filled with fans of all bands, dancing along to the funny music that required a good amount of humor. The fans loved it. And the band had fun on stage. The female vocalist reminded of an old teenager girl group that was speaking their minds out, tough yet chic. The music was – just like Welle:Erdball – full with elements of the Neue Deutsche Welle era and 80s wave music. Pretty interesting to listen to because this kind of music is rare to hear and the performance was spiced with many details out of this time.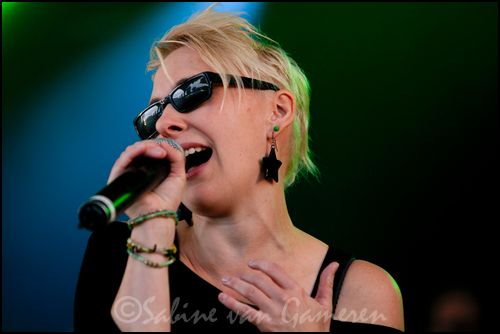 Dreadful Shadows followed Funkhausgruppe on the main stage. Dreadful Shadows is a German Gothic metal band, formed in 1993 in Berlin. Initially part of the Gothic rock and Dark Wave movement, the band had developed considerably by the time of the release of their debut album, incorporating metal elements and modern electronics, causing the band to be considered part of the Gothic metal genre. Dreadful Shadows disbanded in 2000 to work on separate projects. After many years of silence Dreadful Shadows are getting more and more active again. So here they were playing at Amphi Festival. Since two members of Zeraphine are also members of Dreadful Shadows, all the Zeraphine fans gathered up to see them perform. But not only them. Many people were singing and dancing along to old and newer songs of Dreadful Shadows. Some of the older songs, Sven didn't even remember what album or time they were from. But nobody cared. It was a beautiful and almost nostalgic performance by Dreadful Shadows.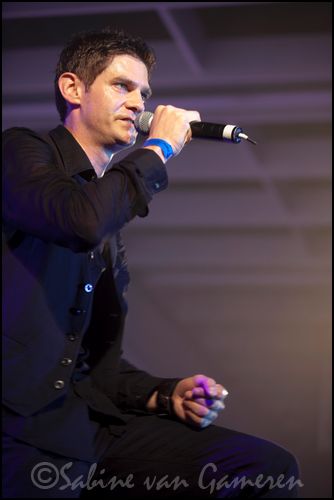 Diorama was next at the Staatenhaus. The band let us down the last time they performed and made us think their band name should have been DioDrama instead. Nothing so fair as giving them a second chance to blow us away which happens to be something the audience was expecting from them as well. The first song left the audience a bit in the undecided but after that the guys, hidden in their cubics, were winning them over. In the end we must confess that vocalist Thorben and his bandmates succeeded in making us feel better about them. Much better! Forget about that extra D we placed in their name, for now we remember them as they are: Diorama, that band that played a nice set at Amphi.
De/Vision was up next on the main stage. De/Vision is a German synthpop musical group. The band started as a quartet consisting of Thomas Adam, Steffen Keth, Stefan Blender, and Markus Ganssert. They formed the band in 1988. The name De/Vision is a play on words. The majority of the band's lyrics are in English, but they have had some songs in German. Markus left the band in 2000. In the same year Steffen started a side project as the vocalists with Green Court, called 'Green Court featuring De/Vision'. The band with remaining members Thomas Adam and Steffen Keth were then signed to Drakkar Records and Sony BMG in Europe, and Dancing Ferret Discs in North America. The band is currently signed to Metropolis Records in North America. Since 1994 the band has released a new studio album of original material roughly every 1.5 years, until their latest album "Popgefahr", which took them 2.5 years. With "Popgefahr" being their latest album, De/Vision performed at Amphi as a duo. De/Vision sometimes also play as a band, but not at the moment. The music was all coming from the synthesizer that Thomas was using while Steffen sang to it and danced. And so did the audience. Catchy and soft tunes floating along, making you move along while freeing your spirit. But also Steffen's great dancing is animating you to dance along. And so it happened that everybody was dancing and singing along to old and new songs, cheering and supporting the duo of De/Vision. 50 minutes they danced around on stage getting their fans and audience to go along. Amazing.
Clan of Xymox has a Dutch front man and makes 80's new wave music. The band has a huge following as the venue is pretty filled when they enter the stage and start their set. The rest of the band is coming from different parts of the world and although there were not much words in between the songs, not as the last clubshow we saw of the, the audience felt happy dancing and listening to them. They kept their set quite up to speed, leaving their slower songs out of the set and this made it a great show for Amphi. Fans of the band probably like to see this band in a cozy club instead where their music speaks even more than it did here, but Clan of Xymox played a nice set.
The main stage was covered with a curtain. Even though it was white, you should take it as a warning sign. What was coming up no was no good – evil and crazy instead, lurking to infect you with their craziness and wildness: Agonoize! Agonoize is a German Aggrotech band constituted of Mike Johnson (composition, programming, production & mastering), Oliver Senger (composition & programming) and Chris L (lyrics & vocals). The audience room was packed. It seemed like literally everyone had gathered in front of the stage to see Agonoize perform. Alex, the singer of Eisbrecher and the host of this year's Amphi festival warned the families present to hide their children and run. As the curtain fell the singer was flying around on stage in a straight jacket while singing. Two songs later he was back down and out of the straight jacket running around with a butcher knife, whereas a few songs later they fired confetti into the audience. The audience raged with Agonoize on stage while the band raged on stage. The audience danced heavily, it was dangerous to move around during their performance. Fury and fast, distorted vocals and evil sound Agonoize came creeping upon us all, conquering the festival. Simply amazing. Agonoize never gets boring. With their blood smeared faces they yelled at the audience wanting more and more. Fifty minutes went by way to fast. This band definitely deserves more time.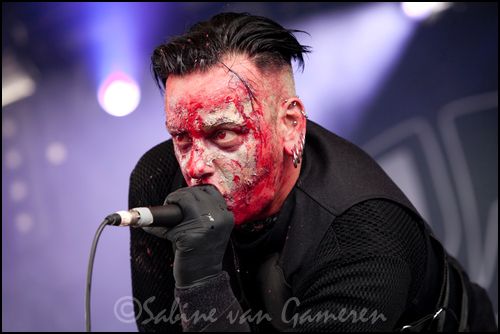 In The Nursery was a band we saw quite briefly. They made us dance for a while during the first songs but the brothers Humberstone didn't really get our attention for too long. The music would be lovely to listen to on cd, but when being all exited about the other bands that come up, this may be a bit of a white sheep (since everyone is already black ;))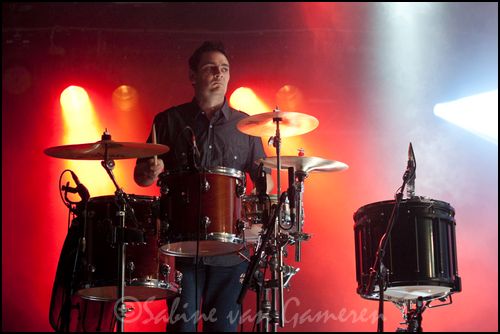 A total change on the main stage: From Agonoize to Saltatio Mortis. Just as different as the bands are, the audience changed too. All the medieval fans were now filling the main audience room. Saltatio Mortis is a German medieval metal group. They are recognized as one of the leading bands of the genre. The Latin name means "dance of death". Within their hour of performance Saltatio Mortis controlled the audience and was one with them. What ever the band asked for, the audience gave it to them and the other way around. It seemed like a huge family on a playground watching band and audience interact. The medieval music was catchy and got all the medieval fans to dance and jump around. The gleeman melodies spread a good mood and made the audience cheer even more. The band was also dressed up in medieval outfits. Today was the beginning of their upcoming tour. As they announced that, many people in the audience raised their hand to show that they were going to be visiting some shows on that tour. And then it was all over.
Das Ich was up next in Staatenhaus. From the years back I remembered the red devil which made the show hyperactive, but the red devil ain't no more nowadays. Doesn't matter, cause Das Ich is still that crazy band which combines Electronic music with a little humor here and there. After three songs a guest singer came on stage. We did not quite catch her name but she brought an interesting touch to their sound. The audience seemed a bit suspicious on these guys for a while but in the end most seem to leave the Staatenhaus satisfied.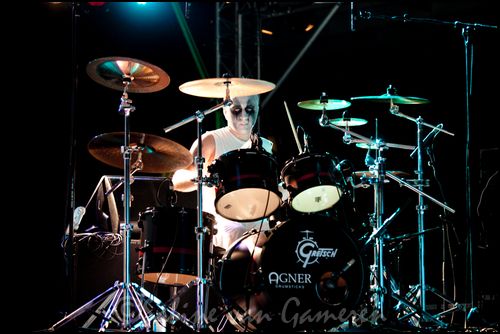 Back to electro Nitzer Ebb was taking over the main stage again. Nitzer Ebb is a British EBM group formed in 1982 by Essex school friends Vaughan "Bon" Harris (programming, synthesizers, drums, vocals), Douglas McCarthy (vocals), and David Gooday (drums). Old school EBM performed by Nitzer Ebb drew many old school – and old – EBM fans, but also some industrial fans. Catchy tunes and great drums got everyone to move along. One big happy mosh moving around to Nitzer Ebb, following what the band members wanted and let the show time go by so fast. Nitzer Ebb is almost a legend amongst EBM music and their shows are definitely epic. With Nitzer Ebb getting closer to the end of their performance it was also getting closer to the end of the festival. Time flies.
Feindflug was back and this year they were determined to keep the Staatenhaus intact. The Elektro-industrial band played here two years ago and rocked so hard that the ceiling came down. (partly). Even though they took there preparations and sold some special merchandise for Amphi festival, as in helmets, the band didn't give in on their music. The drums, the beating not pitch back and there fore the guys have totally made a show in the super, overcrowded Staatenhaus. Feindflug comes completely instrumental and therefor leaves even more space for dancing. This what all Amphi visitors loved to do with these guys on stage made this show really a big success.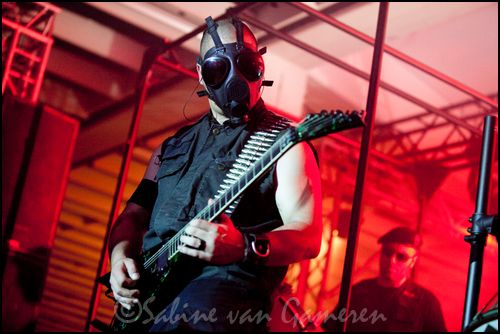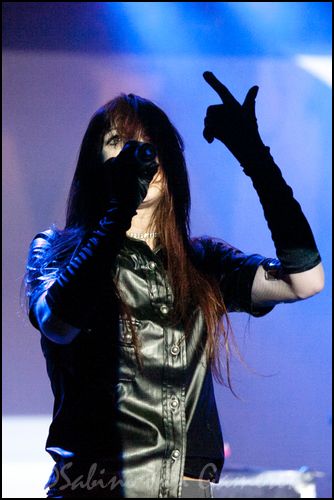 "Kirlian Camera is one of those special music projects that will have connoisseurs raving on about how good they are with glowing eyes, that manages to fuse sonic experiments, club-compatibility, anthemic pathos and a wholly unique aura into a one-of-a-kind experience and that has been able to span generations of fans." That's what the info says about these guys and while listening to their music you were quite surprised. This mainly by the vocals of their front femme which is a show woman pur sang, very aware of what influences her movements and sounds have on the audience. This makes the performance a bit choreographed some times, but when you get over that you keep on falling back to these nice vocals and good musical backing that comes with them.
Subway to Sally clearly has a huge following and their folkish music is something that the audience seem to know by heart as everyone is shouting along at the lyrics. The band brings pyro's, smoke canons, fireworks to spice up their show which may have helped them a little as the performance seemed a bit lazy. The vocalist looked like he was aware that the fans will help him though it and love it anyway, no matter what. Too bad for those who are not completely familiar with the band cause they may not have gotten the best side of the band. What matters in the end is that the audience here had a good time and the few critics who are out there and are slightly disappointed have to wait for another Subway to Sally experience to get to know the way they are.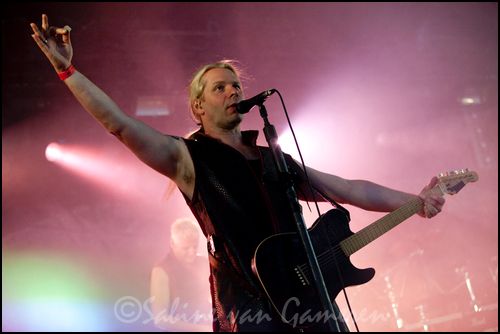 Very last band playing on Amphi is Covenant. Covenant is a formation that has a strong reputation through the years and the shows they do are pretty much always a success. Tonight we did not have to worry about that either as they seemed quite enthusiastic about it. Covered with blue light they play their songs some of their latest but also mixed with some older material and set the Staatenhaus upside down. A nice show, a good way to close your Amphi experience.
This year has been amazing again and with all the improvements they make every year, Amphi becomes a festival we love every year a little more. The fact that people have now way more space to sit down with their food on a table makes the festival experience so much more convenient. A part of 2012's line up has been announced already and with names as Corvus Corax, Sisters of Mercy and and Tyske Ludder we can't wait for the year to go by.
Photo's by: Sabinevangameren.com
Links:
Amphi Official