[schema type="event" evtype="MusicEvent" name="19-10-2016 Silverstein" description="Support: The Devil Wears Prada, Memphis May Fire, Like Moths To Flames" sdate="2016-11-19″ street="Sankt Peter" city="Frankfurt" country="DE" ]
Rise Up Records has some of their best bands touring together. The Devil Wears Prada, Memphis May Fire and Like Moths To Flames with Silverstein as headliner on all shows. That is some strong line-up. One that might shake the walls of quite some venues. Tonight they were shaking the holy walls of Sankt Peter in Frankfurt. Sankt Peter is a church that also hosts concerts.
Here is who the first two bands are: Like Moths to Flames is an American metalcore band from Columbus, Ohio. The band has released three full-length albums, a 7″, and one extended play through Rise Records.
The Devil Wears Prada is an American metalcore band from Dayton, Ohio, formed in 2005. It consists of members Mike Hranica (vocals, additional guitar), Jeremy DePoyster (rhythm guitar, vocals), Kyle Sipress (lead guitar, backing vocals), and Andy Trick (bass). The band had maintained its original lineup until keyboardist James Baney left the band. To date, the group has released five full-length albums, as well as two EPs, one DVD, sixteen singles, and thirteen music videos.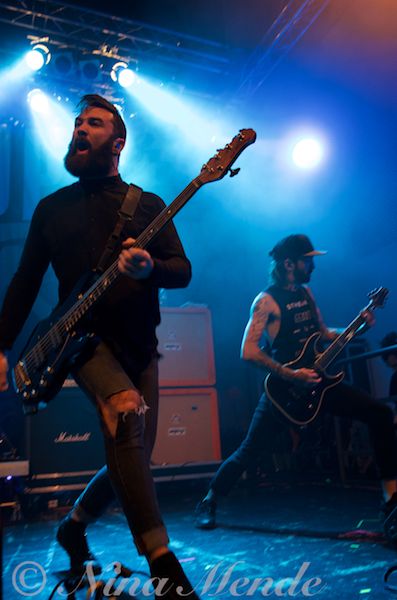 And then, there was Memphis May Fire. Memphis May Fire is an American metalcore band formed in Dallas, Texas and currently signed to Rise Records. Formed in 2006, they have released five studio albums and two EP's to date. Their fourth album, Unconditional, debuted at No. 4 on the US Billboard 200 and atop the Alternative Albums chart.
And these guys were here on stage at Sankt Peter today. The venue was packed and it was getting really hot inside. The audience was mainly teenagers. All ready to rock and they sure did for the two bands that had played already, but they also would for the two yet to come.
So the bar was set high as Memphis May Fire entered the stage. As the guys went on stage, the audience began cheering and rocking along with the band. Strong and intense music came from the stage, into the bodies of the visitors, getting them to rock along. The band jumped around on stage and rocked the masses. The loud music was combined with shouted vocals. The singer bent forward to the audience, singing and shouting to them. This way the guys got the kids in the audience to go along more and more. The fans were soon soaked ins wet by going along to the music. The performance of Memphis May Fire lasted for about thirty minutes.
After a short change over, it was time for the headliner of this Rise Up tour and for this night here at Sankt Peter: Silverstein!
Silverstein is a Canadian post-hardcore band from Burlington, Ontario that formed in 2000. Their band name is a reference to the famous children's author Shel Silverstein, whom the band had admired and read the stories of as children. They have released a total of eight studio albums, three EPs, a compilation album and a live DVD/CD.
Their lineup had remained unchanged for eleven years since December 2001, consisting of lead vocalist Shane Told, lead guitarist Neil Boshart, rhythm guitarist Josh Bradford, bassist Billy Hamilton, and drummer Paul Koehler.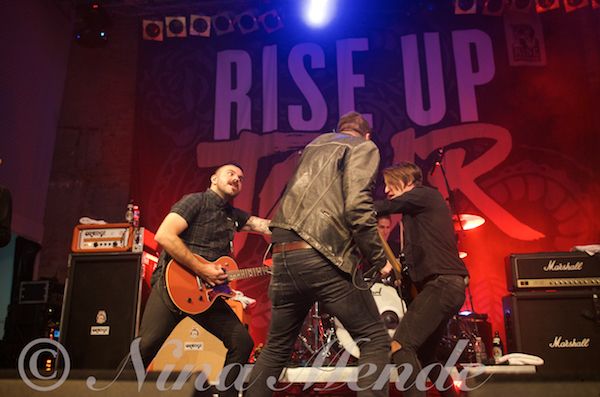 In September 2012, the band had announced that Neil Boshart had been fired and would be replaced by Paul Marc Rousseau, who also joined Billy Hamilton on backing vocals.
The band achieved moderate success with their second studio album, Discovering the Waterfront, which was nominated for a Juno Award and reached No. 34 on the Billboard 200 charts, with the following two albums charting at similar positions. Silverstein has sold over 1,000,000 albums worldwide.
The guys were just as eager to get on stage as the audience was to see them. Silverstein went on stage with a rush and jumped right into their performance. Strong and energetic, the band performed song after song, after song. The audience sang along to the music, danced along, and even began moshing around. Quite some kids began to crowd surf. Everyone was having a blast. The lights were perfect for the show and the sound was brilliant. The venue was getting hotter and hotter.
The band talked to their fans in between the songs, getting them to shout and scream louder, to sing along just a little more with each song. And they succeeded. It was an intense performance. Silverstein played songs off all their albums and the audience loved it. Silverstein played for more than one hour.
When everyone was out of breath, there was an encore. So everyone gathered their strength for one last time. To rock for three more songs. And then the night was over. What an intense night with four amazing bands that sure know how to rock and how to get everyone to rock along.
Keep your eyes open for the Rise Up tour and be there when it hits your town.
Like Moths To Flames
The Devil Wears Prada
Memphis May Fire
Silverstein