Location: Suvilahti, Helsinki (Finland)
By: Sabine van Gameren & Aoife Towell
A brand new edition of Tuska festival was on. In Suvilahti giving the whole an industrial touch and in combination with some strong names the festival was looking forward to a weekend full of great shows.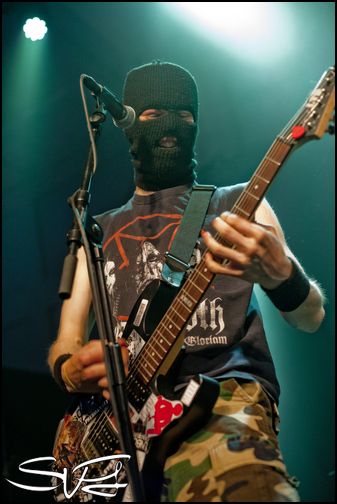 In the clubstage it was the Finnish formation Psykoanalyysii that was to start off the day. The band likes to come with attitude, the fuck you fingers are raised and while the audience made their way into the clubstage slowly we are presented with a long list of short songs. The vehemence, the fire the pit is in it, the hooded guys are not holding back. What are really their causes is mainly in mind of the Finnish but by the way it is brought you can understand that it won't be about hearts and butterflies. Had you thought of a gentle approach, forget about it. Brutal!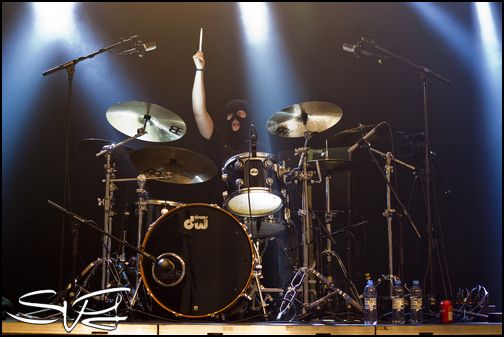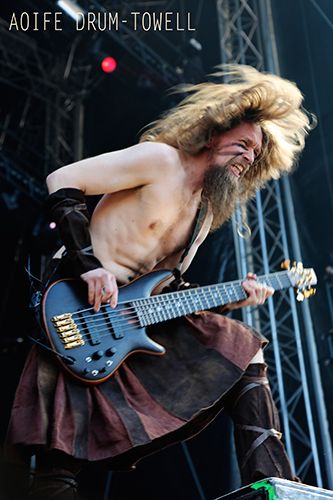 Signs of Ensiferum's presence were seen in the festival's surroundings before the gates had even opened for the band's christening of the 2014 main stage. Black war paint on the faces of fans created an air of anticipation for the folk metal group who walked on to the breaking of good weather. After signing with Metal Blade Records in April 2013, the band's last album release was Unsung Heroes in 2012 which was a much more delicate approach to their previous work. Playing just Pohjola and In My Sword I Trust from this, the rest of their set comprised of older material such as Iron and Token of Time. Sami Hinkka in particular was a lot of fun to witness between throwing shapes and his intense gaze while in the zone. As a staple in Finnish folk metal, Ensiferum were a great band to mark the beginning of the Tuska festival and set the bar high for oncoming acts.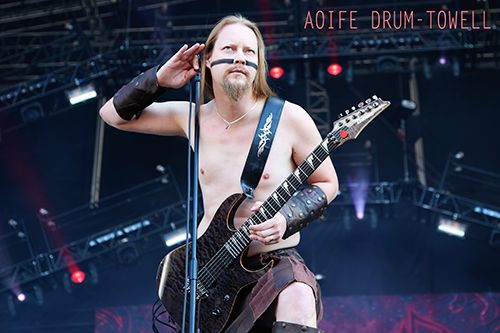 The Finnish rockers of Poisonblack are not really a stranger to us and neither to the festival visitors as even if they play relatively early on the day the band have attracted a lot of fans to their set. The band's latest album "Lyijy" is well represented by tracks like "Home Is Where The Sty Is" and yet the band took some songs of the older albums too.
Though the band starts it of mellow they all put the right dose of energy in it, having keyboard player Marco Sneck take it to the maximum with his wild style of playing. With little comments in between the band goes through their set, the audience appreciating it at their stereotypical way: rocking it out and an occasional guy affectionally shouting for Sentenced. While the band is only playing a short set it seems a little too short for most of the audience, who would have loved to see a little more.
Affirming the hardcore legacy of Tuska's Club Stage, Helsinki's own blood Cutdown have earned their place at this venue. Although there wasn't too large a turn out, the band exhibited that undeniable energy true to their genre and put their screaming hearts into it. At times perhaps the performance got a bit tired, but overall they played with precision and passion. Although not gigging much this Summer they do also have a place at Aries Hardcore festival in Switzerland, so it's good to see them getting outside of Finland and continuing to expand their horizons. Certainly since the Harsh Reality release was so well-received it would be great to see them return to the studio in 2014 and keep the juices flowing. Esa, Matti, Häkki, Jude and Arttu were worth a visit and left me absolutely buzzing afterwards.
Having barely been off the road since the release of the band's debut album Walk Through Exits Only, Phil Anselmo has been dividing his time between them and Down touring across the world. You could be forgiven for thinking a man with a body that's been battered and aged might be nearing the end of his tether, but in true Anselmo form he assaulted the willing crowd with his coarse voice and appealingly bitter nature. He announced a dry apology for being the ugliest band performing at Tuska and regularly encouraged pits, flooding the area with his undeniable booming tone. Opening with a bang to Bedridden, the other band members Marzi, José and Bennett seemed to let the master take care of the drama and backed him up with sludge-fuelled riffs and loaded beats. The reputation of the frontman preceded him in what was in fact the first time performing in Scandinavia, as even though many didn't know the new lyrics to sing along, their presence exuded appreciation for this legend of Pantera and Superjoint Ritual. Philip H. Anselmo and the Illegals were a really niche treat of metal history to see and I personally hope that Phil continues this particular venture.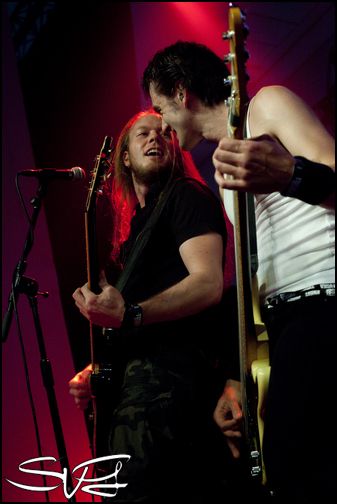 Back in the clubstage we get introduced to the formation Shear. A female frontwoman who has a lot of energy and power, bringing that out not only in her vocals but in her whole performance. She joined the band in 2008 which finalized the line up and then the releases started coming.
This year the band released their second full length album "Katharis" which the present to the audience today. They played for example the song "Home" which stood out for its explosive nature, a whole lot of energy goes into it, but the band brings it from very close to them which makes this performance very remarkable to see. Intense music with a powerful performance clearly hits it with the audience today.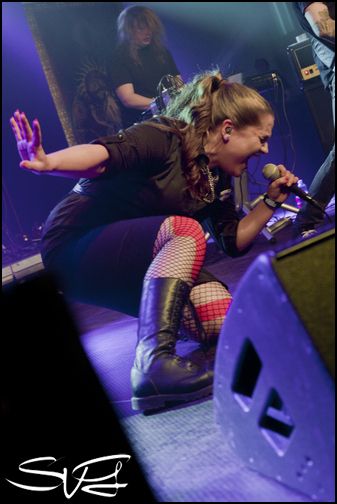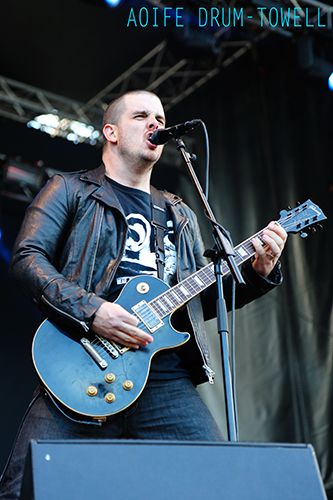 Just signed to Nuclear Blast with the hopes of a third album in 2015, this California-grown four-piece were one of three bands to hijack Tuska's Inferno stage on Friday. This was my first experience seeing Nails live and caught me a little off guard as I was expecting a show much tighter and more intense. It almost seemed like they are a band that just communicates better via a studio recording and not live, but that's not to say they're not talented. Unfortunately they left a lot to be desired for me and lacked the wilder side that I tap into when listening to their music. While the energy was there, I expected less of a refined stance and a punchier rhythm to come through and I never got it. I would like to say I would give them another chance, but for this year anyway they weren't a highlight of my Tuska.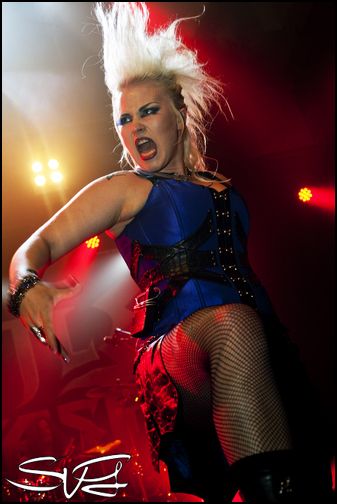 The women own the stage today as the next band in the clubstage is Battle Beast, who has a just as energetic and powerful ladies at the front as the band Shear, which was before them. Battle Beast have done several tours in Europe and got themselves a name.
The band has played the mainstage while standing for another band at Tuska in another year, but now they return for a more intimate show. However, it is clear that Battle Beast got their name out in such a way that they almost outgrow this small indoor stage. The place is packed, from front to back, with people that want to see them and the band does not disappoint. With their catchy refrains, impressive riffs and the vocals of Noora that add a little spice to it all the band has not any problem to entertain the audience today. Battle Beast is simply a size too large for this stage now.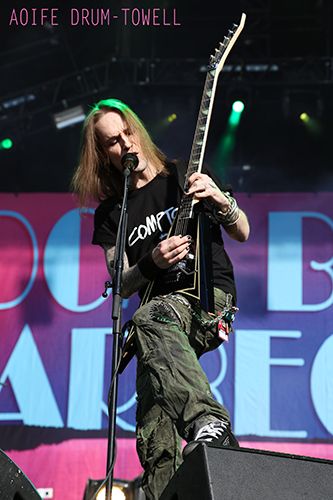 Performing on home ground, Children of Bodom's place on the main stage was greeted by a sea of expectant fans. Their comedic set-up consisted of a colourful beach barbecue theme including a working grill, bar and vintage-looking cars whose headlights tied into the lighting design. Several guests and VIPs also joined their picnic activities on stage and while at times were distracting from the band themselves, Bodom had definitely arrived in style. Struggling through some small sounds problems in the first songs, by the time they had released the blow-up beach accessories into the crowd the show was in full swing. They included Scream for Silence and the title track Halo of Blood from their 2013 release, as well as the powerful Hate Crew Deathroll which created three different circle pits amidst the crowd. Overall these legends of metal didn't disappoint the fueled fans and royally rocked the stage true to form.
Hamferd is a band that brings some changes into the clubstage. They are not ought to have success with their sparkling performance but it is the intimacy that works for them. They are from Faroe Islands and make Doom Metal. The type of music that comes calm and let it work into you with its full intensity rather than have a lot going on at the stage. A bit of a pity sometimes, a little more details could have enriched it for sure, but we had to do with the music mainly which is not too bad as the band bring a very rich sound. The details missing in the show are definitely brought into their sound, you have to listen with full attention and care to get sucked into it and it seemed that quite some did. The show was good , but whether these guys get the max out of it is to question.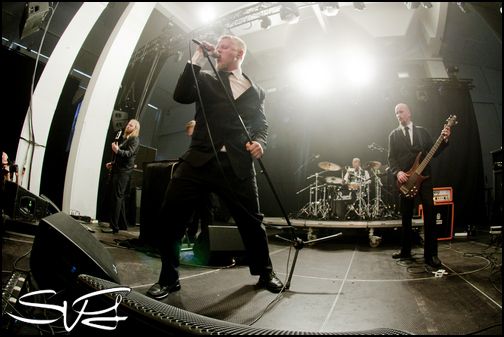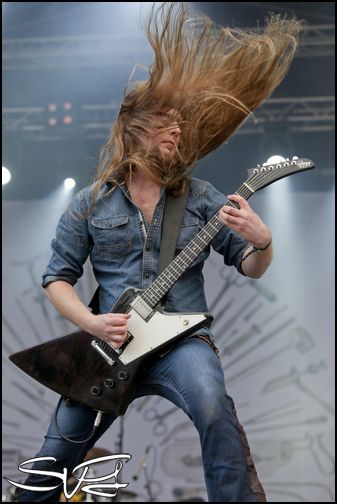 Some brutality enters the festival area when Carcass steps up the stage. The UK metalheads have a long history and a great list of releases on their name, their last full length dating back to last year. Called "Surgical Steel". Some songs of that album got played, "Cadaver Pouch Conveyor System" for example and it is interesting to see how many fans adapt this latest album as much as the bands earlier work, but if you look at what really makes the audience go wild you have to songs like "Heartwork" or "Corporal Jigsore Quandary" which they kept for the last part of their set.
The dust flies all over the place, caused by the many moshing Carcass fans, an interesting view. The band does not really have to work hard for their appreciation, they simply say a few words and it is enough to keep the audience going. Obviously, Carcass is a very welcomed guest here tonight.

One of the younger bands performing at Tuska Open Air, this four-piece all in their early twenties started an unfortunate fifteen minutes late and had sound problems to boot. Their backdrop wouldn't hang properly and all that distracted the crowd were the Metallica riffs being hammered out frustratingly in the meantime by the band members. However, it didn't seem to deter their devoted fanbase who had turned up in their droves and screamed excitedly throughout the entire set. With only one EP, one album and another still-untitled planned for 2015, these hard rock youngsters already have a massive following due to their energetic mesh of rock 'n' roll, metal and a fresh outlook into what could be seen as a modern, refined Guns 'n' Roses. This was heard through songs like We are the Ones to Fall, Aiming High and Screaming for Adrenaline and judging by the crowd's reaction, these guys are set to take over the world.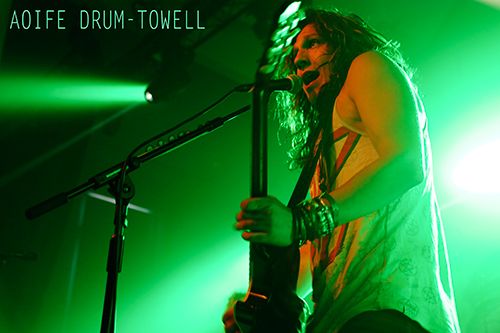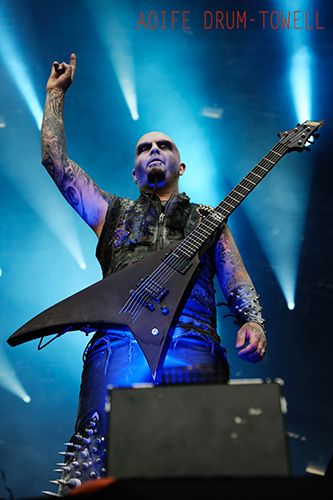 Dimmu Borgir's importance in the history of symphonic black metal is undeniable and there was always going to be a spot for them in the hearts of the Tuska goers, despite a lengthy hiatus. Their previously-scheduled 2014 album release has now been delayed until 2015, however they still had cause for celebration in Finland, namely their twentyfirst birthday as a group. Shagrath's pride of this was audible through every note and visible through every gesture, as they went on to perform a signature set of theatrics, pyrotechnics and the quality you'd expect from a band of such institution. Despite some technical problems which is to be expected in a production so vast, their setlist was a demanding comprise of the entire 2011 record Death Cult Armaggedon as well as Kings of the Carnvial Creation (Puritanical Euphoric Misanthropia, 2011) and Mourning Place (Enthrone Darkness, 1997) and it definitely satisfied the masses. One for the bucket list.
Photo's & text of following bands by sabinevangameren.com:
Psykoanalyysii, Poisonblack, Shear, Battle Beast, Hamferd, Carcass
Photo's and text of following bands by Aoife Towell:
Ensiferum, Philip Anselmo & The Illegals, Cutdown, Nails, Children of Bodom, Santa Cruz, Dimmu Borgir
Read more about Tuska at Day 2 & Day 3.
Links:
Tuska Official