Venue: Patronaat, Haarlem (Netherlands)
By: Sabine van Gameren
Seether. The formation from South Africa made their way back to Europe and with the release of a new album only a week away we were curious to see them.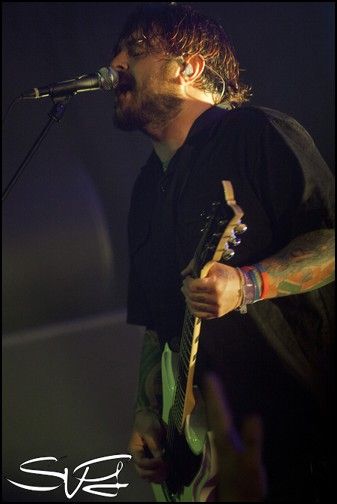 Even though a new album is coming out, the band does not really have a whole lot of new songs in their setlist. Starting off with "Gasoline" they give the startsign for a long list of the bands greatest hits. And that the band scored largely here is clear, the audience sings along to all the lyrics and hangs on to their heroes closely.
As a break in their set the ballad "Broken" was played, a song that brought the band a lot of international exposure when brought out with a featuring of rock singer Amy Lee (Evanescence). The lights are raining down on them while the song is played, bringing a really nice extra to the show. After that the band picks it up with some faster songs again, but not before were enjoying a drumsolo of drummer John who instead of his drumsticks simply uses his hands.
And then finally some new songs were played as well. The band's new single "Words As Weapons" for example, but also some songs that were completely unknown for the audience. Although these new tracks sounded much in line with what the band brought out before, it comes to notice that with these they took it all a step further, trying something new. It is found in the details but the longtime fans will pick out the refinement right away.
The set gets concluded with the wilder "Remedy" and some good news for the fans. At the end of the year the band returns to Netherlands for some more shows.
Photo's by sabinevangameren.com
Links:
Seether Facebook