Location: Tanzbrunnen, Cologne (Germany)
By: Sabine van Gameren & Nina Mende
While the temperatures are high, the summer is giving Amphi a wonderful summertime, the second day is there.
The formation Chrom is the first to play on this perfectly sunny day. In Staatenhaus though, were many come to shelter from the sun when needed. The guys are a relatively young formation, being started in 2007. The duo exists out of Christian Marquis and Thomas Winters and the band creates some electronic music that is quite catchy. Although they are only the first band still plenty people had come to see them and the guys show that they are good to start your morning with as it does not cost too much effort for them to get the audience dancing.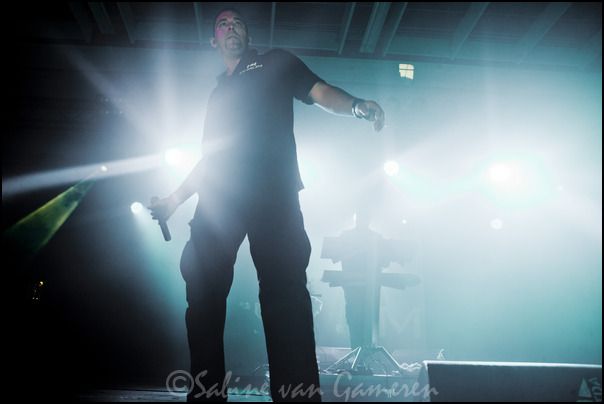 [X]-RX you either love or hate, we got to learn. The dynamic duo going under the names of CyReX and Sine-x are never to be found at the same spot longer than two seconds. Left-right left-right they are flying all over the stage and show an energetic side of themselves. Last year the band released an album called "Activate the Machinez" of which they played a couple of tracks. "Kein Herz" and the killer track "Escalate" get their fans ready for some dancing. The band's perhaps a bit limited with only 30 minutes to perform but they seem to use every second of it.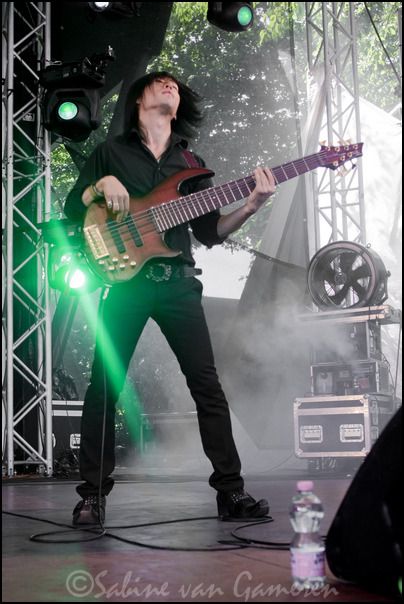 Next on the mainstage is Ben Ivory. He is a sort of Singer/Songwriter that has a good feeling for a bit of drama in his voice. His sound could sometimes remind you to IAMX, while his songs are definitely showing more of an own style. Earlier this year he came with a debut album called "Neon Cathedral" which followed after the release of two singles. While Ben Ivory was maybe a bit of a unexpected act here at Amphi he managed to leave a great impression with his songs. He sings from the heart and has no problem to reach to the audience with it. He also has a good band behind him that compliment his vocals very well. We surely will hear more of this guy, that is for sure!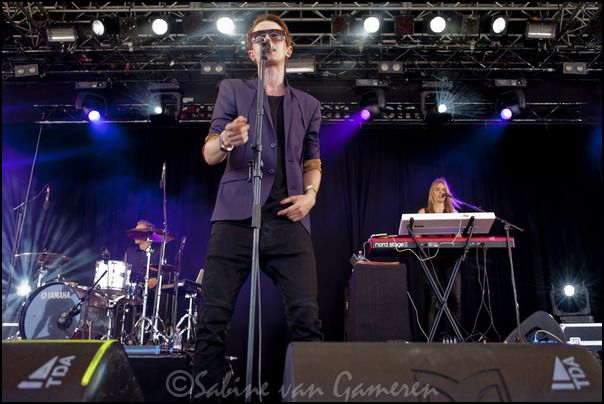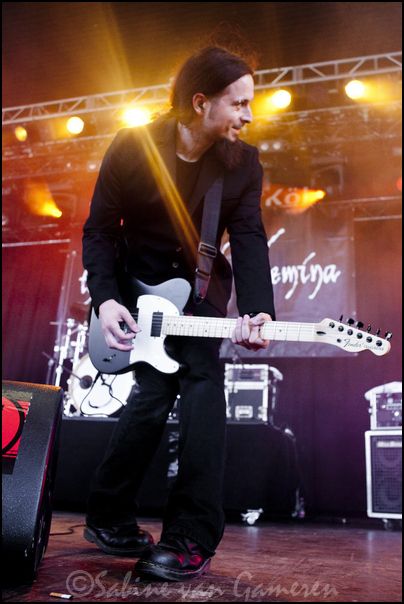 From Switzerland the band The Beauty Of Gemina came onto the mainstage. Quite a characteristic one, especially frontman Michael Sele who seem to be made to be on stage. In 2012 the band released an album called "Iscariot Blues" but also this year brings a new release for the guys. Some older material but now brought in an acoustic setting which gives a new twist to their sound. Here at Amphi the band shows themselves humble and aware of the fact that fans from all over the world have travelled to the festival and gave their show some international allure along. Quite pleasant and an easy made gesture to capture the hearts of those. Not needed because the rockers have their music as a leading factor and they showed that with that alone, they could play a great show as well. The rest was all bonus that makes their show even more worth seeing.
In 2007 Peter Spilles, known from Project Pitchfork, formed Santa Hates You together with the Italian Jinxy. A remarkable duo, but seemed to be a match made in heaven. Musically they hit different styles. Some danceable Dark Electro tunes, sometime a bit more industrial or sometimes a little more harsh, but it always falls down to a familiar sound which binds each track to Santa Hates You. That's a great strength, not always do styles mixed end up in such a great blend. The band creates a whole scenery on stage. Some paintings, a couch are on stage and some crazy pets performing in the show the whole thing comes alive. While to voices of these two are bringing us a wonderful set it is clear that this may have been one of the most remarkable shows of the day. Very well done!
There was no cloud on the sky as the Norwegian electronic music duo was entering the stage. Lots of known faces were in the audience, Icon of Coil fans, Combichrist fans and regular electronic music lovers that you run into at electro parties, all there to see the long lost boys. Lately Icon of Coil seem to get more active, so maybe rumors about a new release are not too far off. Anyway, today at Amphi Icon of Coil played all their hits slightly altered to not sound too old and worn out. The new touch sounded good. Andy LaPlegua was running up and down the stage, jumping off stage and going through the audience, saying hi to dear fans and friends he saw in the crowd. All that while performing. The audience was singing and dancing along, enjoying the music and the familiar performance of the band hoping it would never end. But the fifty minutes of performance did find an end.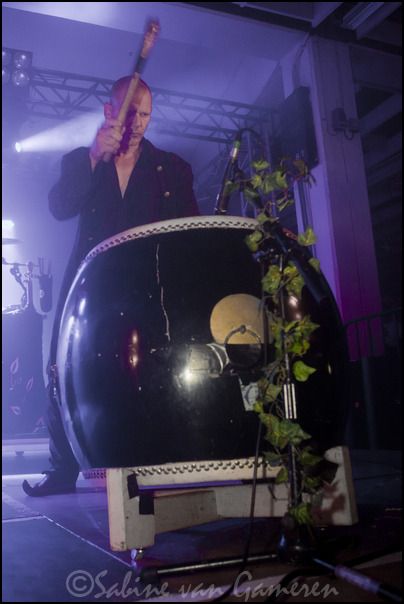 Barefooted they enter the stage. Faun. Medieval. Weeds growing over the mic stands and various instruments to create a medieval environment. The band has its charm, they are in style and never fall out of their role, but something is really not working out for them. Perhaps the audience did not seem interested in medieval at all. They might as well have performed for a couple of zombies, a few exceptions there to be seen. To give some more deepness to their sound some percussion got brought into it but it did not seem to help. It seems like the Amphi fans are mostly there waiting for an act that comes after them, as they seem totally indifferent to their show. Too bad.
Letzte Instanz is not a stranger to the Amphi stages. Having played there many times before we are not surprised to see a whole lot of people gathering for them. The band makes gothic rock and this combined with cello and violin, an interesting sound is created. And on stage the band never ceases to come up with some spectacle. Vehemence coming from the cello, giving the sound that heavy edge and when cellist Benni gets up from his throne to give the audience some show of his wild side the crowd responds with a lot of cheering. What is cool to see when these guy are performing is the joy they have while doing it and the perfect way of working it together. Always a joy to see them live!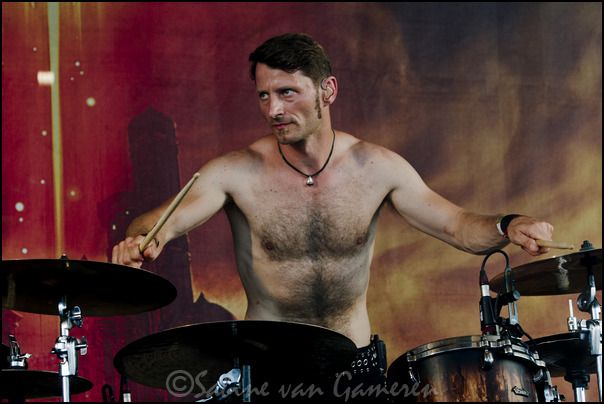 Umbra Et Imago was founded in 1991 and while having many releases on their name they have plenty to perform this date. And while their show at Amphi may go down in history as the finest of the day, you can be sure there was plenty to be seen. At first you could think of it as a bit static but frontman Mozart put a lot of passion into his vocals. Everything comes at the time and Umbra Et Imago makes sure they do not overkill the show with performance but keep the actual music as a leading factor at all times. The audience is simply eating out of their hands and the Staatenhaus is really crowded at the time they were playing. Simply said, a memorable show of Umbra Et Imago.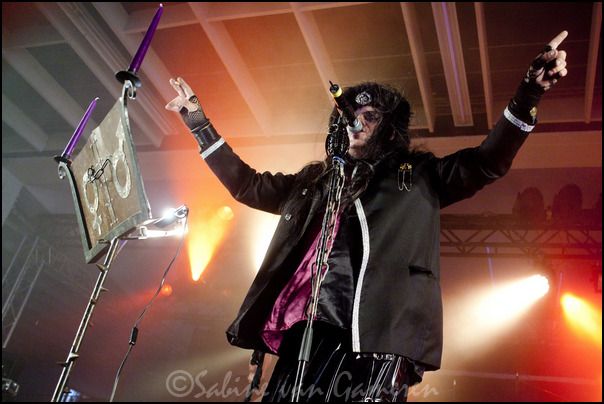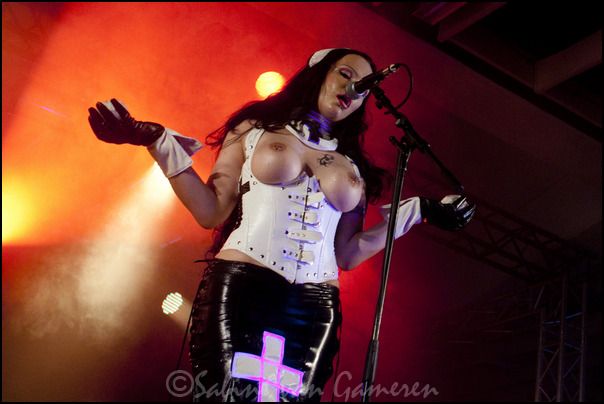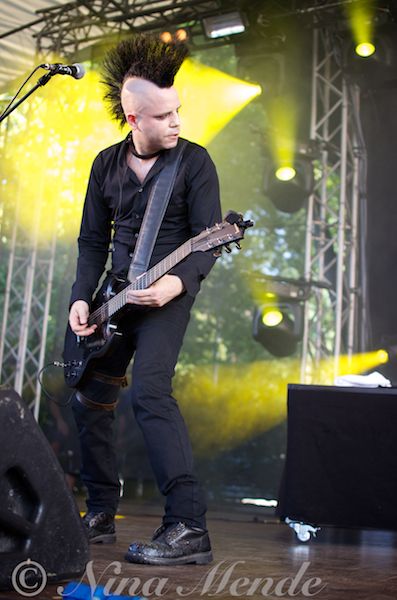 Long time no see. The German Darkwave band Diary of Dreams is back. With a new album and club tour coming up early next year they are now re-animating fans with playing festivals and it worked. The festival ground was crowded with fans and friends. Many people were wearing band shirts, most of the audience knew each song by heart. The band enjoyed playing old and new songs, getting the audience to go along with their rock performance of their guitar and bass players as well as the strong performance of the singer. It was great to see Diary of Dreams again. An hour that went by quite fast.
Die Form has been founded a really long time ago. With many music made through the years and currently working on a new release we were curious to see what they would bring. It seemed like this band was extremely scared of rejection of their audience and to prevent themselves from a major beer shower they have placed a high fence in front of them. From the audience point of view… seeing monkeys in a local zoo would give you a more exciting and open view than this. Good, some dancing was going on in the cage but if that was the most memorable to look at is to question. Musically it was more interesting to listen to but the lust to watch the show is gone fast. Perhaps not the best way of presenting yourself.
Rockband Oomph! Was booked for some sparkling show. While playing some covers of other bands and some material of their own they have their own way of entertaining. A little striptease act by vocalist Dero made the crowd look carefully, but at the look of the sailors you would have thought they were supposed to play at the pre-party on the ship. Apparently the party was not over and they continued here on the main stage which came to a lot of entertainment. We wonder how a pre-party on a ship would be if these guys are the actual staff? Chaos all over or perhaps some love boat drama would arise. Anything you could expect from these guys. Ending their set with two of their most known songs "Gott Ist ein Popstar" and "Always Look on The Bright Side of Life" is giving you a perfect summarizing of their show: Full of craziness.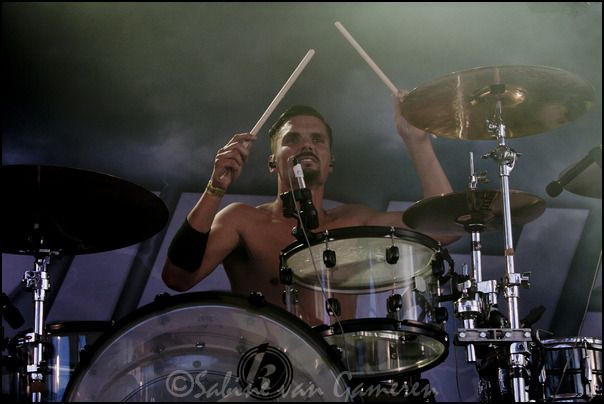 Anne Clark, a lady which brings us not necessarily songs, but perhaps a little different view on music. Poems, stories a critical note and all brought together with some musicians it turns into a show. Maybe not the most vibrant one at first, but one that you may need to listen to a bit carefully. Because a word or a sentence is placed with a reason and if you don't give Anne Clark your fullest attention you will probably miss the essence of it. Her fame is grown and considering the large amount of people that gathered to see her perform, she got herself a following. The show of tonight was calm, but brought with passion and surrounded with some quality musicians she may have topped our expectations of it completely.
The day was coming to an end, so was the festival. The last band on the main stage was a legend of gothic rock bands. Founded in England in 1984 Fields of the Nephilim is one of the most influential bands from back then. With their robes covered in dust, lots of fog and specific light the band appears absolutely mysterious. So do the extremely bright eyes of the singer Carl McCoy. You could tell the age of audience had changed. More older people were filling the space than younger. And they knew each word of the songs, celebrating this very show as a rare and special event. Eighty minutes of mystery and fog, the dark voice of Carl McCoy and the music that seems to drag you into another world. Fields of the Nephilim sure is a one of a kind these days. A must see indeed.
Formerly known from the band Wolfsheim, Peter Heppner already release a whole bunch of hits. In 2008 he came with a soloalbum, but he also had several hits while collaborating with various other musicians. With a latest album called "My Heart of Stone" out, he has many reasons to show himself. During this headlining show at Amphi festival he did play a whole lot of songs of Wolfsheim as well which seem to be at the likings of his fans. "Once in a Lifetime", "Kein Zurück" and "The Sparrows and The Nightingales" passed by and created a highlight as they were recognized widely through the audience. Then of course plenty of songs from his solocareer were played. "Whenever I Miss You". Some technical problems seem to occur during the set, but not really be an issue in the end when the band smoothly went on. As a show it is not the most spectacular act, but the songs are brought very subdued and give the audience a compliment for waiting until the end for him.
Links
Amphi Festival website