Location: Tanzbrunnen, Cologne (Germany)
By: Sabine van Gameren & Nina Mende
Another year, another Amphi. And with a list of great artists and the sun to light the sky there is nothing that will stop us from having a wonderful time once again.
Day 1: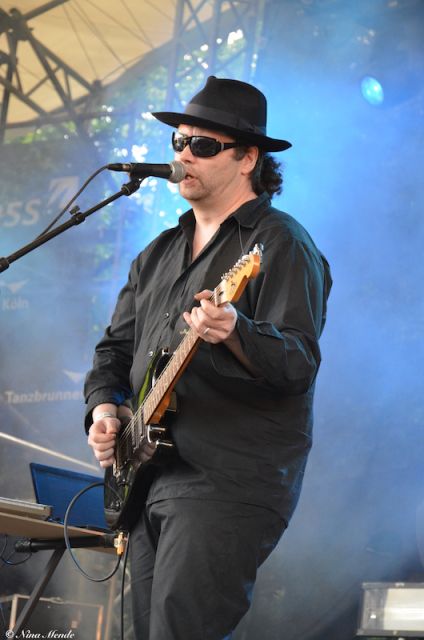 The German band The Wars opened this year's Amphi festival. Noon is early for a show, even at a festival. But many visitors had arrived the day before already or came just in time to see The Wars perform on the main stage. Slow and melancholic they gave the festival a mellow start. Enough time for every one to wake up entirely and get ready for a great weekend full with amazing performances.

The München trio that forms Eisenfunk is the first band that will be playing in the Staatenhaus. The band started in 2006 and got some fame by the use of the famous games like Pong and Space Invaders as their inspiration. At first it seemed a bit of a static performance. Tiny Toni is the man that has the job to get some energy from the audience. While he gets a chance to leave his desk he walks upfront for a silly dance, a play with the audience or just to hype them all up. The band seem to have some dedicated fans that enjoy their show, but it was perhaps a bit early to get everyone dancing at this time. The band does not really bring up the tempo too high, but it is bringing some happy sounds into the start of this day, which welcome as well.

The German rock band A-Life Divided continued on the main stage, warming the rock fans' hearts. Fast and thriving the guys whirled around on stage, as if they never do anything else. The crowd grew steadily. Maybe because of the good looking guys on stage? Or really just because of the great rock music. Either way, it didn't matter since everyone enjoyed A-Life Divided on stage.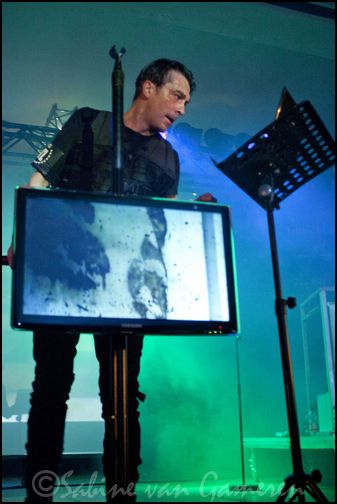 EBM formation Tyske Ludder has a strong name and history, so seeing them here in the Staatenhaus would be an interesting one. After a long break some new material came out in 2006 and after that some more albums followed. Today they seemed more calm than expected, but that was just the beginning. The band makes EBM and the people that gathered to see them were surprised by the intensity of the band that comes in. It really is a band lets the music speak for them and support this with the way it is brought on the stage. Not much time to waste, Tyske Ludder really makes sure that you get the most out of those 30 minutes they are on the stage and rages on like a beast. It was a show that you should not have missed, one that has its end coming a bit too soon for most of the audience. This band deserved more time!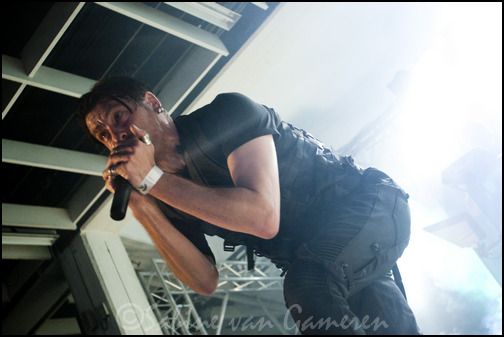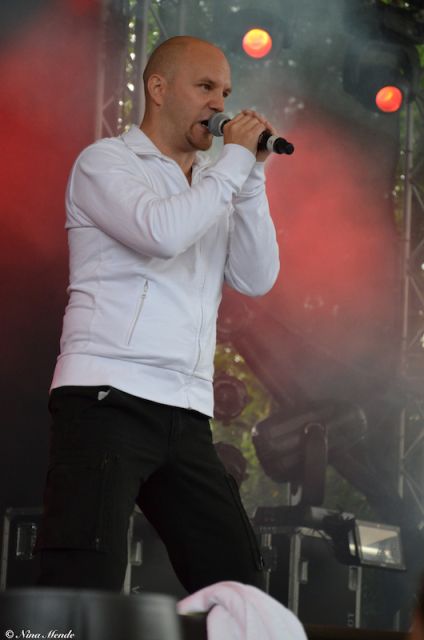 The Swedish EBM band Spetsnaz calmed it all a little after all the rock. Mellow EBM to which the motions come naturally. People loved Spetsnaz and the crowd in front of the main stage kept getting bigger. The area was crowded. That's what sold out looked like. The Spetsnaz duo played for forty minutes with the singer running up and down, bacl and forth, animating everyone to move along. But they all did already.

[X]-RX is a quite young band, formed in 2007. They happened to be a nice surprise here at the Staatenhaus and only need little time to get an audience dancing. The both guys have a home gig tonight as they are from Cologne which works in their advance as it seems but besides that the two are simply very charismatic. It is hard not to have a smile on your face seeing the enthusiastic performance of them come alive. Musically the band breaks a bit against Tyske Ludder which was before them, its wilder and more playful. The rhythms are the lead and the tunes are brighter. The band is a bit hard to follow as they are both running up and down the stage which creates such a chaos that it seems more plausible to just dance, not matter if you see the stage or not. It's just a little messy, but furthermore this project brought a sweet surprise!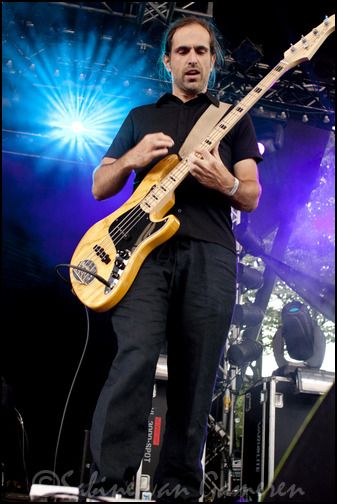 Mind.In. A.Box is no stranger to Amphi. The band has been here before and this time they are up on the main stage to get the party started. When you have not seen the band live but just listened the music you could imagine a sad little comic figure singing it all, as the music sometimes feels a bit like that. As if you need to hug someone and comfort him after telling a terribly sad story. Maybe not everything went smoothly here, but while ignoring that the band knows how to put their atmosphere into the crowd and let them live along with their passionate sounds coming from an almost frozen heart. Their act is a bit standing behind this all. It is just yearning for some gorgeous video art making it acceptable that the band is putting their focus mainly on their music but it just ain't there in that way. Missed opportunity.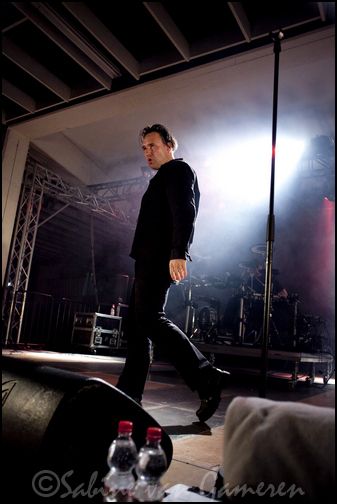 It is a bit of a pity if after a festival you hardly remember a band you have seen at some point. Apparently they have not made an impression, you must think but of course there are the notes to remind you of the feeling you had back then at that moment. A lot of emotion, overdone and put in a stereotypical package was written down. Thirteen in a dozen. Unfortunately the guys of this formation did not make that much of an impression as some of the other bands did. The stage act seemed quite calm as well. Some eye contact is made but somehow it did not really get through, hopefully another time the band manages to impress more people, maybe when some more are around cause the Staatenhaus has already been more crowded today than it was right now.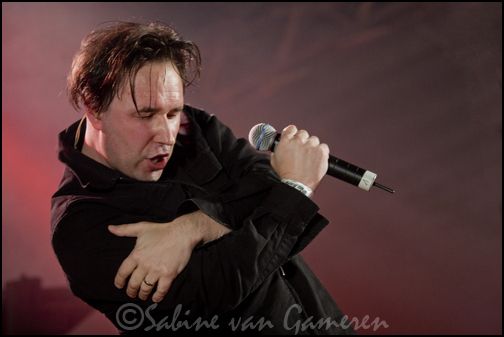 Corvus Corax is one band that always comes with a show. With their home made instruments and a quite extended band they already manage to fill the stage. Medieval style dressed the band easily catches the eye from anyone who walked by also. They all seemed enthusiastic and they have no hesitation in telling their audience right away what they can expect. Deep male vocals are singing the words while those instrument bring some interesting tunes come out. Basically you can say that Corvus Corax is not a band, it is an experience and even if you have experienced them before the band still enlighten you with the atmospheric show they make. Ok, fair enough they are doing this already since 1989 so they have their experience on their hands as well, but simply said: Corvus Corax is always a pleasant show to any festival.

Inside at Staatenhaus German EBM and industrial was coming from SITD. Personally I nominated them as best dressed band of the festival. With a Das Bunker shirt, a Misfits shirt and a psychobilly one, that wasn't hard. The music was hard though. Catchy beats and thriving melodies, powerful vocals, SITD rocked the Staatenhaus in the industrial way. Cybergoths, psychobillies, EBM and rock people and even some regular goths were in the venue to see them perform. Fifty minutes full of power. Fifty minutes full of SITD. This band is a must see outside of festivals as well.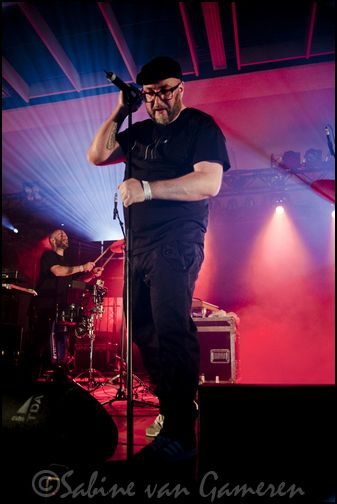 Haujobb is a project by Daniel Myer. It brings a variety of influences together and that results in a mix of electro and industrial that since their start in 1993 evolved into something bigger through the years. Some cold and dramatic tunes are played, the band has a smart built into their sound. It takes time to become at the point of which you can conclude the band brings the climax up in a song. Everlasting teasing around is what you get confronted with on forehand. Even though some strange moments come by, it is clear that the audience appreciates it anyway. An experience that turned out well as it could have gone the other way easily. The intensity of the vocals that come in may have been a cause that the tracks turned out so well this night. Interesting act that is placed well in this Staatenhaus. It would not have worked at the mainstage at all.

The German rock band gathered all visitors in front of the main stage. Who? Let me give you some clues: German singing, representative on TV in ads and shows…. No. Not Unheilig. Eisbrecher, ladies and gentlemen! And yet, old and young visitors gathered in front of the stage, singing along, moving along, to old and new songs. Parts of the show were filmed for upcoming material. It was amazing to see the masses of people singing along. Eisbrecher, a true must see when it comes to German rock bands. Always up for some fun on stage. This time they punished each other on stage. How? Well, wait for the upcoming material. So keep your eyes and ears open for Eisbrecher.

Thomas Reiner is probably most known from L'ame immortelle but when founding Nachtmahr in 2007. Here with his project Nachtmahr, which he formed in 2007 we are up for something quite different. Industrial versus techno, let's keep it on something in between. A bridge that is built and let both sides enjoy the show here tonight. Quite packed as it is we are seeing Thomas being supported by a couple of ladies that are not always the sweetest one in this acts. Sure the band is not that original as it may sound on its description, you surely heard those tracks before but the way it is brought make the show worth seeing. There is the stage personality of Thomas that gives a lot of passion and with these beats you can't stand still. Nachtmahr was one of the highlights of the day, that's for sure.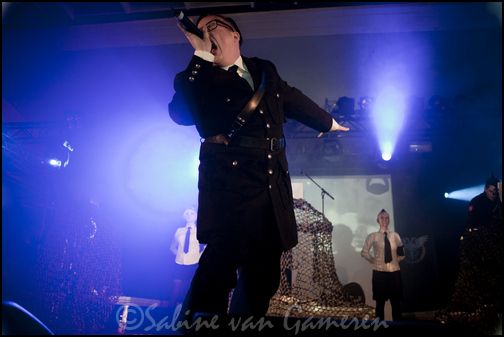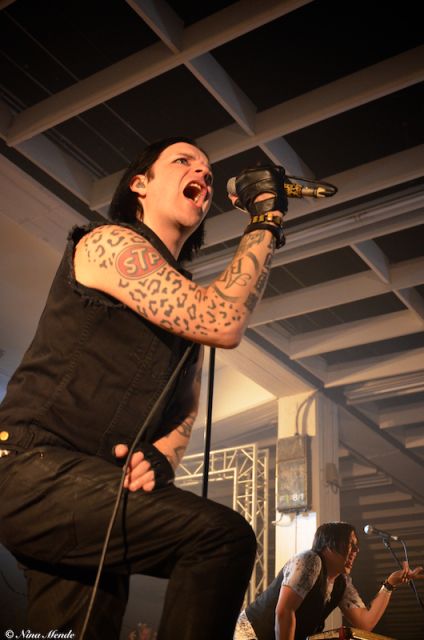 My favorite Norwegian synth-pop band was playing this festival. How wonderful. For ninety minutes Apoptygma Berzerk rocked the Staatenhaus. An absolutely crowded venue with everyone moving along to the catchy music and singing along to the songs. Even Stephan was impressed. Along with his brother on keys, Brandon from The Anix and a new drummer they played all their classics. A wonderful performance. With two encores the audience would not let them go.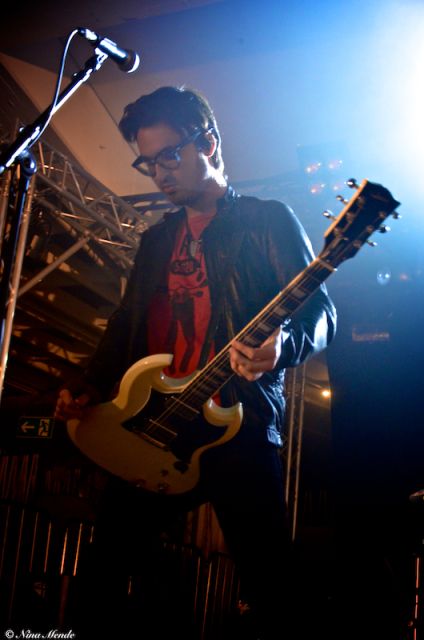 Day 2: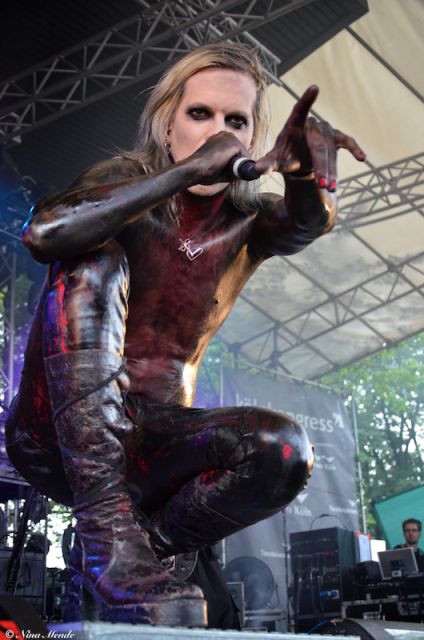 A new day has dawned. And again the first band played at noon. Darn early. But people were up and ready to rock. No wonder with a band like Lord Of The Lost opening for the day. The German rock band had painted their faces and bodies, added fog to the stage to add drama. And then rocked their minds out. Gloomy rock that caught every one. The audience was cheering a whole lot and stayed till the very last tone had ceased.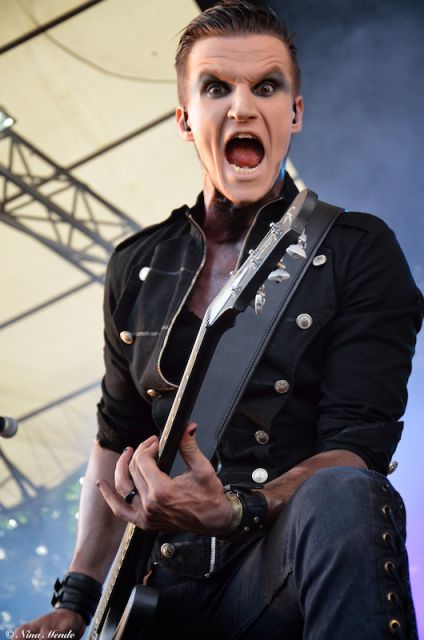 Schöngeist is a true Gothic /Industrial treat. The violin in there as a subtle backing, over the gorgeous vocals of Timur Karakus that loves to play around with the front row ladies. A little flirting here and there surely helps them out but do not forget that musically the offer a nice sound. The band kicks in with some powerful guitars and a portion of drama that sets they could only get away with because of that wink Timur gives us at the end of the second song. So we learned, drama yes but not the end of the world as there is light at the end of the tunnel. What is a maybe one point that goes a bit against the positivity and that is that these vocals were falling a bit away in the sound. They could have been more dominant. And we are dying to hear some English from this band as well.

The sun was shining bright and warmed the earth. Time for Solar Fake to add some music to the beautiful Sunday weather. The side project of Sven Friedrich drew fans and listeners from all over the place. Forty minutes of beautiful slow and heartwarming electro music, what more could you ask for. Solar Fake is a regular and always makes sure you enjoy your time with them.

Whispers In The Shadows has no difficulties to make an impression. Does it have anything to do with the big hat of Ashley Dayour, which fronts this band? Well, maybe that caught the eye as well, but some very well composed tracks are drawing the attention even more. This year the band released their seventh studio album since they formed back in 1996. The band has 45 minutes to fill and this is truly a blessing. The band has long tracks that you have to listen to very intensely so this time is a not an unnecessarily luxury. What made a great impression was the track "The Arrival" which shows very well what the band is up to. The gothic sound the band embraces is not that restricted either which makes the set varied and pleasant. One band that will one day kicks nowadays headliners of the stage.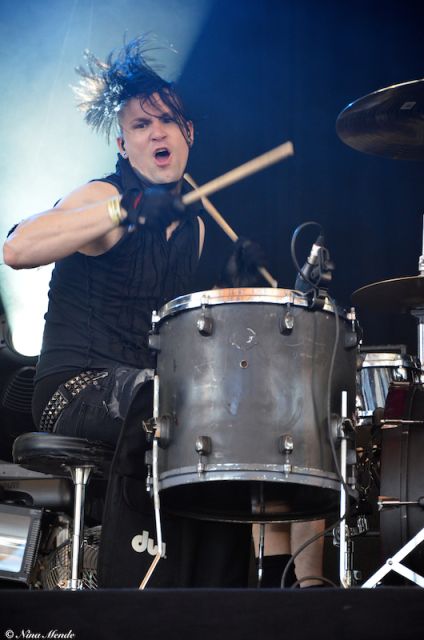 Enough peace and quiet. Time for some rage. Who would rage better on this main stage than Aesthetic Perfection? With a new album and a lot of power they raged through their forty minute set. Never standing still on stage, the audience never standing still while watching, this was the final wake up call for all visitors. And it worked. Every one gathered around the stage watching the amazing performance of these fellas.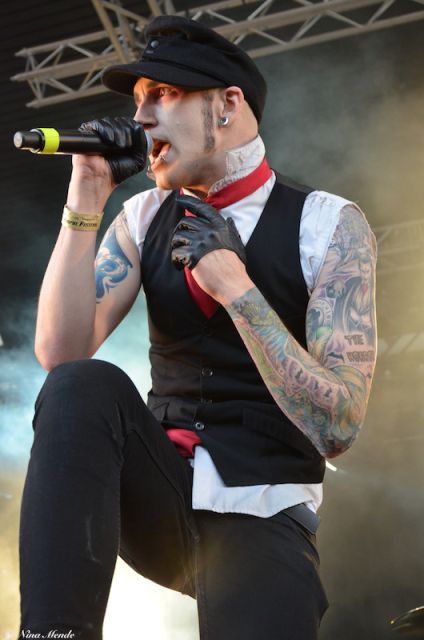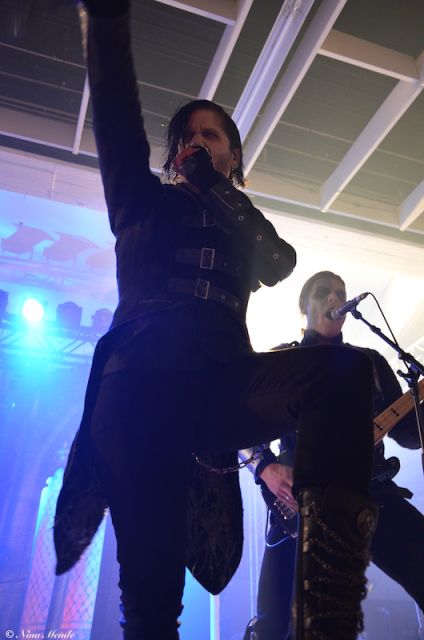 Inside the Staatenhaus some horror punk took over. The German band The Other played in darkness and fog, with dim lights and creepy face paint. Old and new songs were sung by band and audience. The audience room was not so crowded, but that was probably because of the wonderful weather outside. Fifty minutes of horror-punk and then back out to the sun.

Usually a band divides the people into two. People that like it and people that don't like it. Stahlzeit has some extra category into that which creates: people that don't like Rammstein, people that like Rammstein but don't like a Rammstein coverband and people that like Rammstein and like it from Stahlzeit as well. Whatever group you are, you can realize that Rammstein is probably a bit too big for Tanzbrunnen so having Stahlzeit there could surely feel a need. Must be said, those Rammstein tracks suit very well in here and many people were singing along during the show. Pyro's are of course an element of the show that cannot miss out so there truly was a performance going on. Very entertaining but we cannot deny the fact that we are not watching the original. Great for those who think Rammstein tickets are overpriced, but it will never be the real deal.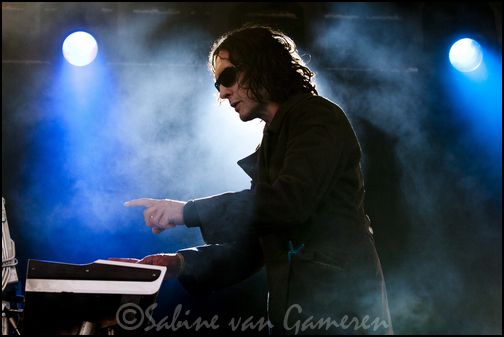 Coppelius is not just a band, it is theatre. The two clarinets are leading factor here next to the story. Coppelius has been on the Amphi stage some times before and a bit of a pity is that the show remains the same. A little more variation in that would be nice even though it is still a pleasure to see the guys because they are bringing an unique setting to the stage. The cello makes it all a bit more mellow and when needed it turns up the speed. The vocals are very playful and the band likes to do things a little bit different than most bands would. Find that back in the songwriting which is made for the act. It is still fun to see this band play but they must be careful not to turn into a caricature from themselves in the end.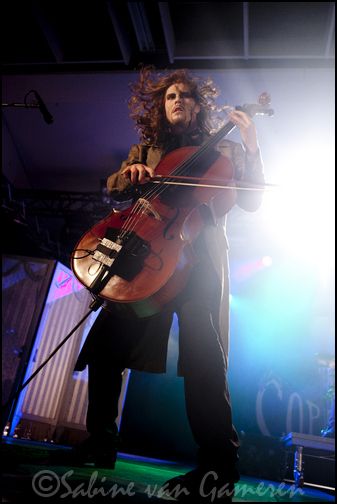 Industrial music has its followers. And a band that is energetic no matter how long they play. No matter how much they dance and climb around. Yes. The Crüxshadows are back on stage here at Amphi. With Rogue climbing around on the stage or into the audience – he even came out of the audience as they began playing – he is never scared of anything. The dancers are constantly dancing and moving around. The music catchy as always, getting every one to join the party and move along. After fifty minutes dancing in the heat I would have died. They just kept on dancing. Impressive. Crüxshadows.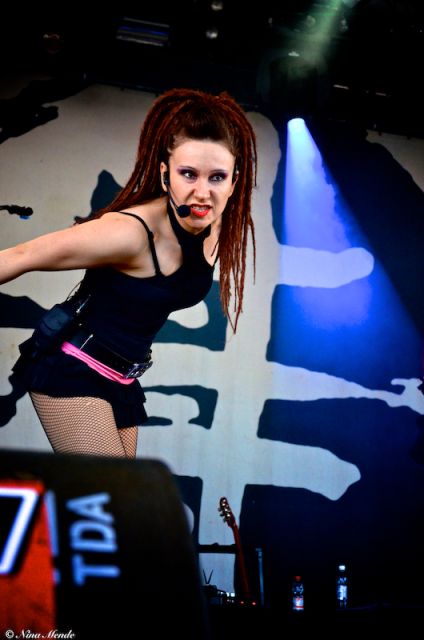 18 Summers was playing in the Staatenhaus and it's a band leaves a bit of a mystery on people. Unknowing of what to expect the duo entered the stage and played their parts. It was all so static and therefore not really interesting to watch. A bit disappointing to say. Where other bands could create a very intimate atmosphere in here, 18 Summers did not manage to do this. In some way they looked a bit like they were struggling to find their place here, what were they trying to bring and what should have been the image we got from them is still a bit to question, but it is safe to say this show did not really left an impression on us. Considering the words spoken on them on forehand we expected way, way more from them.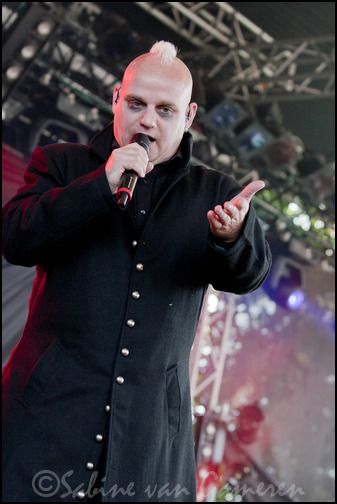 Mono Inc. is a regular at Amphi as well. The band has a large group of fans that came out to see them here on the mainstgae and this created a good atmosphere on forehand. On the stage they seemed quite tame, as if the energy was out of it at that point. We have seen more of them than this! A pleasant exception on this was femme Katha Mia on drums. She seemed to be very enthusiastic and was hyping up the audience all the time, but while being so stuck to your place it is not an easy job to do. Some of their most catchy material made sure they get the crowd on their hands so eventually the tide turned and the show became more interesting to observe. Not their best perhaps but the fans seemed content with it. We prefer to remember the other years of Amphi performances.

Conjure One was a surprise today. A stunning woman on stage but oh dear why did she look so frightened. With the voice of an angel you would have nothing to be afraid of we should say. In a couple of songs she seemed more relaxed and that brought the show up even more. The man behind the project is called Rhys Fulber, known from Front Line Assembly, surely knows who to pick for giving a voice to his music. For a moment we were scared that these songs would end up being a bit boring but this was not the case at all. The vocals remained so gorgeous that we could not stop listening and it helps to have a great light text hanging behind here which lit up the stage and made the show come even more alive. Thanks for this, what a nice show!

Blutengel is always a spectacle. The master with his girls, fierce and full of charisma he stands there while the ladies around him highlight his dark voice with their warm sound. His dedicated fans were waiting long for this. Some front row people have been waiting there a couple of bands before them also just to make sure they have the best spot. Even though it started a bit messy, the almost arrogant look of this band makes sure that no one even bothers to care as it all got clean within the next song. "Children of The Night" was played and that's when they really got things going. Yes, this formation has settled themselves strong in the scene and those years of experience show exactly why this act is supposed to be on the stage right here.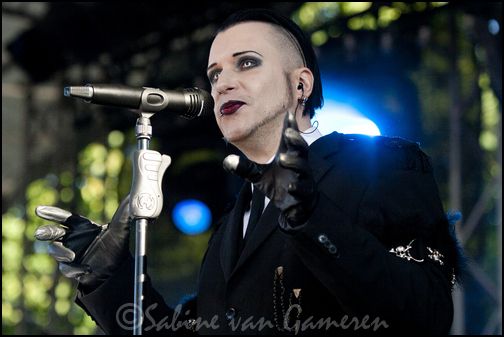 The industrial band that rages the most: Combichrist! Packed Staatenhaus, technical difficulties and the band members in animal costumes with Joey destroying his drums even before the first song, close to the audience. The sound of home. Combichrist raging ever since. Taking off their animal costumes after the first song, Combichrist powered through their seventy minutes of set. With old and new songs they never stood still, not even for a second. Neither did their fans. Energetic till the very last second Combichrist kicked asses, yelled at the crowd and each other, destroying and going nuts. Combichrist live. Always good for a rush of adrenaline.

And One is a band that is immensely popular here at Amphi but we often like to teasingly call: Germans biggest wedding band. Today we must admit that things were a bit different. Sure, they had a large crowd, but while Combichrist is playing in the Staatenhaus en Project Pitchfork is up next we see an queue for the fences at the Staatenhaus and suddenly the holy And One seemed to lost some of its shine. What a pity as we finally start to like them a bit better. The amount of covers within their set seemed to be less which results in us finally feeling the face of And One having a shape. Still plenty of people were enjoying their show which made it all a good final party for Amphi's Main Stage.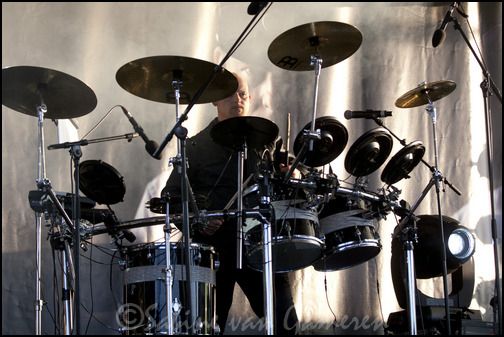 The German band Project Pitchfork played and the Staatenhaus was full. Peter Spilles have been working with this band through many, many years and how successful that was can be seen here. He seemed very energetic and joyful tonight and within the first part of the set already some of the classic hits as "Existence" and "Steelrose" got played. People were dancing everywhere and if you had any thoughts of leaving earlier so you could make it home in time you could totally forget about it. Obviously "Timekiller" got played, it cannot miss out because of the tradition. We need to hear that song somewhen at Amphi whether it is by the originals or some other band bringing a cover, it could almost be recognized as an official Amphi soundtrack. Project Pitchfork plays almost one and a half hour and then it is over. Project Pitchfork is over, showed how you close a festival in style and then Amphi is over. Some afterparties are still going on but then we have to wait a full year to see a new edition of Amphi. The festival already revealed a part of the 2013 line up and it is clear that there will be much pleasant bands on the bill already. How many nights still??
More photo's of this event can be found at Sabinevangameren.com
Links:
Amphi Festival Website