Location: Helsinki (Finland)
By: Sabine van Gameren
Tuska always comes with some extra shows to be found in several clubs in Helsinki. These "Jatkoklubi" events show the most promising bands and are always fun to see, so here is a review of what we saw.
21-07-2011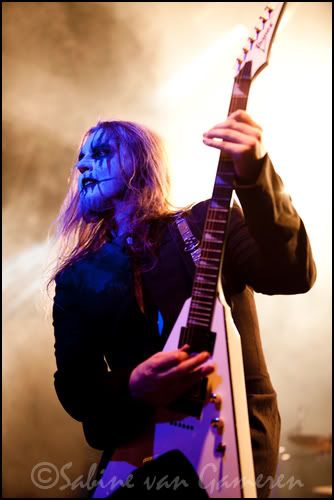 The night before Tuska starts there was a preparty hold in Tavastia. There were two bands playing but when we entered the first one, a 80's rock band from Russia, had already started and did not really seem very interesting to write about. Verjnuarmu was up next. We saw the band before on Metalorgy in 2009 and they sing in a Finnish dialect called Savo. In 2010 their album "Lohuton" came out. The band makes Melodic Death Metal and comes with raw vocals and a strong performance. This show quite sets them apart from other bands that are in this league and did its trick tonight as well. Many people who came to see them were enjoying the show, shouting along with lyrics, head banging and drinking beer to celebrate the start of Tuska. A great way to start Tuska 2011.
22-07-2011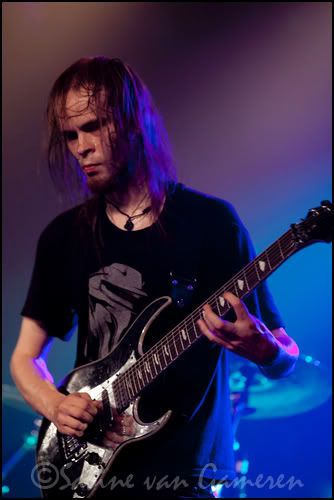 This night we went to Virgin Oil. Due to their policy on letting people in we decided we would not write about all the bands we would see here, so the plan was to not take any photos of Tuliterä at all. Then when they started playing their progressive music we were captivated by it. The clear tones, the way they built their tensions and keep the songs going, while no lyrics are there to help you getting into these atmospheres, it is purely the music that drags your imagination out there. The band has not really released a lot of material yet, but exists since 2006. Currently they seem to get into the spotlights quite a lot playing the most interesting festivals in town. Definitely a band we like to hear some more about in the near future.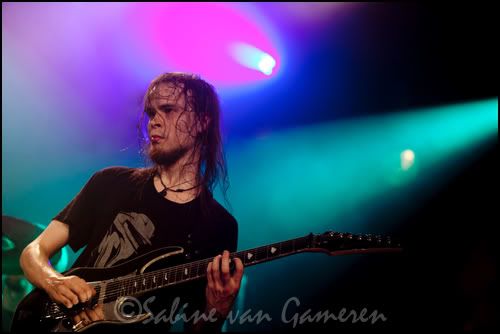 We actually came for the band Charon, which has one of their final gigs tonight. Virgin Oil was sold out and many, many international fans have gathered in the venue to see the guys for the last time. The Gothic Metal formation played a hot set, containing songs of all of their albums and everyone was singing along, jumping and dancing around. Their most popular songs like "Colder" as well as some more intimate songs were on the set list and the guys seem to have a great time on the stage, playing around with the audience. In the end the song "Little Angel" got played and it was quite breath taking to see literally every single person in the venue singing it along. It was not the end of the show yet, the band brought an acoustic guitar on the stage to go intimate one more time before rocking the rest of the roof off. What an amazing farewell, Charon will be missed.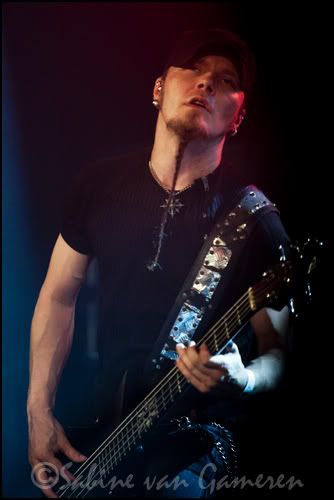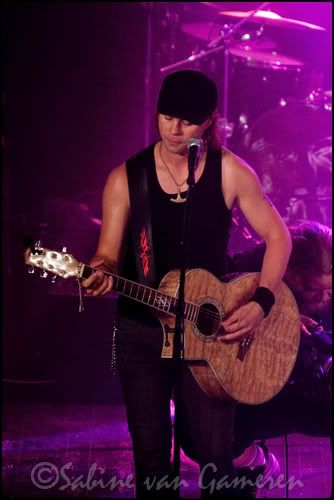 23-07-2011
The first two bands that played today were quite ok, but not captivating enough to let our statement go, so all we can tell you about is the show of Turmion Kätilöt. This band has a reputation and especially the Virgin Oil gigs are always exciting and special. Today as well, some extra show elements were added to the show which makes it even more interesting to see. A lot of the songs played came from their album "U.S.C.H" and if you want to stay dry and clean it is advised to stay far away from the front of the stage as it was super crowded there. Hot concerts, loads of dancing comes with sweaty fun and yet again Turmion Kätilöt have sold out Virgin Oil.
The guys will come to Europe this autumn as a support for the band Pain, so try to catch them if you can!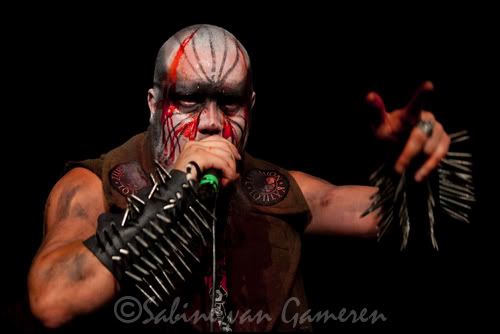 More photo's of this event can be found at Sabinevangameren.com