Location: Dieburg (Germany)
By: Nina Mende
Festival season is at its peak, the weather still at a low. But that didn't stop people from gathering in Dieburg this weekend to rock through this year's Traffic Jam.
Friday was still quite ok and even sunny. Bands were already rocking the one stage this festival had since shortly before 2pm. Eleven bands were planned for the day and twelve for the following day, so this weekend promised to be full of rock and more.
As we arrived was the festival ground crowded already. The audience seemed quite young and quite drunk already. But no wonder with bands like The Mofos, They Shall Damage, Ungunst, Unleash The Sky, BURDEN and The Eyes of A Traitor rocking the day away. It was getting later and the sun was slowly getting ready to settle down for the night. Time for More Than A Thousand to rock the stage and the audience. More Than A Thousand are a metalcore band from Portugal. They lived in London, UK for around 4 years but now reside in their hometown (Setúbal, Portugal). The band was created in 2001 by Vasco Ramos, Filipe Oliveira and Sérgio Sousa. They have released two full length albums: 2006's Volume II: "The Hollow" and 2010's Volume IV: "Make Friends and Enemies" which has been a huge success. Now they rocked the stage here at Traffic Jam. Powerful and energetic they kicked asses of the audience. The audience began moshing and crowd surfing, shouting along and cheering for the band. The band on stage was jumping around and animated the audience to go wilder and wilder. More Than A Thousand rocked through their songs, old and new. You could tell being on stage was their element. Their show time passed by so fast.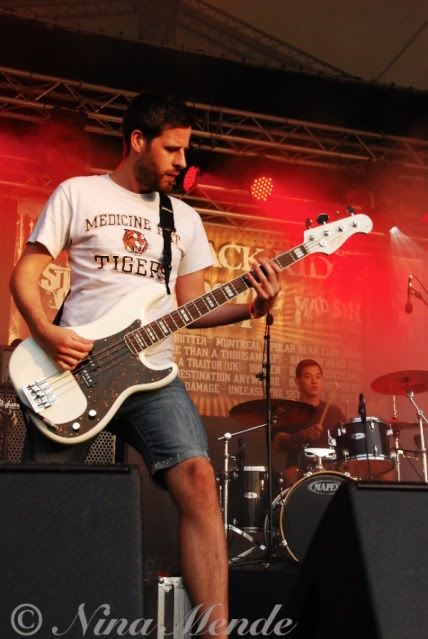 Time for the next band: Polar Bear Club. Polar Bear Club is an American post-hardcore/indie rock band from Rochester, upstate New York. Formed in 2005, the band currently consists of vocalist Jimmy Stadt, lead guitarist Chris Browne, rhythm guitarist Nate Morris, bass guitarist Erik Michael "Goose" Henning and drummer Emmett Menke. Pop meets metal. These guys combined opposites and made it sound good. A band that looked like nerds but rocked like the big kids. These guys knew how to entertain the audience. And the audience enjoyed the pleasing performance of the guys. Polar Bear Club moved around on stage, singing right into the audience's faces and got the mosh hyped up.
Due to an accident I missed the following band Stick To Your Guns. Stick to Your Guns is an American hardcore band from Orange County, California, formed in 2003. I heard they rocked the audience quite a bit as well.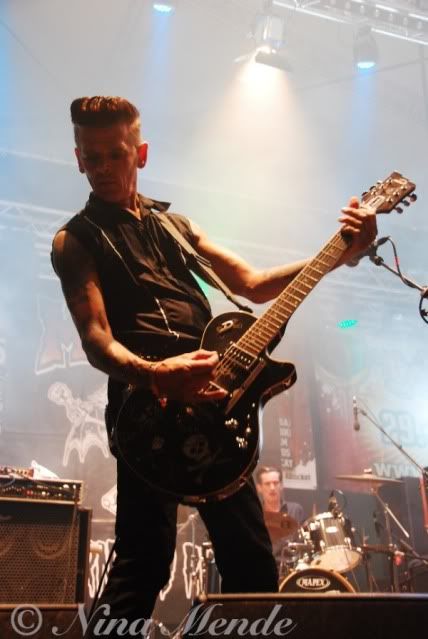 The first day of the festival was getting closer to the end, time for some psychobilly by the great Mad Sin. Mad Sin, formed in 1987, have been inspired by horror punk and B-movie, with a theatrical style. Without abandoning the psycho-horror lyrical content, their musical arrangements have widened to incorporate other variables. That attitude blasts through Mad Sin's sped-up combination of rockabilly, punk, white-trash blues and tongue-in-cheek sarcasm. With a stand up bass, two guitars, drums and the vocalist Köfte Mad Sin beat the crap out of the night. Teasing wherever they could, pinching and poking, rocking and kicking ass. The festival ground was packed and the audience went insane, dancing to the music, singing along, moshing along andsimply having a great time. Köfte switched between English and German while talking to the audience, just like the songs were bilingual. Catchy psychobilly tunes forced you to move along. Mad Sin took over this festival and reigned like kings on their stage. Never standing still and always rocking strong. The slapping sound of the stand up bass kept you under control, forcing you to do what the band wanted you to do. Seeing Mad Sin live is always a pleasure.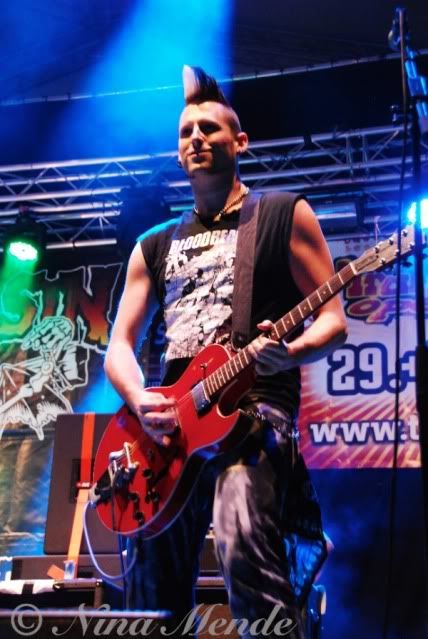 Last band of the night was Agnostic Front. Agnostic Front is an American Hardcore punk band. The band began playing hardcore punk similar to their contemporaries, and were thrust to the forefront of the burgeoning New York hardcore scene in the mid-1980s with their widely regarded 1984 classic Victim in Pain before evolving to incorporate thrash metal elements into their music. By the late '90s, Agnostic Front had signed with Epitaph Records and adopted an Oi! sound before growing into a crossover metallic hardcore hybrid similar to bands like Blood for Blood. With knowing this it promised to be loud and kick-ass! Agnostic Front didn't disappoint. Rocking strong, shouting and posing, yelling at the audience to get them hyped up more and more, Agnostic Front pushed through their amazing set with a lot of power. You could tell that these guys knew what they were doing and have been doing it for quite a while already. The audience loved them, singing and shouting along, yelling back and rocking strong. Agnostic front closed the night with a big bang.
Saturday:
A new day has dawned, wrapped in clouds and overshadowed with rain that came and went but the cold stayed. Packed with another great set of bands like Out Of Decay, DOLF, The Suicide Kings, Destination Anywhere, Eskimo Callboy, Malefice, das Actionteam and more. Bury Tomorrow had to cancel their show because their bus had broken down. To not leave their slot completely uncovered, Barulheiros jumped in to cover some of the time. Barulheiros was a local group of boys that entertained the audience with their drums. Like a marching band they stood and rolled.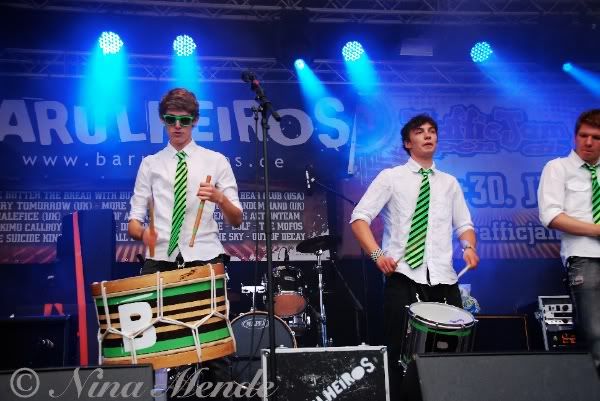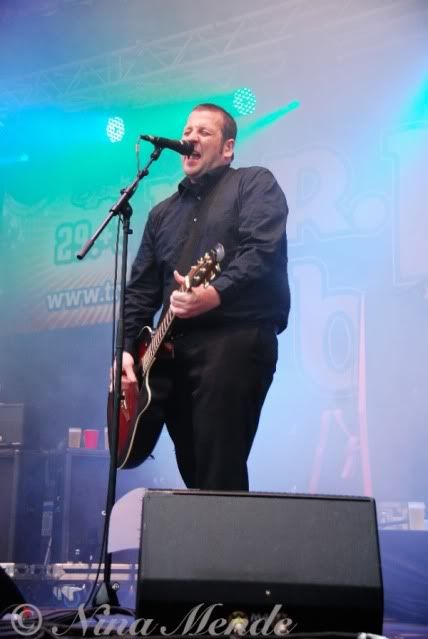 That was the only change in schedule though. So back to the regular schedule: Mr. Irish Bastard was up next. A German band playing Irish music. Along with a flute, a banjo and accordion they created nice melodies and songs that you just had to go along to. Drinking music and party music – if you like Irish music at all – it animated the audience to have a good time and drink some more, to not mind the rain and cold but dance it all away instead. And t seemed to be working. The band rocked on stage, playing their Irish music and entertaining the audience.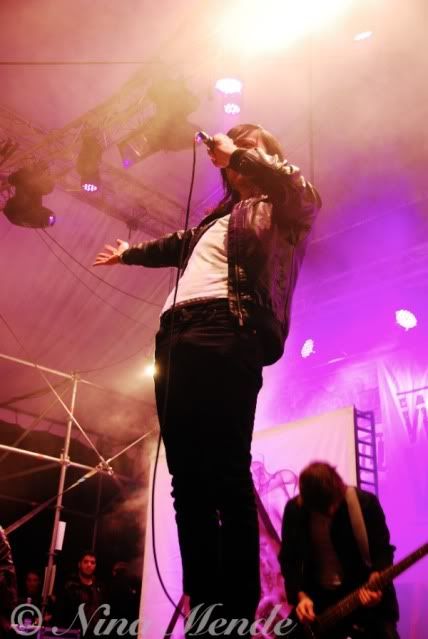 The next band had an extremely long name so everyone just called them WBTBWB, and already that is long! We Butter the Bread with Butter is a German band from Lübben. Founded in 2007 by Marcel Neumann. Their debut album Das Monster aus dem Schrank was released on November 21, 2008 through Redfield Records. Their second album, "Der Tag an dem die Welt Unterging" was released May 14, 2010. We Butter the Bread with Butter originally started as duo, but during the summer of 2010, three members have been inducted into the ensemble, assuming the requirements of a full band. A German band with German lyrics, hard to understand and to make out words as I found, but maybe because I didn't listen closely enough. Anyway, WBTBWB rocked the stage and owned it, as well as the audience. The stage was full of band logos, boxes that stated the entire band name, stands with banners and so on and on. Slightly emo the style but hearing them immediately wiped away the thought of calling them emo. Maybe Screamo would be better. So WBTBWB screamed the day away. And the audience screamed along. Nice!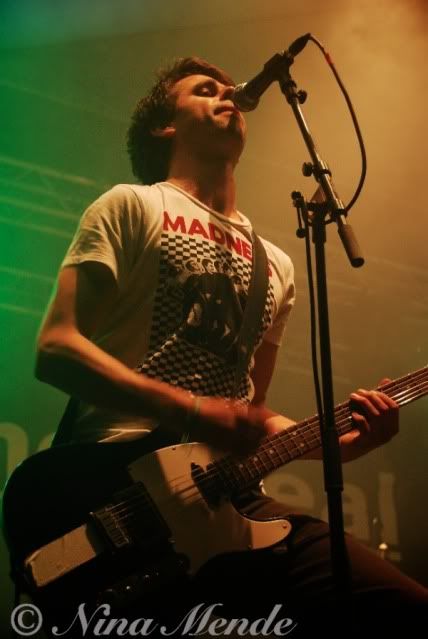 The following band was giving everyone a little time to breath and recharge before the last clash of the night. Montreal is a German pop punk trio. Not of the rough kind though, more pop than punk, not only look wise. The drummer always did something behind the drums, whether it was standing on them or posing behind them, making funny faces or running around his set. Guitar and bass player did not joke around that much but focused on singing and playing their songs, thanking the audience and get them to go along. A nice break after all the fast metal and hardcore.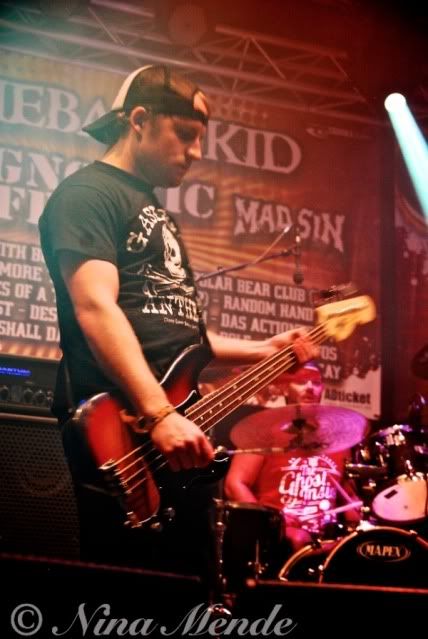 Last band of the night was Comeback Kid. Comeback Kid (commonly abbreviated as CBK) is a hardcore punk band from Winnipeg, Canada. Their name comes from a headline in a newspaper about hockey player, Mario Lemieux coming back to the NHL. The band was formed in 2002 by Andrew Neufeld and Jeremy Hiebert who were both members of the band Figure Four, which is currently on hiatus. They were joined by their friends Scott Wade and Kyle Profeta, but CBK was originally intended only to be a side project. Their initial popularity was mainly due to word of mouth within the hardcore scene. Despite the broken elbow of the singer the Canadians rocked big time. Comeback Kid played old and new songs, jumped around on stage, blasted their music right into the faces of their audience. Which made them even wilder. The fans began to crowd surf, climb up on stage for stage diving and got a circle pit going. There was something happening wherever you looked. Comeback Kid definitely knew how to get the place moving. Entirely! What an amazing closing for this great festival. I am definitely looking forward to next year.
More photo's of this event can be found at roseofthedevilsgarden.com
Links:
More Than A Thousand MySpace
Polar Bear Club MySpace
Stick to your guns MySpace
Mad Sin MySpace
Mad Sin Official
Agnostic Front Official
Mr Irish Bastard MySpace
WBTBWB MySpace
Comeback kid MySpace
Montreal Official