Supports: Julien-K, Yashin; Venue: Garage, Saarbrücken (Germany)
By: Nina Mende
Last show of Papa Roach in Germany for this year, so of course I had to be there. They played at Garage in Saarbücken along with Julien-K and Yashin.
The house was packed and the air was steaming hot – literally. The first band started extremely early, 7:15 pm Julien-K hit the stage. Julien-K is a music group that began as a side project for electronic music created by Amir Derakh and Ryan Shuck from Orgy, with the later addition of Elias Andra, and Anthony 'Fu' Valcic. Their debut album, "Death to Analog", which was mixed by Tim Palmer, was released on March 10, 2009 in the U.S., and later on March 5, 2010 in Europe. "Technical Difficulties" was later featured both in the film and on the soundtrack from Michael Bay's 2007 "Transformers". Julien-K have also lent musical contributions to several video games, including Sonic Heroes ("This Machine"), Shadow the Hedgehog ("Waking Up"), and the official musical score for the 2009 "Transformers: Revenge of the Fallen" video game. Their show was lasting thirty minutes only. But they heated up the audience big time. With old songs off "Death to Analog" as well as new songs from the upcoming album Julien-K played one catchy song after another. The audience danced along, screamed and cheered out loud after each song. Simply amazing. Julien-K moved around on stage while playing their awesome music. Julien-K definitely spread a good mood with their performance and made clear that this night was going to be awesome.
Next band was Yashin. Yashin is a Scottish post-hardcore band formed in Glasgow in 2006. Their look was somewhat emo-punkish, and their two vocalists reminded of Enter Shikari. They all jumped around on stage and blasted out with their fast music. The audience had a good time and moved along to the music, cheering to the young guys. Their music was loud and thriving. The guys had a lot of energy and whirled around like there was no tomorrow. Fun.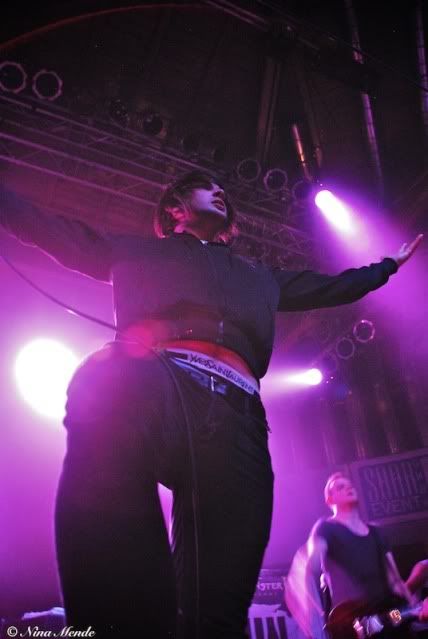 Now it was time for the headliners though: Papa Roach. Playing their last show in Germany for this year. The air was hot and steamy as the guys entered the stage. Even the short opening of the doors didn't help much. As Papa Roach came onstage the audience went crazy. The heat was getting unbearable, some people collapsed but most of us pulled it through and just danced it all away, screaming at the heat and having a blast. The band did the same. The guys rocked on stage like they always do, weather it is raining, sunny and hot or – like here – steaming hot! Playing old and new songs, heating up the crowd and the air – even more – Papa Roach kicked ass. Jacoby even went for a walk through the audience during one song. It was amazing. Some songs were played faster than they actually are. Also, Jacoby asked the audience to kneel down and then jump up rocking to the song, and to do it again in the middle of the song. And everybody – except for a handful of show-offs – did it. Everyone was soaked in sweat. The security handed out water to prevent more people from passing out due to the heat. The fans and band kept rocking for 90 minutes strong. As encore Papa Roach played "Last Resort" and then it was all over. Unbelievable that this was going to be the last time to rock with these guys in 2011. See you all in 2012. Viva la Cucaracha!
More photo's of this event can be found at roseofthedevilsgarden.com
Links:
Julien-K Official
Yashin MySpace
Papa Roach Official