Supports: Scheisse Minnelly, TSOL!; Venue: Live Music Hall, Cologne (Germany)
By: Nina Mende
The mid-week highlight of this week was Pennywise live at the Live Music Hall in Cologne. Four bands were to perform tonight, one of them was a special surprise that just jumped in for three shows – starting tonight – due to some tour changes.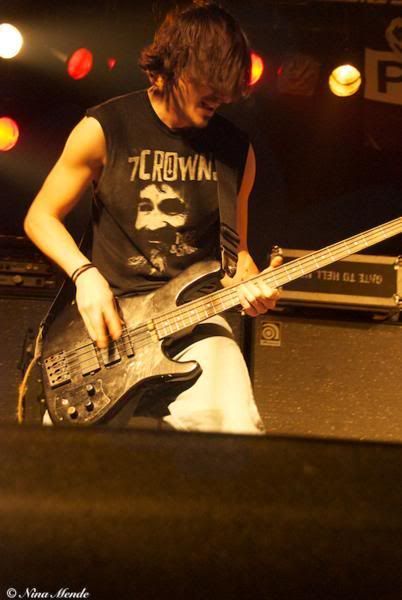 Because of that special surprise band the show started earlier which made me miss the first band. But I was right in time for Scheisse Minnelli to rock the stage. The venue was filling up slowly which was probably because they all did not know about the early show start. And somehow it seemed like the kids were a little scared of the stage because they stood far away from it. Only a few people found their way closer to the stage and danced around there a little bit. So during almost the entire show of Scheisse Minnelli there was a huge gap between audience and stage that would not fill up until way later. But Scheisse Minnelli did not care. They still rocked the house big time. Scheisse Minnelli is a Skate/ Punk-Rock band based in Germany. The band was started in late 2003 by two native Californians and two Germans. Reckless and careless it seemed, but simply highly passionate about their music, they jumped around on stage, not standing still for a second. Their show time lasted for a little over 30 minutes. The singer talked quite some with the audience, announcing songs and animated them to come closer to the stage and rock along. Somehow Scheisse Minnelli appeared to me like a punk rock version of Combichrist. It was a thriving set, unfortunately a little short.
Up next was the surprise act: TSOL! TSOL is an American punk band which formed in 1979 in Long Beach, California. TSOL is short for True Sounds of Liberty although they are rarely referred to by their full name. Although most commonly associated with hardcore punk, TSOL's music varies on each release. They have also released music in the styles of death rock, art punk, horror punk, and other varieties of punk music. As TSOL entered the stage you could tell that they've been doing that for quite a while already. Confident and relaxed they went on stage, ready to rock the masses which had meanwhile found their way up to the front. The singer walked up and down the stage, not only to tease Fletcher from Pennywise who had joined the audience to watch TSOL rock. The fans went wild with the Californians on stage. The music was catchy and no one was able to stand still. Even if you tried standing still, the music just got you and you had no choice but moving along. Jack, the singer of TSOL, talked and teased quite a bit during their time on stage. It felt more like a night out with friends with the guys on stage than an actual concert with a punk legend. For almost an hour TSOL performed a more than amazing show for us. What an amazing special surprise for the night!
Now it was time for the actual headliner: Pennywise. Pennywise is an American punk rock band from Hermosa Beach, California, formed in 1988. The name is derived from the monster, It, from the Stephen King novel of the same title. Between their 1991 self-titled debut and 2005's The Fuse, Pennywise had released an album every two years on Epitaph Records, a label owned by Bad Religion guitarist Brett Gurewitz. To date, the band has released nine full-length studio albums (the last being 2008's Reason to Believe), one live album, two EPs and one DVD. Pennywise's line-up, which remained constant from 1996 to 2009, consisted of Jim Lindberg (vocals), Fletcher Dragge (guitars), Randy Bradbury (bass) and Byron McMackin (drums). They had kept their original line-up until bassist Jason Thirsk committed suicide in 1996, due to issues with his alcoholism, after which Bradbury joined as his replacement. In August 2009, Lindberg decided to leave the band; he was replaced in February 2010 by Ignite singer Zoli Téglás. So this was my first time seeing Pennywise with a new singer. Changing a singer in a band is always a tough one, but Zoli did an amazing job. His voice sounded like it was made for the Pennywise songs. He jumped around on stage and got the audience go just as crazy. During the entire show he was announcing the songs or talking in between the songs. Unless Fletcher had something to say. It was interesting to see how Zoli backed off immediately when Fletcher got to the microphone. Pennywise played songs off all albums including all their hits. They also covered "Stand By Me" and turned it into a punk rock song. There was a mosh pit going on in the audience as well as some crowd surfing. The venue was packed and everyone was going insane to the amazing music of the night.
What an amazing night out in Cologne.

More photo's of this event can be found at roseofthedevilsgarden.com
Links:
Scheisse Minelli Official
TSOL! Official
Pennywise Official