Support: Black Cloud Halo;, Bibelot, Dordrecht (Netherlands)
By: Elvira Visser
  There were four bands playing today, but I only had the time to see two bands.
  Which meant I missed out on Angel Crew and Madball.
  The first band to play was "Black Cloud Halo" a band from The Netherlands
  and from my local area so I always like to see what they are doing. Today was
  also a big day for them because they would play songs from their new album:
  "Born Under A Bad Sign" and they would be the support of one of the
  bands that has influenced their own music, madball.
  What I like about this band is that they make a unique style of music, there
  a bit of rock, metal and punk in it. Which also attracts different kind of people
  to the front of the stage. It seemed that they have gathered a group of fans
  who are cheering between the songs. The music has good lyrics, melodies and
  they play with pure speed and heaviness. Their front man is using the monitors
  on the stage to stand on and lean forward to become closer to their fans. The
  combination of this all makes it nice to listen and to watch. In some punk bands
  I miss the nice riffs of guitars but this band has it and their showing that
  they can build a nive atmosphere.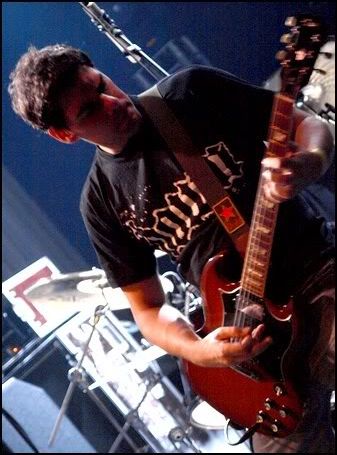 The next band was "Deadline" a punk band from downtown London. They
  have been playing for over 4 years now and seen much of the world.
  When I think Black Cloud Halo sounds a bit more rock in my opinion this band
  is nice punk with female vocals by Liz. You can see that they gained some experience
  on stage, she acts like a real though punk chick although she doesn't look
  that scary. She reacts on the crowd that what makes some comments, but she knows
  what to say in return.
  The lyrics are about everyday life things and not too complicated, you do not
  have to search for the deeper meaning to get the feeling of the song.
  they have a spimple structe of their lyrics so people can sing a long quite
  fast with the choruses, which makes a nice interaction. Great band to see on
  stage.
  Their guitars and drums add a great power to the songs and their show.
  In the beginning I think the audience wasn't sure about this band, I mean
  you see a little girl moving around on the stage. But as soon they started to
  play and she started to sing I saw more people at the front. First only nodding
  their heads and a bit later in their set a couple of guys build a pit and the
  mood was set.
  The band kept the attention of the crowd and recieved a well earned applause
  at the end. I think they had no that many people in front of them as they deserved
  as many people came to see madball and when i left people were still entering
  the venue. Sad, because they really missed out on 2 great bands.