By: Nina Mende
Actually I wanted to do a column about this tour since I was along half of it, but that would have meant that it's not about the shows themselves, more about everything around like backstage happenings and such. But then I thought: what happens backstage stays backstage! For the sake of all of us and our insider jokes I will keep that simple rule and so I decided to give you something in between a gig review of 6 shows and a column like a sort of tour diary, or so… Well, at least: Here is my story about the Prozac Nation Tour in Germany with Private Line

Since the beginning April 2008 I was looking forward to this, it was sure that I'd try to be along as much as I could. As the dates were out the planning began. Since I have a full time day job I could not just hop in my car and hit the road, but I actually had to focus on the weekend dates. And because I also have other things scheduled as well I also had to check my availability for the dates nearby. Three dates were sure from the beginning on: Lichtenfels, because it was a Saturday and I'd have an interview there with Sammy, then Frankfurt because it's so close. And Munich because I would meet up with some friends, some even from Helsinki, that weekend and we'd go watch the show together. Two dates, that were unsure but still on the list, were Cologne (on a Thursday) and Bochum (a Friday). Bochum went over to my "sure list" because it was a Friday and not too far away, but Cologne? Then I also wanted to do their last show in Stuttgart, but since Area4 that day was blocked for a Bloodlights show, so no way to be there….
Two days before the tour began I was talking with the guys of Big Boy and somehow it happened that I was talking about the tour. So I was having the funny idea that they could join. A couple emails and it was set. Although I had suggested four dates: Cologne, Bochum, Lichtenfels and Munich, they only said yes for two: Bochum and Cologne, so Cologne was on my "sure list" as well, because I just had to be there and see that. That makes 5 on my list. Saarbrücken was added to my list during the tour because I couldn't be in Stuttgart and Saarbrücken is quite close. That's six shows and half of the whole tour.
So my dates were:
4. September – Underground Cologne
5. September – Riff Bochum
6. September – Paunchy Cats Lichtenfels
10. September – Nachtleben Frankfurt
11. September – Garage Saarbrücken
13. September – Metropolis Munich
And now the journey could begin.
Short note before I begin: Ilari wasn't along but J-V replaced him. Too bad Ilari couldn't come, but J-V was great too.
4. September 2008: Cologne,
Location: Underground
I caught a cold somehow. At least I now had fever and was taking medicine for a couple days already. What a great tour would that be with me being ill already, I really began to wonder as I went on the autobahn heading towards Cologne. Surprisingly I arrived without getting stuck in a traffic jam which is extremely rare for the Cologne area. First to do there was checking into the hotel and then off to the venue. Entering the backstage I found the Private Line guys stuck in an interview which must have lasted forever according to what they told me later on. But they still waved and said a quick hello. In the back of the backstage there were a couple old beds. That was also where the guys of Big Boy were hanging out as I arrived. We talked a little about this. Right as the catering was done we all went to eat. Same as it would be always: Salad, some meat, noodles, mousse-au-chocolate and fruits.
There were four bands playing tonight: Some local student band we all didn't really know the name of, Sister, Big Boy and Private Line. In that order. I didn't really happen to see the Sister guys to often that first night, neither did I get to talk too much with Private Line. Only some chitchat with Spit (bass player) and Sammy. There were some fans already waiting outside but it was quite empty. Ok it was a Thursday night. Middle of the week basically and people had to work or be at school the next day.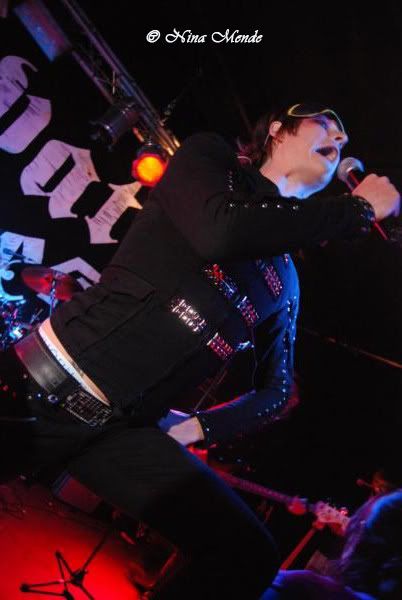 I didn't see the first two bands because we were still hanging out backstage telling each other stories of our lives, chatting and just the general rubbish you talk about when you are waiting. And I always watched everybody getting ready. Amazing how professional the guys were putting on make-up and straightened their hair. Sister had two of their girlfriends along for a couple gigs to do that. But Big Boy and Private Line didn't. I felt like in the backstage of a fashion show with all the set up mirrors and guys getting dressed, make-up and hair done. Really funny to watch them putting on eyeliner, eye shadow, mascara and so on. The tons of hairspray some used. I am sure many girls could learn some stuff from them.
As we went to the venue (the backstage was across the place in front of the venue) we saw that it was only half full. We came there right as Sister played their last song and began with the changeover. The light at Underground was terrible as usual but the sound was ok. The people who were there didn't care too much for Big Boy but still cheered a bit. But they could sing along to every song of Private Line, cheered big time and wouldn't let them leave the stage. After the encore there was "Singing In The Rain" played, not by the band, just by tape, which told you that the show is done now.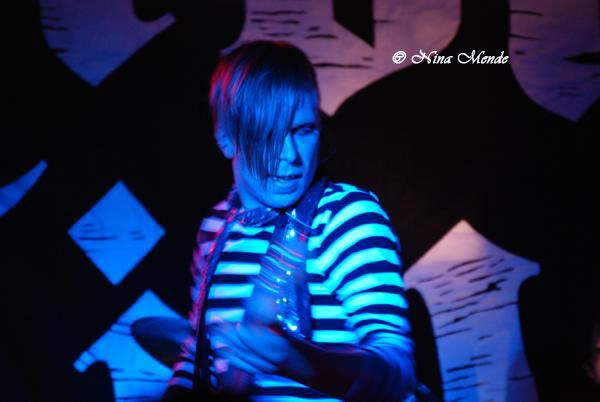 After the show there was a little drinking going on. The bands took pics with their fans, talked with them and so on. Sammy, Big Boy (singer) and Mauritz (Big Boy's tour manager) discovered the hip hop disco right next to our venue and went there to do a little breakdance. Sammy was quite shy in doing so, but Big Boy and Mauritz did. A.k! was filming it all. In the backstage there was this support-support band for a while trying to talk to everybody but somehow nobody really wanted to talk with them. The Swedes were partying a lot, Big Boy and Private Line didn't party too much, just a tiny little bit and then everybody went to rest for the next day.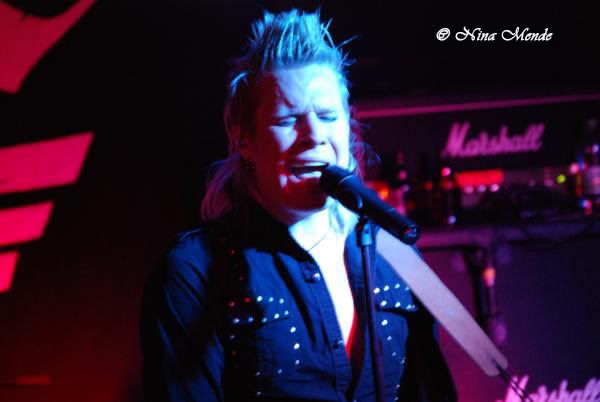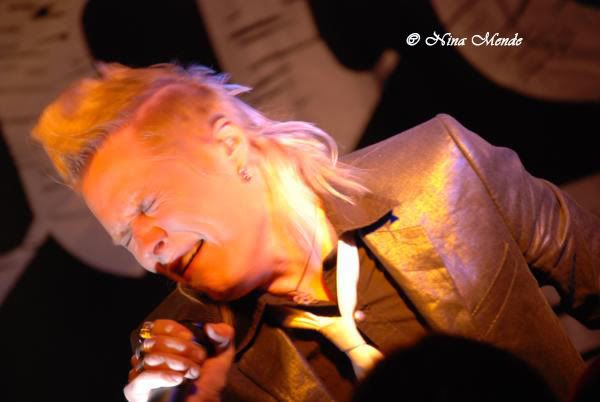 5. September: Bochum
Location: Riff
Another day, another city another show. After breakfast the journey continued. Off to Bochum, we all got through without traffic jam. Checking into the hotel again and the off exploring the city. The first thing I went to do was getting food. After a little more than an hour drive I was hungry again. Running into Sammy downtown, saying hello and a quick chat like "How did you sleep? Till when did you stay out last night?" and so on. I also ran into Gabor (guitar player Big Boy) and Mauritz who ran around with toy guns shooting at everybody with the little plastic arrows that were in the gun. Quick chat with them as well and they went on for ice cream, I went another way to explore the city a bit, since I had more time and didn't have to be at the venue at 2pm for interviews, sound check and so on. Private Line had like one interview after another. Big Boy only had one or two, I am not so sure anymore. There were only three bands playing tonight. Sister played first again, then Big Boy and last played Private Line. At around 6pm or so I decided to head to the venue. I had seen enough of Bochum. Surprise surprise. The catering was just delivered as I entered the backstage. So we all ate again. The backstage was bigger, having more mirrors and was more bar-like. Actually it was a café as we found out later on. The food was almost the same as the day before. Water bottles were gone too fast, so we needed more but the new ones disappeared totally fast as well. Sister were totally loud in the backstage so it was hard chatting with the others.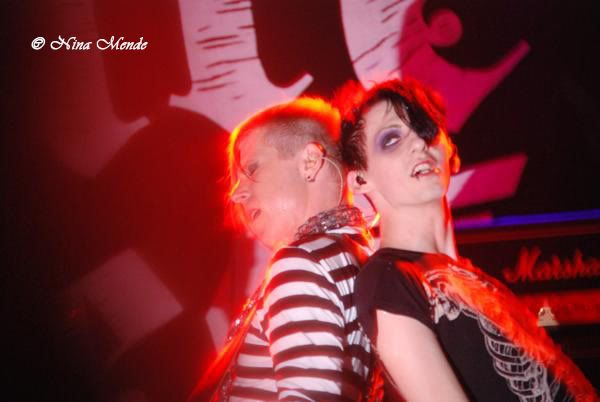 The venue was at least the double size of Underground the day before. And it was totally crowded. As Big Boy entered the stage the fans were cheering big time. So tonight it seemed like there were more Big Boy fans than Private Line ones, but we'll see. The sound was good when it didn't go off. But it went off several times. Luckily the audience could sing along to the Big Boy songs and so it happened that they sang the song for the guys as the sound went off again. An amazing thing because I had never seen and heard that at a Big Boy show.
As Private Line came on stage the audience was cheering a lot and dancing along but they couldn't sing along as much. Which was bad as the sound went off again. The light was good but there was a lot of red and it was too crowded in the front rows for me to take pictures. I didn't mind though, since there would be more shows I could take pics at. It was a great Private Line show though. The set list was almost the same as the day before, just 2 songs were different. They played songs from all two albums and even the previous EPs which not many people know. Somehow in Germany people seemed to know even these songs though. Amazing. As we entered the front rows Sammy began playing a Finnish Schlager on his acoustic guitar. Not many people could sing along to that one but everybody cheered.
Many fans wanted to take pictures with the bands again, talk with them and hang out with them for a while. Since it was so full staying at one spot without one getting lost or pushed away was quite hard though.
The backstage closed at around midnight. Actually the curfew was 11pm but somehow we stretched that a little. So we were thinking of where to go now. Some went to a club nearby, some into the hotel rooms drinking and/or talking. That's how the second night of the tour ended.
6. September: Lichtenfels
Location: Paunchy Cats
About 4 hours on the road. Totally crowded and only idiots driving, got a crack in the windshield and almost ran out of gas in the middle of nowhere in Bavaria. My nerves were stretched big time and I was extremely happy as I finally entered the town. It began raining and I was close to cancelling. Driving back home and give up. But no. I stayed and just hoped this day would get better somehow.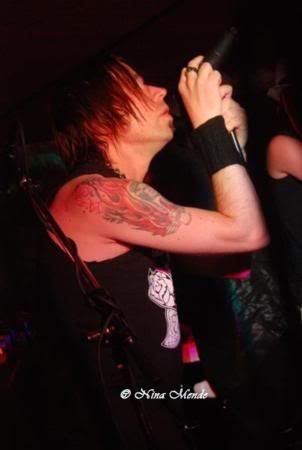 I've been to Lichtenfels a couple times before and I like the town, so I went for a walk before I went to the venue. Tonight we played at Paunchy Cats, a little, no, tiny club across from the railway station. The club has posters and pictures from several different glam rock bands on the walls but not only. The atmosphere in there is very familiar since it is so tiny and everybody is very friendly. Tonight there were only two bands: Sister and Private Line. In front of the club there were many people already waiting for the doors to open. As I entered Paunchy Cats Private Line was still doing their sound check. Usually I was always watching their sound check but somehow in Germany I missed out on that the past two days. After saying hello to everybody and watching the sound check, Sammy and I went upstairs to the backstage and catering area to do the interview. It was weird because I already know them for quite some time and see them around quite often. But we got it done somehow, talked a little more before we went off to the catering or the hotel.
Later as I entered the club for the gig it was totally crowded and many people were waiting outside, but inside it was very crowded already as well. This was the first night that I'd see the Sister show, but I stayed in the very back so I couldn't see much. Everybody in the club cheered a lot for the Swedish band, could even sing along and had a blast. They even wanted Sister do play an encore. But they didn't.
The audience changed a bit before Private Line began to play. It was totally hot in the venue and we all had a hard time because of the heat. The fans were cheering and singing along, shouting stuff hoping for a reaction of the band. Private Line gave everything on the tiny stage and rocked the hour away. The light and the sound was good and everybody had fun.
Afterwards I was drinking a little bit with some fans before I went backstage to eat and chat with Private Line, talking about music, Helsinki, and everything else. Tonight there was Chinese food and some homemade cake, fruits as well of course. Around 2am we all said goodbye. Since I was not going along to Hamburg and Berlin it'd be three days without them. How was I supposed to survive that? Well, somehow we all did.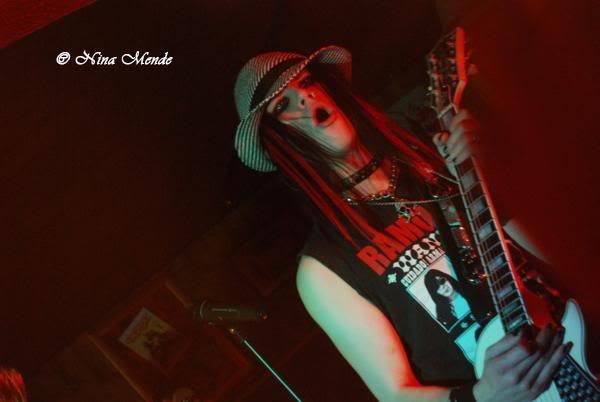 10. September: Frankfurt
Location: Nachtleben
Three days have passed and here we were again. I couldn't be there early for sound check or anything but we still got to talk before the show and got each other updated about the past three days. There were many fans waiting outside already, loudly chatting and laughing, totally excited to see Private Line live. There were three bands again tonight. Opening was Illectronic Rock, a band from Aschaffenburg playing electronic rock, as the name says. They were quite good as well. Somehow the kids in the audience didn't really know what to think of that band, but we liked their performance.
Next were Sister, having the same show as everyday and asking the same. But that is normal for a tour. The audience hasn't heard it before so it was fine. They played for about 40 minutes, some songs I actually began to like and sing along. They good a lot of applause and the front rows were dancing along to the music. The guys had fun on stage and rocked.
Last tonight were Private Line, with great light and a good sound they had the audience on their side. Everybody sang along, cheered, screamed and clapped along. It was full for a Wednesday night but hey, this was Frankfurt and Private Line. Sammy happened to play "People Are Strange" where some people sang along. Really great song, played on acoustic guitar it was even better but made me feel old a little bit, because most of the people in the audience didn't even know that song. The guys gave everything on stage as usual. Unfortunately the evening went by too quick and I couldn't stay for too long afterwards. But it was still a great evening.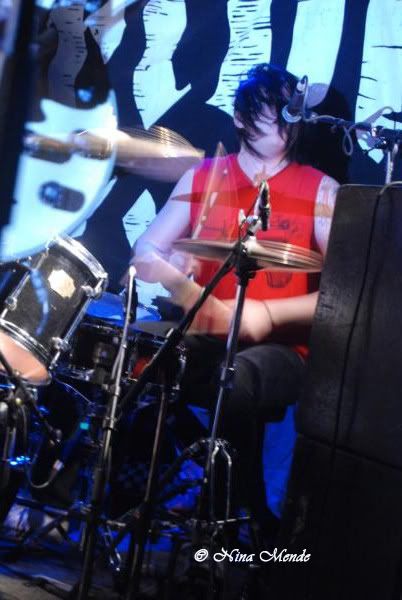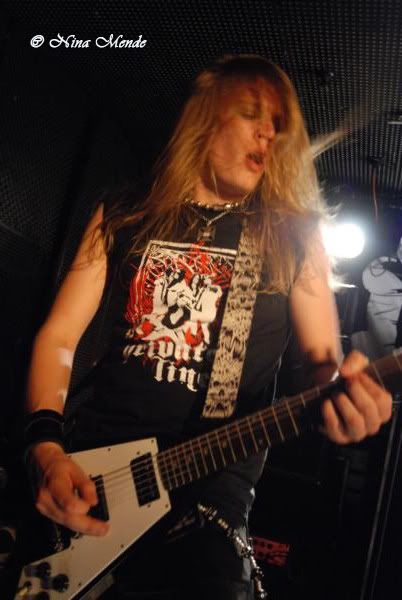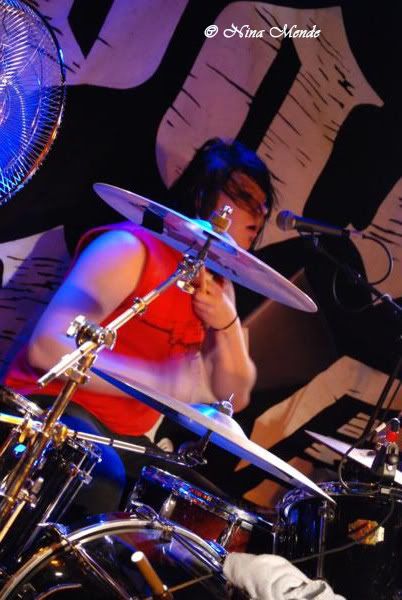 11. September: Saarbrücken
Location: Garage
I have never been to Saarbrücken before and I really enjoyed the journey there. A nice road leading through nature. As I arrived in Saarbrücken quite late I found a parking lot right in front of the venue, went in and was lucky that they hadn't started already. Tonight there were three bands as well. A local band whose name I already forgot, then Sister and Private Line of course. Thursday night in Saarbrücken, a little club, well, garage sized, and totally empty. Only about 33 people were there as we counted. The first band was not too exciting and only their friends were going along. The rest was just waiting for the other two bands. But they didn't get irritated by that and just played their set through.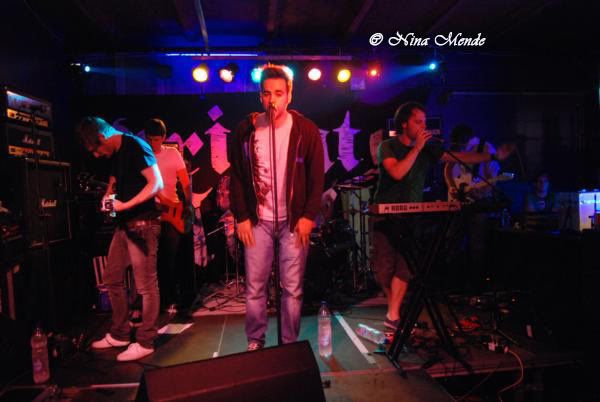 Sister were next, playing their show as every night, got the audience going along. But there's not much else to tell about their show. Only that the mics quit working on them And they kept on changing them. After Sister were done playing the monitors and everything got exchanged for Private Line.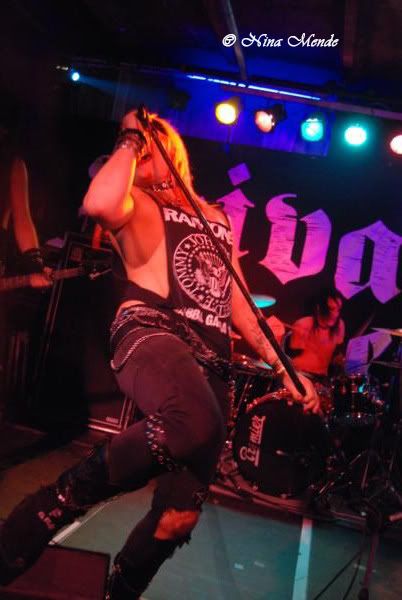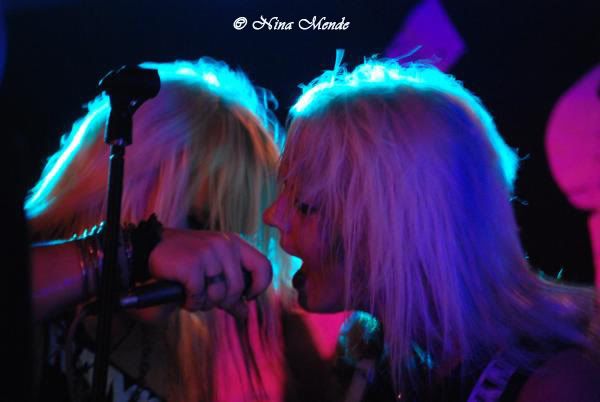 During Private Line I was taking pictures from aside of the stage where the tech Jani was also standing and taking care of everything. It was funny to stand there because the guys kept on coming there to get something from the counter in front of us or to tell something or ask something. We had loads of fun and the audience did as well. They were going along to the music big time. Sammy sang another Finnish song again. It was a really great show and I guess my favourite so far. Afterwards I told Sammy my song wish list for Munich and chatted with the others after we had loaded the van. I was helping by holding up the curtain. I was not allowed to carry boxes or else I would have done that. What a great night.
By now many of them had or were having a cold, which was not that great but we gave each other advices on how to get rid of it. As we all left fans were still outside and waiting in the cold for the band to come out, somehow we totally forgot about them. But they didn't mind. Now it was time to say goodbye for two days. Munich would also be my last show along. What a pity. But so far I was really glad that I was along all these dates.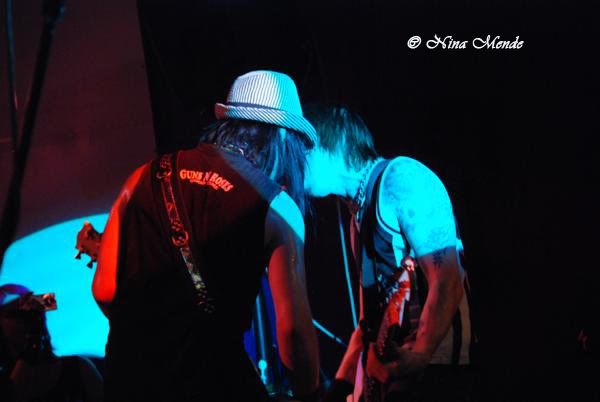 13. September: Munich
Location: Metropolis
I don't really like Bavaria, especially not Munich. It took me ages and a phone call till I finally found the location. In the middle of many big halls like factory halls there was the Metropolis. Many fans were already waiting outside as I went in. Private Line had just begun their sound check and I felt home. Inside it looked somehow like a mixture of Gloria and Nosturi. The sound was much alike. Happy to see the guys again I sat down to watch, found the Big Boy guys seated somewhere and joined them. Whenever one of the Finns was walking by they waved or said hello while the guys of Big Boy left me alone after some chatting to polish their nails. But a friend joined me for the sound check, she's local in Munich and had been to some PL concerts in Finland with me. So we both felt home watching that sound check, sang along and goofed off like we usually do together when watching their sound check. Nobody got irritated by that because they all knew us being like that. Only as the Swedes came they were looking at us a little distorted.
There were four bands tonight: Illectronic Rock, Big Boy, Sister and Private Line. In that order although there was some bitching around about the 2nd and 3rd spot being switched. But since Sister is the Private Line support act they would be playing before Private Line. That discussion still reminded me of a kindergarten which was unnecessary. Anyways, We only watched half of the Big Boy sound check since the singer's girlfriend was screaming on stage and the noise was just too weird for us so we had to go outside. The Sister sound check was more bearable again and Illectronic Rock had their sound check as the doors opened already. Everything was running late again. But with four bands that is quite common.
The venue was filling up quite quickly. People were rushing to the front rows to get a good spot, we just went upstairs to get some food. Tonight there were only buns and some cheese and meat. But still, food is food.
Back down Illectronic Rock began and I went to take pics. I really begin to like that band and have to keep my eyes on them A great and energetic performance combined with nice music. Good job guys. Here more people seemed to like them.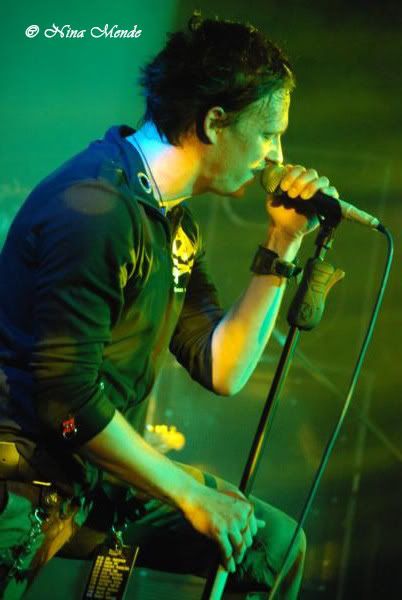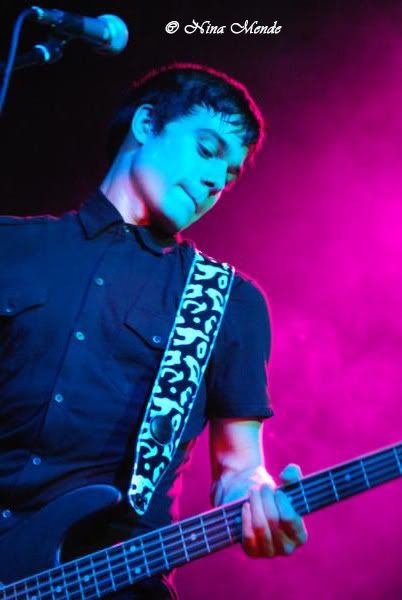 Next was Big Boy, the audience cheered and sang along. I wasn't really amazed by their performance, more disappointed because they didn't seem to take it too serious not to say not serious at all. So I took my pics and then went off talking with a friend trying not to be too disappointed and get back into a happy mood since PL still had to play.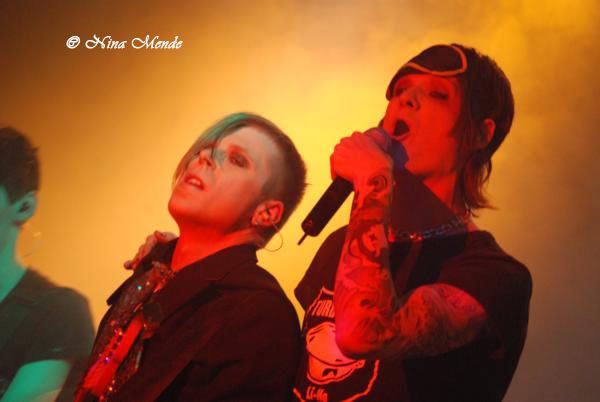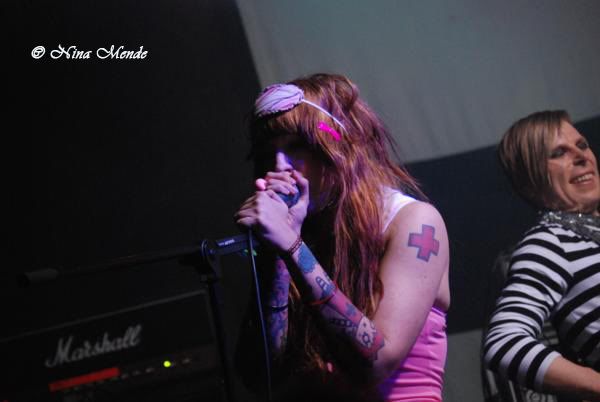 photo's Sister: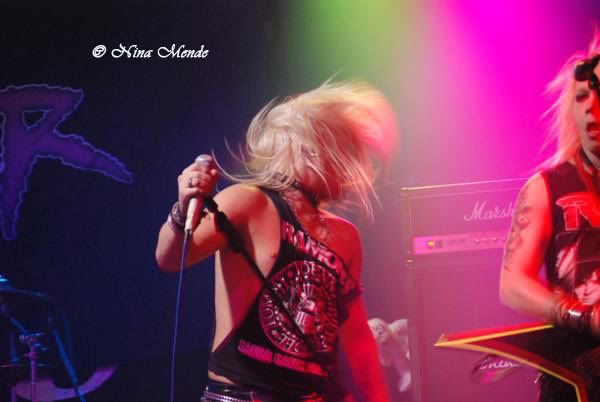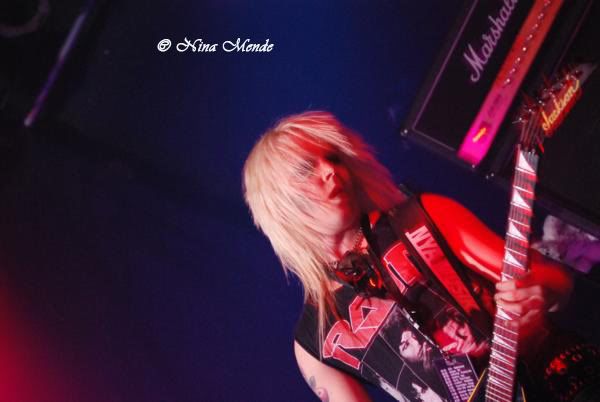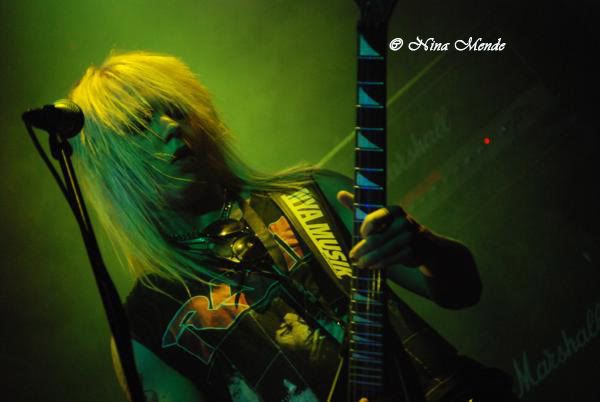 Change over for Private Line. During it the band members of Big Boy came out, we went over to talk with them. The singer realised that something was wrong and asked me but didn't listen to what I had to say in the end anyways, but I was used to that already so it was ok. And Private Line was all ready to begin. So off I went to the front rows for taking pictures. What an amazing show. The songs off my wish list were played and I had a blast by watching it. The best live show of the Germany dates I had been along. The sound was good, the light was great and we all had fun. The audience loved the show as much as we did.
Afterwards we were hanging out and chatting about everything planning our next week when I'd be back in Helsinki. We made fun and had a good time. Many fans were waiting for pictures and some even had gifts to the band too shy to hand them to anybody. They asked me to do so, but I didn't since it was theirs, but I helped them. I think we stood outside chatting, laughing and having fun for about 2 hours or more. Then we were wondering where to go. Everybody kept on asking us where we could go. But I wasn't local in Munich either and didn't know a club here, so I didn't know. So we ended up saying goodbye. Thanking each other and left. The one half to get food the other half to go to bed.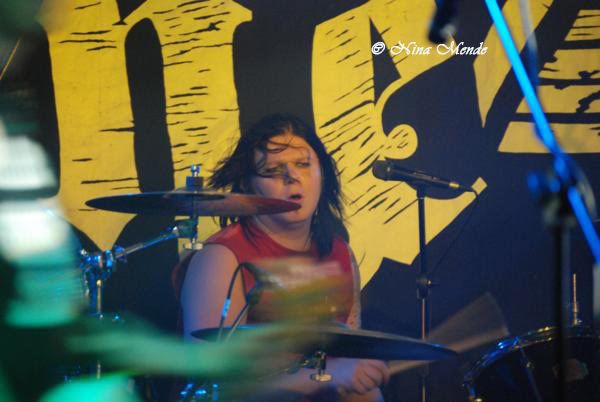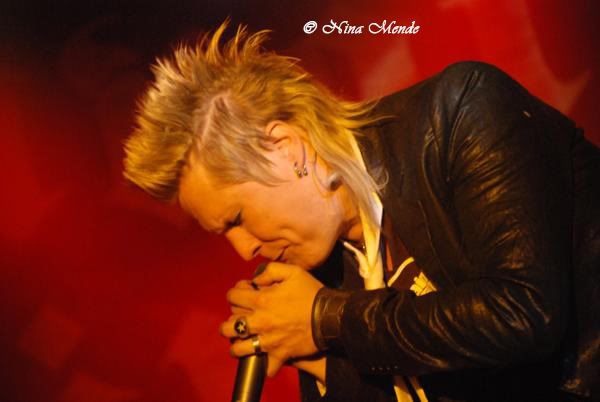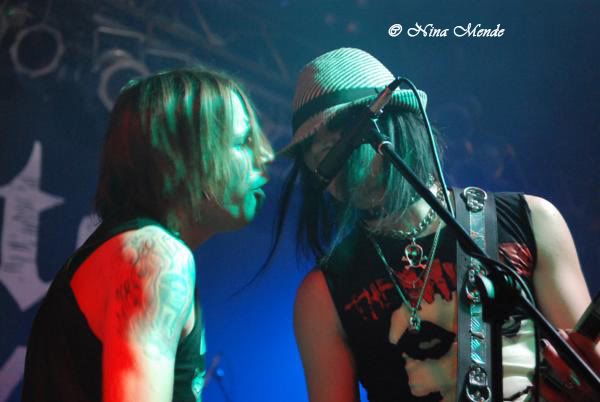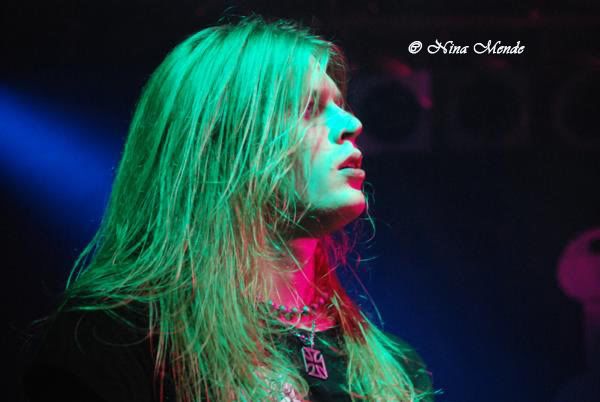 Prozac Nation tour 2008 through Germany. I had a blast. Private Line had a blast. And Sister as well I think. Thanks to everybody, including Save The Night Booking. Keep on going girls! You rock.
The Private Line Tourdates were:
Links:
Private Line MySpace
Private Line Official
Big Boy Official
Illectronic Rock Official
Sister Official