supports: Sixth Tone; Venue: Exit, Rotterdam (Netherlands)
By: Sabine van Gameren
Tonight, Exit (Rotterdam, Netherlands) was all there for Revision which releases their new CD "Heavy Light". They brought a support band with them to warm up the audience.


The stage was for Sixth Tone first. These young folks started of with some own material but played some covers as well. Their own music is influenced by those were they played covers of: 3 Doors Down. Overall the band sounded quite well and they were definitely a nice warm up for Revision. Though, as small point of critique I would like to mention that the band did not put too much effort in getting people close to the stage. People stayed a bit in the back of the venue and therefore there was no communication and interaction with the audience.

It was (two days less than) a year ago since I saw Revision. They participated in the Emergenza Bandcontest and made it to the finals. The first time I saw them, in the first rounds, was also in this venue. They gave me goose bumps by playing Muse – Bliss and since that day I was a believer in Revision. Now they were here for a CD release party.
Revision is a band from The Netherlands, playing dreamy rock music in the style of Muse and Radiohead. They brought a beamer for some visual effects during their gig as well with an illuminated sign with their band logo, but for that one they could not really find a good spot so they did not place it anywhere.
They started of with the emotional song "Missing" and the atmosphere was set. Exit was pretty filled and people came closer to the stage to enjoy the show. Revision's singer Allart know exactly what his range is and like to meet the borders, but rarely crosses them. During their set, the band clearly enjoys playing and there is much more action going on at the stage compared to their supportact.
When their set was over, the band got called back on stage to play an encore. Their encore was three covers. Kaiser Chiefs, Radiohead and to complete the party: Muse.
A nice goodbye which made me smile.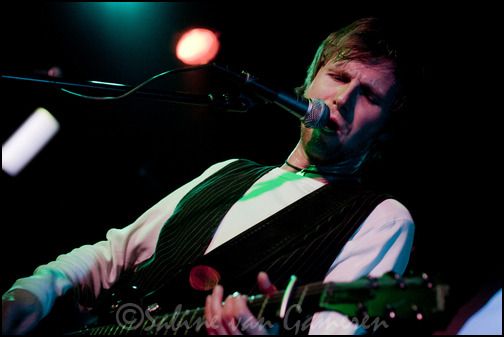 More pictures of this gig available at sabinevangameren.com
Links:
Sixth Tone MySpace
Revision MySpace