supports: Heidevolk; Venue: Dynamo, Eindhoven (Netherlands)
By: Elvira Visser
After a good ride in the train, I arrived in Eindhoven where I found my way to Dynamo. I had to miss out on Conorach. According to some people they played a little boring. Second band was Heidevolk and when seeing the guys on stage getting ready the people in the venue gathered in front of the stage.
Many seem to came for this band and the vibe was already there. When Heidevolk started there was no stopping, cheering, drinking and having a good time. Heidevolk is a Dutch folk metal band that sings about Dutch Germanic mythology. They sing for example about the gods Wodan and Donar. Normally the band consists of two singers but unfortunatly tonight one of them was not able to sing. This however did not ruin their performance. Their music is melodic metal combined with violin and blowing horns. The crowd did not mind that Joost (one of the singers) was not there and with the beer songs the crowd was there to sing along and cheer. Horns where brought from home to fill with beer and shown up in the air. What I liked about their show was Stefanie, who plays violin. She was holding a little back in the first songs she contributed to the band but later during their set she claimed a spot in the middle and was cheering and pointing at people asking the sing along. I think many people who came for Heidevolk had seen a good performance and where shouting for this one song which they did play. This was a cover from another Dutch band Normaal: "Vulgaris Magistralis".I think this band proved that folk metal is very much alive in the Netherlands and how great is it to see such band singing songs about your countries mythology and using your native language.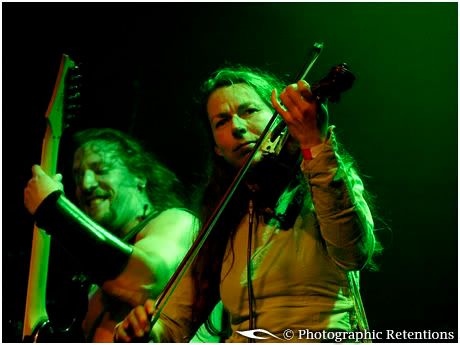 When Hollenthon was ready to play it seemed that a transformation had taking place in front of the stage. Less and maybe even other people where standing there. Maybe because it has been quite around Hollenthon expecially after 2003. Martin Schirenc was more concentrating on "Pungent Stench", But never stopped writing for Hollenthon. Recently he has gathered some musicians around him and recorded a new album "Opus Magnum". From this album they played "Son of Perdition" which sounded very tight. Although it was less crowded in front of the stage I saw people enjoying and head banging. Gregor Marboe (bass) and Martin Arzberger (guitar) know how to entertain the audience by walking from side to side, showing their skills on their guitars holding their guitars next to their head. To me front man Martin Schirenc became a little boring, just standing and singing his songs. It seemed that he knew what I was thinking because not much later he also started to move on the stage a bit more and got himself going.
Using symphonic samples mixed with a good dozes of energy on stage was what Hollenthon brought the people. Some older material they played was "lords of Bedlam" and "To Kingdom Come". It seemed that however it has been quite for a while they knew how to attract some old fans to this gig, at one point 2 guys had put their arms around me and where singing the song out loud. Great! I look forward to hear their new album.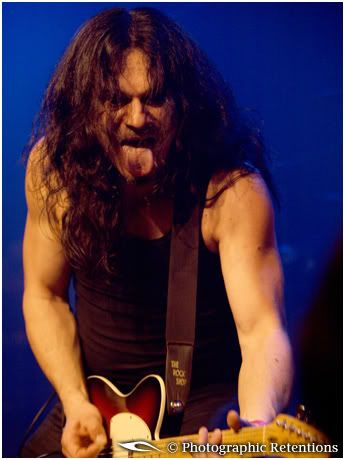 Photo's by photographicretentions.nl