Location: Gloria (kickoff party), Nosturi (festival) Helsinki (Finland)
By: Sabine van Gameren & Nina Mende
Trashfest 2010 had all that promised to bring a interesting edition. A new venue that gave stage to the festival, keeping the confidential feeling in Gloria alive as it being the location for the kickoff party. At the last moment some of the Trashfest veterans cancelled, but this gave space for others to fill it up and nevertheless the lineup had brought as well some fresh new acts as some Trashfest veterans.
Kickoff Party
At the Kickoffparty the whole started quite calm and cozy. There were some issues, but eventually the DJ set of Erotic Juliet got the atmosphere in the house.

The first band of the evening was Crystal Rain. This band is coming from Helsinki, so they basically played a home gig. Their style goes into Gothic rock a la the Australian band The Eternal which is signed under the Finnish label Firebox. In some points it sounds a bit like a rip off actually, which is a shame. On the vocal side and the keys there is surely some potential, but some work can be found in the drums which appeared a bit boring and the bass which may progress a bit as well. In total the band could put some more stress on the highlights in their music so that the whole output becomes less flat, yet more variant. That would bring the emotions in the music much more forward and will it be easier to adapt the music. This is typical a band that you keep in mind and want to see back in some time, because you just want to know how they develop.
Second band of the night was Midnight Cowboys from Sweden, a glam and sleaze rock band, still young. As bass player they had help from Sexydeath's Göran for this show. With Midnight Cowboy on stage you could tell who were the sleaze rock fans in the audience. The Swedes rocked the stage with catchy tunes and thriving beats. Everybody seemed to be dancing along. The singer seemed to be posing as a tough guy whereas the others just were plain cool. Also was the singer the one that was jumping around all the time and did not stand still for a single second. They played many new songs, but also some older ones to which some people could sing along. Midnight Cowboys put up a refreshing performance.
During the changeovers Erotic Juliet as well as Darin from Dopestars Inc were keeping the people entertained with their DJ skills.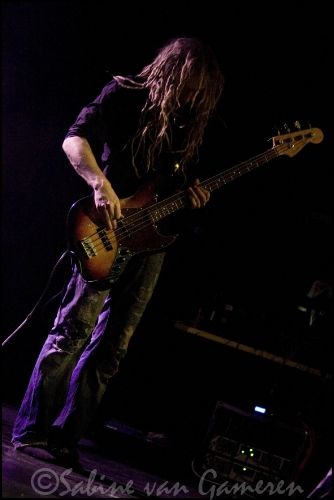 Spiritraiser, also coming from Helsinki, got my attention already when they were only putting their instruments on stage before they start. One of them was wearing a T-shirt from Velcra, which is a personal favorite of mine. When they started playing they actually got my attention even more. A steady instrumental package coming with a guitarist setting down the riffs like it's no effort. A good backing comes from the drummer. Overall this band has their songs very well-structured and maybe it is a band you have to get used to. Their music is not that catchy that you pick it up from the first time, but it does do something with you. The band brought some of their fans which had great fun dancing and cheering during their set.
What I also liked a lot of this band is the fact that they know exactly when to hold back and control their adrenaline and put the energy up for the right moment, bring it all to a climax on the moment that it is needed, something that not all bands can do.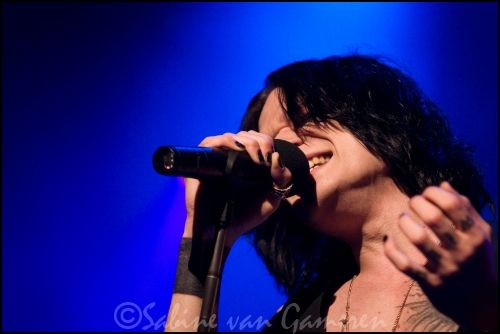 Last band of the night was Baby Jane, another band from Sweden that terribly reminded me of a bad version of Vains Of Jenna. Baby Jane is from Gothenburg and was founded in 2007. They as well play Sleaze Rock and have the typical style just like every other band in this genre seems to have. With an intro that sounded like the one Beseech was using, Baby Jane entered the stage. They all rocked on stage, jumping around to their own music like it would be the best in the world and this was also the attitude they spread. The audience loved them with that though. Many people were cheering out loud, dancing and singing along and enjoying Baby Jane's show big time. The band tried to be super cool, it sometimes just looked hilarious. But nobody seemed to care because all we wanted was having a good time. The singer was walking up and down the stage with half of the microphone stand in his hand and animated the audience to go along to the music. Or he went to his guitar player and played air guitar along on his microphone stand. The music reminded of Vains Of Jenna as well: more rock than sleazy, catchy tunes and strong lyrics. After all Baby Jane put up a great closing for the kickoff party. Now we were all curious what the other days would bring.
Day 1:
The first evening in Nosturi was about to start. The very first time for Trashfest in this venue. Openers of the evening was Night By Night, a Brittish band that makes classic rock music. The band took their job as openers for the evening well and even though there were not too many people in the venue the band made the best out of it. Their songs are catchy and give opportunities to move along. But in case this all comes to early on the evening, you can also spend your time observing the guitarist bringing his skills on the stage in an amusing, playful way. For next time seeing them it is wise to listen their songs a couple of times because you'll be humming along the right words at least.
I have been so excited to see Lord Of The Lost live, because I knew two of the band members from other bands called The Pleasures and Unterart. I was sure this would be completely different though, not only because it is a completely different style of music…Lord Of The Lost is a German band from Hamburg founded in 2008. They have one album released and now urge to spread it. As the band entered the stage tonight they received loud cheering of appreciation. It was amazing to see that here in Helsinki. The music began and I was speechless in an instant. The music was strong and digging deep down underneath your skin, going straight through your heart. The voice of the Lord (singer) was amazingly strong and well placed on the songs. The band as a whole simply seemed perfect. The audience loved their performance and the band was overwhelmed by the great feedback they received. The audience went completely wild though as Lord Of The Lost covered Lady Gaga's "Bad Romance". It was an amazing performance and we all were blown away by it. Lord Of The Lost just had the full package: great light to support the atmosphere they spread, music that went deep and vocals that dug deeper. Amazing.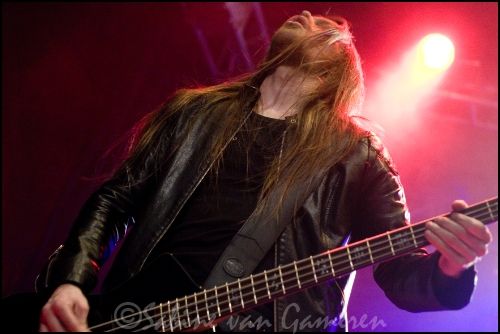 Iconcrash is a Trashfest veteran by now. They were not scheduled to play at first but filled up a hole for one of the cancelling bands. The Helsinki based act makes music in the line of Mogwai and Sigor Ros. In the very first moments this band always looks so calm and peaceful but be aware that as soon as their sets comes further there comes in a certain intensity that hits you. Soft vocals getting spiced up with pounding drums, making this music a bit comprehensive to follow if you do not give it your fullest attention. On stage there is not much activity going on besides the playing self, but it is not really necessary with this music. As we are used to when seeing Iconcrash the band slowly works to a climax and today there was not much different in that. Just another good show from this band.
Last band of the night and a Trashfest veteran was Private Line. It had gotten quiet about the band and so we were all happy to see them again tonight. Private Line is a hard rock band from Helsinki, Finland, formed during the mid-1990s (in Jyväskylä, a city in the center of Finland) and is now based in Helsinki. Tonight they played many new songs off the upcoming album, but also many old ones to which everyone could sing along. The band was having fun on stage and joked around. Everybody – who was not gathering around the bars drinking – was going along to the music and cheering to Private Line. It was definitely great seeing them back on stage and making us curious for the new album. What would Trashfest be without having Private Line headlining one day? The first day of the actual festival was rounded up now and perfected with Private Line on stage. What a great and interesting day it was indeed.
Day 2:
Last day of the festival already. Incredible how fast time runs when you're having a good time or at least are terribly busy. As we entered Nosturi tonight the first band had already begun. Cold Cold Ground was opening the last day early, maybe because there were more bands scheduled for today. Cold Cold Ground has been working under this name since the start of year 2004, although the seeds of the band were sown by Hauptmann D many years earlier. Cold Cold Ground plays Electric Shock Rock with disturbing visuals and energetic live performances. One of the band members is always wearing a bunny head on stage. The band is always were active on stage and tries to get close to you. The singer is always bending forward into the audience and sings to them. Fast and energetic is their performance. There were quite some people at Nosturi already, and all of them cheered to Cold Cold Ground after each song. A wake-up call to get everybody in the right tune and mood for the last day that could not have been placed any better. Cold Cold Ground definitely got everybody up and running for the evening to come.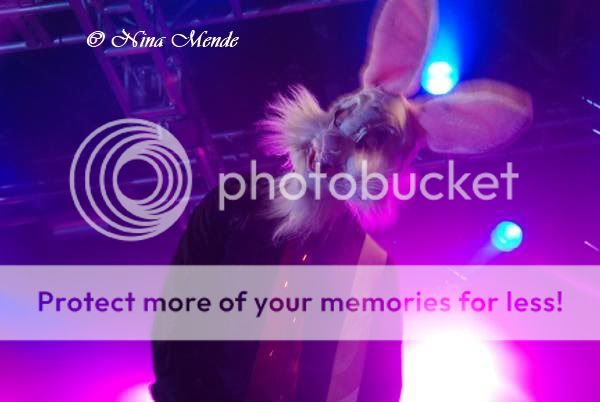 Surprised as we were there was a band scheduled that we had seen before in this festival: Spiritraiser. Now that was a nice surprise as their set during the kickoff party was pleasant to see. As well as it was a surprise to us, it was to the audience so a little confusion in the front rows was to notice. Today it seems like the band was more relaxed on stage, their vocalist was not stressing around too much this time and if it was because Nosturi keeps a little distance between the stage and the fans, the band seemed to feel more free to move. This makes their set even better to listen to and the performance in general better. Good that these guys had a chance to play twice, because I liked the first set already, but this second time they got me even more.
I had mistaken them for Swedes but now I found out they were Brits: New Generation Superstar from the UK. After grabbing the attention of the music industry in the UK in 2007, New Generation Superstars continue to work hard with consistency, perseverance and enthusiasm which have gained them accolades worldwide. Built upon a solid foundation over 5 years, the Nottingham based band has mastered their craft with anthemic choruses, crunching guitar riffs, accompanied by thundering bass lines and drums. And here they were tonight rocking Nosturi and Trashfest. The drums were decorated with a British flag hanging over them to remind us at all times where they were from. With nice guitar riffs and strong vocals they rocked the audience. New Generation Superstar had some nice solo guitar riffs going on, with a smoky voice and not much motion on stage they still entertained the audience which moved along for the band. Nice music. Nice band.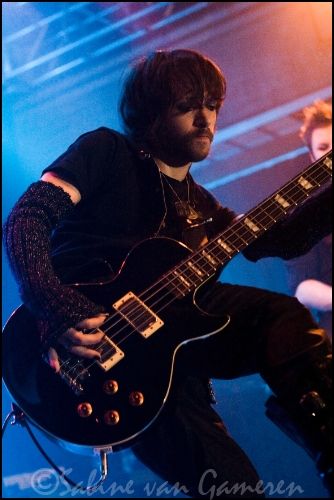 The Italian band Neon Synthesis showed some aggressive side of music that have not been seen earlier during Trashfest 2010. Industrial sounds with dark beats, deep vocals and a lot of dancability. They often tried to make eye contact with the audience and bring their causes to the people like in a personal conversation. They surely made people curious cause people left the bar and came a bit closer to the stage to observe this a little closer. First watching it from a distance, later dancing to the beats. Unfortunately the set was too short to get the big party going, but the band surely got something going. The band had warmed up the audience well for the next band Dope Stars Inc.
Dope Stars Inc. have become Trashfest veterans as well and so they came to Helsinki again to play in this year's edition. The very first time we saw this band playing in this festival it was not that much of success to smack us back around the ears in last year's edition. The tensions were high set as no one likes to see a good memory to a gig fade away with a bad following up gig, but the Dope Stars played a decent set that did not disappoint at all. Besides the most known songs some new material was also played and it was a surprise to see the band with a drummer this time. "With Dope Stars Inc. there is always something going on" someone says when I am standing in the audience and that might exactly be why all these people love to see this band and dance to their tunes.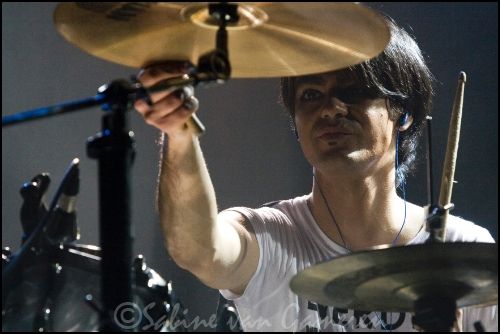 The evening closes with the Mama Trash All Star Band. A lot of the Trashfest essentials were to be seen there; Mike Divine (Violent Divine) which was also hosting the festival, Anzi Destruction (Stereo Junks!), Cat Casino (Deathstars), Sammy (Private Line) and many more. Some covers of the Ramones (did everyone know the lyrics?! 😉 ) and Billy Idol were performed and it all made a grand finale as usual.
We are curious to see what a next edition of Trashfest will bring!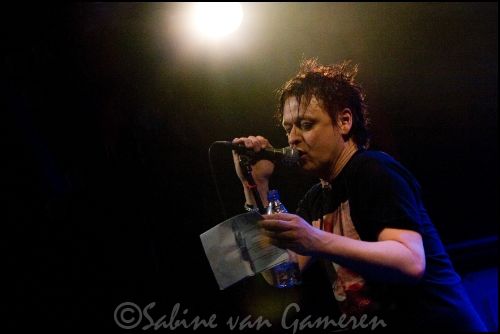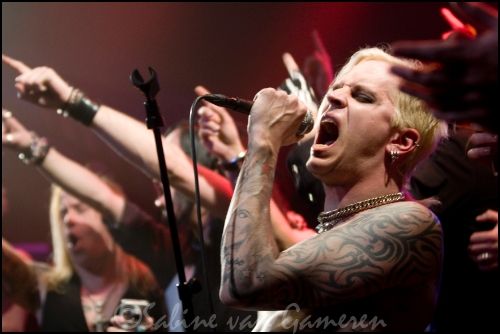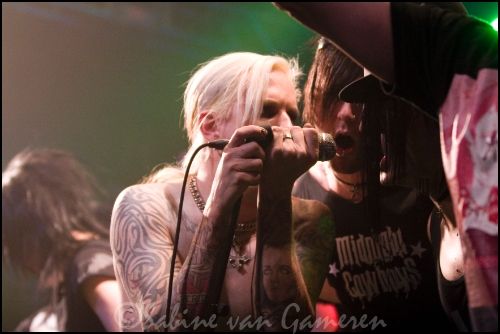 The following bands have been reviewed by Nina Mende:
Midnight Cowboys, Baby Jane, Lord of the Lost, Private Line, Cold Cold Ground, New Generation Superstars
The following bands have been reviewed by Sabine van Gameren:
Crystal Rain, Spiritraiser (2x), Night By Night, Iconcrash, Neon Synthesis, Dope Stars Inc., All Star Band
All bands have been photographed by both of us.
More photo's of this event can be found at Sabinevangameren.com
Links:
Erotic Juliet MySpace
Crystal Rain MySpace
Midnight Cowboys MySpace
Spiritraiser MySpace
Baby Jane MySpace
Night By Night MySpace
Lord of the Lost MySpace
Iconcrash MySpace
Private Line MySpace
Cold Cold Ground MySpace
New Generation Rockstars MySpace
Neon Synthesis MySpace
Dope Stars Inc. MySpace
Trashfest Official