03-03-2017 Aesthetic Perfection
Support: Nyxx, Night Club
Starts: 03-03-2017
Brick & Mortar
San Francisco
,
California
US
It is Friday night in San Francisco. There is plenty of places to go. We chose Brick & Mortar. A little club in San Francisco. Why? Because three amazing bands were playing there tonight: Nyxx, Night Club, and Aesthetic Perfection.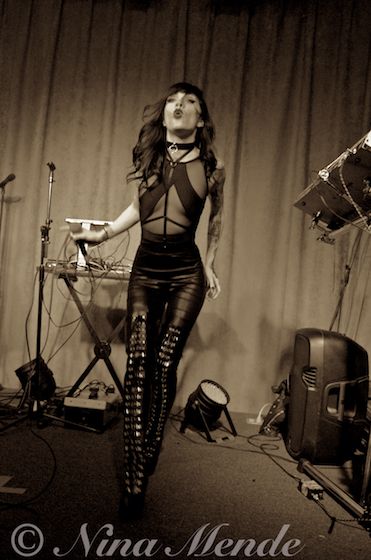 The small venue was filling up slowly.The tiny stage was filled with all the equipment that was about to be used tonight. Up first was Nyxx.
Nyxx is a solo artist from Los Angeles, California. Nyxx is a beautiful woman that was dressed in very complimenting clothes and stunning over knee boots. She hit it right off after she entered the stage. The music was catchy and thriving. The music drew everyone closer to the stage and got them dancing along. Nyxx was dancing along to all her songs. And, oh boy, she knew how to dance. It was a pleasure watching. But her songs were just as gorgeous. Sometimes her voice reminded of a Gothic version of Gwen Stefani: strong vocals that know how to deliver a message.
Nyxx performed for about twenty minutes before she had to say good bye to the growing audience. Everyone loved her and her kind words. It was a breathtaking opening act by an amazing artist. Even though the stage was permanently lit in dim red light only.
Up next was Night Club. Night Club is an American electronic band, formed by Mark Brooks and Emily Kavanaugh in 2011. The band currently resides in Los Angeles, California, United States.
The duo had some harsher tunes for the now crowded Brick & Mortar. So were their outfits: very punk like and large. Somewhere between punk and industrial, their music was getting the audience to move along. The singer was shouting and singing to the audience while Mark went crazy behind the keyboard while playing the songs. The venue was crowded now and there was not much room to move around, but nobody cared. The dim red light remained. Night Club performed for about thirty minutes.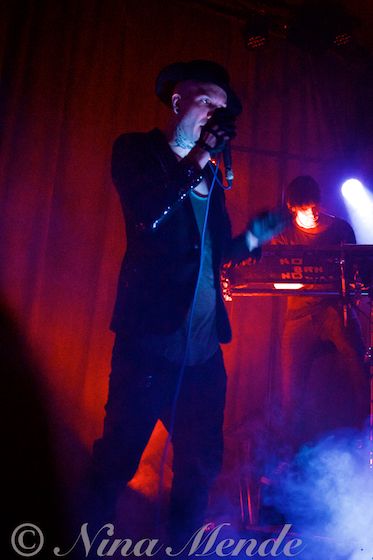 Now it was time for the main act: Aesthetic Perfection. Aesthetic Perfection is an American electronic musical project created by Daniel Graves in 2000. As of Fall 2011, Aesthetic Perfection is signed directly to Metropolis Records in the United States and Out of Line Records in Europe. Additionally, the band is licensed to Gravitator Records in the Russian federation and Death Watch Asia in Japan.
The trio entered the stage, and everyone was cheering out loud. Ready to dance. The flashing bright lights set the mood and the dance floor was open to be broken. And everyone sure did. During the course of the show, there was even mosh pits going on and small circle pits. At an electro / industrial show. It was pretty impressive.
The stage was small, but the singer Daniel still danced around and tried to move to his songs as much as possible. Tim van Horn behind was going crazy behind the drums. Beating and jumping around to the music. So was the keyboarder behind his keyboard. The band was having a lot of energy on stage, infecting the audience with it.
Some fans in the front row were eager to get close to the band and tried grabbing them at any possibility.
It was a very passionate and energetic performance that lasted for more than one hour. Aesthetic Perfection played all their hits and a whole lot more. The band played songs of all their albums. Plus an encore of two songs.
It was an amazing night with three amazing bands. Make sure to check them out when they hit your town.
Nyxx
Nyxx Facebook