[schema type="event" evtype="Festival" name="Amphi Festival" description="By: Sabine van Gameren and Nina Mende" sdate="2016-07-23″ street="Tanzbrunnen" city="Cologne" country="DE" ]

Solitary Experiments is a German band from Frankfurt. These guys celebrated their twentieth anniversary here at Amphi Festival. As the trio entered the stage, they wore their usual outfit of red button down shirts and a black tie. But they only looked formal and up tight. Solitary Experiments raged on stage, performing their electronic music and got the entire audience to dance and sing along to the music.

Angels and Agony was the first one to play in the Theater stage as the ones before them cancelled. They are an Dutch formation and play some electro pop music. They were ready to give us an interesting start, showing us that they know very well what they want to put down musically and performance wise. And they do quite well, but in this early time frame the venue is not too filled yet. A pity because the band has potential. The have been around for quite long, but with some fine tuning here and there I would not be surprised to see them at a later time frame in future Amphi's.
Now, it was time for a legendary band that drew a bunch of fans over to the main stage of Amphi Festival: Megaherz. Megaherz is a German industrial metal group formed in Munich in 1995. One of the band's most famous songs is "Gott sein" on their first full album "Wer Bist Du?". Megaherz has gone through many changes in musical style since their founding.The band came on with face paint and a confident performance. They began playing their music right away, getting the audience to rock along. The singer had a bloody baseball bat as microphone which he pointed towards the audience every now and then. None of the band members was ever stopping to move, constantly posing and playing to the audience, teasing them. Megaherz pulled of an amazing performance. It surely was one of the highlights of the festival.

Dive was next and honestly WHAT THE FUCK? How did this happen? Was this Amphi having money issues and this guy offered to play for free? Naah that can't be… but let's have a closer look at this. Put in a very basic beat. Put up guy that wants to be at Amphi for free. Let him scream some stuff into a mic when he runs back and forth the stage. Make the words angry and evil and a bit shocking. Not even need to make sense. That's what seems to make Dive. No, really… this must be an all-time low in the ten years of Tempelores being at Amphi. But one thing it does right and that is giving hope to all these young and awesome bands out there that everything is possible and their chances of getting to play there at Amphi are still relevant as even this guy slipped through!
Ewigheim makes Dark Rock and is formed out of the members of the bands The Vision Bleak and Eisregen. The band plays a quite calm show, not too wild, but yet waking people up, bringing some more life into it. What makes the guys interesting is that they are aiming much for the listener. The words are a major part in their music and they seem to have a bit of sarcasm here and there. Never mind the cheeky ones either, spiking up the whole today. Performance wise the band could probably try to bring some more energy across. That was sometimes lacking a bit and it is a pity as that would make the words have more tense. Not a bad act to see though.
Mono Inc. is taking care of good shows at Amphi for many years now, so we know that we may expect some this time as well. And yes there is, some pyro's here and there, Mono Inc. does heat up the audience in no time with that. It is not only these show elements but also their frontman Martin who can easily get the audience on his side. The rest of the band appear a bit calmer but also on interest is their drummer who is placed high on the stage, looking out over Amphi having an amazing view over the audience seeing them cheering along and occasionally hypes them up as well.
For those who can't get enough of seeing Mono Inc. live, the band released a livealbum/dvd so you can get this experience also in the comfort of your own livingroom. Or go and see some of the unplugged sessions the band planned for this autumn.
In the theater house the music turned to electronic again. The Swedish duo Spetsnaz was founded fifteen years ago and have grown quite a fanbase since then. As they entered the stage, the audience was ready to dance. As Spetsnaz began with their EBM sounds, they set the audience in motion until the last song was sung. The singer walked up and down on stage, shouting and singing to the audience, while Stefan was going wild behind the synthesizers. It was a catchy performance that got everyone to go along.

It was time for some classic and metal now. Who would be best to meet that other than Tarja. Tarja Turunen is a Finnish singer and songwriter who used to sing for Nightwish for many years. Since 2005 she is walking on solo paths and will release a brand new album in August. She entered the stage with a full band that even included a cello player. With a beautiful dress she rocked the stage, along with her fellow band members. Always posing and performing for their fans, Tarja even waved towards quite some fans, always smiling and enjoying the performance. And so did the audience. The fans cheered out loud and appreciated the positive vibes coming from the band. Tarja impressed with her looks, voice and performance today and left quite some visitors speechless.

Back to some electronic vibes again: The theater stage was packed with people by now. All electronic lovers and fans of Aesthetic Perfection had gathered here now. Aesthetic Perfection is an American electronic musical project created by Daniel Graves in 2000. The band has released six studio albums so far. The band had just released a video for their brand new single. The trio came on stage with painted faces. They were eager to perform in this packed venue. The light was dim and the fog made it even harder to see. But as Aesthetic Perfection began playing, there was not much need to see the great performance, because everyone in the venue began to dance and move along to the music. It was an amazing show and it was impossible to stand still while the guys performed on stage.
Closer to the end, Peter Heppner was performing on the main stage. Peter Heppner is the former lead singer of the German electronica/synth pop band Wolfsheim, and has collaborated with many other electronic music acts, such as Paul van Dyk, Schiller, and Goethes Erben. It seemed as if every visitor of Amphi Festival had gathered here to see Peter Heppner. He and his band played songs of Wolfsheim as well as songs of Peter Heppner's solo albums. The music was deep and thoughtful, so people were swaying along, dreaming the night away. For one song, he briefly lost the lyrics, but luckily he had a book of lyrics right in front of him, so he could take a peak and continue with his performance. It was a beautiful performance with amazing music that got stuck in everyone's heads for a while.

The last band of the night was Blutengel. Blutengel is a German Darkwave musical group formed by singer Chris Pohl. The lyrics are written primarily in German and English and are presented with male and female vocals. The themes of the songs usually center around supernatural, dark, and romantic themes such as love, vampirism, sex, fetishism, death, and immortality. Along with a female singer, Chris shared the vocal parts. Both performed the songs, acting along to them, dancing on stage and singing towards the audience. The show was not as theatric as Blutengel shows usually are, but that did not matter. The band was still putting up an amazing show. Blutengel played old and new songs, to which the audience could sing along. The cheering was intense after each song. What an amazing closing for the first night of Amphi Festival.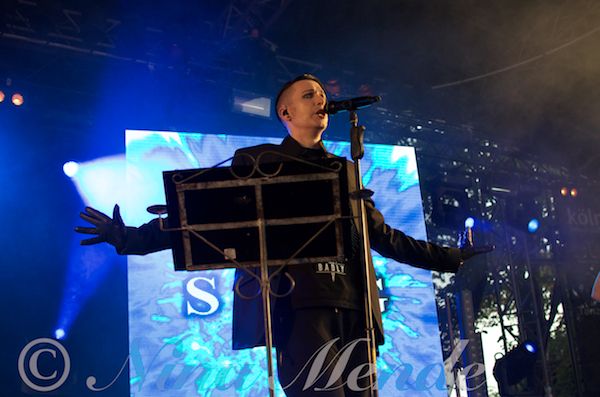 Reviewed and photographed by Nina Mende are:
Solitary Experiment, Megaherz, Spetsnaz, Tarja, Aesthetic Perfection, Peter Heppner, Blutengel
Read also: Day 2
Links: