Location: Tanzbrunnen, Cologne (Germany)
By: Sabine van Gameren & Nina Mende
Torul was the first act of day 2. The band comes from Slovenia and makes Electro pop. The band comes with some catchy tunes but what comes to notice mostly is that the band seem to find inspiration on wide base of music. Different elements are embraced and brought together as Torul. The band came with their debut album "Dark Matters" in 2010 and recently the band started recording a brand new album which would be released soon.
Indoors it is Noisuf-X which collects a group of dancers ready to see their show. Must be said, the music is pure what you will get as a performance of the band appears to be quite static. The music is there to makes its cold and mean impression. You feel it, you hear and you might get into it. Most seem to dance but after a while the energy level of that all dropped. Of course the high temperature doesn't help the band either. With plenty of albums on their name there was much to choose from, so although not everyone seem on-board for the whole set, the band does have varied show for the amphi visitors.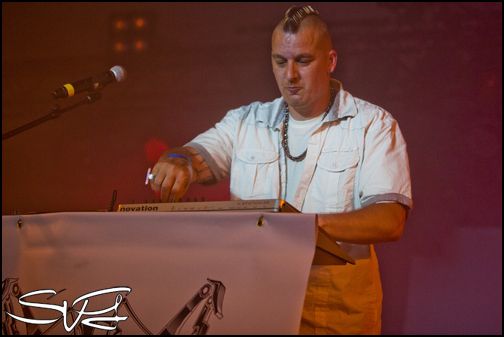 Unzucht brought a bit of a boyband feeling to the field. Screaming girls at the frontrow, a frontman that certainly knows how and when to take his poses during the show, sometimes looking neatly choreographed at other moments a bit more spontaneous and above all a catchy sound with songs that stick in mind easily. Last year the band released the album "Rosenkreuzer" which obviously found its way to the fans as there were some singing along. It did not really seem like the band had a hard time winning the crowd today as they easily get people on their hands. Charisma is one thing that helps a lot and these guys has loads of it.
Indoors we get confronted with Maerzfeld. Immediately the vocalist reminds you of Rammstein so no surprise we can tell you he is actually known from Rammstein coverband Stahlzeit. With this formation the band released their second full length album called "Fremdkörper" earlier this year and a tour followed. Now the band is at Amphi it comes to notice that the band does not really bring much of a surprise today. Perhaps we were expecting too much of it, but we did not really think the band brought something we have not heard before and with too less of an own face to that, it may be that this band was not much of an asset today. And so it seems when looking around at the Staatenhaus. Not nearly half as filled as at other bands playing here. Too bad but it seems like the audience was not really having a need for Maerzfeld either.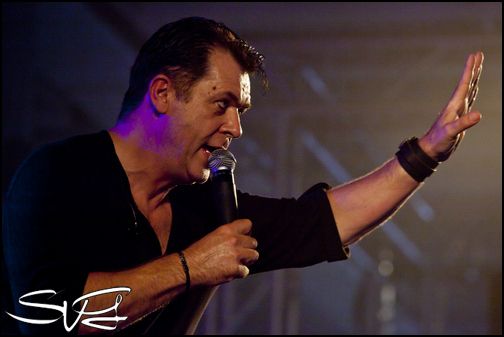 Solar Fake is a German synth pop duo founded by Sven Friedrich, the singer of the goth rock band Zeraphine. It was still early in the day and you could tell the last day had been long. People were coming in slowly. Slowly waking up. You could feel the place filling with life. The band was fairly awake though, excited to play at Amphi Festival again. And so where their fans. Solar Fake played old and new songs. The singer Sven was moving around on stage, dancing, playing some keyboard in between. The second member of Solar Fake was going crazy behind his keys. Dancing around, getting his high stand to rock from side to side. The crowd in front of the stage got bigger and bigger during their performance. Solar Fake had a good time and so did the audience.
Klangstabil was one of the acts we were looking forward to. After receiving the album "Shadowboy" at the beginning of this year we hoped to see the band live as the album amazed us. The duo are a bit odd compared to other acts right here, here and there using references of other genre's, you could find a little hiphopper inside of the vocalist in the way he brings his story out there to the audience. And although we really wanted to see it, it was not completely what we expected. The songs are all brough in a different way bit at some point it felt like the red thread was missing. No binding factor between them. Turning a bit chaotic and towards the end of the set it became a bit hard to keep your attention with it. The greatest points are to be found in the honesty and sincerity that radiates from their songs. It comes from the heart and you can feel it. That was exactly why we liked them in the first place, so perhaps that was what made it all up for us.
In the Nursery is an English neo-classical/martial electronica band, known for their cinematic sound. The duo has provided soundtracks to a variety of TV programs and films, and is known for its rescoring of silent films. And today the guys performed live on stage here in Cologne. The female singer performed very classical and sung her songs with a dark voice or one song her keyboarder took the spot and sang. It was a very beautiful and calm performance. People enjoyed it a lot. Again, the music was very calming and mellow. Some tunes were faster and catchier. A beautiful performance.
The Exploding Boy was not a band we expected here. The boys are dressed in white, play a quite pop/indie rock ish type of music compared to any other band we have seen here today and seem to be focussed on a whole different type of audience that what is to be found at Amphi. Yet it does not really matter, because the music of these boys impress the people anyway. Where they hit grounds with is that indie part, where they could simply go into dreamy darkness, where people can let themselves get transferred in their world. The driving sound that captivates people. Yes, the guys were perhaps not the most expected act here tonight but don't we love a little surprise after all? And when it turns out as nice as The Exploding Boy, then you got us on board!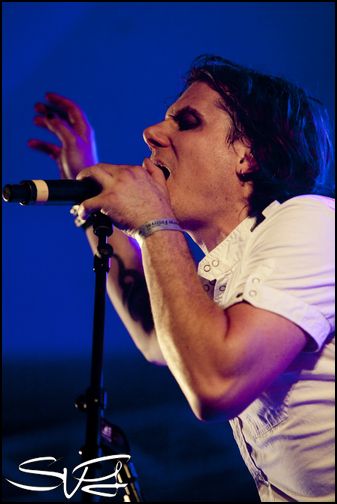 Mesh is a synth pop band from the UK. A legend in this genre. So many people had gathered to celebrate this amazing performance. As the guys entered the stage, the cheering was immense. As soon as the catchy tunes set in, everyone was dancing and singing along, celebrating Mesh. You could tell the band enjoyed this great appreciation of the audience and were smiling almost the entire time. The band members were dancing around on stage playing their hits, old and new. The music dragged everybody along so that there was nobody standing still anymore. Positive vibes and lots of joy filled the area. What a beautiful and thriving performance.
Rotersand is a German electronic music act, formed in September 2002 by musician/producer Gun and singer Rascal with dance music producer/DJ Krischan J.E. Wesenberg joining them shortly after. Being referred to by the band itself as Industrial Pop Rotersand's music can generally be described as Futurepop. And today, they performed at Staatenhaus during Amphi Festival. With dim light and fog they shared their music with the audience. Thriving songs with a dark spirit not only caused by the dark voice of the singer, the audience swayed and danced along. With fast rhythms and catchy tunes the ravers in the audience were going crazy moving to the sounds. Dancing along for an hour.
Mono Inc. is an act that has become a regular at the Amphi festival during the years. Many times we saw them take the stage and also this year they were scheduled to play. The guys from Hamburg are currently promoting the release "Nimmermehr" so all the reasons to bring some new songs to the people here today. And so the band did. Not really anything radically different than what we are used to from the German Rock formation, but certainly nothing less either. Unfortunately we could not see all of their set due to moving on to London After Midnight, but we are sure the band made the audience enjoy it as much as the first part.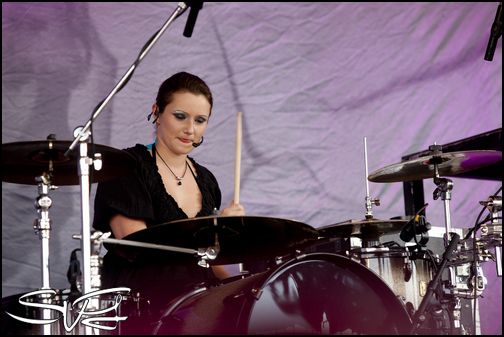 Almost twenty five years of band history was celebrated by London After Midnight at this year's Amphi Festival. The Californian gothic rock band were back. They seemed very excited and tense about that, but the audience did not care. They were cheering and glad to have the guys back. This fact made the technical difficulties the band encountered much easier as well. Actually London After Midnight had planned to show videos to each song but the video screen or projector broke and so they could not provide us with the footage. They apologiyed and continued playing their beautiful music without videos. The catchy rock music was accompanied by deep and dark lyrics that made you think, if not during the performance then after. It was a very touching performance about all the bad things happening in the world. The singer talked to the audience between every other song and the hour went by way to fast. But we will see them again soon…
The Norwegian synth pop band Apoptygma Berzerk was playing here in Cologne as well. With their big fans base being at Amphi as well, the Mainstage was crowded. It seems like every visitor had gathered to see Apoptygma Berzerk perform. The band seemed happy to be back on stage and started performing right away. Playing all their hits the huge audience was able to sing along to all of those. The catchy synth pop songs were getting everyone to dance along. Stephan, the singer, was jumping around on stage singing to everyone he could reach. The other band members went crazy behind their instruments. It was a very energetic performance. One of their last songs was "Major Tom". Since the original version is German, the audience went crazy with cheering and sang along with the German lyrics. What a beautiful show.
The German EBM band Die Krupps comes with almost thirty five years of band history. They set up their equipment on the indoor stage and the venue was packed. Dark light and electronic beats is all Die Krupps need. It was getting late and the last day of Amphi Festival was coming closer to an end. But nobody was sad yet, instead they celebrated the moment. In this case: The performance of Die Krupps. Thriving and pushing music, mostly sung in German so that everyone could sing along. The staccato in the rhythm of some songs was energizing. The band was moving around on stage, the singer was bending over to the audience. Talking between the songs and thanking their fans for all the cheering and support. Die Krupps played for a little over an hour, keeping up the pace and pulling everyone along.
The German band Eisbrecher seems to be everywhere these days. So it was not a big surprise to find them here as well. Which is not a bad thing. Not at all. The Neue Deutsche Härte band has a huge fan base and a lot of supporters. There show is always a blast, literally speaking. And it sure never gets boring. They include lots of great elements into their performance. Today they all ended up drumming on big metal tons for a song and later the show included fire. The songs Eisbrecher played were of course the popular ones but also some hits and covers. The band is always making jokes with the audience, talking with them and playing games, and so were they today. It felt like a big family reunion that everyone had waited for. The music was energizing and catchy so no time to be tired. The day was soon to be over anyway. So the fans kept going for the ninety minutes of Eisbrecher madness. Go check out their show if you ever get the chance. It is a must see for sure.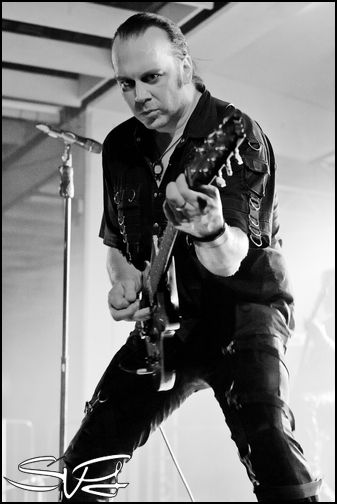 A Symphonic closer had been found for the second day of Amphi. The band Lacrimosa have made their name clear through the years since they have started this formation in 1990. The band has fans all over the world and it is to see that this band has a lot of different qualities. For example, they have a drummer which makes his presence quite clear, putting his sound right up there in the mix. Then the guitarists. They seem to have a heavy back. The way they use their instruments indicates they are not holding back from the heavier sound and when they come forward to have their moment of shine you can see their identity come alive quite well. Though what really makes the band unique is the amazing way the two vocalists come together in an exciting game of hide and seek with the voices. Full power when needed, hold it back when needed, the two dose it very well and together they give soul to songs coming from the heart. A worthy way to close down Amphi 2014, a nice show to end it all with.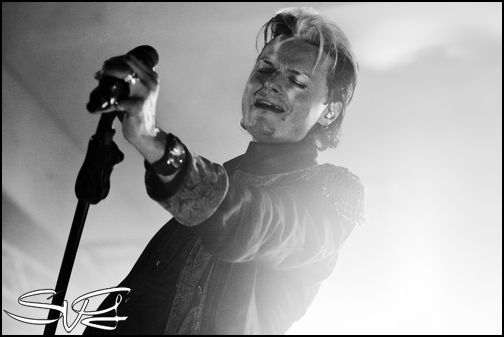 Only a year to go to the next edition, but be aware that these artists are all touring a lot so they may be close to you sooner than you may think!
Photo's and text of following bands by sabinevangameren.com:
Torul, Noisuf X, Unzucht, Maerzfeld, Klangstabil, The Exploding Boy, Mono Inc, Lacrimosa
Photo's and text of following bands by Nina Mende:
Solar Fake, In The Nursery, Mesh, Rotersand, London After Midnight, Apoptygma Berzerk, Die Krupps, Eisbrecher
Links:
Amphi Festival website