Supports: Death Letters; Venue: Tivoli de Helling, Utrecht (Netherlands)
By: Sabine van Gameren
The band The Red Paintings was playing Tivoli de Helling on a Sunday evening. A support was with them this night, it was the Dutch duo Death Letters.
They are intense, a duo and perhaps not at all what you expected at first. Because the two of them start it rather mellow you might though an indie duo was in front of you, but you could be rather wrong with that, because the guys have intensity and as soon as it comes out the image changes.
The two got noticed in musicland at a young age already, winning prizes at local band contests and years later they just returned from a German tour with a whole package of experience in the backpack and you can see that coming alive in the songs they have written. All well-thought, with tensions and calmer moments the band tries to put you on that rollercoaster and easily you follow their guidance.
A thriving set of these two guys are perfect warm up for any gig, good to see them around here tonight.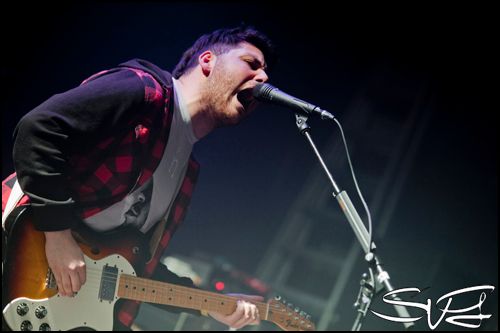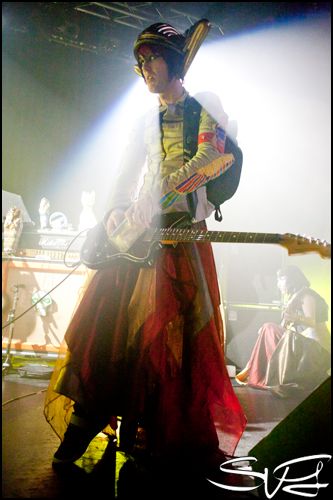 The Red Paintings are much of an experience. The band does not only present you with music, but give their own definition of the word performance by having not only an Egyptian theme throughout the evening but also invites local artists to join them onstage during their shows for creating a painting or be a human canvas for one of the painters.
Musically, you get presented with rock that includes violin as a vibrant part of the sound and that gives it all a cosy atmosphere. Frontman Trash McSweeney seems a little confused about his whereabouts which results in an awkward silence between the songs but he manages to talk himself out of it. The whole adds to the personality of what he sets down, an artist rather than a musician, keeping the wider label upfront to let the possibilities endless. So going to a show of The Red Paintings is not only a concert, but an art exhibition, a (self acclaimed) comedian and above all the creative wizard of the evening.
Highlight of the evening comes with song "Streets Fell Into My Window" which makes the drama come out very well for this band.
Overall an interesting performance of the band, they go for the overall experience so it's worth to go check it when they are around.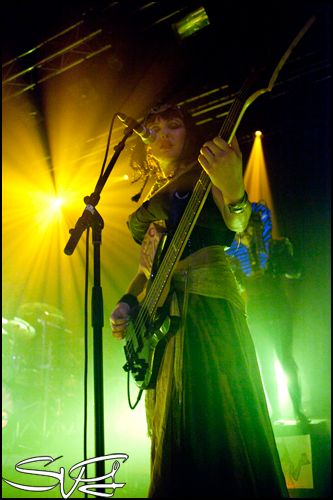 Photo's by sabinevangameren.com