Venue: Soundpark Ost, Würzburg Ost (Germany)
By: Nina Mende
After I had spent almost two complete days at the music fair in Frankfurt I was totally exhausted. But since I hadn't seen FAQ live for 3 years I just had to go to Würzburg to see them again. And besides me wanting to see them live again, Phil (singer) and I had agreed on doing an interview that day as well.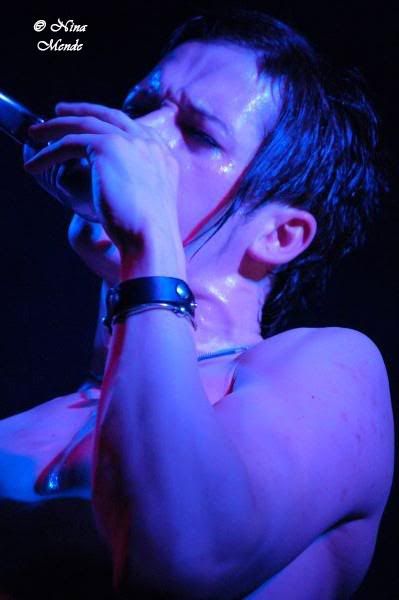 So right after the music fair closed at 6pm I drove straight to Soundpark Ost in Würzburg, where they were playing at. Since FAQ were opening act I had to be there in time as well. The other two bands were Down Below and Unheilig, but since we were doing the interview then I wasn't able to see them on stage. That didn't matter though since they are on tour a little bit more often than FAQ.
The Swiss electro band FAQ started in 1994 under the name Carpe Diem. They toured with several electro bands such as MESH, Apoptygma Berzerk, De/Vision and many more. In 2003 they changed their name to FAQ. Now they are working on their sixth studio album. You can read more about the change of name and the last album including the cooperation with Jenna Jameson in the interview.
So there I was, I arrived in time and first thing I did was checking out the venue since I had been there for the first time. It is a medium sized venue, which was crowded, with a balcony where the merchandize stands and another bar are located at, further there is a separate bar and sort of café section on the left side and another bar on the right side of the stage. The stage is also medium sized, but the floor in the audience room is quite uneven so be careful if you wear high heels. Back in the photo pit, which I was only sharing with one other photographer who stayed on the other side, I was preparing my camera for the show, and then it was time. FAQ came on stage after an intro. The stage was decorated in the Whitechapel style of the upcoming album with lanterns and a banner, as well as band logos everywhere. They played seven songs, so a very short gig, but it was great. They played some songs of the upcoming album as well as some old songs and the song "Tuning In To The Frequency Of Your Soul" by Apoptygma Berzerk. The front row was quite happy as Phil was coming up to the very front of the stage and was almost standing and dancing next to them. The three guys of FAQ were rocking the stage with their electro-pop and their new songs. For one song Phil put on white gloves and a top hat reminding me of Chris Corner/IAMX, especially with the dress coat he was wearing. It was a great show of a great band and I hope that this time it won't take three years till I will see them again.
Here is what they played:
Intro
Ten Bells
Sunday Afternoon
We Come In Pieces
Birth Of The 20th Century
Tuning Into The Frequency Of Your Soul
One Trip, One Noise
The World Is Cold Enough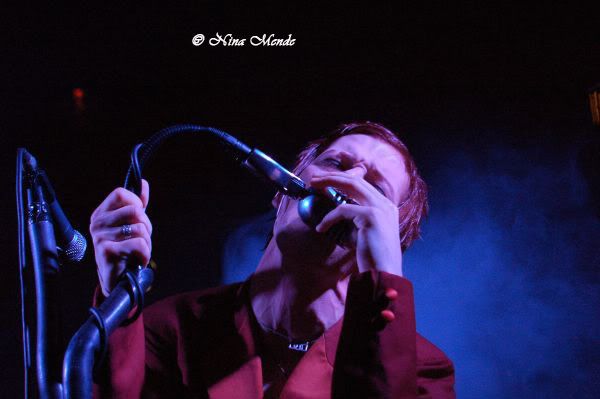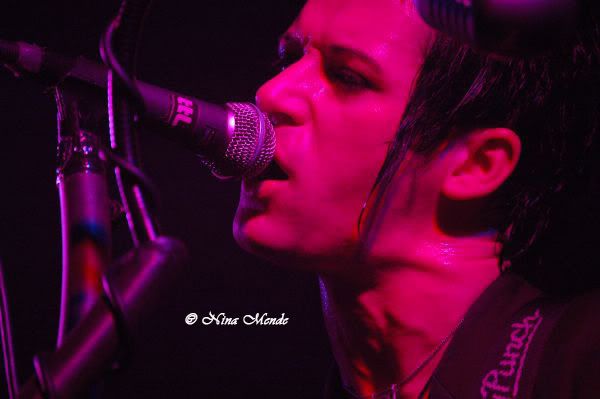 Links:
FAQ Official
FAQ MySpace