Date: 04-08-2007, Zuider-strand, Netherlands
By: Elvira Visser
  Schollenpop is one of those festivals that have something special. This festival
  is a free festival on a superb location, the beach. Located on the beach the
  festival attracts most people when the sun shines. As this was one of the first
  actual sun days in the last 2 months there were many people enjoying the festival.
  The vibe at the festival was very good and very relaxed, probably because everyone
  was lying on the sand enjoying drinks, the sun and music. The audience was very
  mixed, young and old, surfers and rockers which was probably adding to the relaxed
  atmosphere. Some of the musicians did not mind playing in front of ladies wearing
  bikini's and a beautiful sunset.
  Schollenpop works with a main stage and a local stage. A local stage is good
  because it gives local people the change to perform and when they are changing
  the main stage there is something to see and hear. Personally I had to say the
  quality of the local stage was a bit low. I think I have seen 2 good bands.
  The best band on the local stage was Maroen, who are also appearing on a compilation
  album in America. I think their performance could have been much better if they
  had a bigger stage. They had little space still played with enough energy without
  hitting each other with their equipment. I think this band is really promising.
  Being a beautiful day, the roads were packed with cars heading towards the
  beach to I got stuck in a nice and hot traffic jam which resulted in missing
  2 bands on the main stage. Sun was shining bright and the feel of sand on my
  feet made me smile. The first band I was about the see was one that can lighten
  up your day, and for me it set the tone for this relaxed festival.
  Hasselhoff was the fist band that I saw and they started of with a lot of energy
  on the stage. Their songs can be described as disco/electro rock with a poppy
  side. Good music to get the crowd moving in the sun. The singer was giving his
  all I think he moved from left to right on the stage and when he was not singing
  he entertained the audience with his dance moves. This was the perfect music
  for a sunny day. According to themselves this is the new swing, sounds of the
  80's and the finest of now.

 Seven. This band did not left a  thrilling memory. There was  nothing wrong with
the music and how they played but this was my least favorite of the day. Their music can be described as powerpop with some rocky tunes. The band exists of
5 people and they have all been around in the music scene. To me this band sounds like one of many off those out there. They do have the right attitude on stage and know how to interact with the crowd who did seemed to like them. Maybe this is one of those bands you need to hear more then once. We will see in the future.
Good Things End, well luckily for the audience the good music did not end.
This band exists of brothers and a sister which turns out in nice harmonic pieces of their singing ability. Front women Colette can do a lot with her voice and she proved that with covering 3 bands that are quite difficult, Guano Apes,
System of a Down and Skunk Anansi but she pulled it off and impressed many people.
I think they covered songs because they are still working on their own material
and album.
  Moke is one of the bands that are hot in the Netherlands right now, and not
  without any reason. They proved they know how to play and their stage act was
  maybe a bit boring for some but they looked very slick all dressed in black
  and all their amplifiers had a thick orange band around them. Their music reminded
  me a bit of oasis and some English bands and the appearance of the front man
  might have to do something with it but their songs are well arranged and sound
  good. No surprise that Felix Maginn (the singer) comes from Belfast. Their keyboard
  player really adds something to the songs and create different moods. Of course
  they played their hit single "Here Comes the Summer" and what a better
  place to perform this song than on the beach in the sun. Summer was definitely
  here this day.
  De Heideroosjes. I think it has been some years since I had seen them and as
  always they left a good impression. This is a punk band that you as audience
  just like or hate. De Heideroosjes (pronounce as hi-the-rose-yes) play a mix
  of punk, hardcore, folk and metal and their lyrics are bout life and the situation
  and shit in the world.
  They have been playing for many years, even toured with the Offspring and Bad
  Religion and they know how to entertain the crowd. Taking photos of them, making
  fools of themselves in order to get the crowd responding, but this all works.
  Their show on stage is not boring at one point.
  There were enough people that liked them and with some encouraging from front
  man Marco they started a circle pit and the audience was jumping up and down
  and moving their arms above their heads.
  The band is working on getting their feet down beyond the borders of the Netherlands
  and I think in the last years you could notice more English songs. But luckily
  for the older fans, the band is around for something like 18 years, the played
  some old songs like "Sjonnie en Anita", "I'm Not Deaf I'm
  Just Ignoring You" and "United Scum"
  The Twang. This should be a promising band from the UK. I lived in the UK recently
  and I've seen them on TV and all and they sounded quite nice but being
  on stage at Schollenpop they ruined it for themselves I think. Or at leased
  they ruined it for me.
  One of them looked like he had been smoking some joints and was not really clear
  in everything and was using a lot of swearing when he spoke. This might be apart
  of their act but when there were some technical problems in the first song he
  said something like: "ah fuck you all, we're big in England, I don't
  give a shit". I mean this is not the way you attract new fans do you?
  Also the sound from both of the microphones was not everything, which was a
  pity because I was standing a bit away from the stage enjoying the atmosphere
  and the music and I couldn't really hear what they were singing. It came
  out as mumbling with some "fuck you" and "fucking this".
  When just listening to their music The Twang makes double voiced good old Brit-pop
  and it reminded me a bit about The Streets. I think they are promising but maybe
  loosing a bit of that attitude cannot harm, or they had a bad day.
  Schollenpop 2007 had good bands, different genres to please all and the sun,
  location and atmosphere added together made this festival an success.

Seven: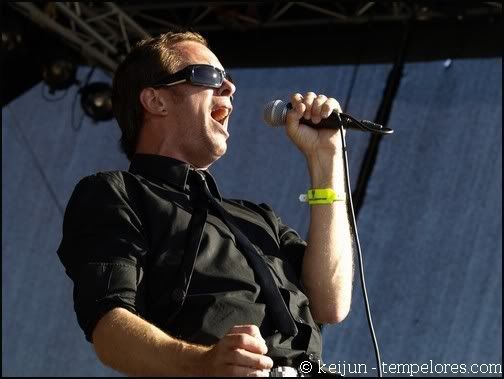 Twang:
Moke:
Heideroosjes:
Good things end:
Links:
  Schollenpop
  Schollenpop myspace
  Seven official
  Hasselhoff Official
  Good things end Official
  Moke Official
  Heideroosjes Official
  The Twang Official