Location: Leipzich (germany)
By: Nina Mende
The Wave Gothic Treffen in Leipzig is more than just a festival. It is an international get-together of different bands, goths, punks, medieval lovers and people that live that way, of music lovers and many more.
The festival is not taking place on one huge ground with three or four stages, no. It takes place in the whole city of Leipzig in over 25 venues all over. That's also the reason why you can use the public transportation for free when you are wearing a festival wristband. Going from A to B by car during the festival is more than just annoying and you can hardly find a parking lot. Due to the many venues and the tight time schedule I recommend everybody to check the time tables and schedules in advance and create a personal WGT schedule, you can't be everywhere at once and you will have to decide where you would rather be. That's how I always do it and with my schedule getting around is way easier. In the end I usually see even more than I actually planned.
This year I didn't go to any of the many parties that you can go to every night, but I still had a blast. Simply walking around in the city and seeing many people in these gorgeous dresses and uniforms, with the gorgeous hair-do and make up, simply impressive. Also great to visit is the shopping hall at the Agra area and the medieval village where you can also eat original food and can see many things from that time, really interesting. Leipzig is a very historical city in Eastern Germany, very suitable for such an event.
Before I start telling you about the festival I will give you a short introduction about the venues I visited:
Werk II
Werk II is a simple hall with huge iron doors located at Connewitz Kreuz in Leipzig.
Kohlrabizirkus
Kohlrabizirkus are two cupola halls. The events are usually held in the North Hall of both. It is located in the south of Leipzig, in the district called Connewitz.
Cinestar
Cinestar is simply a movie theater located on the upper floors of a little mall in the center of Leipzig
Parkbühne
Parkbühne (park stage) is an open air stage located in the center of the main park in Leipzig somewhere between Cinestar and Werk II
Agra
Agra is the old fair ground of Leipzig at the border of the city. This is where you can find the camping are, the "Heidnische Dorf" (medieval village where you might camp as well in medieval style) during the festival, as well as many food stands. Indoors you can find the huge shopping area, a café, the main stage and a little hall where some parties and discos are held. In front of the Agra halls the pretty dressed visitors walk up and down, photographers get their best shots of visitors there and many people chill in the nice weather we had this year. Behind the Agra halls are the backstage areas, all the trucks and other vehicles and the festival organization as well as the Red Cross and a mobile police station located.
Other special venues that I didn't visit this time are: Auerbachs Keller, Moritzbastei, Völkerschlachtdenkmal and the Parkschloss.
When getting your festival wristband you also get a map with a schedule on the back. There it also states the addresses of each location as well as how to get there by public transportation. And now over to my review of the WGT 2008:
Since I couldn't get Thursday off, and Friday only half of the day, I could not go before Friday noon and missed the opening of the festival, but that wasn't so tragic.
FRIDAY:
After getting stuck in some traffic jams I finally arrived in Leipzig, a little later than planned though. First thing to do was getting my wristband and photo pass at the entrance of the Agra area where you also can get tickets if you don't have one yet.
As I got that done there I hurried to Werk II and arrived right in time for "Solar Fake". The Werk was quite full with people dressed in all black. The stage seemed so empty with only Sven (vocals) and Frank (keyboard) on it. Behind them there was a screen playing some sequences fitting to each song. Solar Fake is an electronic EBM project of Sven Friedrich (Zeraphine, Dreadful Shadows). During the first songs there were some problems with the microphone but they got fixes quickly and the show went on. Sven has a great voice with which he sang almost all Solar Fake songs off the album. He moved back and forth all the time, a little jumping here a little jumping there. The audience was clapping along and cheered a lot. There was a lot of fog on the stage, but also great lights so it didn't matter too much.
Now, as Solar Fake was finished, I rushed over to the Kohlrabizirkus by car. A not recommendable thing to do, but I had no time to figure out how to get there by public transportation and wait for a tram, I would do that the following day. Luckily I found a parking lot right away and got there right in time to see Elis, a band metal/goth-rock from Liechtenstein. Since early 2007 they have a new female singer who is from Austria, because the original singer unfortunately passed away mid 2006. The venue was quite filled and there were many metal heads in the audience with long hair, banging and having a great time. The music of Elis was quite metal, the female singer had a strong voice and could also sing quite high. She danced a lot on stage while the others of the band only played their instruments and didn't move too much. They had great light on stage and did a great show.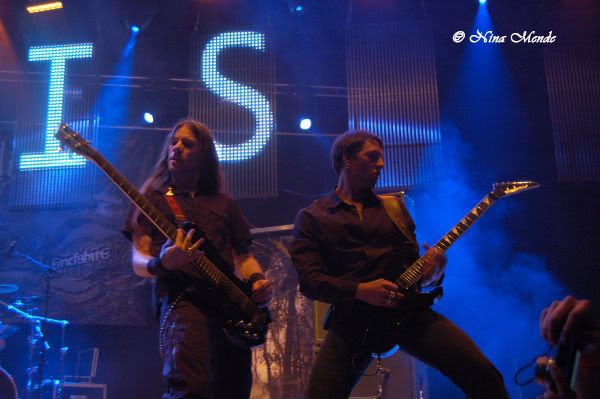 Up next in the same venue was Tristania, a Norwegian gothic metal band with death and doom metal influences. Another female singer on stage, this one is from Italy. With the support of a male singer and backing shouters they put up a great gloomy metal show which was much loved by all the metal heads in the audience. The light was held very dark and red.
The metal music was quite melodic and energetic. The motions of the female singer were interesting to watch, it seemed like she visualized the vocals and the music. Very interesting.
Last one for the night and the first festival day was Tarja, also playing at Kohlrabizirkus. Now some of the hardcore metal fans had left but several new people entered the venue. The first thing I saw was the two drum sets. One regular one and one electronic one where guitars were standing right next to it, so I figured one of the band will play the electronic drum set for some songs and guitar for some others, and so it was. There was also a keyboard which was played by a female keyboarder and a cello. Tarja came on stage dressed in all black with black high heels. The performance was very energetic and Tarja was rocking in these shoes without tripping. Impressive was also the fact that she can sing the high opera vocals while jumping around. The stage was huge but was quite filled with the band and their instruments. The bass player was interesting to watch as well, his facial expressions were very passionate. One of the last songs of the show was the song "Phantom of the Opera" which she sang together with the electronic drummer. As encore they played "I Walk Along". The set only included songs of the "Winterstorm" album and the one cover. It was a really great show and a stressful yet gorgeous first day of this year's WGT for me.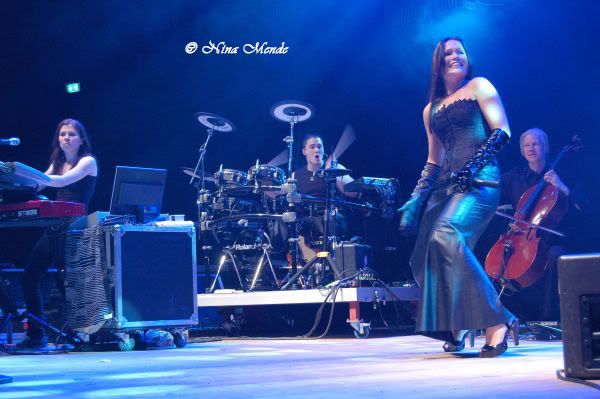 SATURDAY
The second day, I woke up earlier than I usually would just to get breakfast in the hotel. Then I figured out how to get from A to B via public transportation. Since it is included in the wristband, why shouldn't I use it? After breakfast and figuring out where and how to go I got dressed and done, ready to go and enter the next festival day. With sunglasses on I went to the tram station in the brightest sunshine. Perfect festival weather!
First thing on my schedule for this day was the movie "Stardust". When you want to see a movie there (they are in German) or attend a reading which are also held at Cinestar (sometimes also in English), you go there about 30 minutes before the beginning and get a "ticket" by showing your wristband. Be there in time because the seats are limited. Then you can go in. The movie "Stardust" was a very impressive one. Funny to see only people dressed in all black in the movie theater. Also ironic was the song at the credits in the end of the movie: Take That – "Shine". I won't tell you anything about the movie. It's a great one and you should check it out yourselves.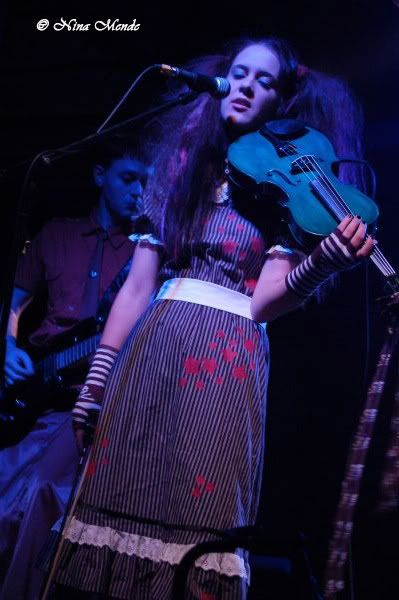 The first band for this day was the German band Love's Labour's Lost who played at Werk II. Since I had time and the sun was shining really bright, it was nice and warm; I decided to walk there from the movie theater which takes a little more than an hour. Every year again it is funny to see the families in the medieval dresses, even little kids dressed up and all these great outfits the visitors wear. And it is also great how the inhabitants of Leipzig respect this happening; they are even interested in it and talk to the visitors asking questions. So don't be irritated when a granny is coming up to you and asks you something. So after some time and some walk I finally arrived at Werk II, it was still quite empty but it also was the first show there for the day. They would all come, and it was also nice weather outside, so why be inside way before the concert starts?Anyways, there were more people as Love's Labour's lost began to play with a new guitar player. As far as I got told he is not permanent but will play a couple shows with them, but I am not quite sure. It was the best show I have ever seen of them, they improved so much since the last time I saw them. Wow! Love's Labour's Lost played songs off the Goldstaub EP, some older ones and also some brand new ones which I liked a lot. The light was ok, but there was a lot of fog so you couldn't quite see the drummer. A great show, way too short though.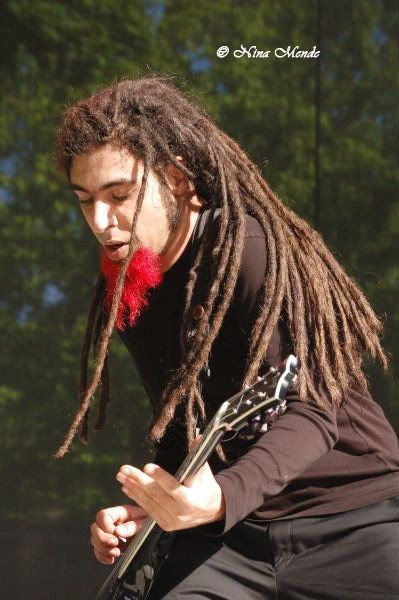 Now I had to rush over to the Parkbühne, fortunately I made it right in time for End Of Green, a German band I tried to catch live for some years now. I only missed the first song, but that was ok. The sun was shining bright and I wondered if the guys on stage aren't sweating like hell dressed in all black with long pants and stuff. The singer even wore a hat – and two pairs of sunglasses. The Parkbühne was very crowded and everybody was dancing along. End Of Green is a great rock band and while watching their performance I realized that I definitely have to see them live again. They played and talked with and to the audience. The melodic rock they played was easy to sing along and getting stuck in your head, it makes you move along as well. The singer who also played guitar somehow reminded me of Jyrki during one or two songs. End Of Green, a really great live band, I just can repeat it. Wow. They played songs from all albums, including the hit "Dead End Hero" where many people sang along. The band seemed very down to earth, even after all this years.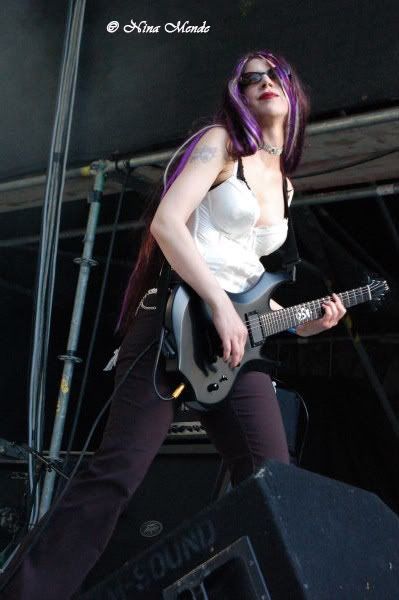 The next band on my schedule also played on the same stage: Jesus on Extasy, another German band singing in English. They had camera teams running around on stage with them recording everything. I have seen the guys of Jesus on Extasy everywhere already, just not live on stage. The two girls (keyboard and guitar) in the band neither. I also only knew one or two songs of them, so it would be interesting finally seeing them live on stage, and I had to say: they are good! They play nice electro synth rock that is easy to sing and dance along. The girls in the audience cheered big time, screamed and danced along. The band jumped around a lot and was very energetic on stage. At some times Dorian's voice reminded me of Love's Labour's Lost.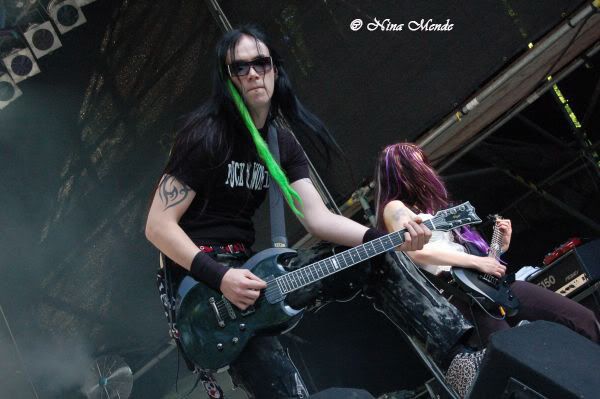 Now it was time for me to change the venue again. Back to Werk II was where I was headed now. The next band I wanted to see there was Tragic Black from Utah/USA. Werk II was now very crowded, the audience was mostly punks with Mohawks and big hair, dressed in ripped pants and stuff, lots of colors, bright colors! Like green, pink and so on and with make-up! Tragic Black is an electric death rock punk band who was dressed just like that. Their performance was very energetic and they jumped around all the time. The audience was moshing and jumping around as well, shouting along, singing along, cheering and being loud. Just like a typical punk crowd. There was much fog on stage and many flashing lights, almost no steady light. But that was all fitting perfectly well to the whole show.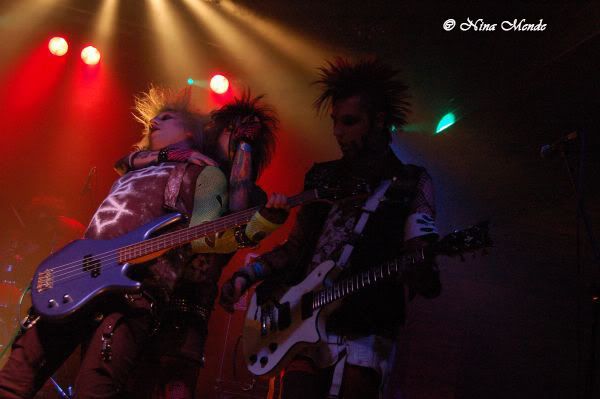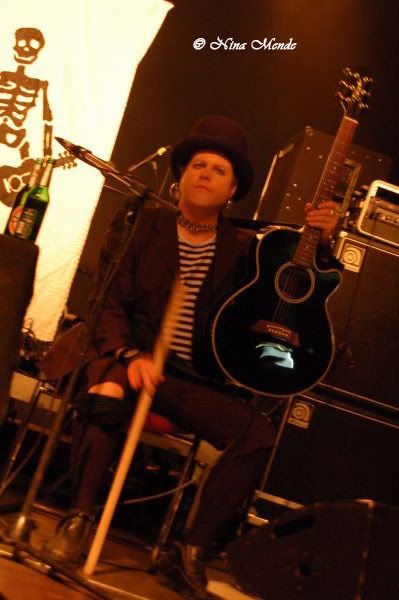 Last band for me that night was The Dirty Weather Project. There were many more bands to see that day but I was just too tired and by the time they were done it was past 11 pm. It had been an exhausting day. But first there was still the performance of The Dirty Weather Project. This is a project of Frank Vollmann (Frank the Baptist) and Lucas Lanthier (Cinema Strange, Deadfly Assembly). Two already very different bands and styles and also two different types of people, this fact made the project so interesting. I guess you can describe the music as indie or even lounge music. Not fitting in Werk II that day, yet gorgeous to watch.There were many fans of both artists to see the show, and it really was a show. A sitting audience room would have been better I guess. It was almost like watching a play in a theater; this is also the reason why I won't go any deeper into details of the show, because I don't know if it's always the same. And I don't want to spoil it. But, very interesting to watch and to listen, so check it out by any chance!!! The audience was fascinated and applauded a lot. The Dirty Weather Project has a unique sound, unique artists and a unique performance. A MUST-SEE!

SUNDAY:
This would be my longest day of the festival with seven bands from 3 pm to almost 3 am. Twelve hours of concerts, music and bands.
The day started out at the Parkbühne again, where I saw Din[A]Tod, and electro new wave band from Berlin. Their music is melodic and calm yet good for dancing and also perfect for the sunny weather we had again. The female and male voice fit together very well. Din[A]Tod has only synthesizers, guitar and a keyboard. The only male in the band sings and plays guitar. The audience wasn't dancing along too much but they all seemed to enjoy it. The crowd was not too big yet either, but it was still early in the day. With all the parties going on during this festival nobody will get up at eight in the morning. Din[A]Tod wasn't the first band playing, though. As they finished their performance I went over to the Agra area where I would stay for the rest of the day.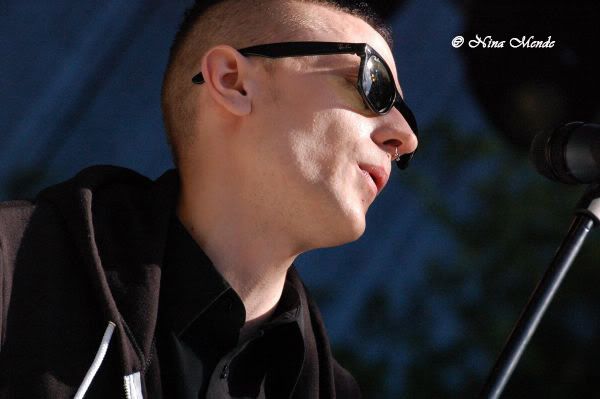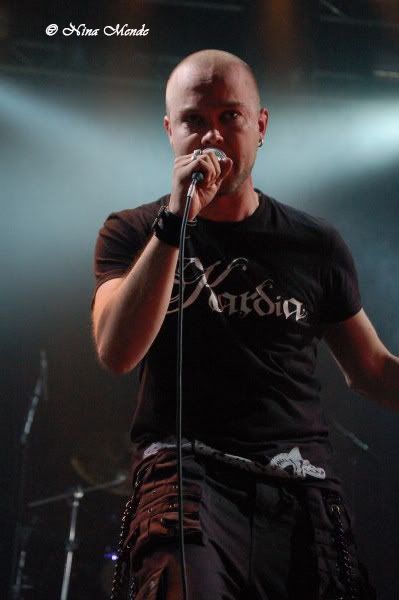 The outside area was totally crowded. Punks sitting on the grass, girls running around in their baroque dresses, photographers trying to get the most interesting outfits captured, many people drinking at the bar stands and others eating at the food stands. The inside shopping area was also quite crowded already. The hall where the stage was at was still very empty though. The first band I would see there that day was Morian, a Finnish rock band. They play very melodic and sentimental metal, as the singer said. Morian had played some other shows in Germany before they played at the WGT and they had a blast doing so. They put up a really great performance, were totally friendly and nice, I just have to see these six guys again, they were totally great. I could sing along to almost all songs although I hardly knew any before the show. The keyboarder seemed very shy, he didn't look up too much, he also didn't smile or anything but that is typical Finnish. It was really a pity now that there was such a great weather outside and many people were outside because of that missing out on that great show. But the ones that were in had a blast just like I did.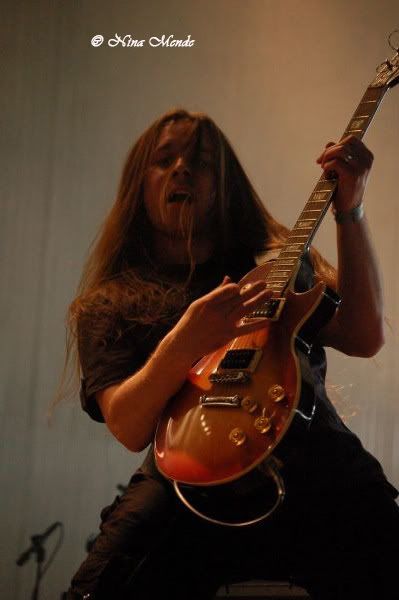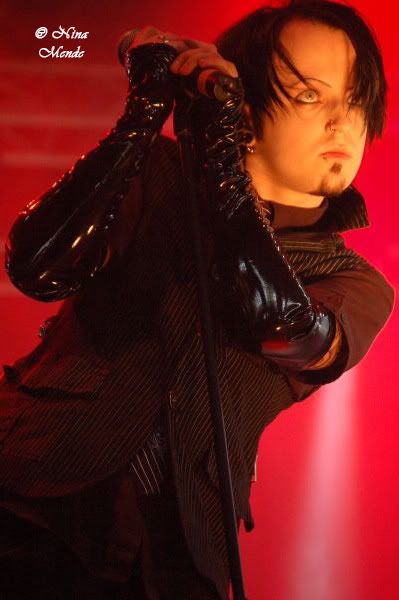 Next one was Suicidal Romance from Estonia. A trio again, also two females and a male, just like at Din[A]Tod. They two singers had great voices but you could tell that they were nervous as they entered the stage. There were not many more people in now, but it was getting a little fuller. The music was very electronic reminding of Blutengel, I called it romantic electrocution and I think that describes it quite well. The performance was captivating and powerful.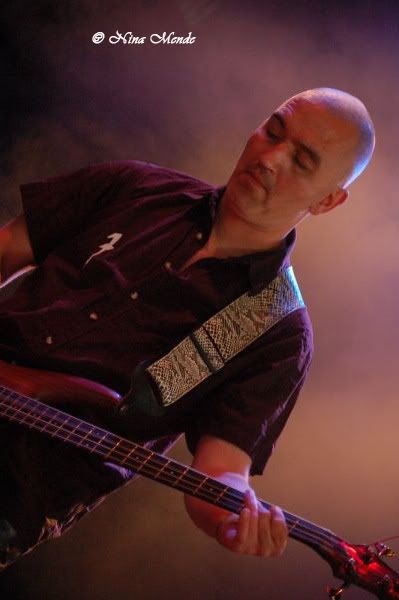 The following band Fliehende Stürme is a German band from Stuttgart that has been around for more than two decades now. A punk band that I guess you can call the German equivalent to the UK Subs. Some of their songs reminded me Böhse Onkez. There were all the punks in the audience now, dancing and jumping around, having a blast. All lyrics were in German.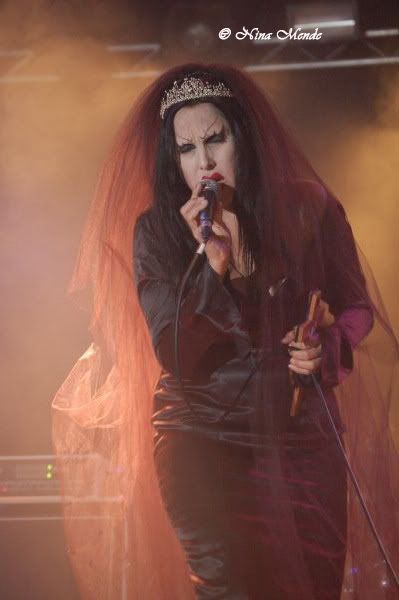 CD1334, standing for Christian Death 1334, from California was the next one. They are a very creepy looking band and interesting looking female singer with a crucifix. She pulled out the microphone cord a couple times during the performance but everybody was still cheering. There were many more punks now and the hall was quite full already. I didn't stay for the whole performance because I was hungry.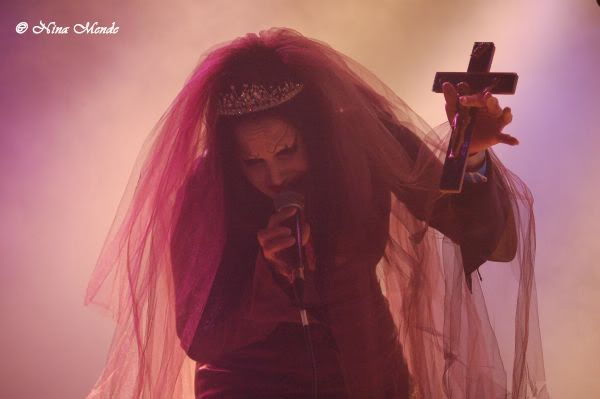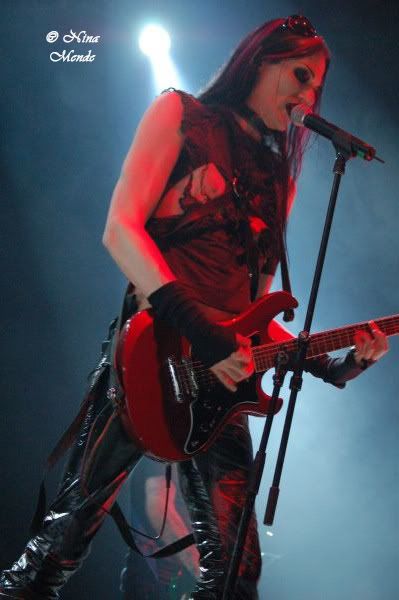 I came back to a now totally crowded hall for London After Midnight with a nicely filled tummy. This band's performance touched me deeply, I cannot really tell why, but it did. A really great performance with a very charismatic singer. The singer was throwing roses to the audience as they came on stage. London After Midnight play nice melodic rock with electronic samples. The singer somehow reminded me of Davey Havok of AFI and the whole band reminded me slightly of the Murderdolls. Their ballad even brought tears to my eyes. London After Midnight was quite political at some songs, the screen behind them brought facts and trailers of different daily news issues like war, election and so on, very interesting to watch. Sean (singer) also played guitar for some songs. The technical problems they had in the beginning stayed unnoticed by probably more than half of the audience because everybody was so amazed by the whole show. London After Midnight performed simply gorgeous and impressed me a lot. I will keep an eye on them. The songs were great, easy to memorize with thoughtful lyrics. The light was great and the guys did a great job.
Last band of the night, and it was really the last band, was Fields of The Nephilim. There was not as much smoke as there was at Tavastia during their performance at Helldone but there still was some but it was just as dark. It seemed like they had a new drummer this time but I wasn't quite sure because I couldn't really remember the last one, but that wasn't important anyways. The first song after the long intro was "Straight Into The Light", which is also my favorite. All of the guys on stage were wearing white contact lenses. The photo pit was totally overcrowded but the audience area wasn't less crowded. Only in the very back you still had some room, but you couldn't see very well from there. A totally great performance, a gloomy atmosphere and everybody enjoyed the rare performance. As it was over after more than one and a half hours we left and were looking forward to another great day.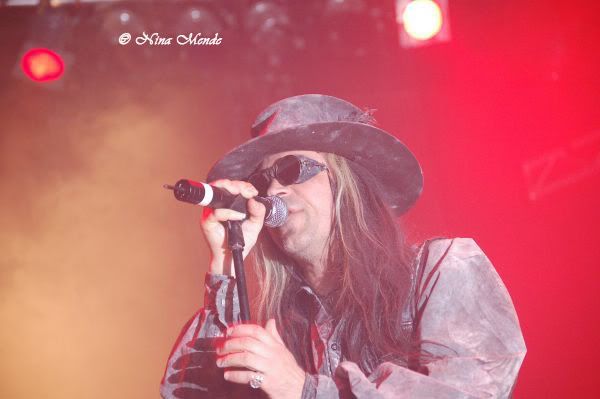 MONDAY:
The last festival day had now begun, somehow sad because it had been great so far. But festivals like this are also very exhausting. The time went by so quick and the last day wouldn't be less exciting and great.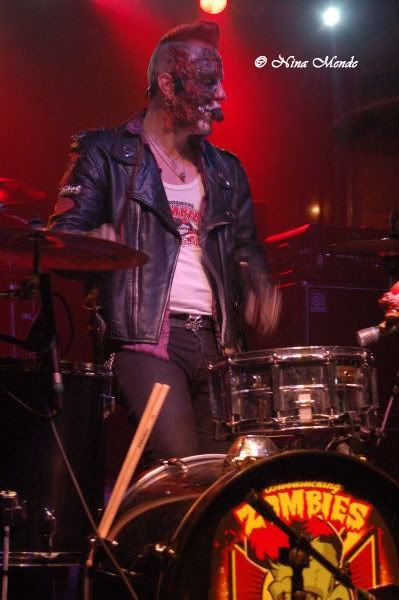 First band there was for me to see played at Werk II, so I went over there to see Bloodsucking Zombies. An Austrian horrorbilly band whose members were all dressed up like Halloween. But most of the people in the audience looked like that as well. There were many punks, Horrorbilly, Psychobilly and Rockabilly fans, many MISFITS fans. The band began with their speedy horrorbilly music and the Werk II was crowded at once. Everybody cheered and moshed, the band's music was quite loud and there was much fog. Bloodsucking Zombies from Outer Space, that is the complete band name, have a stand-up bass and the drummer is also singing and stood while drumming and singing. The keyboarder also played guitar for some songs. As their performance was over I had to rush..
Rush over to the Parkbühne to see a band I really love a lot but have never seen live: PostScriptum. A great Norwegian band playing melodic indie rock . I was totally excited before the show and totally amazed during it. They are not only great on CD and very nice, no, they are also a gorgeous live band. The audience seemed very critic in the beginning and I was afraid that they are too "goth" to like this kind of music, but as they were even singing along in the end I was totally happy for PostScriptum and glad that nobody was bored but everybody enjoyed it and cheered. I think the band was just as relieved as me. Petter had a gorgeous voice and spoke a lot to the audience, mostly even in German. You could see that the band loved to perform. The music was very melodic, thoughtful and captivating. Many people danced along. Wow, I was totally amazed by the show and I can't wait to see them again..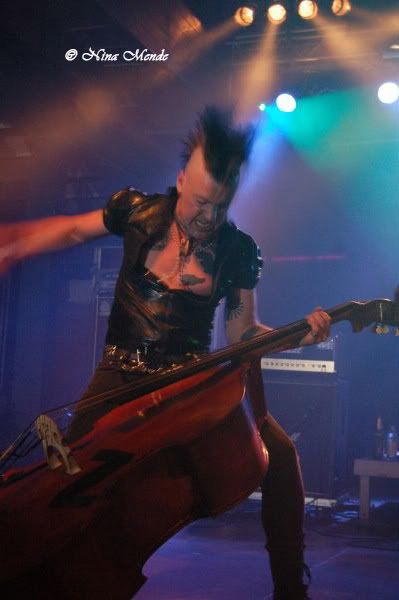 After a little break I went back to Werk II to see the Californian psychobilly band Rezurex. The venue was still totally crowded, and Rezurex started playing their speedy music. The bassist slapped the stand-up bass and danced with it. Daniel's (singer + guitar) makeup is always interesting to look at: half of his face is painted white with skull outlines, and then his Mohawk that always has a different color when I see them such as green or purple. Everybody cheered and danced along as they raced through their set. They did not talk much to the audience, but nobody cared. The audience had a great time and so did the band..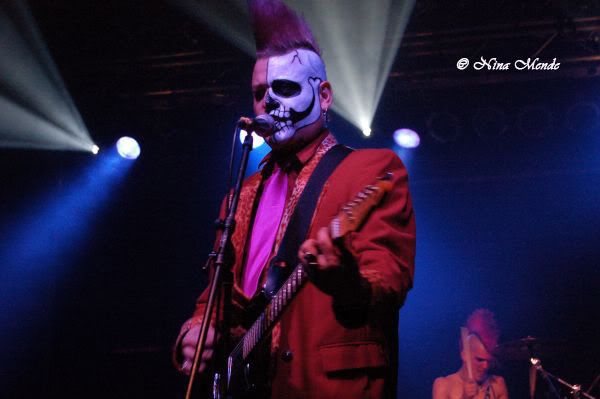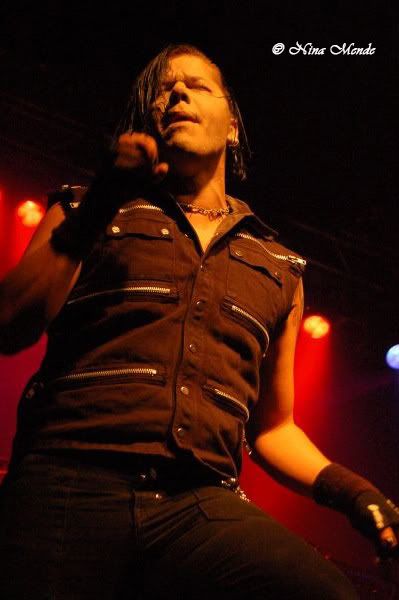 Last band for me on this festival was the German band The Other from Cologne. They have their new album released by now and they are a perfect Halloween band. Every single person in the audience now sang along, danced, clapped and cheered along to the music. The Other played songs from all albums including the new one which includes some songs in German. They also did the eye ritual again which made everybody cheer even more. Their performance was very energetic and the fans loved it.
As the show was over many people left for the closing party that took place at the Moritzbastei.
It was a great festival and I am looking forward to the next year.
Links:
Wave Gothic Treffen
Solar Fake MySpace
Elis Official
Tristania MySpace
Tarja Turunen Official
Love's Labour's Lost MySpace
End of Green MySpace
Jesus on Extasy MySpace
Tragic Black MySpace
The Dirty Weather Project MySpace
Din[a]tod MySpace
Morian MySpace
Suicidal Romance MySpace
Fiehende Stürme Official
CD1334 Official
London After Midnight MySpace
Fields of the Nephilim Official
Bloodsucking Zombies From Outer Space MySpace
Postscriptum MySpace
Rezurex MySpace
The Other MySpace