Date: 15-12-2007; Venue: Dynamo + Ramblas, Eindhoven(Netherlands)
By: Elvira Visser
  When I arrived at the venue I heard that one of the Norwegian bands was not
  playing. One of the guys just became dad, if I am right. There were 2 Dutch
  bands who would fill their gap. Have not really seen their performances, but
  I could hear them because the sound level was quite high. I was talking to the
  guys from Rules of Engagement and Scenario II and just having a great time.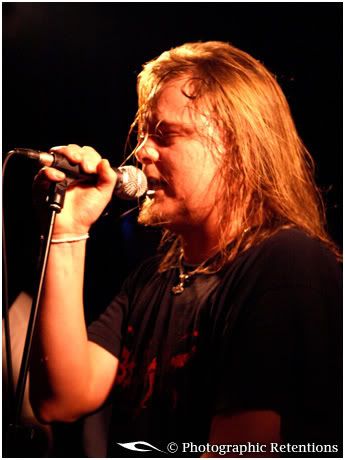 They played in the basement, quite small and dark but you can say that it fits the music. Scenario II entered the stage and to me the stage was way too little for them. They need some space, still they played great. I could recognise the songs from last time, especially "Away" was nice to hear. That song
  has a great intro and rhythm. Suddenly, after a few songs it started to rain. You did read well if you think how that was possible because they played in the basement. Somehow the air-conditioning broke down and some water was dripping out the the tubes. It did not scared the guys off stage and they played some more songs, the audience did a step back and just enjoyed them but after 2 more songs the organiser had to say that he had to cancel the gig. Much to everyone's
disappointment. When I looked at the side of the café, I could see the floor was really flooded by water. I think it was the right decision to cancel, was not really safe to play there with electric equipment.
  Not only the guys from Scenario felt shit but also the guys from Rules of Engagement,
  they came all the way from Norway to play 2 gigs, and one just seemed to disappear
  in water. In the dressing room they found a paper with the play list of the
  first band that evening and one of them was called the rain dance, or dance
  for rain or something close to that. We joked around that it was their fault
  and could laugh a little. Decided that we would go to the pub and get drunk.
  The only way to forget this.
  When we arrived at the Ramblas, a pub, both bands were there drinking. Especially
  the Norwegian guys…I saw some of them with 3 drinks at the same time. They
  really were trying to get themselves as drunk as possible to forget that they
  could not play, I think. I was a little later because I needed some food but
  when I walked in someone told me that "Peter Pan Speedrock" had just
  played there. When I looked around I saw the singer from Scenario II talk to
  the guys on stage and the sound guy. Not much later he asked the Norwegian guys
  if they wanted to play. Of course they would, they really did not have to think
  about it. They almost ran away to get their stuff. Bob, the singer, was still
  in the pub and he looked a bit worried. I asked what was wrong and he replied:
  damn, I'm drunk. I looked behind me and there was the table the guys were sitting
  around and yeah pretty much a lot of empty bottles and glasses. Well he decided
  to give it a go anyway as the other guys really wanted to play.
  Not much later they were on the stage…some a bit wobbly but still they played
  with eager. Think it would have been better in a nice venue and less alcohol
  but still the songs where great to hear. The audience who got this unexpected
  gig also seemed to appreciate it. They played more songs but I remember "Endless
  Sleep", "Forgotten" and "Saved by Insanity". Maybe
  this evening was saved by a little insanity because when the guys were having
  fun in playing the drummer broke the bassdrumvil while playing, and decided
  this drum kit was never used properly. The guys could not continue but did not
  seemed to mind it that much. They did play but right now they were a little
  too drunk to play some more. But the drummer decided it was time to sing a song
  in Dutch and asked the audience if any knew the song of the "Schipper".
  Both crowd and band started to sing "Schipper mag ik over varen…".
  Cool way to end.
  It was time to party some, and Rules of Engagement promised me that next time
  they will play better or at least not drunk. For me this evening was a lot of
  fun, even though it looked like worst case scenario(II) but it was nice to see
  both bands play a couple of song and I look forward to see them play full set
  lists.
Links:
Scenario II MySpace
 Scenario II Official
 Rules of Engagement MySpace
 Rules of Engagement Official