20-04-2017 Staubkind
Support: Batholomae
Starts: 20-04-2017
It is a Thursday night and we are at Batschkapp in Frankfurt. The venue is crowded with a mixed audience. From kids to their parents. From Gothic fans to pop lovers. Everyone gathered tonight to see the German band Staubkind.
The night began with a warm welcome of Louis, the singer of Staubkind, himself. He welcomed everyone and thanked them for coming out. Then he introduced their support artist Batomae. A German pop rock band.
Batomae was telling stories about each song before playing them. The songs were mainly about the singer's best friend. A girl that sometimes struggled fighting her demons, strong friendship and her book "Das Mädchen aus der 1. Reihe" (the girl from the front row). The soft rock music of the band was totally emotional. The band was humble and thankful for every smile and every cheer in the audience. The lights were bright, representing the hope their music sparked . Bathomae gifted the audience with an amazingly heartfelt show. Some songs or stories brought tears into the eyes of quite some fans in the audience.
Especially when the singer talked about his best friend again. Jana. About the time when he was telling everyone about her addiction and how he found out about it. He opened their heart and soul to the audience which brought everyone so much closer and made this show a lot more special.
It was a brilliant performance of Bathomae. One of a kind that no one would forget easily.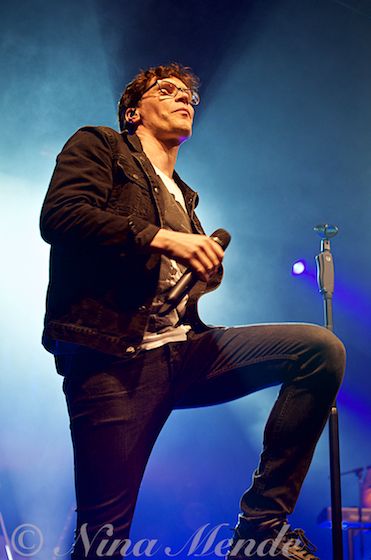 After a short change over it was time for Staubkind. Staubkind is a German pop-rock band. Founded in 2004 by singer Louis Manke, the band is constantly evolving. All their songs are in German. Staubkind had just released their latest album "An Jedem Einzelnen Tag" which they are currently touring with.
Staubkind has come long ways with their music and they were thankful and happy to play here at Batschkapp today. In front of all these people. And the fans were thankful for the positive music Staubkind played for them. Between the songs, singer Louis was telling stories about life, tour and the songs they were about to play.
The band and audience had a good sense of humor, making each other laugh. It was a very intimate show that was making everyone feel home and welcome. Staubkind played a good mix of old and new songs to which everyone was able to sing along to.
The strong performance of the band proved that the band is meant to play big (and even bigger) stages. They got every last one in the audience to move along and received loud cheering after the songs. For some songs, the singer Louis got the audience to sing it for them. A beautiful sound and sight.
Staubkind performed an amazing set that lasted for well over one hour. The amazing vibes they sent out was breathtaking and nothing less but impressive. If you ever get the chance to check out a live performance of the German band Staubkind, go there! Everyone that attended this show will tell you so too.