Venue: Gloria, Helsinki (Finland)
By: Sabine van Gameren & Nina Mende
Trashfest is growing out to be "the place where it all happens" as it all started by the first Mama Trash Family Artist event in 2007. This year there were three days to see bands. The first day was a pre party in Semifinal. Three bands were scheduled for this day.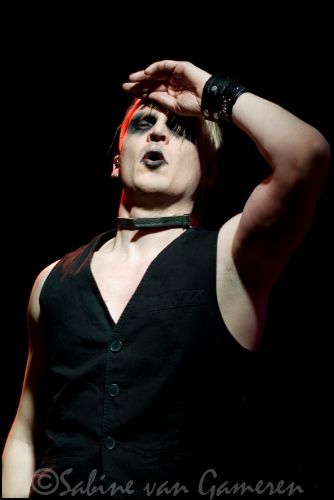 Cold Cold Ground was the first one. This Helsinki based band entered the stage with bunny on guitar. Although it was not the first band I have seen with a bunny like this one on the stage, it still attracted people's attention. Their music has industrial influences. For me Cold Cold Ground is a band I typically want to see back in a year or two to see how they will do then. I found the vocals quite flat and there could have been added some more melodic elements to spice it all up. The band did not really have one song that stands out, not a song that always will be associated with them. An identity which is still in toddler years. The ambition is there, the creativity is there Now it is just waiting until it all comes out and it becomes something unique.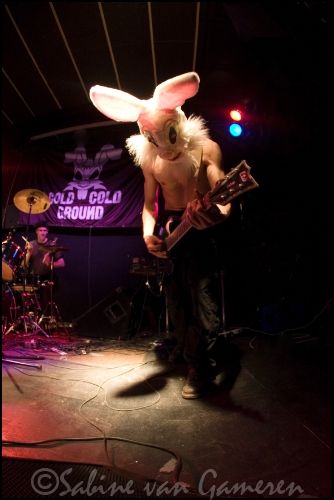 The second band at the opening party was Sonic Roots. Sonic Roots is from Helsinki, Finland and performs soulful hard rock with passion and personality. Vivid lead singer of Sonic Roots, Henry Lee Roots is best known for his works in Spiha, who recorded two undervalued jewels as albums for an obscure Finnish record label. Formed in August 2005, Sonic Roots found its current form in early 2006. During its existence the band has performed over forty shows domestically as well as in countries such as Germany, Estonia, Hungary and Croatia, gaining a reputation of being a very strong live act as a result. And they are. Totally enthusiastic and motivated the guys entered the stage. The audience welcomed them just as enthusiastic. Henry Lee Roots, the singer, had face paint which looked like The Crow or Joker from the latest Batman movie. There was not much room at Semifinal to move, but since everybody was moving you just could go along then. They played old and new songs, including "Power Of Need", "Trashy Morning" and "Junky Girl". Everybody had a blast and the band performed as well as never before and I have seen them quite some times already!
The band that closed the evening was Hellfire Society. The band surely showed a lot of ambition as there were hard to get off the stage. They just kept on going. What was that? It was VNV Nation, Combichrist, A bit of punk and loads of obvious influences packed in one. It was a shame that I still have no idea what they are up to themselves, because all this influences were quite distracting. There should be a difference between a cover band and a band that writes his own songs, but this just sounded like a sampler full of songs that could have been covers of a B-sides of old albums of the names mentioned before. Nothing positive to mention about them? Actually, we do have! The band showed such an enormous attitude and they looked so sure that they are going to be very huge. That is ambition! If you ain't believe in it yourself how to radiate that to the audience then, right? But well, if the lights get switched on and the all the people start moving elsewhere it really is time to quit!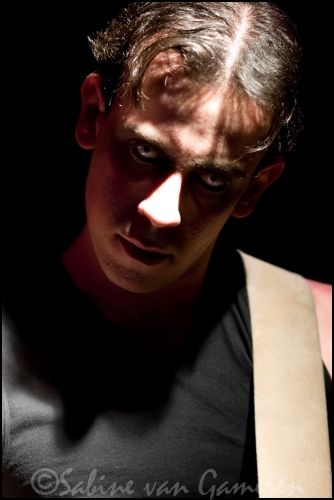 DAY 2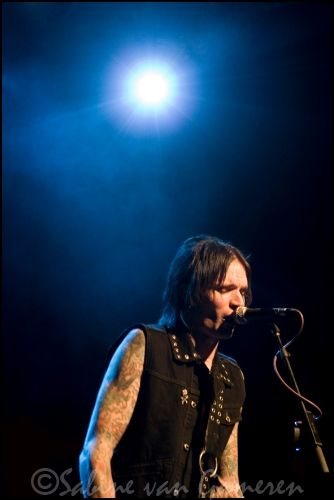 The current line up firmly established in late 2004, building on the foundation set by previous members. New Generation Superstars captured a sound that dragged rock n' roll firmly into the 21st Century, picking up a loyal fan base along the way. From the start, the bands growing reputation opened up invitations to take on support slots alongside highly acclaimed worldwide acts such as The Distillers and Atari Teenage Riot. So no wonder that they were also here at Trashfest. Not only had their accent given them away as being from the UK but also their performance. There is something typical; I just can't point the finger on it. Maybe they are just not as rough or spitting all over… Anyway, their performance was very rocking. The audience danced along, some were even able to sing along. Apparently there were two people from the band's hometown in the audience as well. It was nice to hear some UK-rock for a change between all the other bands that appeared at Trashfest.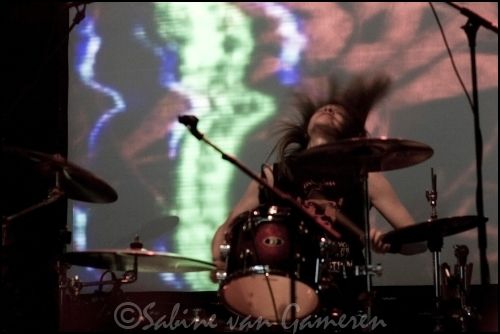 Second band for today is Violent Divine. The Swedish rockers recently released a new album called "In Harm's Way". Compared to the cd I found the live performance a pro. Even though the drums were overwhelming which was actually a problem of all bands besides Dope Stars Inc (they don't have drums) of this evening. It made the vocals disappear a bit, which was sad because those are the driving melodic element in the music. The band showed a playful performance, entertaining enough to watch full interest but never did to much glitter and glamour. After all, Violent Divine is still rockband. With this performance they left me a better impression of what they are up to than the album did.
I always used to say: "Dope Stars? Nice guys, but on stage? Thanks but no thanks!". That terribly changed after this performance. I don't know if it was because the sound was so much better this time or if they were much more motivated than all the other times I had to see them on stage. But many people agreed with me: This time Dope Stars Inc rocked the house. The four Italians performed their songs very powerful and convincing, you could tell that they enjoyed being on stage. The performance only lasted for about 40 minutes though. But the audience loved it. And as a matter of fact Gloria was quite crowded during their performance, everybody was jumping along to the music, cheering out loud and singing along. Let's hope they stay that well so that I enjoy seeing them next time.
Stoneman is a band from Switzerland. Their music is a cross between industrial rock and doom metal elements. The interesting part of them was probably the drama the singer brought in his mimics and moves on the stage. Seems to me like he found some inspiration at My Dying Bride. Too bad band also showed an attitude. A big attitude, which was not really received at the audience. The band seemed not to have too many fans as quite some people left after Dope Stars Inc. They might have underestimated the band a bit though. Some interesting riffs were out there and the growls were coming from deep. Their singer did not seem to have any problems with calling them up. Drums were quite an add to the atmosphere of their music and so come the total outcome was quite well. Just the ego and attitude are to go and then I might expect some more success for them.
Last band of the night was Private Line, the local heroes for the night who had quite an audience as well. They entered stage with a completely new song but then continued with all the well-known songs of all albums. Ilari was back on stage with them again and playing guitar, he performed as passionate as I am used to seeing him. Everybody sang and danced along. But you could tell who was at Trash Fest because of the gothic and metal bands and who was there just to have fun. Unfortunately this Private Line performance was not having this familiar touch as usual but it was still a great show. The band played with passion and the fans loved it. They didn't talk too much to the audience which might have been because of the strict timetable. Private Line played for about 50 minutes only as well. But it still was a wonderful closing for the first day of Trashfest. Let's hope the second one will be as promising.
DAY 3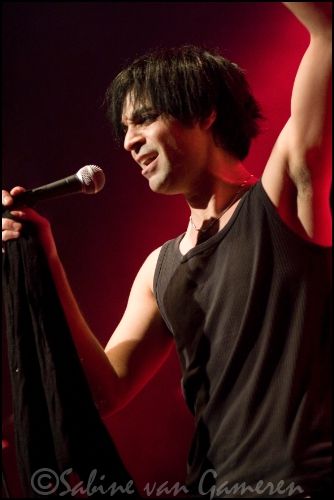 At 8pm sharp a Swedish band entered the stage to open Trash Fest's second day: Amy's Ashes. Formed by Aliz, Eric and Aram in late 2007, the band soon recruited drummer Matte Modin (Raised Fist, ex. Dark Funeral) and released a debut 3-song single. In September of 2008 four became five by adding bass player Gus (ex. Defleshed) to the Ashes Family. They sounded a bit like a rock band for the younger generations. Amy's Ashes had fun on stage and enjoyed talking to their audience which appreciated it with round applause. Unfortunately the band only got to play five songs, way to few to actually be able to judge the band. But from what I've seen I enjoyed the dark glam rock they played and so did the audience.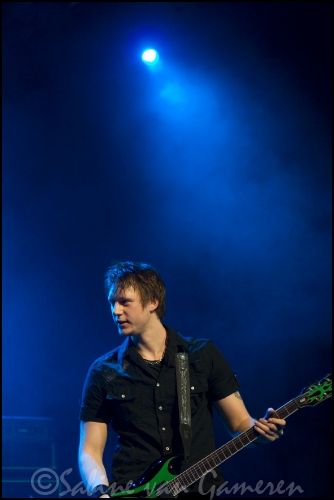 Defueld surprised me a lot. In the first place because I did not expect them to be on Trashfest and secondly because of the enormous melodic side on the metal music they make. Sure, they come from Sweden and Sweden knows what melodic metal is having bands like Soilwork, Dark Tranquility and In Flames to show off with, but I think in maybe a couple of years you can easily add Defueld to this list. Those riffs were sharp and well placed in the music with the keys as an extraordinary backup up to the melodic side of the story. The vocals were maybe blown away a bit by this, but not in a way that they were gone too far. Seeing that the band just released their debut, there is a lot to expect from the future. It's just sad that there were not too many metal fans out there yet.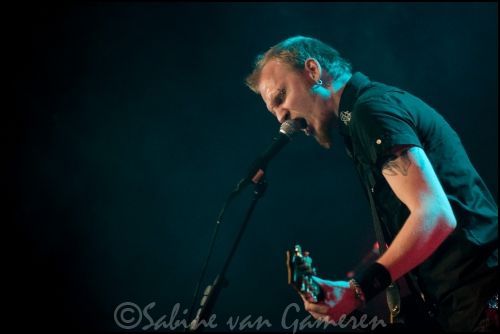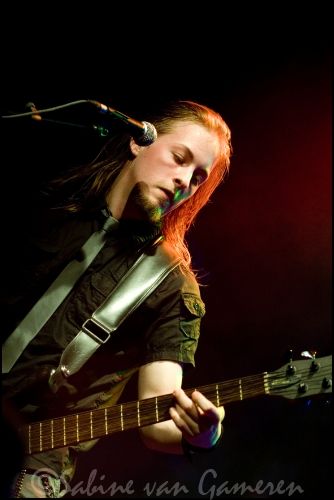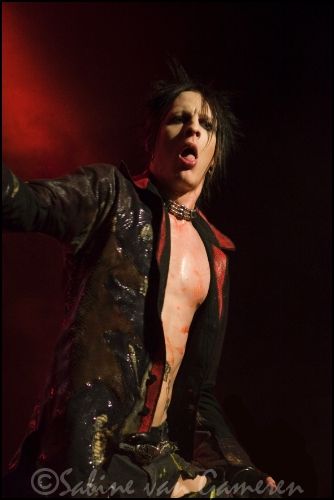 "Come on baby light my fire, try to set the stage on fire" some might have been singing as Stereo Junks – or rather Anzi only – entered the stage and spit fire over and over again. It looked amazing because the lights were turned off and all you could see was him spitting fire. As he was done they began rocking right away. Rough and punky as usual the destruction spread through the whole Gloria and everybody went along, singing, dancing, shouting and whatever else you can do while seeing Stereo Junks on stage. The band blasted their songs into the audience powerful and energetic. Anzi jumping around the entire time, not standing still for a second, he even went down to the audience. After about half of their performance two girls dressed as Stereo Junks bunnies entered the stage as well and danced to the songs. It is great to see how much the guys improve from time to time. The crowded Gloria seemed to think the same, at least the response after every song was extremely loud and long.
Iconcrash is quite calm music compared to other bands this evening. The bring this typical Sigur Ros/Mogwai music with a bit more violence. Their show was just gorgeous to watch and the lights were such an add to the atmosphere and the music! Vocalist … shows off his diversity by using his voice in many different ways and this show made a way bigger impression on me than the one from last years Trashfest. (LINK) The band was a bit static in the start, but the music does not give too much opportunities for rocking out hard either. In the end, towards all tensions were building to, the band lived their music with their heart and let their selves leading the music and also leading by the music. Excellent performance.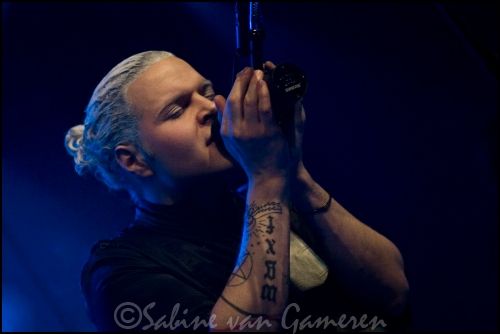 Mortiis was headlining the evening. Mortiis is an electronic metal band from Notodden, Norway fronted by Håvard Ellefsen, who is also known as the namesake of the band. The name is a misspelling of the word 'mortis', which is the pronunciation used by the band. However, Mortiis started as the solo project of Ellefsen as a means to convey a story. This aspect was lost over time and Mortiis slowly formed into a band which it now still is. They came on stage with lots of fog and not much light. A lot of people came to see them. As Mortiis performed "The grudge" everybody was cheering even more and singing along.Trashfest is pretty much glitter and glamour festival, and Mortiis is Mortiis. Music above all. That is why they made the big difference. Full painted with dirt they showed the dark side of music. Metal on it's top. The sound was something to debate about but in the end Mortiis stayed so true to what they are. They showed exactly what to expect from a festivals headliner and gave away a show that got caught up very nicely by the audience.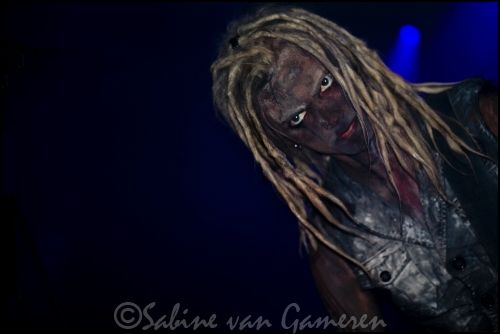 As grand finale there was the Mama Trash All Star Band to perform some songs. Random artist from the Mama Trash Family were performing some covers. Pantera's "Walk" for example. The night ended with a filled stage with all the heroes of the festival. This years Trashfest was a blast. Everything was arranged well and the Trashfest tradition had grown a bit more. With all the good memories from this year's edition in mind, we can only say that we are looking forward with binoculars to next year's edition.
The following bands have been reviewed by Nina Mende:
Sonic Roots, New Generations Superstars, Dope Stars Inc. , Private Line, Amy's Ashes, Stereojunks! and Mortiis
The following bands have been reviewed by Sabine van Gameren:
Cold Cold Ground, Hellfire Society, Violent Divine, Stoneman, Defueld, Iconcrash and Mortiis.
All bands have been photographed by both of us. More photo's by Sabine van Gameren can be found at: sabinevangameren.com
Links:
Cold Cold Ground MySpace
Sonic Roots MySpace
HellFire Society MySpace
New Generation Superstars MySpace
Violent Divine MySpace
Dope Stars Inc MySpace
Stoneman MySpace
Private Line MySpace
Amy's Ashes MySpace
Defueld MySpace
Stereo Junks! MySpace
Iconcrash MySpace
Mortiis MySpace