18-06-2017 As It Is
Support: Storyteller, ROAM
Releasedate: 18-06-2017
It is a Sunday night in Wiesbaden. People were glad that it had cooled off a bit after an extremely sunny day. But we went into a hot venue: Kesselhaus, the little sister of Schlachthof in Wiesbaden.
Quite some people had come out already to celebrate their Sunday night out. Mainly – not to say exclusively – teenagers had gathered to see the three bands that were performing here tonight: Storyteller, Roam and As It Is.
Storyteller came into existence in Summer 2012. After a couple of touch-and-go months it became soon apparent which way the five guys from Dessau wanted to head towards. They simply strove after playing the music they always listend to and personally loved for years despite any advice about which sound is hip these days or will be the next big thing.
The band was super excited as they entered the stage. The band members were not much older than the kids in the audience. The music of Storyteller was catchy and they surely got the people going along to the music. There were quite some girls gathering in the front, screaming and shouting, trying to get close to the musicians. The cheering after each song was loud and Storyteller thanked them for the kind words and great applause. The singer of Storyteller kept calling the audience friends, and it surely felt as if they were all friends. Storyteller also promoted their latest album of which they played a few songs.
Storyteller played for about thirty minutes. In these thirty minutes they got the audience to dance along and even sing parts of their songs although no one here tonight had ever seen the band before. Bravo!
Up next was a band that plays louder music: Roam.
Roam is a British pop punk band from Eastbourne in England.The band currently consists of vocalist Alex Costello, bass guitarist Matt Roskilly, lead guitarist and backing vocalist Alex Adam, rhythm guitarist Sam Veness, and drummer Miles Gill.
The band was super energetic as they entered the stage. Their strong and powerful music got the audience go wild. Quite some kids were singing and shouting along to the songs while the band had a hard time standing still. Especially the singer was constantly jumping around on stage – he literally jumped up and down quite a lot and quite high as well.
The energy the band was spreading infected everyone watching. The sweat was running down on everyone in the venue. There was even a circle pit going on for a while. Roam did not get to play for too long, but they surely celebrated every second of it. Thanking the audience after each song, telling them stories and getting them to shout along, it all felt like a big party amongst friends. What a blast!
Now it was time for the last band of the night: As It Is. The band, all the girls in the venue had been waiting for.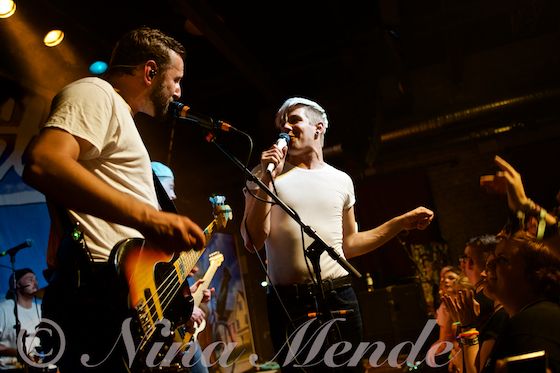 As It Is is a British pop punk band based in Brighton, England. The band was formed in 2012, and signed to Fearless Records on 2 October 2014. The group consists of lead vocalist Patty Walters, guitarist and vocalist Ben Langford-Biss, guitarist Andy Westhead, bassist Alistair Testo, and drummer Patrick Foley.
The band has two full length studio albums and a couple EPs out by now, and they played songs of all of these releases. No one in the room was standing still. Not even for a second. The singer was talking to the audience quite a bit between the songs, and the fans loved it. They cheered out loud and applauded. It seemed as if everyone in the venue could sing along to the songs. And this singing along sounded louder than in some much bigger venues. There was a lot of excitement and appreciation in the room, on both sides – band and fans.
As It Is played for well over one hour and left everyone behind soaked in sweat and super happy for having had such a great time.
What an amazing Sunday night. One to talk about for quite a while.