Support: The Pleasures; Venue: The Underground Cologne(Germany)
By: Nina Mende
  I love family reunions, especially ones like the one on Saturday in Cologne.
  The Pleasures and Big Boy were playing at the Underground in Cologne. Underground
  is a little club right next to a tattoo studio, with a beer garden outdoors.
  A really nice place, I like it there.
As I arrived there, I already saw some people I haven't seen in quite a while and don't see that often either. So I was all happy, way before the concert began. But before I drift off too far from the actual review, let me introduce you to the two bands tonight, beginning with my favourite Glam-rock bands from Hamburg/Germany: The Pleasures

Founded in 2004 by Dancette (vocals / synths) and Lord Vivian (vocals/guitar), the Hamburg-based five-piece created an explosion of glitz and glamour from the very beginning. The Pleasures are a passionate, hard-working band, producing and engineering their own recorded material. Their first release came in June 2005; a five track EP entitled 'Cuming Out'. Succeeded a year later by the 16 track debut album 'Greatest Hits', which sold out of its first few thousand copies within just six months.

  I personally am always amazed by their style and make-up which is very flashy and funky like I have never seen before, and I have seen a lot already. Another thing that really amazes me about them is the power and passion they put in  every show.
  And so was their show: Amazing. Not only their outfits and make-up were perfect,
  but also the show. They did everything to animate you to dance and sing along,
  clap your hands and shout. Forget the daily life and just live the moment, enjoy
  the Pleasures. Their gig is not only a performance but a show with special effects:
  some fireworks coming out of Dancette's microphone stand and a little confetti
  canon. They all moved around on stage very agile so that you really had to be
  very quick to keep track of them.
  Although the Underground was not that full, it still felt like it. They played
  for about an hour, but it felt much shorter. And here is what they played: 
  Parade�
  Children of the Revolution�
  Some like it rock�
  Please don't let the music …�
  Ballroom Blitz�
  Gloryhole�
  Skullhammer�
  Honeymoon in Venice

     
The other band playing tonight was: Big Boy Well, what can I tell you about Big Boy what I haven't told you already
in the CD review of "Hail the Big Boy"? The band is: Happy (drums),
AK (bass), Big Boy himself (vocals and stage destruction) and The Lord (guitar).
These four guys from Germany rock big time. It was a very powerful and energetic performance and you had to be very quick to keep track of Big Boy. He reminded me a lot of Anzi Destruction (singer of Stereojunks) because of his destructive behaviour on stage, so think twice before you go up front, it might not only rain vodka, water and sweat but also bottles, microphone stands or even something else… They played almost all songs from their album, but also some new non-album tracks. The Underground rocked and hailed more than ever, screaming and dancing along. For the encore "Hail the Big Boy" Dorian Deveraux (singer of Jesus on Exstasy, dressed in all white) and the Pleasures came up on stage to sing along and join the performance. A gorgeous closing that makes me look forward to Wednesday so much more…  only that the Pleasures won't be there, but Limbogott.The songs Big Boy played were:
  La Légion (the French intro)�
  Gestasi Baby�
  Terror Era�
  Get over it�
  Fake it�
  Tricky�
  Sin-Sational�
  Fuckin' jerk�
  Just like we�
  Catastrophe�
  One good reason�
  Pony-girl�
  My own rules�
  Hail the Big Boy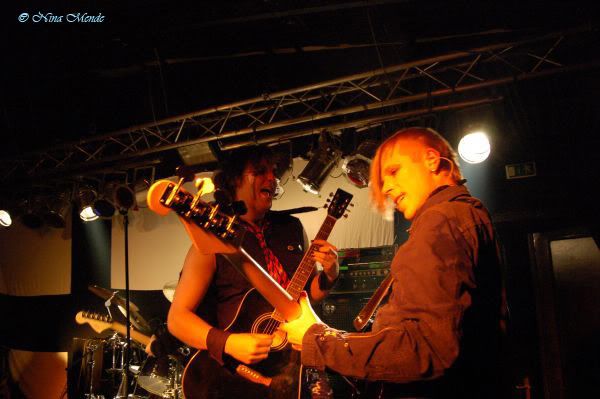 Links:
  Big boy Official
  Big boy Myspace
  The Pleasures Official
  The Pleasures Myspace