Location: Monza (Italy)
By: Lara Cappelli
Note: This review is written by Lara, who joined our crew too late to request accreditation, but was enthusiastic enough to write this review for our readers anyway!
This thirteenth edition of the GOM festival has been pretty much amazing: ideal location, excellent organization, respected timetables and great headliners. The bands alternated their exibition on two different stages, that made the time between the exibition shorter and the number of bands bigger.

27-06
The first one has been a day concentrated more on rock music , begun with The Rockers, Italian rock band, that despite the short exhibition warmed up the public. Their sound reminded me of 90's rock and a bit of Guns `n Roses as well. Good performance.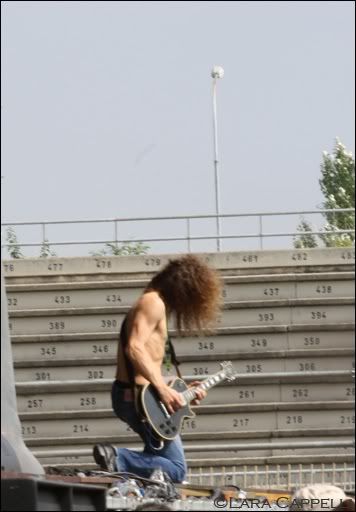 On the L stage it's time for Extrema, second and last Italian band of the festival. Despite the same origin, Extrema is completely different from the band went before them: they have a Metal/hardcore style, much heavier and more sweeping for a Metal audience. The band has introduced their new album, 'Pound for Pound', and the public seemed to appreciate it a lot, much to raise the first chorus of the day.
It is the moment of Lauren Harris. The daughter of the historic Iron Maiden bassist, Steve Harris, with her music definetely didn't capture the public attention. Honestly, I always thought that her voice doen't really fit well with Metal music and after her exibition I still feel the same way. But although this her band is composed by great musicians that have remarkablly raised the exhibition level.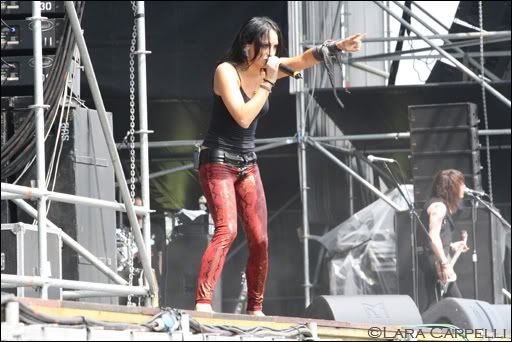 And Voivod entered the other stage, Canadian band that has just released their last album, Infini. Their exhibition has been phenomenal, with nearly 30 years of career the band has been able to involved the public with their Speed/progressive Metal music. Moreover, I can say that beyond the fact of being musically great, they are also much funny: the singer Denis" Snake" Bélanger often entertained the public making strange faces, accompanied by the guitarist Dan Mongraine (and his hair heap) introduced as "the new guy" (Mongraine in fact has just joined the band, in substitution to Denis Of aMour, died of cancer in 2005). With this gig, Voivod has definetely got the chance to spread their music in Italy a bit more. What a band!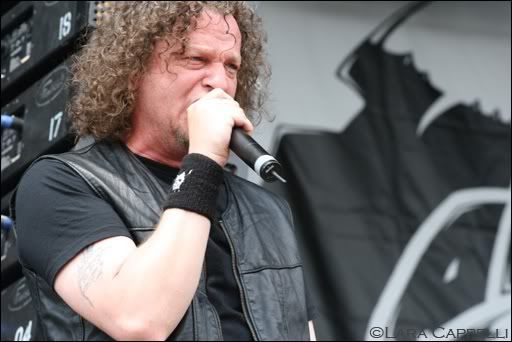 Backyard Babies is a Swedish band. Their music blends various styles: from punk to rock and metal. I really enjoied their exibition, the band has been much energetic even though the attention they received has not been what they deserved.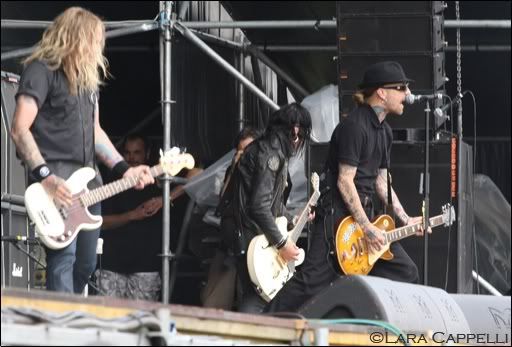 And it is the moment of Epica, one of the bands I was waited for. The Dutch Symphonic Metal has astonished the majority of the public that did not know them with a setlist begun with `The Obsessive Devotion'. They have received an optimal reply from the public, than after this first song immediately clapped and sreamed loud their name and for this reason every member seemed much satisfied. Although the problems that Mark Jansen and Simone Simons had to their macrophones during the first two songs, the band played magnificently, turning out really united and with a good alchemy on the stage. Before ending with `Consign To Oblivion' Mark announced that in the end of the year they will come back to Italy for some headliner dates.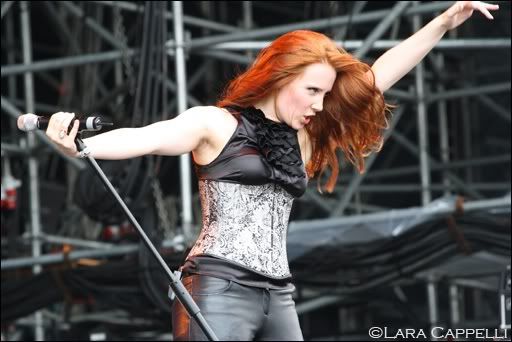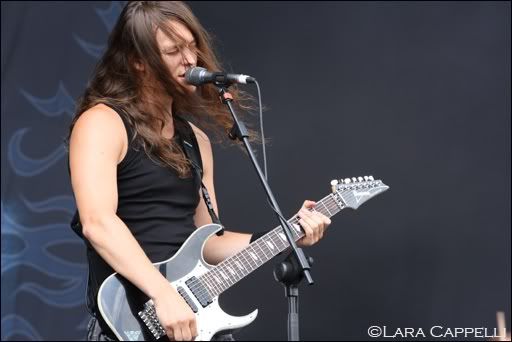 Marty Friedman is the next one. It's been 45 minutes full of great guitar solos, even if I found the performance quite boring and the public didn't seem as involved as in the previous performances.
What I can say about the Edguy concert is that they have been just wonderful. The band of Tobi Sammet was maybe the most energic of the whole day. Despite the short time they had at their disposal, the band received a great response from the public. On the stage Edguy seemed a never ending power source, they're rock machines!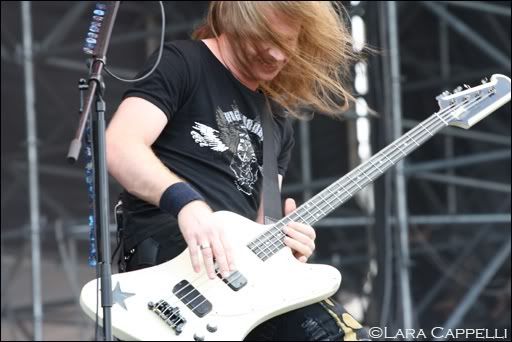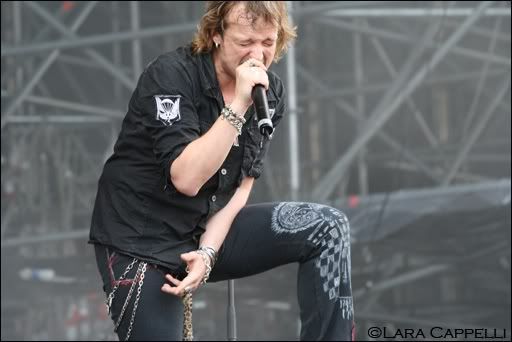 It's Lita Ford turn, american rock musician. Her exhibition didn't particulary astonish me, indeed I found her quite boring. I absolutely don't call to question her musical abilities and her band's ones, but all the exhibition seemed quite static, without a real highlight. Although this the public seemed participating.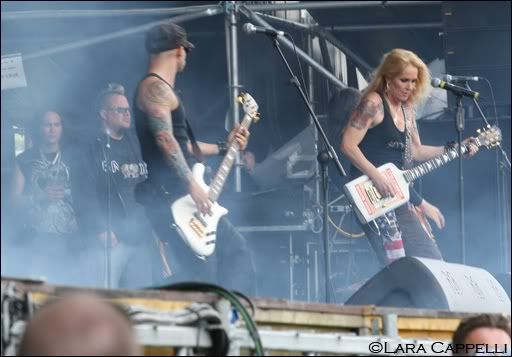 Queensrÿche arrived on the L stage. This american heavy metal band formed in 1981. As soon as they came on the stage, it started to rain, this caused some technical problems that forced the band to start a song again. In spite of the rain, I really liked a lot their exhibition and their music, quite particular and different from the other bands. I liked their singer's voice as well, Geoff Tate. Unfortunately the band didn't receive the attention that deserved, perhaps also because of the rain.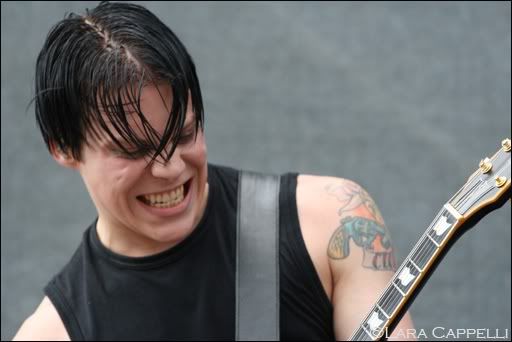 In the R Stage started Tesla, American hard rock band. Because of the rain, they had technical problems as well as Queensrÿche but they quickly solved them. I must admit that Tesla didn't stun me, indeed I have been a lot disappointed from their exhibition since I was really looking forward to see them. The voice of the singer Jeff Keith didn't seem on top form and this characterized all the concert. Although this, the band in general was quite good.
And here they are, Heaven And Hell. With a wonderful stage, decorated with demons statues and maxi screen, the historical English band, born from the ashes of Black Sabbath, gave the public a performance to remember. Perhaps some members have been a little static on the stage, but Ronnie James Dio was charged up and in optimal form. In my opinion the highlight of the concert was Vinnie Appice drums solo: just the fact of playing a drum like that makes gape anyone! `Heaven And Hell' concluded the exhibition of this visual and sonorous high level show. These men are living legends, that with their music changed the history of metal, just great!
Last band of the day was Mötley Crüe. The exhibition begun with 'Kickstart My Heart' and from this song the public already went wild. To me the band didn't seem particularly in form but although this they gave the public a great exhibition. The setlist was a point fort of the concert, full of their classics, lasted nearly an hour and a half (less than expected).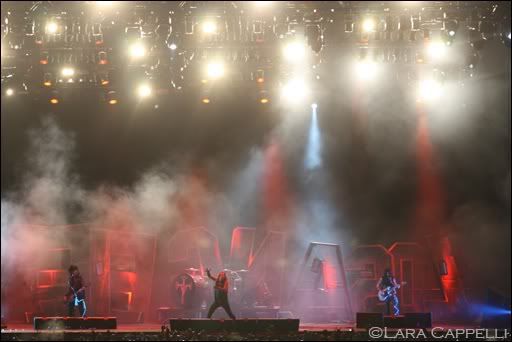 28-06
The second day of Gods of Metal has been quite different from the first one, totally different bands, first of all. In fact the style that prevailed was Metal, and this had the upper hand judging from the enormous crowd there was!
First band of the day was Black Dahlia Murder, a metal core band from Michigan. Their show didn't catch anyone in particular, all the songs seemed extremely boring and repetitive. Even if the singer Trevor Strnad did his best to involve the audience, everyone looked really relieved at the end of their brief show. In my opinion their music is just too unripe and they're not ready yet for something as big as GOM.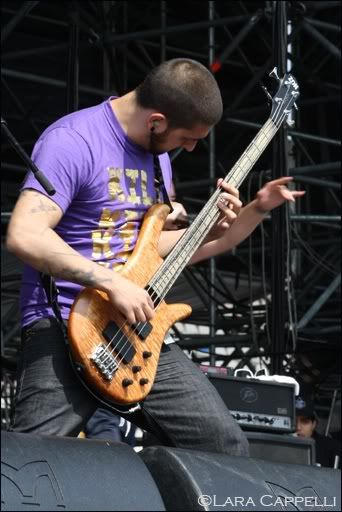 Static X is an industrial metal band from America. They have released seven albums, the last one 'Cult of Static' went out in March of this year. The audience seemed more awake with this band, maybe because of their frantic rhythms, but still not completely involved. For this reason the band looked a bit disappointed and not motivated.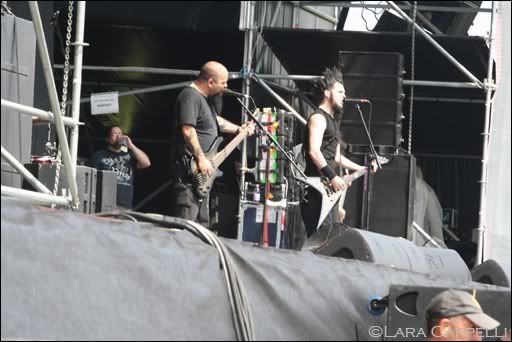 Cynic entered the L stage. Their music is progressive rock with some metal influences, in it you can find a perfect balance between Paul Masvidal's clean voice, guitar riffs and Tymon Kruidenier's growls. I really liked the atmosphere that the band created on the stage, calm and psychedelic as well. The only negative side was the fact that all the band was a bit static on stage and seemed extremely ashamed, but although this their performance captured everyone's attention and the band was enthusiastic about it.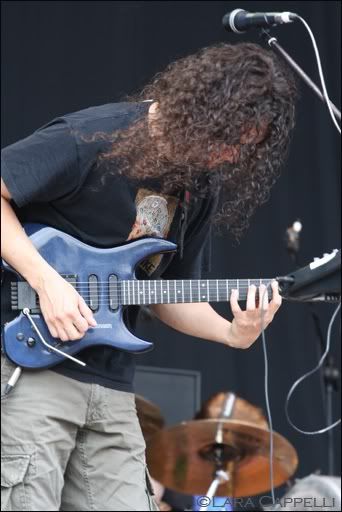 It's the turn of Napalm Death, an English Death Metal band formed in 1981. This band gave me the impression of being a bit repetitive, all the songs resembled each other and didn't have a real melody. I expected something better from them, even because they have been much acclaimed from the audience.
Then it was time for Saxon, the English heavy metal band that many people was waiting for, but after a long wait there have been an announcement saying that because of a bus problem Saxon would play later and Tarja would take their place. But nobody came on the L stage so Mastodon started on the R one. The American metal band released in March their last album, 'Crack The Skye'. They looked quite pissed off but did a really good job anyway and the audience was really enthusiastic.
Tarja finally arrived on stage even if there were still people expecting Saxon. I have to admit that I was a bit sceptical about her because I didn't think her music would fit well in Gods of Metal, but I was wrong because Tarja turned out to be perfectly able to entertain even Saxon fans..! Her exhibition was pretty much perfect and I noticed that she acquired an optimal stage presence during these years. She played three Nightwish songs, 'Wishmaster' 'Nemo' and 'Over The Hills and Faraway' as well as her owns. Everyone loved her performance and she was really pleased for it.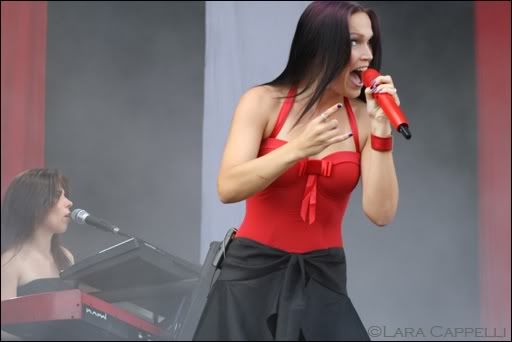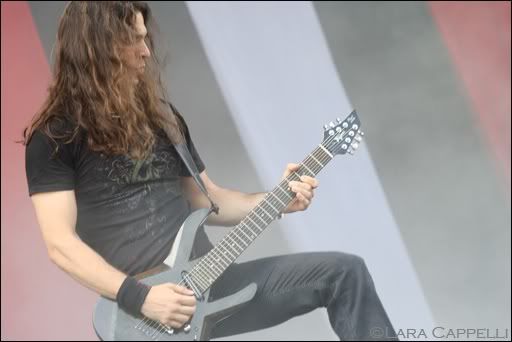 When your name is Phil Anselmo and you're in a band called Down, your concert can be but amazing. All the crowd went mad during their show and of course Anselmo drove it madder. During their concert it happened something funny: there was Fratello Metallo watching their show before the barrier, an Italian monk that makes metal music (yes, a real monk!). As soon as Anselmo saw him, he wanted the monk to come up the stage, and so he did. Fratello Metallo hugged every member of the band and went away. Such a strange thing to see..!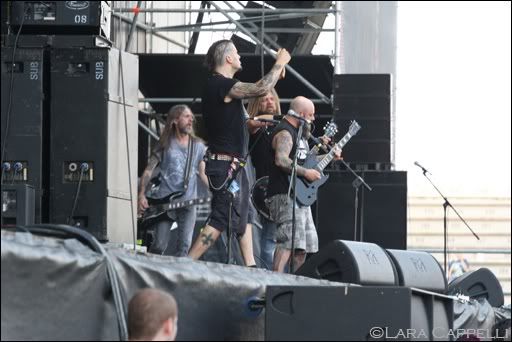 Blind Guardian arrived and I was really surprised by the number of people waiting for them. All the crowd sung their songs loud during the show. The gig lasted an hour and fifteen and the band played some songs that many people didn't expect like 'Blood Tears', 'Traveller in Times', 'Goodbye My Friend' and 'Turn The Page'. The real highlight was 'Valhalla', during this song the public literally went wild and sung the refrain loud even after the end of the song. Really great performance!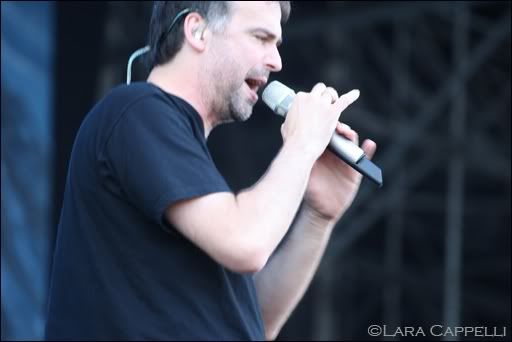 It's time for Carcass, the English Death Metal band disbanded in 1995 but back from 2008. Their performance didn't move me at all. I was really bored by them, maybe because they're music is not my cup of tea but I don't think they were at top form. " alt="null" />It's time for Carcass, the English Death Metal band disbanded in 1995 but back from 2008. Their performance didn't move me at all. I was really bored by them, maybe because they're music is not my cup of tea but I don't think they were at top form.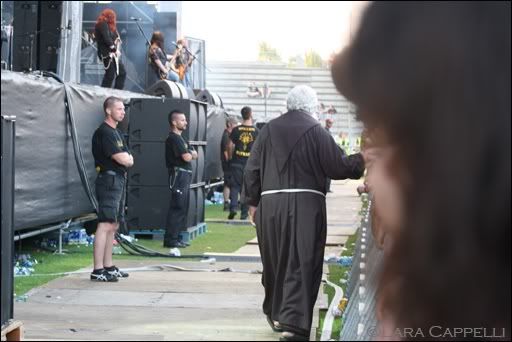 Finally, it's their time: Dream Theater. I just can say that I love this band and I never get enough of their music. The whole show was really amazing, the stage wasn't particularly decorated and this emphasized the music a lot. The only bad thing in their live shows is that they're a bit static on stage but it is something that in my opinion doesn't really change the facts: their great (yes, again!). During their show Fratello Metallo arrived again but this time he didn't got the same attentions he got from Down: James LaBrie just looked at him and went away. With regard to the new album just released 'Black Clouds and Silver Linings', they played only the single 'A Rite of Passage'. Dream Theater will soon come back to Italy in October for the Progressive Nation Tour.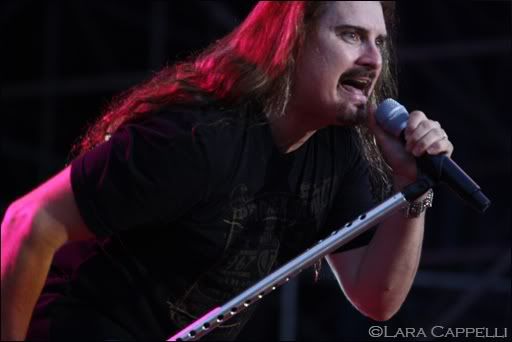 Last (but not least) band was Slipknot. Before playing 'Dead Memories' the singer Corey Taylor explained that the day after (29/06) would be the tenth anniversary of the release of their first album 'Slipknot'. But there is nothing much to say about their performance, live this band is marvellous with great stage presence that after ten years has grown more and more. The setlist was full of their hits like 'Wait and Bleed' or 'Before I Forget' and newest songs as well as 'Psychosocial' and 'Sulfur'.