Venue: Baroeg, Rotterdam (Netherlands)
By: Sabine van Gameren
Metal meets hip hop is the theme of the evening. Interesting to see if genres can blend and if the people can blend.

Interesting as well to see that Dark Roses was here to represent the metal as their first vocalist Mike have left the band to dedicate himself to hip hop. Recently they found a new bassist in Edwin which made their former bassist take up the guitar. As I had not seen the band since the last lineup change and the release of their EP "Pleasure and Pain" I was anxious to see what effect this would have on the live appearance. Doesn't take too long to see the difference. It is not longer front man Martin who gains attention by energetic stage behavior, since Edwin is the shining star in that now. It seems like he spices up the whole band to be more playful here which made it all more entertaining to watch. Too bad there were not too many people from the hip hop camp in the venue.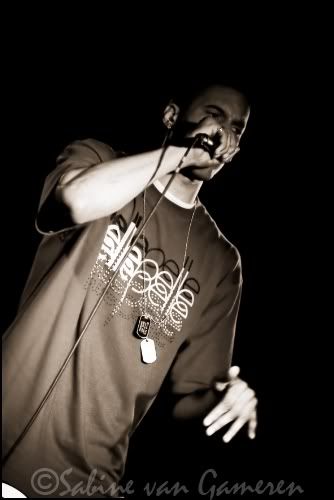 After the set of Dark Roses, it was time for the hip hop to impress us. I have seen about 80% of the performance, as I found it respectless to leave, but I wish I did. I am not a die-hard Hip Hop fan, but I have seen better. Way better. When a cover of Snoop Dog's "Sensual Seduction" was sung I felt like my ears were bleeding. Way too much off key. It is just because of the vocalist's epic fail I can't stand it anymore. The band around him plays way more relaxed.
Enough! More than enough! There guy is not really a stage personality either. It's more like I am watching a scary bunny.
I make a note to myself to put one of my favorite hip hopper's cd's (Adam Tensta F.Y.I) on when I am going home later to remember me that there is also great stuff out there.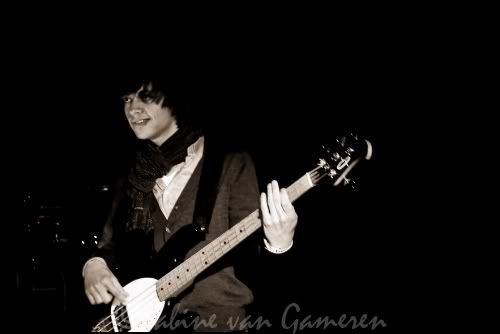 Much more interesting to see is the all star jam. At some point it seems like everyone is on the stage to do their thing and make it all sound like one mix of great music. I especially enjoyed watching the two drummers playing together which both have quite a different style, but so respectfully fill each other up. Way to go!
More pictures of this gig available at sabinevangameren.com
Links:
Dark Roses MySpace
Dark Roses Official