Supports: Trustgame; Venue: Kuz, Mainz (Germany)
By: Nina Mende
Now this is what I call an opening act. Trustgame rocked the full KUZ in Mainz. Trustgame is a five piece band from Duisburg/Germany playing rock music.

I didn't expect the venue to be that full on a Sunday night right before Christmas, but it was. The audience was enjoying the great performance of Trustgame just like I did. The singer and keyboarder came on stage and began playing an acoustic version of a song for quite a while before the rest of the band came on stage finishing the song as a whole. Their performance was very energetic and the songs were catchy. Trustgame got the complete venue to sway to a song and sing along. The band was so amazed that they had the audience continuing this until they remembered that their time was limited. But it was really great to see, especially for an opening act. Trustgame rocked with great melodic rhythms and great lyrics. Some of the songs I knew from the album. A really great band and I hope to see them again soon.
Now it was time for Die Happy. Many fans wore band shirts and all were totally enthused as the band entered the stage. Die Happy is a German band having six studio albums released so far. The play rock and the lyrics are in English. Die Happy is a very energetic band and they all move around a lot on stage, especially Marta (singer) enjoys getting close to the crowd and in touch with her fans. Another thing she seemed to enjoy was making the fans do and say what she wanted. And everybody in the venue did. Marta is a very funny and open person who made the whole show much more familiar and friendly. The stage and the audience seem to be one without borders. The band is very close to their fans, letting them choose songs on their homepage which the band plays on tour. Even during the show they talked to some, Marta sang to several and handed a fan the video camera to film parts of the show. She was jumping around all over the stage, very energetic, bugging the guys in the band and crawling through their legs when standing somewhere… The fans sang with her and for her, and for the band of course. A crowded Sunday evening concert feeling like a birthday party of best friends, that is a typical Die Happy show. As encore they played two cover songs, one of Skunk Anansie and another one which I forgot the name of right now, but one everybody can sing along. The show lasted for about one and a half hours.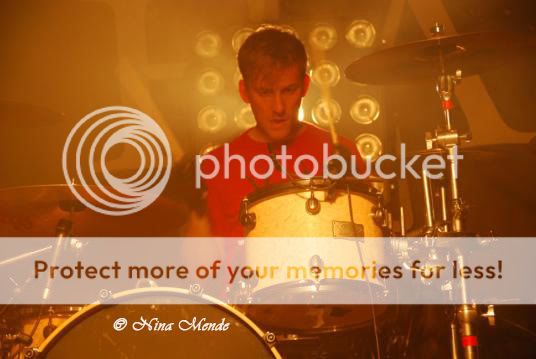 Links:
Trustgame MySpace
Trustgame Official
Die Happy Official