Supports: Stealing The Bride; Venue: Nachtleben, Frankfurt (Germany)
By: Ann-Kristin Gebhardt &  Nina Mende
I arrived early at the "Nachtleben" in Frankfurt where I met up with Nina. Tonight we were here to see the concert with "Stealing the Bride" and "Love's Labour's Lost".
The first band that played tonight was not too exciting and didn't get the audience going, not even got much attention. They call themselves "Stealing the Bride" from Mainz. The band consists of four guys, Uli, Oli, Robert and Alex and a girl called Patricia, who is singing. The whole performance of them was boring. There was not much interaction and they seemed quite emotionless. They covered songs from "Muse" but it wasn't too well. The light they had onstage was kind of orange. Their set lasted for 45 minutes.
The second band and headliner of this evening was "Love's Labour's Lost", from Mainz too. The band, composed of Thomas (vocals), Inge (violin) Augi (drums) and O.M.A.( bass), came together in the year 2003. One year after Phrol (guitar) entered the band and in this constellation they played till February, when Prohl had left the band. Their sound is melodic Goth- Rock and it's not bad at all that they are acting now without any new guitarist. It actually is even better now. The mood changed the very second they entered the stage. They started with three very intense songs and there was lots dancing of dancing in the crowd and clapping after every piece. Inge's violin was standing out way more as it was with guitar sound in the songs and it was totally nice though.
The light was as orange as it had been before but that was the only annoyance during this wonderful gig. The band put up a great show; the singer reflected his emotions during every song and interacted, jumped around or kneeled on the boxes. He talked to the audience and it was fun. Love's Labour's Lost played songs like "Goldstaub", "Whispering", but also some brand new ones which were absolutely great. For some of the songs they hadn't practiced that much, according to Thomas telling the audience during the show, but it was still great, though the 60 minutes they played were way too short. The new songs reflected both, craziness and hope for me and took me away on a journey into deeper parts of my soul. I guess I haven't been the only one feeling this way. With every song they played I was drifting further and further away and Inge and her violin gave me a hold. His performance was cool and fitted perfect in the picture. Augi, who was playing the drums gave a straight line on which you've caught hold too. So the performance was harmonic and great in any case, except of the light. Thomas transmitted every message he wanted to give perfectly with his acting and every emotion he wanted to get across was to be seen in his face. When they came to their last song "Goodbye to me" it was really sad and I couldn't believe the time had passed so quickly. I could have watched and listened to them much longer.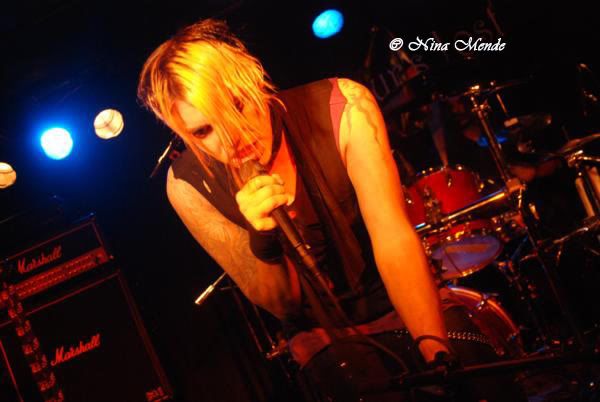 Set list Love´s Labour´s Lost:
1) The Tree
2) How long
3) Holocaust freak
4) Changing places
5) Blood & Honey
6) Fallen
7) My old Friend
8 ) Sukkurs
9) Just for a while
10) Whispering
11) In my mind
12) Goodmorning midnight
13) Verweht
14) Goldstaub
15) Goodbye to me
Links:
Stealing The Bride MySpace
Stealing The Bride Official
Love's Labour's Lost MySpace
Love's Labour's Lost Official