Venue: M8, Mainz (Germany)
By: Nina Mende
Tonight was Emergenza again, this time in Mainz. It was another first round taking place in a High School's gym. There were eight bands to play, only seven to vote for though. The gym was filling up quite quick with many different types of people. There were Metal Heads, Goths, Emos, and the usual type: parents, simply everything. But let me go on and tell you about the actual show:

The first band was the very one you couldn't vote for, unfortunately, because I liked them most of the whole evening. The band was called Pocket Rocket from Stuttgart and already participated at Emergenza last year. They were four guys, one of them playing a stand-up bass. A very energetic and in my opinion also really great band, not only because of the stand-up bass but also because they seemed quite confident on stage despite their young age. Further were they songs very catchy and made you dance. The boys were very active on stage and you could tell that they enjoy playing music. It was a big pity to see that the rest of the audience didn't interact that much and was standing so far off the stage. But I guess that it was because it wasn't really their style of music and it was still quite early on this Saturday night. I liked them a lot though and I hope I'll see them again anywhere and anytime.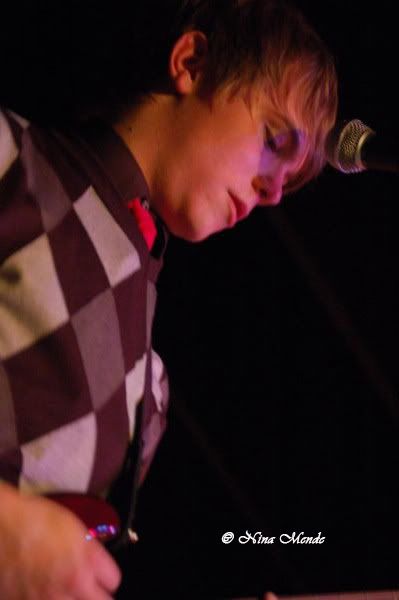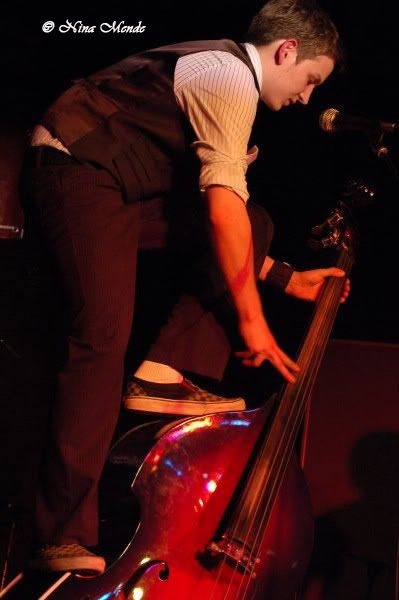 The following band, called The Döftels, was wearing shorts and the singer even came on stage in bathing-slippers. They brought quite some fans and friends though. Watching them perform somehow more seemed like watching them in the rehearsal room, not like participating at Emergenza. The guys played German rock, a few songs were in English, and the lyrics were quite naughty sometimes even a little bit rude. But their fans and friends seemed to like it, danced and had a great time. The singer was running up and down the stage, sitting, jumping, falling, doing everything there is to do on stage and yet it seemed like they wouldn't take all that too serious. Quite young guys, crazy but good and different.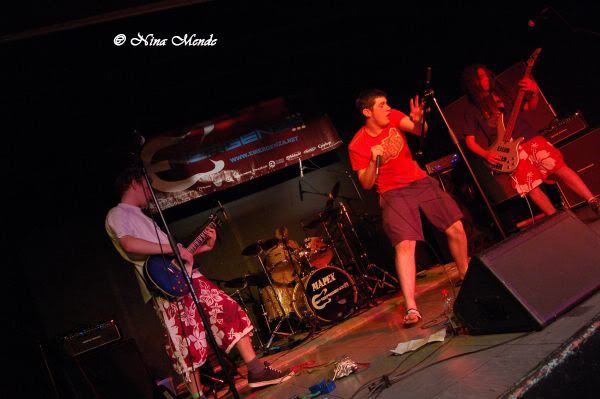 The third band of the night was called 13 Days. Their sound reminded of a mix between Hoobastank and Lostprophets. The singer had a nice voice, but could also scream a lot. 13 Days had brought quite many fans and friends as well, they were all gathering up right in front of the stage, cheering for their band and dancing. It was interesting to watch because in the middle of the room was a huge gap appearing between the fans of 13 Days and the rest of the audience. But the ones in the front were making up for the gap as they even started to mosh and jump around big time to the powerful, passionate and energetic performance of 13 Days.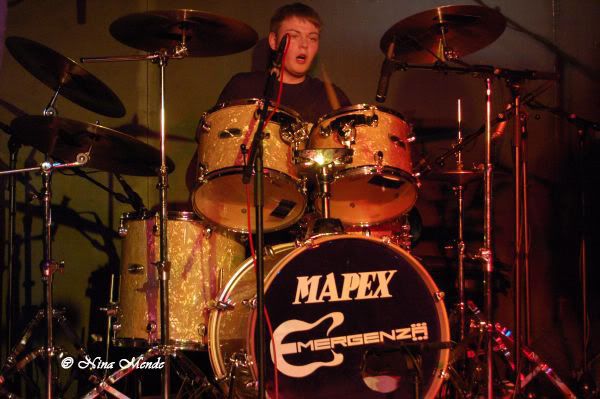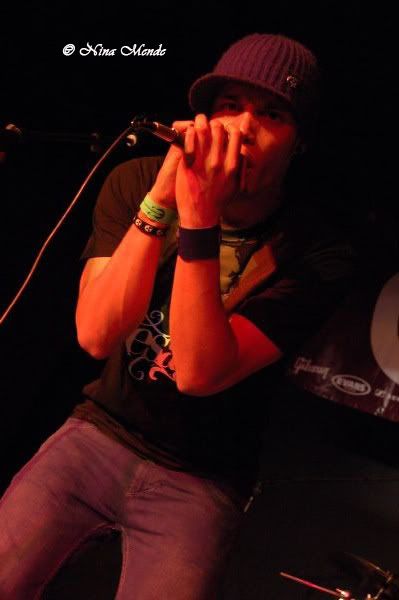 Down To None was the next band, a very loud band. They were playing loud and heavy Screamo Metal with lots of distorted guitar riffs and double kick at the drums. There was a huge mosh pit started by the audience and at the end of it there was even blood on the floor, so now you can imagine how heavy they were.
Getting closer to the end of the evening the fifth band had their turn: CryBabyCry! I guess they were the second oldest band of the night, seemingly in their mid 20s I guess, but I might be wrong. Anyways, they were quite nice, their songs reminded of a mix between Staind and Korn, something between Metal and Rock, but more Rock than Metal. Somehow many people had gone out for a smoke or a drink now, so there were not many people dancing or rocking.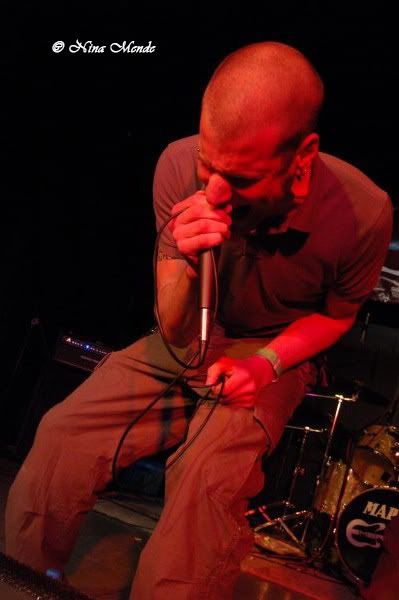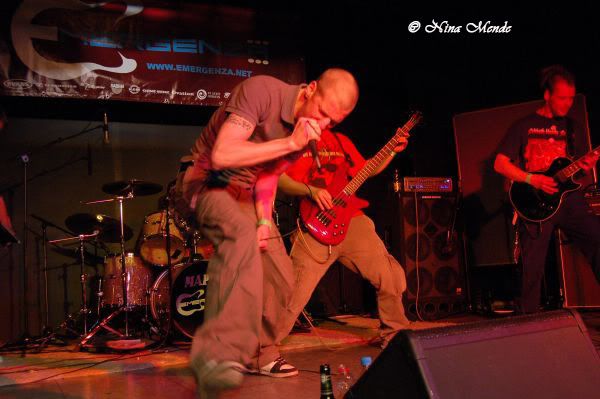 The sixth band of the night, Dynyle, was coming from Offenbach and brought a lot of friends and fans, it looked like the whole town would have come to this show just to cheer for their band what they did the whole entire time. The sound of the music was getting close to System of A Down and Serj Tankian, the band was very active on stage, jumping around a lot and the crowd was dancing, clapping and supporting the band.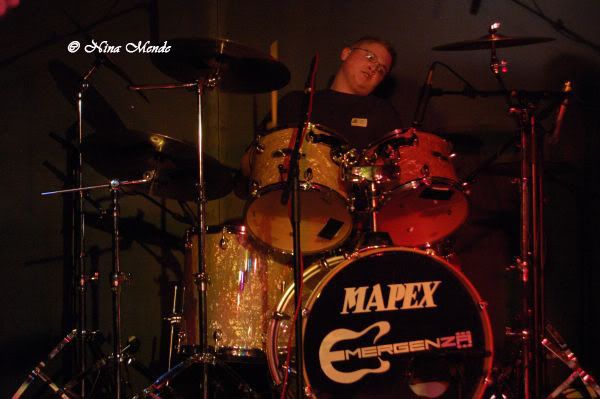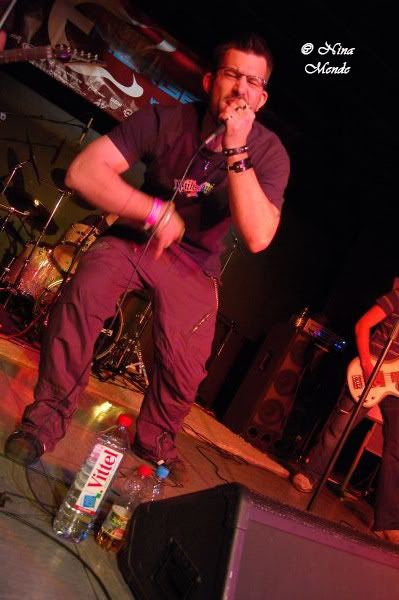 The last band of the night, Jesus Takeoff, was playing 80s rock and also looked like being out of that time. Four out of the five guys had long curly hair which the two guitar players shook quite a lot. They brought fans in their band shirts. The audience was dancing and some were even moshing to that kind of music which looked weird. Especially the aggressive way they were moshing.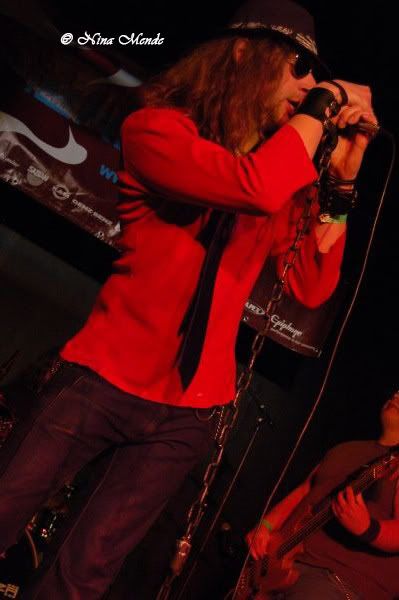 Because it was so dark in the venue and Sabrina, the Emergenza host for the area, couldn't really see everybody when counting, there was a joker, meaning tonight there were not only four bands entering the next round, but five!!!
And here is who made it tonight:
01. Dynyle
02. Take A Seat
03. Down To None
04. Jesus Takeoff
05. Crybabycry!
06. 13 Days
07. The Döftels
Links:
Dynyle Official
Down to None MySpace
Take a Seat Official
Jesus Take Off MySpace
Cry Baby Cry Official
13 Days MySpace
Döftels Official