Support: PSG and Renoise; venue: Club Liberte, Helsinki (Finland)
By: Elvira Visser
  Tonight there were three bands playing in Club Liberté in Helsinki and it was
  only five euros so reason enough to go see these bands. It was quite cold in
  the area where the bans were going to perform, while waiting I hoped more people
  would join so that I would not freeze in front of the stage.
The first band was Renoise a Finnish band from Tampere, founded in 2002 and their recently released single "Split" has reached the fifth place in the Finnish charts. It was a bit weird when they started to play because everybody stayed at their place. Kept sitting in the back. But soon a few were standing up because it sounded nice. After a few songs people had found their way to the stage and seemed to like the band. They played songs which were very  nice to listen to. Catchy piano play with metal riffs and drums. Chris (bass) backing vocals sounded good in combination with Mikko. A nice band and no wonder they are in the Finnish charts.
  PSG was the second band this evening and they seemed to have brought a hand
  full of friends/fans with them. Personally I think that this was the least interesting
  band of the evening. They play some sort of alternative punk rock. It certainly
  appealed to the people in front of the stage because they where cheering and
  it looked like they were having a good time. It was funny that Misty Fingez
  (solo guitar) was wearing red pants and the guitar player from the next band
  was also dressed up in red. Their show was energetic but not my cup of tea.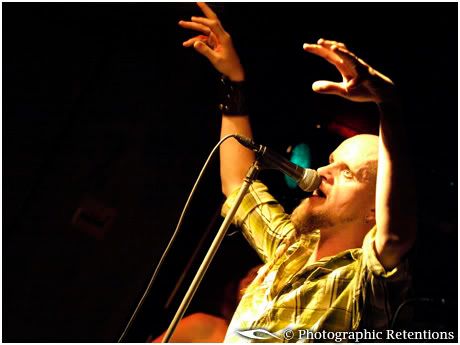 A group of people left the room when PSG stopped playing and a dozen of girls was already waiting in front of the stage, tensed and ready to see Matthau Mikojan.For them it already took way too long. There were people from Germany who came to see this band. Matthau Mikojan started his career with the band Bloodpit who travelled through Europe. In summer 2007 the band split up and this year is the start of his solo career. Luckily Matthau sounds the same to me, cause what I liked most about Bloodpit was Matthaus voice. Tonight was the first gig for him as a solo artist but he brought some friends with him to fill the stage. Simo Stenman on drums, Teemo Broman on bass and Sir Christus on guitar. What they bring on stage is just some good rock-ish music with influences from jazz and blues. Maybe that made me like what I heard that night. The songs sound nice, and there was a nice vibe in front and on the stage. I had a lot of fun about the song "Print Lies" in the beginning there is this sound from a cow bell and it does not return at all, but it is funny. Simo seemed to have fun about that as well. It was good. The crowd must have thought likewise so because they bought some drinks for the band and gave a loud applause.