Location: Suvilahti, Helsinki (Finland)
By: Sabine van Gameren& Aoife Towell
Today starts off with choices… bands are playing at the same time, but luckily for you Tempelores saw everyone! Bloodbath for example, which were opening the main stage today. People often call them a supergroup and referring to as such seem not too off as the guys are still not having Bloodbath as their mainproject, but nevertheless you can expect a professional performance from them.
A couple of years ago they played Tuska, back then still in its old location, and the guys had troubles remembering lyrics, chords etc and had a dozen of cheatsheets in front of them, but this time they obviously had rehearsed a bit more. With the outfits bloody and filthy the atmosphere is there right away. About the skills of these guys we don't have to debate, a simply good start in the morning.

Despite the small crowd that arrived on time for the boys hailing from Kokkola, their effort did not reflect this and they gave us plenty to watch. At first I was a bit hesitant about their techniques, but gradually it became more and more mature and I walked away approvingly. I was especially impressed by the vocals and some nuances within songs that were well thought out and almost fun to be able to pick out. With a grindcore/crust/hardcore background, Spawn From Deceit are a perfect example of the Finnish scene bursting with bands young and old, extreme and tame, and just waiting for their moment to shine.
Adamantra is a guest we saw before in the Clubstage. Another year, another show and as we see now they brought a different vocalist. Their progressive sound is not changed that much but the addition of a new vocalist makes the band a bit different in some way. It misses a bit of charisma that the guys use to have before, regardless the fact that they do everything they can to give an enthusiastic and energetic performance. Perhaps the guys have not completely found the sound yet, some twisting here and there and then it all becomes a bit more comfortable.
The fans at the Inferno stage grew in numbers as Bombus came on and began their rampage. The heavy metal group from Sweden have released one studio album since signing with Century Media Records in 2013, but have been touring hard in 2015 including gracing the festival stages of Rock Am Ring, Nordfest and Download so far.
Throwing shapes and staying attentive to the crowd, the group seemed on top of their game and comfortable in their early slot, powering through their solid riffs and keeping the headbangers up front happy. Watch out for those heart-stopping bass lines – they are a force to be reckoned with. Bombus provide a great mash of classic and modern hard rock in a super heavy way that makes them a unique listening experience and spectacle all in one.
Taking the world by storm, do not be fooled by Shiraz Lane's mesh of youth, baby faces and innocent will to change the world. There is a reason these feisty Finns are getting the attention they are – and not just because they have been likened to early Guns 'n' Roses. In fact, they are happy with that identification, but are sure that there is a lot more to them than that.
They take to the stage with expectant fans clearly waiting to see the highlight of their festival – and boy did they tear the place apart. The small stage might have been a bit too close for them as they stumbled over each other in their mass of energy, but it had to go somewhere. Lead vocalist Hannes Kett is a voice that you have never heard before – and certainly not out of someone so young. His convincingly high frequencies and wide ranges are shocking to say the least, and while I thought I heard it tire towards the end, he didn't let it falter. Mark my words – these posers have a reason to pose, and they do it very well.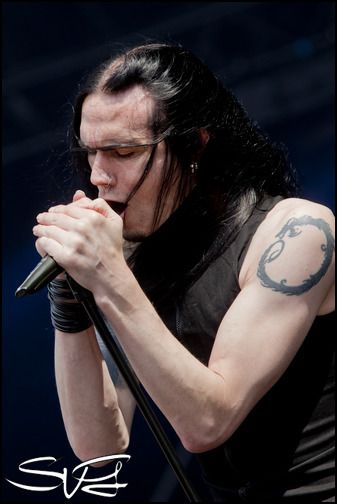 Ne Obliviscaris were the surprise of the day. The guys are from Australia, so long way from home. In this year they released two EP's following their two full length releases. Their music is Progressive, having those long songs on board but all with a dark twist. Perhaps a bit doomy even.
Here and there a song gets some violin added by vocalist Tim Charles. He and their other vocalists Xenoyr are in good line with eachother, their voices embracing eachother's and together they create that interesting playfield that one can watch for hours. The rest of the guys fill in the instrumental backing very well, them obviously well balanced to create this sound. Many were watching the show in awe and we are sure the guys convinced many with their show today.
Holy crap – I loved these guys. Tryer are the epitome of what it is to be a unique and individual sound in a scene that is both saturated and diverse. Describing themselves as "fast and melodic hardcore punk with a heavy metal twist", their presence on stage was enthralling and I risked my camera's safety in staying up front for the whole set simply because it was worth it.
Lead vocalist Jussi struck me as a real character and was alternatively positioned stage right which made it all the more different to watch. Writing all the lyrics himself which are all sung in Finnish, this is definitely a signature voice that sets them apart and is worth a lot to them. I would go see these guys again in a heartbeat and recommend them highly to anyone looking for an authentic and genuine punk show.
Time for some Vikings today and Einherjer is there at the right time to supply us with some of that. The Norwegian guys have over 20 years on the counter, having made six full length albums in the time being. The last one "Av Oss, For Oss" dates back to 2014. Their show today seems to start quite dark, having not an extreme dose of energy coming out, but the guys make their impression with intensive songs that sink in slowly and so you may need to watch them a bit longer before you are hooked. Not for the impatient ones! Yet, the set goes further and the guys are getting more at ease making this a worthy impression of their music.
Red Moon Architect is a Finnish formation that makes Melodic Death/Doom. The band has two vocalists, Juuso which takes care of the harder part and Anni who brings some drama into it. She stands a bit to the back on the stage though, having a bit static part in the show.
But what there is to enjoy is the rest. The whole band makes the show come out strong, it seems like they are working together like a well-trained team. The songs seem composed smartly, leaving you hanging a bit to build the tension and then give it all. Works out quite well here! Now they are playing the club stage but we would not really be surprised to see them playing the bigger stages in a year or two.
Japanese legends Loudness were an unexpected twist to the main stage and one that was entirely welcome. Going since 1981, they are considered one of the pioneering Japanese heavy metal acts that attracted international acclaim. Having only just flown in from Tokyo the day before their scheduled performance, they admitted to being a little jet lagged still but we otherwise would never have guessed. They may have been tired, but they were also beaming and clearly thrilled to be taking part in Tuska 2015.
Their stage decor was simple if even existent, but their movements and enthusiasm were overpowering in a great way. With some really hardcore fans positioned from early in the day to ensure a perfect vantage point, they were certainly made to feel welcome and appreciated. With a relatively short (in my opinion, for their notoriety) set of forty-five minutes, they included Crazy Nights, We Could Be Together and Crazy Doctor before closing with the ultimate S.D.I.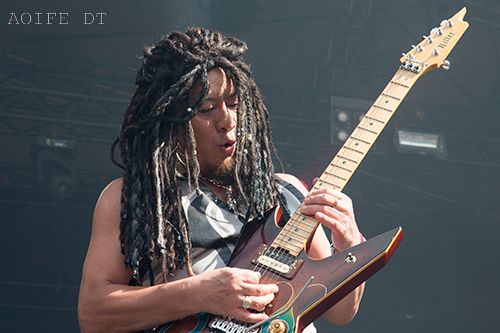 A dark stage to suit their even darker mood, Morbid Evils took me by surprise. A pre-warning from a punter said not to expect much, and how wrong they were. Their doom sludge set merited nothing more than what they performed and in fact added to the ambience of their self-expressed 'hatred of humanity'. I was sad to have to leave before the last song, but had heard enough to be able recommend them as a staple in their genre.
A massive sound from a simple three-piece, their following at the Club Stage was certainly sizeable and I was totally impressed. Like ploughing through mud with an anvil on each foot, their sound permeated the walls and created a hole of doom that was for me, one of the most notable slots on the third stage for the whole weekend.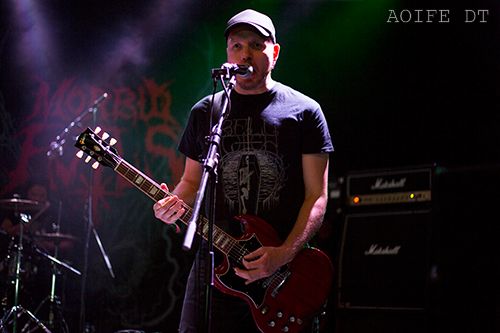 If you weren't expecting Atomirotta when they paraded onto the Inferno Stage, you might have been tempted to call the festival organisers and ask what the hell they were doing. Let me tell you, you would have been wrong. Atomirotta absolutely killed it with the vivacious energy and endearing skill that was offered by no other performer over the entire festival. A sly mix of rapping and catchy vocal melodies is paired with the solid guitar sound of Rane Raitsikka formerly of Smack, and who also appeared on stage in 2013 for a Lama reunion. A bit of blues, a bit of funk, a bit of jazz and a bit of punk makes this festival attendee in that sunny Summer mood feel like they deserved a longer set.
My one and only complaint? No merch available. These guys need to work on their marketing and online presence because if they did, you would have already heard about them. An absolute and total must if they are playing in your area.
Twentyfive years of Amorphis and so some reason to celebrate. The album "Tales From The Thousand Lakes" is on showcase tonight and so the audience was all brought to the stage to see that. And then we mean… pretty much everyone at Tuska because it seems like no one wanted to miss this.
Vocalist Tomi thought it was about time to make a change and comes on stage without his iconinc dreads but with as much power as always to rock the show. The songs that got so familiar with all Amorphis fans through the years are passing by, "Tales From The Thousand Lakes" is an album that simple every Amorphis fan got and so it is not that hard for the guys to surprise. Tomi spreads his arms like the bird that is behind him on the backdrop showing he is free and watching the audience from the stage like a bird in the sky. No need to say, this is a loved performance here today!
Sotajumala is a Finnish Death metal sensation. The guys are having a reputation of giving impressive shows and so it is no surprise that it is rather full in the club stage when the guys are on. Why are they in here anyway, they could easily have played at the Inferno stage and rocked it just as much, but of course this club environment adds to the atmosphere also so maybe not bad after all.
The guys are energetic and have a strong connection with the audience. A little hand signal is enough to get people going and having their recent release "Raunioissa" in the pocket the band has a lot to show today. The audience obviously digs it, a show that was never in question anyway.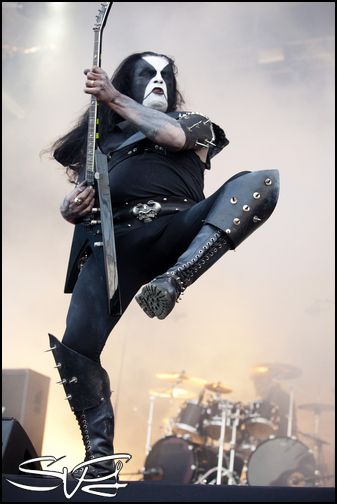 Immortal was originally founded in 1991. They has split up before, but earlier this year they called its quits again. Soon after that the word got out that Abbath was going solo. AND the world premiere of that would be seen live at Tuska festival. Not a surprise to see that many have come to witness that. On the show you could safely say that it was typical Abbath. The man got famous for not only his poses and movements which are often subject to diverse internetmeme's, but he also has a stereotypical way of bringing the show and that is certainly what was brought here.
Playing with fire, mimics and the Black Metal reigning over you. Not too much new material just yet, but some Immortal classics pass by that please the fans anyway. Maybe some would have liked to see something new, but it was good to have a lot of confidential sounds there just as well. An entertaining show by Abbath, not that we would have expected any different.
What word can I use other than perfection? You want recording quality? You got it. You want a mind-blowing performance? You got it. You want the old and new In Flames with their signature Swedish personalities and ferocious crowd to get in a pit with? Yup, you got it. In Flames didn't only kill it, but they exceeded all expectations and came right out on form. In fact it really seemed like a lot of festival-goers were simply killing time until In Flames made their appearance.
Their light show, their crowd interaction and selfie-taking, their absolute hearts being poured into every song… They ticked every box expected. Personally, I already like In Flames. I've seen them several times including in their hometown and had an absolute blast, so this was one band I was looking forward to shooting. So you can imagine my dismay when at only two songs in (which means one left to shoot), Anders decides to instruct the crowd to break the rules of Tuska and form a mass crowd-surf because the guards are "so friendly, they even help you when you 'fall' over the fence!'". Yeah, no. To avoid the tens of thousands of euros in equipment being kicked by abiding fans, the press were shooed away. Not cool, Fridén. Fine, you were amazing, but I'm butt hurt. And I'm damn well going to pout about it.
Photo's and reviewed by sabinevangameren.com are:
Bloodbath, Adamantra, Ne Obliviscaris, Einherjer, Red Moon Architect, Amorphis, Sotajumala and Abbath
Photo's and reviewed by Aoife Towell are:
Spawm From Deceit, Bombus, Shiraz Lane, Tryer, Loudness, Atomirotta, Morbid Evils and In Flames
Links:
Tuska Website