Venue: p60, Amstelveen (Netherlands)
By: Sabine van Gameren
Headway festival in The Netherlands had an interesting bill. With Dave Lombardo on it, they surely got the attention of various metal fans, but beside him and his band Philm there are various other names that are surely worth to see live.
The festival gets opened by some local heroes going under the name Trip Trigger. When the band started the vocals seemed a bit distant, not as powerful as the rest of the band but further into the set vocalist Joost seem to give some more dimension to it. Yet what comes to notice is that he really tries to carry the performance, the rest of the band seems very modest and he tries to be the one who sets it all. It may be because it is a bit early, but for this show it does not work out right away. It will not be the music though, the band shows they have a clear vision of their sound and the songs are built in such a way that with some fine tuning on this life show they would be appealing to their audience.
Pigeon Toe is a relatively young formation from Germany. The band shows they are having much joy in being at this festival today by their enthusiastic performance and mimics. Maybe in their music not much words come out of them, they are not having an enormous amount of lyrics in their songs, but the music will keep you occupied anyway. The band has an energetic drummer which knows how to carry a song and gives the whole band a solid backbone to strengthen their sound with. The band has released their debut album about a year ago and it with the release of this album the band has a set with some energetic songs. Eventually, though you heard them all so a slight bit more variation would spice up the show even more, but for today it worked out quite ok as the set was not too long.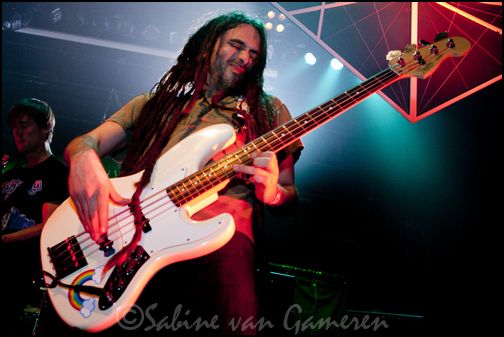 The Finnish Oddland has its path laid out for them, a performance on last year's edition of Tuska festival and while they made an astonishing impression there they had now a quite new crowd in front of them in The Netherlands. Oddland is not a band that blast you away from the beginning, it has to grow on you and that is why their start seems quite calm. Luckily the audience seem to grant the band with the time for that as they play their set. In the final parts of the set they make the best impression. Yet, it seems like the audience is quite divided considering this Finns. Maybe it was that they band could have given more strength, more passion into their songs, it seems that the band is not at their maximum yet. Had vocalist Sakari been able to give a little more power, their sound would have come out better. Nevertheless Oddland did surprise in good way.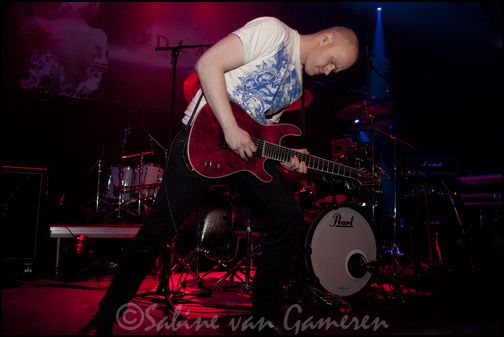 One of the most interesting surprises of this day is definitely Obsidian Kingdom. They are dark, they are wilder than any other band before. Doom/Death influences are making the sound thicker and give it a lot of strength. The band has just a little disadvantage due to blinding the audience with the stroboscope in such an extreme way that sunglasses were mandatory. A bit of a shame because the band has a good energy going on and while they give each member the time to shine you really want to give your attention towards it, but being blinded by the light does not really make it all comfortable. Step over to plan B: close your eyes and let your senses focus on the music then. That was quite a joy itself. Tempo changes present you with intensity and drag you into their sound. Well done, simply a great show that makes you interested in this band!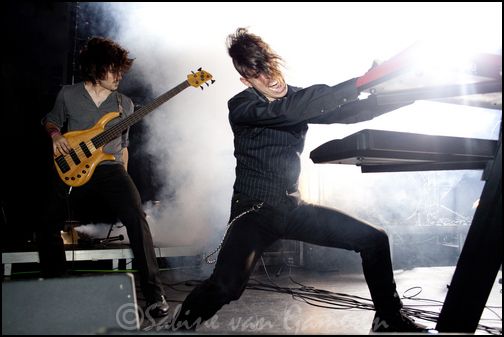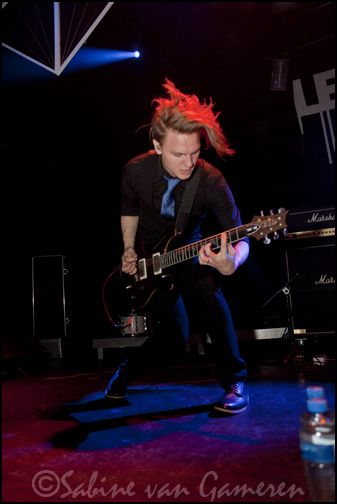 The Norwegian band Leprous got their fame out here in The Netherlands. The band had their own fancrowd at the festival and while a new album is about to be released the band has some new songs ready for them. But first the band starts with some familiar sounds and wastes no time to get into the energetic modus. Then the tempo seemed to fall out of the set a bit when the band present a couple of tracks that are not as bombastic. Yet the band stands out for the way they bring the vocals together with the keys as leading factor. Not many bands have a frontman that has the keys in front of him without being static. Frontman Einar runs around, bangs his head and you might get the idea he actually hurts himself, but (this time) it is the drummer who needs to leave the stage for a second to solve a bleeding nose. Yet the show must go on and it goes on, which is exactly why they are much loved here tonight.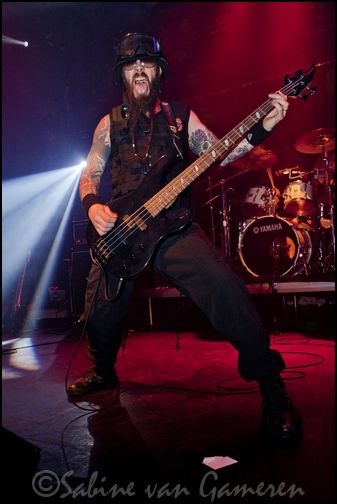 While Leprous had their fans around, surely did the Swedish Freak Kitchen. Yet the way they handle things are totally different. The trio had some technical issues and could not stop talking about it. The show must go on does not seem to be high on their priority list, but perhaps it is their way of giving their fans the best. Humour is subjective and guitarist Mattias seem to make a sport out of spilling jokes and nonsense in high speed. Various people get along, but towards the end of the set it seems people got a bit done with that.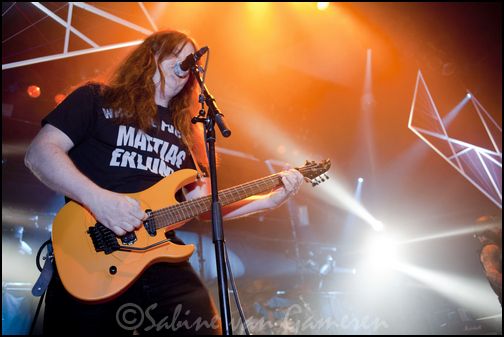 Dave Lombardo is a name that many know very well. Slayer, after all, is a name you may just hear at any random metalclub. Yet, Dave does not fear the fame, while playing with his band Philm this time he makes sure his drums are located very close to the audience, at the front of the stage. With his two mates Gerry Nestler and Pancho Tomaselli he sets down an impressive show filled with a long of aggression, speed and variation. You may not always guess in which direction that band will lead you but you are too impressed to feel uncomfortable with that. An occasional vocal comes in but most eyes are for the almighty Dave here tonight. In this intimate setting he shows exactly why, putting the drums in the centre of the sound where the experiment is not feared the evening got a special and extraordinary closing.

This festival here in P60, Amstelveen (Netherlands) had some special acts. An interesting festival with a various line-up which made this day work out very well.
Photo's by: sabinevangameren.com
Links:
Trip Trigger Facebook
Pigeon Toe Facebook
Oddland Facebook
Obsidian Kingdom Facebook
Leprous Facebook
Freak Kitchen Facebook
Philm Facebook
Festival Website