Supports: Adorned Brood, Heidevolk, Týr; Venue: Club Lantaarn, Hellendoorn (The Netherlands)
By: Elvira Visser
About a half year ago there was the Ragnarök's Aaskeria Tour hosted by Napalm Records and bands that were playing there were Týr and Alestrom. Originally Heidevolk had to play there as well but due to some injury of one band member they had to miss outcancel. I got introduced to Alestorm there but I had seen the other two bands before and because I like them I of course had to attend this tour as well.

Adorned Brood was completely new to me and when we arrived in the middle of nowhere, where the venue was situated, they were already playing. Luckily we saw that more people had found the venue and a nice group of people had gathered in front of the stage. The first thing that struck me was the sound, it sounded quite bad. Maybe because I have seen gigs in many good venues, I am a little spoiled, but nonetheless. I think it is always hard for a band to capture people who get in while you've already started playing. I gave the band a fair chance but it was not my cup of tea. They tried to interact with the audience but I guess they were waiting for the other bands. What I missed as well is the female vocalist of the band that also plays flute. Well, maybe next time.
I have seen Heidevolk, the second band of the evening a couple of times before, and I seem to like them more and more. The band plays pounding metal, which can be quite rough from time to time, mixed with the melodic aspects of folk music and its instruments. For example you can hear a harp, blowing horns and on stage they sometimes have a violin player to add that little extra to their show. What I like a lot about this band is that they sing in Dutch, a language I can relate to but they have enough fans in non-Dutch speaking countries as their music is very contagious. Their lyrics are based on the Dutch mythology especially from the province of Gelderland. They played songs as "Het bier zal weer vloeien", "Het Saksenland" and of course "Vulgaris Magistralis" was not missing during their show.
An opportunity for both headlining bands, at least that is how I see it…Týr and Alestorm are on the verge of releasing new albums, and they could introduce the crowd to some new material. Týr from the Faroe Islands play metal with very nice traditional melodies and lyrics, opened their show with a new intro. And started off with one of their new tracks "Hold the Heathen Hammer High" which will stick to your mind the rest of the evening. They delivered a really good show full of energy and interaction with the audience. Heri was telling about the new album and they played both "Tróndur I Gøtu" and "Northern Gate" from their new upcoming album "By the Light of the Northern Star". Showing the audience what they can expect, and with giving away a very good show, much can be expected from their new album. The band knows how to behave on stage, swap places, make fun with each other and the audience. You can clearly see that they enjoy playing. A thing I personally enjoy during their shows are the guitar solos from both Heri and Terji and to see with what kind of ease they seem to play them. Yet again a very good show!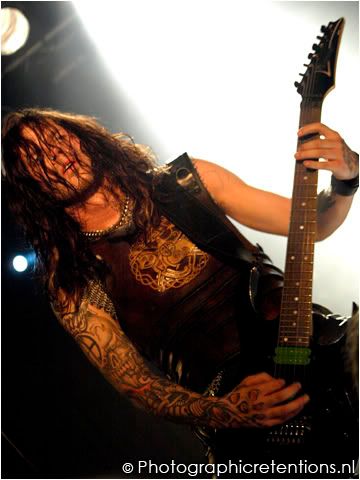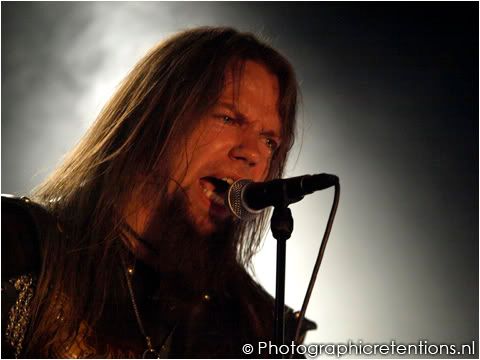 The last band of the evening was Alestorm, to get a little more sweat on the bodies that are in front of the stage. Something that they really achieved. After some tracks I had to run out for some fresh air. The crowd got wild as the metal from these Scottish pirates got wild on stage singing about whiskey related pirate life. Think about Blackbeard and rum and drunk men. Think of a mixture of Korpiklaani and pirates. When you hear the lyrics you just have to shout along just like everyone around you and turn it into one big party. Dani (guitar) and Christopher (vocals) move around on stage from left to right, very energeticly making the crowd wild. What I missed out on, but what I heard is that Heri joined them on stage and I saw Terji on stage as well having fun together with the guys from Alestorm. That is one thing these bands share: the enthusiasm that they show to play in front of people and the fun they have amongst each other. Something that does sum up the evening in short and for me clearly making a very successful evening.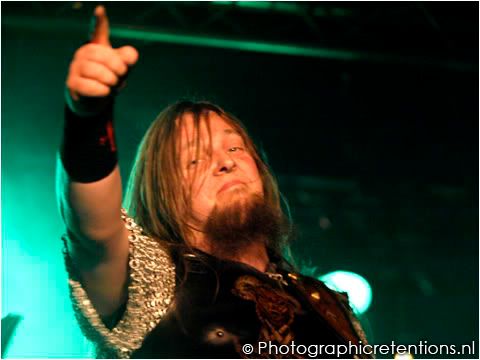 More pictures of this gig will be available soon at photographicretentions.nl
Links:
Black Sails Over Europe MySpace
Adorned Broodde MySpace
Heidevolk MySpace
Týr MySpace
Alestorm MySpace