Sunrise Avenue – 28-05-2011
Interview with: Sunrise Avenue
By: Nina Mende
Before Sunrise Avenue hit the stage at Schlossgraben fest in Darmstadt I met Sami, Osmo, Samu and Riku in the hotel for a nice chat. They had just arrived in Darmstadt this morning when they were coming from another city. But after a nap and some sauna they were all fit again after a very long day. Their personal opening for the festival season had taken place the evening prior in Oberhausen where they performed at Comet. Samu told me that they had to get up at 5am to fly in from Helsinki and didn't get to bed till 1am the next morning. Wow. that had been a really long day indeed.
Today was their first time in Darmstadt. After all the club shows where the stage and audience was much smaller, Sunrise Avenue now had to adjust for the big open air stages again. But they were prepared and ready to go out. As I asked if they had anything planned for the show tonight, Samu explained to me that they were going to have some drums, keyboard, some guitars and bass, and maybe some vocals. Too bad, I hoped they would start a circus. The guys were laughing now and said that their shows usually include some kind of circus. True, these guys are always having a whole lot fun on stage. While talking about this we also began to wonder how big Darmstadt was and found out that it is quite big compared to Finnish cities. The Finns also told me that they find it amazing that even in the tiniest villages in Germany you can find a concert venue. Scandinavia doesn't have that. They only have venues in the bigger cities and towns. Also do people here come for the music and not for the drinks.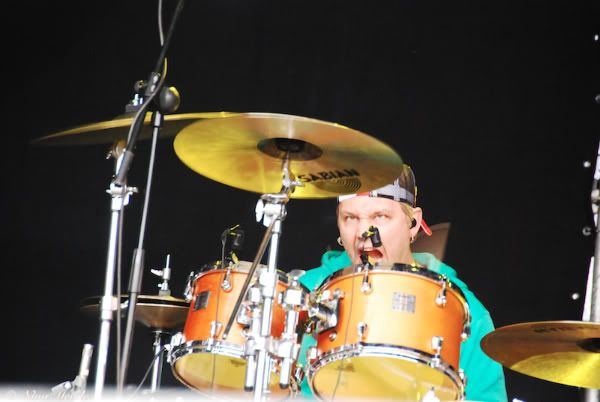 Sunrise Avenue seemed to have accomplished almost everything in Germany. What is next and which countries are they going to "conquer" next? For now Sunrise Avenue is focusing on the festival season, then there will be tour in fall, a new years party, Santa Clause will come handing out presents, and then they will see what comes next. Samu joked that the German version of Santa Clause is one of the Modern Talking guys. Outside of the German speaking countries Sunrise Avenue have now signed to Universal. So heading to BeNeLux, eastern Europe and the UK are coming up next. Sunrise Avenue are looking forward to head to England and some other European countries. The guys were excited to see how England likes their "schlager rock" as Samu called it. Samu also explained that they have been so much in Germany not only because they are signed to EMI, but also because the German fans seemed to be the most loyal fans during all the ups and downs of the bands career. Also did Samu explain that you can't plan things like this. If they have a show they go there and play the show, hoping it will be a long day of promotion with lots of interviews and press dates. As a band you can't sell music – that's the label's job – you just go out there and do your job. You can't plan success. He compared it to making babies. If you just plan making babies you probably end up not doing it, but instead you just make love the Bon Jovi way, oil each other and enjoy the good times, maybe there will be beautiful and happy babies. He began singing "We're half way there…" (of the song "Living On A Prayer ")but didn't continue for too long.
With being so busy all the time I wondered how they relax. Samu's answer was "by having interviews" Such a charming guy. The past eleven weeks were packed and the guys had only two days off and even during these days they had flights from one country to another, followed by morning TV shows and press till the evening which is really consuming. During festivals you hang out the day with maybe 3 or 4 interviews and play at night while you mostly have Monday through Thursday off, so this is quite relaxing. Also touring is quite relaxing because you just focus on the shows and during the time off you do some photography – or pornography as Samu said pointing towards Osmo. But the guys don't only relax while having interviews or hanging out at festivals and don't spend their days off with photography or even pornography. They also sleep a lot and just do nothing. Samu also enjoys just driving around in Europe in his car taking pictures. This summer he plans on driving through the former Yugoslavia, heading to a view shows in between and then go back and continue his journey. Also do the guys relax in the summer cottages either with family or friends, try to do some sports.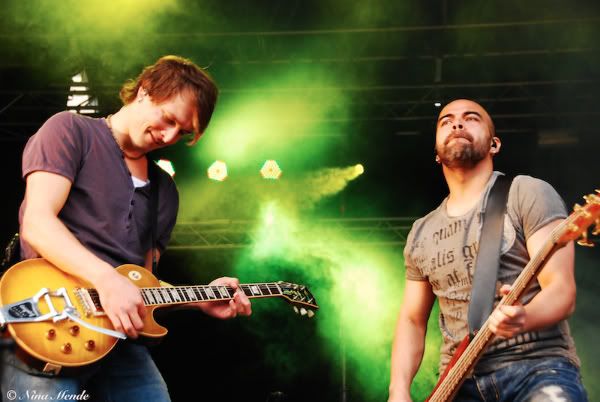 Somehow we started to drift off talking about how Samu touched Dieter Bohlen's table where he wrote "Geronimo's Cadillac". Pretty exciting for him. Then we talked about idols. The Finns told me that actually the best way is to not have idols and just do it their way. So basically they like the people that do it their own way and don't care for what others say. Just like Bon Jovi used to be and Madonna always have been. Samu also named Steve Jobbs here as a real rockstar because he is just doing his thing. Also did he name Ralf Schumacher.
If Sunrise Avenue were not that successful with music, they'd still be making music because that is what they love most and they couldn't imagine life without music. Maybe they would have to deliver newspapers in the morning but in the evening they would still be doing the same. Maybe not with the people they are doing it now, but they'd still be making music.
On we went talking about the Eurovision Song Contest. Sunrise Avenue had considered to participate in 2004. But they had met their producer at that time and began recording their album so they didn't have to do this desperate move. All of Samu's guesses of the top 5 for this year were way off. He also said that people like Lena wouldn't be where they are right now without the Eurovision Song Contest. Samu laughed and said that it's good that all the gay people gather up once a year doing it. Riku considered the Eurovision Song Contest the European Soccer Cup for gay people. Everybody was laughing and continued that you can always see some Danish guys waving whatever flag and cheer for everybody which seems really funny. In a good way though.
Last but not least – as matter of fact probably the MOST important thing: Ice hockey championship finals Finland vs. Sweden! I wanted to know where they watched it. Riku watched it alone, some of the others watched it in a bar. But after they won, everyone was meeting in a bar. The whole town as well as the entire country was celebrating. Strangers were giving high five to each other in the trams and randomly talked to strangers. Almost like Vappu, only in a good way as Sami put it. Unfortunately I had missed it, but Riku told me they recorded it. So there is still hope. Maybe I get a copy or get to watch it with them some day. Samu told me that they played in Sweden the week after. 30.000 people. Samu said that Finland had won and these 30.000 people were booing and flipping him off. With a big grin Samu told me that he found this really funny.
Many thanks to Samu, Sami, Riku and Osmo for their time and the fun interview.
More photo's of this event can be found at roseofthedevilsgarden.com
Links:
Sunrise Avenue Official