05-04-2017 Michale Graves
Support: Forget Your Friends
Starts: 05-04-2017
This Wednesday night we spent at a sweet little pup called Winters Tavern in Pacifica, California. Why? Well, because Michale Graves was playing there. But he was not alone. He brought three bands along on this journey.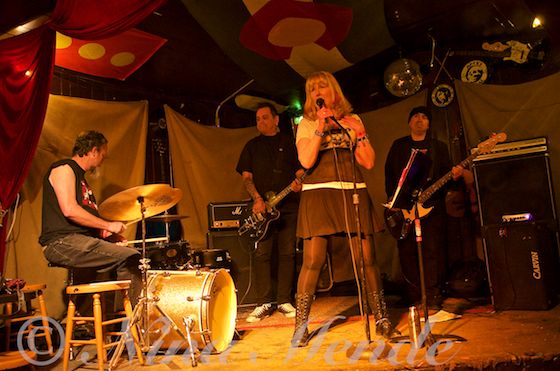 The venue was small and was slowly filling up. Just in time for the first act of the night: Dick and Jane. Dave Dalton, Marco Zermeno and Linda Xyz are in this little crazy band called Dick and Jane. It's about a little drum machine, Dobro and acoustic guitars and a solid bass line, to make some noise and sing songs/spoken word with a twist. They started this little band back in December, 1988 and are still going strong until today. The female singer of the band was 67 years young. Her and the rest of the band began rocking. And continued so for about twenty minutes. The singer was walking around on the small stage and the club, singing to everyone. Getting them to go along to the music and tell stories about their songs. The music was edgy punk rock. And the audience liked it.
It was staying dirty and was about to get louder. With a even dirtier punk rock band by the name of Fukm. Fukm, a Oakland based hardcore punk and Rock n Roll band, formed in January 2007. These guys sure knew how to rock.
Shouting their vocals into the audience, they started a riot on stage and sure gave their best to spark one off stage. The rhythms were catchy. The band was talking to the audience between songs. Mainly about alcohol and drugs. The singer kept wrapping his microphone cord around his neck and was jumping around on stage and off stage. Later he was also laying down on stage after he had disappeared for a few minutes. It sure was an interesting twenty minutes of showtime.

Now it was time for the highlight of the night: Michale Graves. the club had filled up by now and everyone was excited to see Michale perform live tonight. Michale Graves, is an American singer and songwriter. He is most well known as the lead singer for the 1990s re-incarnation of the Misfits from 1995 to 1998 and again from late 1998 until late 2000. Graves grew up in Dumont, New Jersey. He has also released several albums as a solo artist.
With only an acoustic guitar and a chair, Michale would play his songs for us tonight. Some in the audience had grabbed chairs as well to sit in front of the stage, watching the show from up close. Michale was playing a full set with a great choice of his best songs, including some of the most famous Misfits hits, rearranged for acoustic guitar.
It was a very intimate show, and a very impressive one too. The voice of Michale was so strong, filing up the entire venue. He was taking song requests from the audience as well. And he was thanking everyone after the songs. People were blown away by this amazing performance. Michale left all of us speechless. The set lasted for about one hour. And we sure all wished it would have never ended.
After Michale Graves was done, almost everyone was leaving. But there was one last support act Michale brought out to play. Forget Your Friends was that very band. A young, female fronted, rock band from LA.
They were excited to get up on stage and did not bother the hand full people that were left. They played a short set of only twenty minutes. But their rock music was getting the few people that stayed to dance along.
The songs were catchy and you could hear the potential in the young band. The band sure enjoyed their opportunity to play here in Pacifica and made the best of the night. And they succeeded. I am sure we will soon hear more about these guys.
It was an amazing night with some amazing artists. In an amazing venue. If you ever happen to be in the bay area, make sure to check out Winters Tavern in Pacifica. Until then, check out the bands we saw tonight.