29-01-2017 Frank Turner and the Sleeping Souls
Support: Will Varley, Arkells, John K. Samson
Starts: 29-01-2017
The Warfield Theater
San Francisco
,
California
US
This Sunday night brought me out to San Francisco into the Warfield Theater. A great and well aged theater in town. Quite some people had come out to see Frank Turner perform here tonight. Frank Turner and the Sleeping Souls was accompanied by three support acts which were equally great: Will Varley, Arkells and John K Samson.
The audience was filling up quickly. Up front two blind guys were eager to see the show and they would have the time of their lives. It was amazing to see them enjoy the show!
The audience was quite mixed: From young to old, everyone had come out tonight to see these brilliant artists. The stage was packed with equipment. Up first was the solo artist Will Varley.
Will Varley is a British folk singer and co-founder of the arts collective Smugglers Records. Will Valley is a fun guy that is down to earth. His lyrics are brilliant. And tonight they were causing everyone to laugh. He even changed songs on the go to make them fit the US, so he for example changed "tesco" to "costco", which was a suggested by one guy in the audience as supplement rhyme for the UK version.
This amazing solo artist was playing for only a short while. But he sure had an impressive aura and vibe coming from his music and his appearance. He was telling jokes and stories that were accompanied by his guitar playing.
After a short change over, the Arkells was ready to rock the stage. Arkells is a Canadian rock band, formed in Hamilton, Ontario. Their music is catchy thriving. The energetic singer could not stand still for a second. He jumped into the audience right in the second song and sang with them.
The band had lots of fun on stage, and the audience in front of the stage. It was amazing to see and hear everyone singing and dancing along to the catchy music of these Canadians. Throughout one of their last songs, Arkell got a fan up on stage to play guitar with them.
After this amazingly thriving and breathtaking show, it was time for something calmer: John K Samson was up next. He and his band were welcomed on stage with great cheering.
John K Samson is a musician from Winnipeg, Manitoba, Canada. He is a singer-songwriter and currently the frontman of the Canadian indie folk/rock band The Weakerthans. He also played bass in the punk band Propagandhi during the mid-1990s.
The main part of the set that John K Samson and his band played was smooth melodic and melancholic soft rock. The lyrics were thoughtful and piercing. The music was carrying strong emotions. The audience loved it and stayed mostly quiet throughout the slow songs to grasp each moment. Some of the latter songs were faster and quite energetic. So many people danced and cheered, singing along to the music.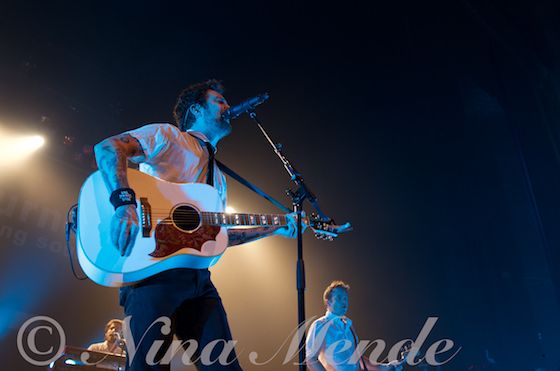 Now, it was time for the last artist of the night: Frank Turner and the Sleeping Souls.
Frank Turner is an English folk singer-songwriter from Meonstoke, Hampshire. He began his career as the vocalist of post-hardcore band Million Dead, then embarked upon a primarily acoustic-based solo career following the band's split in 2005. In the studio and during live performances, Turner is accompanied by his backing band, The Sleeping Souls, which consists of Ben Lloyd (guitar, mandolin), Tarrant Anderson (bass), Matt Nasir (piano) and Nigel Powell (drums).
Frank Turner entered the stage along to perform a brand new song. His first song was a solo about getting through the next four years. This very song was called "The Sand In The Gears". After this song, the Sleeping Souls joined Frank Turner on Stage to rock the night away. The following fast thriving song was causing the floor to shake because everybody in the audience was jumping around. So was the band on stage. Band and audience jumped around and danced to the music. It was an absolutely energetic show. Some times the audience was singing louder than Frank. The Warfield Theater was filled with amazing energy and positive vibes.
Frank Turner played for two hours. Between the songs he was telling many stories, sharing his views on politics and other things, thanking everyone for coming out and was grateful for this huge headline tour through the US. And he also told us, that tonight was his 2015th live show. And there will be many more!
It was an impressive night out in San Francisco. Frank Turner is an amazing live artist and so were his support acts.
So make sure to check all these guys out and hit the clubs when they stop by near you.